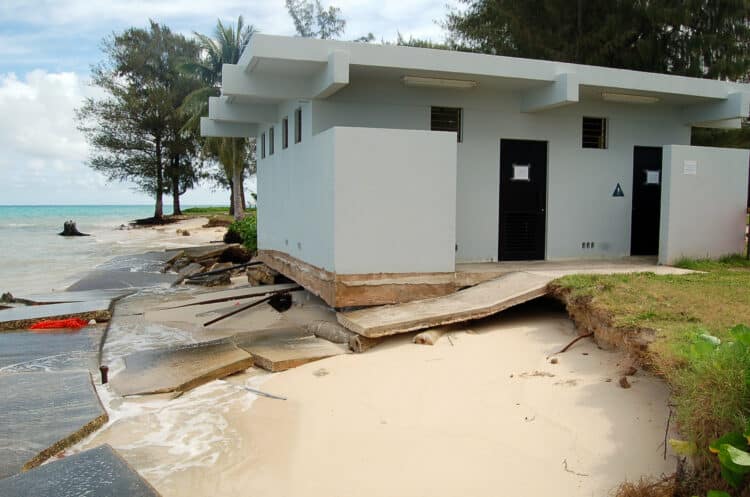 Disasters come in different ways – wildfires, storms, hurricanes. And it always comes with unimaginable devastation. You can lose everything at a single go.
If you recently suffered such a calamity, then storm damage restoration is what you need to regain some, if not all, of what you lost.
But what is storm restoration? It's a service done by specialists to help repair, rebuild and salvage what the storm destroyed. This process can help restore your estate to its previous glory.
However, the process can be challenging, tedious, and dangerous. That is why you must seek immediate assistance from specialists ready to help you while taking safety precautions.
When should you request for help from storm restoration specialists
As soon as you notice that you suffered any disaster damage – water, storm, fire – you should contact a disaster restoration service. It doesn't help to wait.
Regardless of the magnitude of the damage, you will need help with restoration and cleaning. And if you have any doubts, you can seek a professional opinion.
Additionally, most storm restoration specialists are available on immediate response and will be at your doorstep in less than 24 hours.
If not, the restoration company will at least dispatch a highly skilled technician to come and take account of the damage you suffered.
If your property is severely damaged, your safety and that of others around you are also severely compromised. That is why you will need expert help in restoring your property.
A team of restoration specialists has the expertise, knowledge, and experience to repair and restore your home without endangering themselves or you and your family.
These specialists are also trained to make the situation better rather than worsen it, save what they may, rebuild and restore the original structure and replace whatever is necessary.
If you contact them as fast as possible, there's hope yet of salvaging whatever little the disaster left untouched. That is why it's always critical that you make the emergency call immediately.
They do all this safely and as fast as possible to give you back your home. Plus, they show you the compassion and kindness you will need to rebuild your life and the community.
Besides, it would be best if you did not try to interfere or get in the way of the team of specialists working. Any reckless decision you make can be life-threatening to anyone around you.
You can also contact your property's insurance so that they can find ways to help you cover the cost of repairs.
What to expect from storm restoration specialists
Storm restoration specialists have a tough job helping people pick up the pieces of their life after severe damage. It's even worse when the damage is severe and it's declared a city-wide emergency.
However, these specialists keep it professional and show kindness. You can expect them to provide the best possible service and customer care.
Firstly, your specialist will be introduced to you before they begin working. They will then provide you with an estimate of the damage and cost of repairs.
In most cases, the restoration process begins soon after. Additionally, your restoration specialist may need assistance from other personnel and extra specialized machinery and tools.
Although the restoration process is never easy and can take a long time to complete, high quality and qualified team will take you through it step by step, and they will do anything to help you.
And once your home is safe for reentry, they will notify you. Until then, you can rely on a skilled team to respect your wishes.
Additionally, suppose for any reason you feel no progress is underway or the team is causing more damage than restoration. In that case, you should speak up and let them address the issue immediately.
What to do while waiting for disaster restoration services
This is a question a lot of people ask after contacting a disaster restoration company. The most important thing to do is to ensure that you follow all the safety precautions.
Here are some of them:
Ensure that everyone in your property is safe
You can take an inventory to ensure that no one is missing or severely hurt. If any injuries are severe, it's best to seek medical help.
Stay out of your home
Most people have bunkers outside their homes. If your home took a big hit during the storm and it's destroyed, it's safer if you stay away from it until you get the approval of your local authority.
Only reenter the house when it's safe. Even so, it would help if you still were extra cautious.
Document the storm damage
You can never be too detailed when it comes to documenting the damage. You can create an inventory of everything in your home, what survived the storm and what didn't.
You can also take as many photos as possible of everything destroyed. If you plan on taking notes too, keep them detailed. All this documentation will come in handy for the city municipality and your insurance agent to compensate you.
Plus, you should also ensure that you keep all the receipts for the restoration if an ant is available.
Make other arrangements
Possibly, it may take longer than you first anticipate for the restoration to complete. You need to make other arrangements in terms of medication, transportation, food, clothing, and shelter until your home is safe again for reentry.
Additionally, if your utilities are still running and you are not using them, contact your water, electricity, and gas companies to let them know and have them turn the utilities off.
It's also essential to reach out to your family and friends and let them know everyone is okay.
Plus, your employer will need to know as well so that you can get some time off work while you work towards restoring your home.
What's the cost of storm damage restoration?
Unfortunately, there's no one bill fits all when it comes to how much it costs to fully restore your home after storm damage. Your cost will be unique depending on a number of factors. These include:
Your insurance policies
Level of damage
Your location
Whether you receive assistance from the government
Even so, the national average for storm or wind damage restoration is $5917.
Why you should not handle storm restoration yourself
Most people try not to incur extra costs by handling the restoration themselves. That is not the right decision for numerous reasons.
Firstly, you will be risking your life and that of your family with a single reckless act. That is why you need to find a temporary shelter until you can reenter your home.
Possibly, the storm damage compromised the structural integrity of your home. And it may cave in at any time without warning.
Secondly, you lack the skills, training, knowledge, and experience that restoration specialists have of taking safety precautions in such a hazardous situation. But that's not all.
The restoration takes time, and it's tedious. It often requires a team effort to complete most of the repairs, cleaning, and rebuilding. Experts can take at least half the time you would have while still ensuring they do an impressive job.
You may be more emotionally disoriented than you let yourself believe. It's easy to find yourself scared, confused, anxious, and unsure of where to start or who to turn to for help. Experts can provide you with the emotional support that you need.
Lastly, you may miss important details and damage that only expert eyes can see. For instance, it may be difficult to tell that problems will arise with the walls or foundations at a glance.
Specialists have excellent diagnostic skills that can prove helpful in such a situation. Plus, it's not always as costly as you may imagine.
Your insurance team can cover most of the repairs, and you may also get government assistance if you are unable to cover the rest.
Tips for storm damage prevention
Sure, disasters are unavoidable. But there's still a lot more you can do to prevent extensive damage when disasters hit. You will find that prevention is often the best cure.
Here are tips to get you started:
Ensure your trees are always properly trimmed to prevent damage from heavy branches breaking and falling on your home
Do a regular extensive inspection of roof damage that can worsen in case of a disaster (damaged flashing, loose roof shingles)
Ensure your gutters are clear at all times, and the downspout should always point away from the foundation of your home
Prepare well for an anticipated storm by anchoring heavy items outside and taking into the house anything loose that you can carry inside. The last thing you want is these items being projectiles in the storm.
You can prevent rainwater from pooling around your home and cause damage by ensuring that the grading around your home is a downward slope.
Final thought
Storms and other disasters are inevitable in some parts more than others. But that doesn't mean you have to weather it all alone and start the restoration process alone.
There are storm damage restoration experts willing to help you restore your property to its former glory as soon as you contact them. With their skills and expertise, the process will not appear so daunting anymore or take too long.
In no time at all, you can go back to living your life to the fullest. Consider these tips to help you make the right decisions and restore your property.