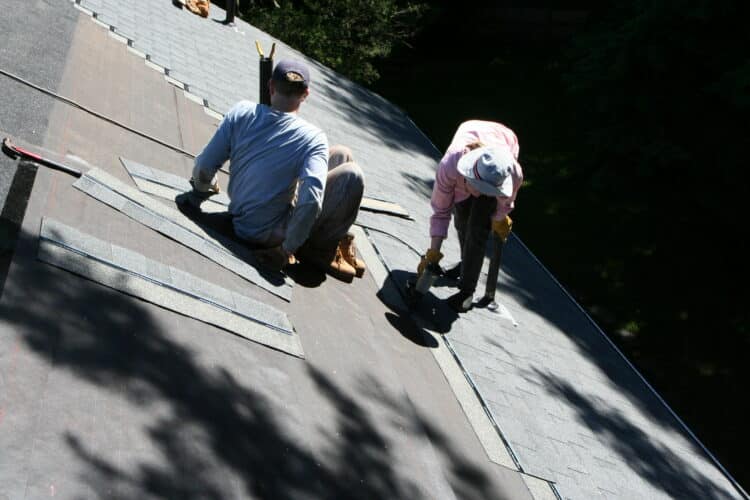 Sooner or later, you may need to replace your roof. Whether because the roof is too old or it's sagging or has a leak, the first thing that may come to your mind is how long it will take you to get the job done.
So how long does it take to replace a roof?
How long does it take to replace a roof?
You may be expecting a straight answer. But there isn't one. The timeline will vary from time to time, depending on numerous factors. Each situation is different.
However, the average or typical timeline for replacing a roof takes anywhere between one to three days. Even so, here are factors that can extend the timeline indefinitely:
Factors that determines roof replacement time
The following factors can determine how long roof replacement can take.
Structural damage
How damaged is your roof? Is it just the shingles or the entire roof deck and other structures that need replacing?
If you only need to replace the roof shingles, you can expect the process to go faster. But it will take longer to replace the roof if the roofers need other elements apart from the shingles.
How accessible is your roof
If your home has lots of bushes and landscaping, it's going to be more challenging to get the equipment to the roof. The same applies if you live in a densely populated area (mostly in urban centers).
Additionally, if you do not have a paved driveway or closed parking, it will take time to get the roof's necessary equipment.
is your home a historical landmark?
Possibly, if your home is older, it may be listed as a historical landmark. If your home has any historical significance, you will need special permits before the repairs get underway.
Plus, you will need to take more time and care to ensure you preserve the structural integrity and the historical.
How steep is your roof?
If you can hardly walk across the roof or your materials and tools keep sliding off, your roof is too steep. That means you will need additional safety equipment installed for you and the crew.
Additionally, if your roof has a shallow pitch that slows the runoff of water, you will need to prevent the water backups from penetrating the house envelope. You can achieve this by adding special underlayment.
That will extend the timeline indefinitely.
How big is your home?
The larger your home is, the more time replacing the roof will take. And the cost will also be higher than that of a small cabin.
What material and design are you thinking of using?
Roof shingles come in various materials. Each material has its time frame for installation and a unique method. Plus, the more complex the design you want is, the longer it takes.
Types of roof shingles include slate tiles, which take six to seven days, asphalt shingles take one to three, concrete tiles take eight to nine days, and wooden shingles take six to eight days.
Weather
The best weather for you to replace a roof is warm and dry weather. If it's raining or snowing, you are going to take more time to complete the work.
Additionally, cold weather makes it difficult to complete the replacement without taking additional (and necessary) steps. That results in a longer time frame.
It becomes more difficult for asphalt shingles to stick or seal. Therefore, you need to take more care when installing them if it's below 40 degrees Fahrenheit outside.
But that's not all. It's unsafe and hazardous to work when the roofs are wet, icy or covered in snow.
How to know it's time to replace or at least repair your roof
At a glance, you can hardly tell if your roof is in terrible condition. However, with a thorough inspection, you can find the telltale signs of a roof that needs replacement.
When you get up close and personal, here are some of the signs that should tip you off that a repair or a replacement is well overdue.
Your roof is sagging
You can tell your roof is sagging by looking at the line of the roof. That line should be without any curves, dips or sags. The line should be straight.
If you see any signs of a sagging roof, there are areas of your roof exposed to water damage. Or if you live in an area prone to snow, ice, and cold weather, that may cause the sagging.
Reach out to your roofers if that is the case.
You have missing or damaged shingles
Are your shingles broken, missing or damaged? Probably, your home was exposed to heavy elements.
Elements like rains, snow or strong wind leave your roof with water damage and leaks. You need to address these damages as soon as possible.
Your shingles are curling or buckling
There are numerous reasons why your shingles can curl or buckle. It may be the roof is too old or because of the intensity of heat and moisture. Either way, what you need is a new roof.
If you also install your shingles the wrong way, they will curl or buckle. That leaves them more exposed to extreme weather damage like wind and ice. They will start cracking and breaking off.
Your roof has shingle granules
Shingle granules are any crushed up minerals or tiny grains of rocks embedded on the surface of your shingle. The older your roof gets, the more these it develops bare spots. It then dislodges and loosens up these granules to run in the gutters.
Depending on what shade your shingle is, these granules will look like sand crystals or have a darker shade. When the granules are washes up in the gutters, your shingles will start aging and
decaying faster than before.
That means you will be more prone to moisture damage inside your home. You need to start repairs promptly.
Your roof flashing is damaged
Flashing is a piece of galvanized steel used to keep water from vital areas in the roof. If you see any signs of roof flashing separation or lifting, it's time for a repair.
What causes flashings to separate or lift is temperature fluctuations throughout the seasons. The roof expands and contracts, making the fasteners come loose. Moisture can then cause damage by seeping into your home.
How long does it take to repair a roof using alternative materials?
Asphalt shingles can get the job done. But it's always best to look at a couple of other roofing material options for the best results. Here are some popular ones to consider:
A standing seam metal roofing
A metal option certainly sounds more appealing for a replacement. The most common is the standing seam metal roofing.
The steel roofing panels lock together to keep the moisture from seeping through them. You can consider this option if the area you live in is prone to wild forest fires or snows a lot.
Metal roofing will be the safest option if that is the case. Besides, you can recycle these types of roofs, and it's durable. However, its installation method is unique, and not all roofing companies can get the job done well.
It would help if you researched more intensively for the roofing companies that show expertise for installing this option.
Use clay tiles
Clay tiles are more appealing if you need something to curb the appeal of your home. These tiles form from earth clay made into shapes to interlock easily and then glazed to keep that shape.
Can you live in a house while the roof is being replaced
Roof replacements take only a couple of days to complete. It's therefore ok for you to stay in the house or work.
However, you will have to put up with the noise and other things that come with having roofers working on your roof. Additionally, you will need to take extra safety precautions like keeping the kids and pets out of the way of the roofers or from falling debris and other things.
When is the best time to replace roof shingles
The best time for you to replace your roof is as soon as you see any signs of damage. Or when you finish planning for the replacement.
Also, some seasons are usually busier than others if you plan to contract roofers. That includes fall. On the other hand, Summers are usually too hot to work on a roof and winter too cold.
That is why spring appears to be the best time for a replacement.
Can you replace a roof yourself
Yes, you can replace or repair your roof without the help of professionals. It's simple enough with DIY steps to guide you.
However, it's not a recommended practice. You can do more damage than repairs to your roof if you have no clue what you are doing.
Worst case scenario is, risking your safety by going up a steep roof with no safety equipment.
That's why you should let the professionals do their job.
They have the right tools, safety equipment's and the skills to do a great job. Besides, replacing your roof with unique roofing materials can be challenging for most people (even professionals).
It would be best if you left it to someone who knows their trade.
Final thoughts
Your roof replacement can be well overdue for numerous reasons. Either it's too old, or the damage is extensive. Even so, you need to inspect to finally know how bad off your roof is and whether you need to replace it now.
With this replacement timeline guide, you can tell how long your new roof will take to install and the factors that can delay and extend the time frame.
Plus, you can consider some of the roofing material options to reduce the time frame or increase your home's appeal.