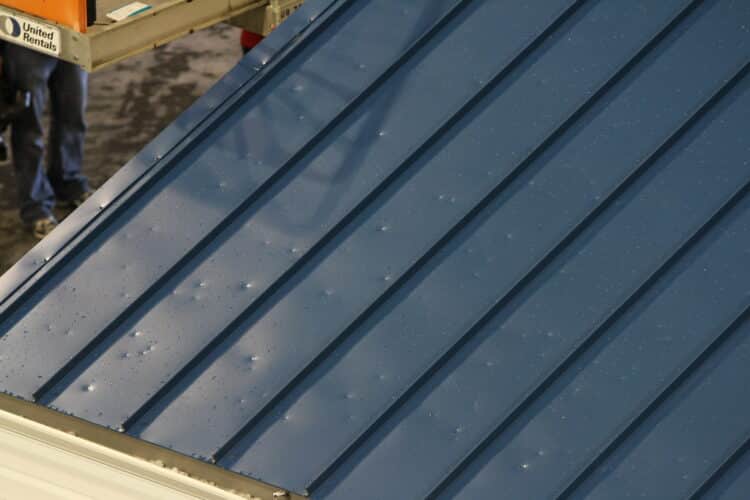 Metal roof hail damage sounds like a familiar term. However most metal roofs can survive hail better than you imagine. They can cope with hail pretty well than most types of roofs.
Even when the weather conditions get extreme, there's slight damage to the metal roof. The damage is in minor dips but may not break, puncture, or tear the roof.
Hail storms can sometimes be scary. If hail damage occurs to your roof, your worry will be the water that may seep through the dents.
This may cause severe damage to your home interiors and elicit long-term problems such as rot or mold.
Failure to repair the metal roof hail damage may cause more damage and expensive repairs. And that's something you won't try to risk.
This ultimate guide has everything you need to know about metal roof hail damage.
Every thin you need toknow about metal roof hail damage
Factors That Influences Metal Roof Hail Damage
If your area receives a hail storm, some factors determine how bad the damage will be. They include:
Hail Storm Strength
The storm's strength can influence the size of hail. Most storms tend to produce hails with diameters that are not more than 2 inches.
Metal roofs have incredible durability. They also get tested more often in technical development. So, they can cope with this hail impact size.
If your region often receives extreme hail, buy a metal roof with striations or ribs. These help to deflect hail blows and lessen the impact.
What size hail damages roof?
Any hail size can damage your metal roof. However, this may vary depending on the roof's condition and the strength hail storm.
Metal roofs are generally more resilient to hail damage except for extreme conditions. The following are types of hail sizes to know. Each size has a varying degree of damage to the metal roof.
Dime-sized Hail
Though not always scary, a dime-sized hail could tear shingles with existing damage. Even at a greater velocity, such hailstone won't cause harm to a metal roof or new shingles.
Quarter-sized Hail
Hail with a size ranging between a dime and a quarter has no significant damage to a metal roof. But, it can increase the rate of erosion and wear away the roof.
As for shingles, greater speeds increases impact damage.
Half-dollar size
A hail that is bigger than a quarter may pose a significant risk to the roof. They are often larger enough to destroy shingles.
At higher impact speeds, this hail can dent your metal roof. So, remember to check for metal roof damage after a hail of such size.
Metal Roof's Structural Support
A metal roof with robust structural support limits the formation of dents in the case of hail. That's because the support prevents the extent to which the metal roof can flex.
On the contrary, a metal roof supported with a solid yet open underneath may dent pretty easily. The reason is that extreme hail may force the metal roof downwards, causing dents.
Roof Slope
A metal roof hail damage occurs more on relatively flat surfaces.
Metal roofs with steeper slopes limit the hail's direct force onto the surface. Therefore, the chances of forming dents become minimal.
Other Factors include:
Paint finish
Thickness of the metal roof
Structure of the panel
How to Spot Metal Roof Hail Damage
In case of a hail storm, there is a possibility to cause more damage than making dents on your car's roof. It can cause significant damage to your business or home's metal roof.
But how do you know your metal roof has hail damage? The following are two methods of spotting a metal roof hail damage and take apt measures.
Ground Hail Damage Checking.
After a hail storm, it is wise to walk around your home to check for any signs of hail damage. Inspect the gutters, shed, patio furniture, plants, or any other property.
Any damage to your other properties can mean that your roof is affected. Besides, if you notice some roof fragments on the ground, then it is clear that your metal roof has hail damage.
Tree damage is another sign that the hail may have caused some destruction on your roof.
Additionally, splash marks on your driveway indicate the hail storm's strength. If it can remove gravel from the ground, what could it do to the roof?
Spot hail damage from the ground by looking at the roof. Never climb on the roof as it can be dangerous. So, leave that to the experts.
What does metal roof hail damage look like?
Metal roofs exist as one of the strongest covering options for roofing. For this reason, you'll find them made of various kinds of materials.
One of the effects of hail damage is that it may cause rusting and weakens your roof. The metal type your roof has determines the rate at which the rust spreads.
That aside, you may be wondering how hail damage looks like. There are two classifications of roof damage that you can easily note. They include:
Dents
These are the common indications of hail damage. They refer to hollows that form as a result of an extreme storm. Just like on your car's roof, hails can pockmark or dent your metal roof.
However, the size and velocity of impacting hail stones determine the dent's size.
Scour Marks
After a hail, you may see some scratches on your metal roof. So, the hailstones hit the metal roof at a certain angle, scouring away the outermost roof coating.
If you suspect that your metal roof has hail damage, look for roofing professionals. Don't wait to see a leak to take action.
Hire a Roofing Professional
Not sure there's hail damage on your metal roof? Or you're not feeling comfortable inspecting the roof? Well, consider contacting a qualified roofing expert to inspect your roof for damage.
Many roofing companies offer these inspections free of charge. You'll need to clarify that you are not asking for roof repairs at the moment.
Roofing experts have incredible skills and know the exact anomalies to look for. Believe it, an expert's eye will spot problems you have always ignored. That's if you are at risk of expensive repair costs.
You should not sign documents such as inspection or contingency reports. The records may have some fine prints demanding you to hire the company or contractor for repairs or charged cancellation fees.
It is also essential to record any issues for your insurance company.
Metal Roof Insurance
Many homeowners tend to ask this question: will insurance pay for hail damage to a metal roof?
The answer is yes. Insurance companies usually favor properties and homes with metal roofs. You'll find them providing reduced rates.
That's because they tend to offer excellent protection against hail storms.
If your metal roof has suffered hail damage or you intend to prepare for it, check out if the policy covers it.
Though there are different insurance policies, most will cover wind and hail damage. So, double-check your policy's fine print to know if the insurance company will pay for the damage.
If your plan doesn't cover hail damage, you can see if you need to make some changes to your insurance policy.
Hail Damage Waiver
Your insurance company may need you to sign for hail or wind damage. If you don't sign the waiver, your insurance policy should cover your roof structure.
Waiving for such potential damages allows you to save some money on your premium. However, you'll lose the assurance of your roof's protection. The decision you make depends on the following considerations:
Location
Is your area prone to the occurrence of hail, yet you want the roof to looking new? If yes, do not sign the waiver.
Structure
If your roof's construction can hide or deter dents, then there's nothing to worry about. That's except for extreme situations. To save several coins, you can consider signing the waiver.
Value
Is your metal roof expensive and large? If so, it is worth investing in a protection plan. Not signing the waiver can help safeguard your investment. Also, it enables you to maintain the home value.
Metal Roof Hail Damage Insurance Claims
If your insurance policy covers hail damage, below are the steps to follow when filing a claim.
Call your insurance company if you spot roof damage after a storm.
Talk to your trusted contractor and insurance agent to assess the roof damage. The contractor may offer estimates for repair costs. They can also ensure that repairs or possible replacements match the original ones. That's in terms of appearance and resilience.
Visit your metal roof vendor. Make sure that they work together with the insurance company to provide apt materials.
Find a trustworthy roofing company or contractor to help you with the repairs.
How to reduce the risk of Hail Damage
Go for Class 4 rated metal roofing materials to lower the risk for damage after a storm.
Buy galvanized coated metal roofs like those made by steel, zinc, or aluminum
Conclusion
Metal roofs are often robust enough to withstand any damage from a hail storm. Thanks to their remarkable hail-proof properties. That should not be a reason for you to relax, no.
When looking for metal roof hail damage after an extreme storm is vital. It reduces the risks due to dents formed, like expensive repairs and water leaks.
To this end, we believe that the above details about hail damage on metal roofs are pretty handy. Be sure to seek experts' help in case the roof damage is complex.