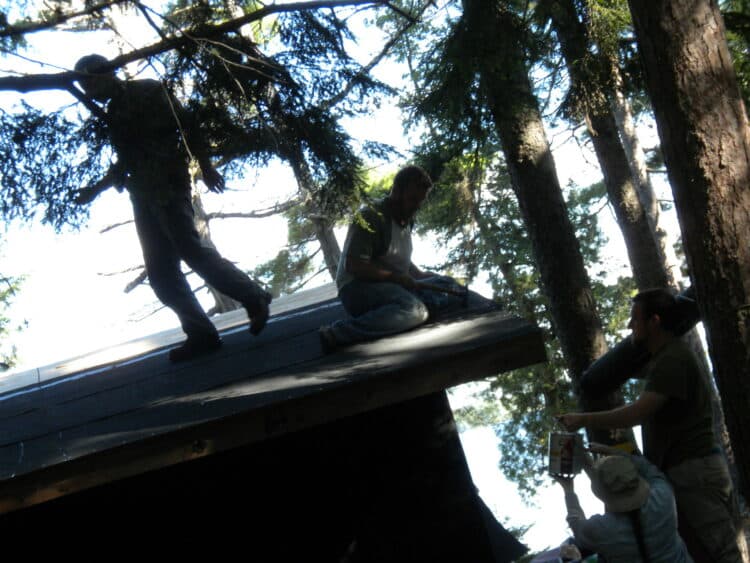 Are you curious to learn about what is roll roofing?
As a homeowner looking for roofing alternatives, you might have come across the usual ones like metal roofing, asphalt shingles, concrete, clay, or slate.
Yet, there is one option that you might consider: roll roofing.
But before going ahead and purchasing one huge roll for your home, you have to learn everything about it.
Like with all roofing materials, there are advantages and disadvantages. And you might find out that some of them may be detrimental to your home, so knowing everything about it is crucial.
What Is Roll Roofing? Why Is It A Sensible Choice?
To the uninitiated, roll roofing is also known as MSR or mineral surface roofing.
It bears similarities to asphalt shingles, wherein it is also an oil-based asphalt product, which has a mineral surface set of a massive roll. Yet it is thinner, cheaper, less durable, and easier to install.
It is available in one hundred square feet rolls, weighing about seventy-five pounds. And can be found in any hardware store, home improvement center, or online shop.
Roll roofing is one of the cheapest options in the market today, which is a reasonable choice if you want to save money. The cost of the materials is low, and the labor for it can be free if you prefer to apply it yourself.
Where Can You Use Roll Roofing?
Roll roofing is seldom used for homes due to its perceived incapability to withstand the wear and tear from weather elements.
But it can still be useful for other supplemental structures in a household like sheds, garages, workshops, barns, treehouses, etc.
Roll roofing is utilized for structures with low-sloped roofs. If the roof pitch has a vertical decline of one inch for every twelve inches horizontal direction (1:12), then rolled roofing is the best choice.
While the minimum and the safest roof pitch is 2:12, which is two inches vertical decline per twelve inches horizontally.
Advantages And Disadvantages Of Roll Roofing
Advantages
It is less expensive compared to the usual roofing materials like asphalt shingles, which costs thirty to one-hundred US dollars per square foot.
The total cost will be about three hundred to one thousand dollars for a one-thousand square foot roof.
It is suitable for roofs with a low incline but not advisable for flat roofs.
Applying roll roofing is quick, easy, and only takes a few minutes.
Transporting it would not be a problem since it is sealed in a seventy-five-pound roll, thus making it compact and light.
You and a friend can help in carrying and applying. And you would not need any special machinery.
It can be applied over a current roof, but you have to be sure that there is no debris, slag, or gravel underneath that might pierce a hole on the roll roofing.
It is quite adaptable, which you can cut in twelve-inch by thirty-six-inch strips that can be used for ridges and hips. Or can be utilized for rakes and eaves by cutting nine-inch strips.
Disadvantages
Roll roofing is not visually appealing since it is usually available in black, which is its most common color. But it is also available in green, tan, and gray, which you might have a hard time finding.
Also, some homeowner's organizations do not allow roll roofing for their residents because of its perceived unattractiveness.
Compared to shingles, rolled roofing is less durable. Shingles interlock with each other that expand and contract in time but would not easily break.
While roll roofing is one giant sheet and can easily tear if any forceful activity happens to the structure, like earthquakes or tornados.
One big disadvantage, which makes it unsuitable for homes, is its short lifespan. Roll roofing can only last from five to eight years.
Compared to other roofing materials that can last about twenty years. and composite shingles can even last more than that.
After a few years of use, roll roofing begins to lose its grains and bald spots will start to build up.
Houses that use roll roofing for their roof material have poor resale value, and expert buyers see it only as a temporary fix and can drive the price low.
What Are The Other Types Of Roll Roofing?
Bitumen Roofing
Bitumen roofing is a hydrocarbon and asphalt mixture that make it more durable compared to the others on this list.
Since most shingles are made from asphalt, this type of roll roofing has similar pluses and minuses that asphalt has.
TPO Roofing
TPO or Thermoplastic Polyolefin roofing is often used in commercial buildings due to its affordability.
It is also available in various colors and styles, is single ply, and can last for more than twenty years.
EPDM Roofing
EPDM or Ethylene Propylene Diene Terpolymer is also an affordable type of roll roofing.
It can be easily installed, quite durable, and can also last for more than twenty years.
However, it is not resilient and can make the resale value of the structure become lower.
Rubber Roofing
This type of roll roofing is the most prevalent one available in the market today and is made from recycled tires, sawdust, and slate dust.
It is quite durable, affordable, and easy to install. It is also available in various styles and colors that you can choose for your home.
Felt Underlayment
Felt underlayment is not used the same way as the others on this list and is primarily applied beneath the shingles and tiles.
But it is often referred to as roll roofing, thus merits its inclusion.
What are the other types of roofing materials?
If you do not like roll roofing for your home, there are other choices:
Shingles
Architectural shingles- Heavier, thicker, aesthetically appealing, and can last for more than twenty years.
Three tab shingles- The most common roofing material in US residential homes, cheaper, not as appealing, and easy to install.
Wood shingles- Excellent in warm climates, rot and insect resistant, does not much maintenance and has a wonderful aesthetic look.
Clay Tiles
It comes from terra cotta material and is popular in the south and southwestern US states.
Metal Roofing
It is available in aluminum, steel, standing-seam copper panels, and stone-coated steel.
It works great in snowy regions since the snow will just slide off.
Slate Time Roof
This material is used for mansions and expensive homes. It is quite heavy and needs strong rafters to withstand it.
How Can You Install Roll Roofing?
Tools And Materials You Need
Roll roofing
Roofing nails
Tape measure
chalk line
Ladder
Utility knife
Push broom
Roof drip edge
Hammer
Roofing cement
Steps To Installing Roll Roofing
Take measurements of the length and width of the roof surface. This way, you will know how many rolls you need to purchase and install on your roof.
Add ten percent to account for the sheets that need to be cut and adjusted.
Clean the roof for any dirt and debris that might puncture the roll roofing. If you see any nails or sharp objects sticking up from sheathing, remove or drive them down.
Utilize the roofing cement to bond with the drip edge towards the bottom edge of the roof deck.
Measure thirty-five inches from the bottom edge and mark it with a chalk line to make a straight line. It is to indicate that it is parallel to the drip edge.
Use the utility knife to trim the roll roofing into strips that will fit the roof, based on the measurements taken earlier.
Take the first strip and place it along the chalk line, which should line up from the outer to the drip edge.
Take the roofing nails and hammer them down along the sides of the bottom edge. Each nail should be six inches apart and one inch from the edges.
Measure thirty-four inches from the edge of the initial row and mark it with a chalk line.
Apply roof cement along the edge of the first row about two inches wide.
Place the second section of roll roofing by the chalk line and overlap the roof cement.
Take the roofing nails and hammer each one along the bottom edge of the first row, the same procedure as before.
Perform the process again until the entire roof space has been filled up.
Utilize the remaining roof cement to seal the last top edge.
How Can You Repair Roll Roofing?
Before repairing the roll roofing, you have to know which type it is since the particular fix will depend on it.
Tools And Materials That You Need
The same type of roll roofing material on the current roof
Broom
A cutting tool
Roofing cement
Roofing nails
Paintbrush
Repairing The Roll Roofing
Repairing the roll roofing entails patching up the damaged section of the roof or applying it with roofing cement or tar. However, patches will work better on a long-term basis.
The entire process is quite easy and can be done during the weekend.
Go first on top of the roof and check what kind of damage you will be dealing with and need to be cut away. Determine if the hole, crack, or abrasion is the result of harsh weather, a fallen branch, or too much heat from the sun.
Then trim away the damaged section of the current roll roofing with the cutting tool.
After removing the damaged section, clear away any dirt and debris found there. The new roll roofing strip will adhere better if the spot is clean and dry.
Some roofing cement brands have different methods of applications, so always read the instructions listed on the can before applying it. Be sure to follow it, and doing it will lengthen the lifespan of the roll roofing.
Then apply the one layer of roofing cement on the exposed portion with a paintbrush.
Patch up the exposed area with a strip of the same roofing material as the existing one. Make sure it is the same size and shape so that it will be a perfect fit like a jigsaw puzzle piece.
Flatten it and make sure there are no air bubbles underneath. Then drive down the edges with a few roofing nails.
FAQs
Which Is Cheaper: Roll Roofing Or Shingles?
Roll roofing is less expensive than shingles, and any other type of roofing material is known as the cheapest one in the market today.
Its price is thirty to one-hundred US dollars per square foot. The total cost will be about three hundred to one thousand dollars for a one-thousand square foot roof.
Another reason for its expensiveness is the cost of labor, which might turn out to be free if you can install it yourself.
Can You Drive Down Nails On Roll Roofing?
Nailing down roofing materials is a regular practice that professional roofers do. But with roll roofing, it will be advantageous if you use roofing cement as well as roofing nails to adhere it to the roof.
You can make sure that no leaks will go through the driven nails by applying a sealant over each one.
However, some professional roofers do not recommend driving nails into roofs that are flat or have a low grade. These types may not have proper runoff and might result in leakages.
What Is The Average Lifespan Of A Roll Roofing?
The answer will depend on the type of roll roofing material used and the climate it is in. If the conditions are just right and with no disruptive activities happening, it can last about twenty years.
To get the most out of it, make sure it is installed correctly and maintained properly as it should be. You can also make it last longer by painting over it, similar to what is usually done with roof shingles.
Conclusion
You, as the homeowner, have the final say on what will be the best type of roofing for your home. The safety and protection of your family must be your principal concern in making that decision.
And do not select a material for your roof because it is cheap; choose because it is the right one.