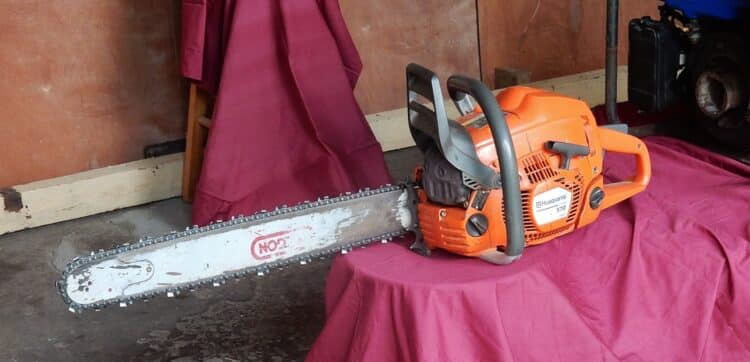 The chainsaw is one of the most formidable, yet convenient power tools found in a regular homeowner's arsenal. Its practical uses range from felling a tree for firewood to ice sculpting to juggling. In fact, you've probably wondered: when were chainsaws invented?
It truly is one of those tools that has gone through such lengths at evolutionary changes that it has changed its physical appearance and its function over the years.
But despite the threatening aura that often surrounds the chainsaw, it was not originally meant to be seen that way. This article will delve into the history of chainsaws and tackle how its physical appearance has evolved through the years.
How was the chainsaw created?
Perhaps the most surprising fact about the chainsaw is its origins. It was not originally meant to cut wood for the forestry industry.
Its first purpose was childbirth.
Although there will be scholars who dispute the claim that the chainsaw was originally intended for childbirth, it is undeniable that a device that had the similar characteristics of a modern-day chainsaw was invented in the year 1780.
Two Scottish doctors named John Aitken and James Jeffray created the first "chainsaw" but at this time it was more of a "flexible saw."
In the year 1830, this flexible saw was redeveloped by a German physician and bone specialist named Bernhard Heine and become known as an osteotome.
The osteotome had chain links that were made up of small teeth set at an angle. The chain would move around the guiding blade by turning the handle of a sprocket wheel.
They used this to cut bone.
In the context of childbirth, a process called symphysiotomy involved dividing the cartilage of the pubic symphysis so that the baby's head could have more room to pass through.
Take note that this horrifying procedure—usually done under no anesthesia—was agonizing for the mother and added more stress to the birth.
This beginning for the chainsaw was marked with extreme lifelong pain these mothers had to suffer through. Thankfully, due to the evolution of modern medicine, childbirth offers less invasive methods for new mothers, putting their comfort as a topmost priority.
From 1861 to 1918
The same way medical medicine evolved to make childbirth more comfortable, so did the purpose of the chainsaw.
Its central purpose shifted from cutting bone to cutting wood.
In the year 1861, a chainsaw that had to be cranked by hand, and needed two men to be used was invented. It was called the Hamilton Saw, and looked like a giant spinning wheel.
The American Riding Saw debuted sometime in the 1880s. Again, the chainsaw had to be operated by humans, but this time, it looked like a rowing machine.
One person would sit inside it, and then operate it.
A man named John Muir would then use the osteotome to create a machine meant for logging. Unfortunately, this machine was too big and weighed hundreds of pounds so it was not met with much success.
An "endless chain saw" was one of the earliest chainsaw patents recorded, and it belonged to Samuel J. Bens. It was created in the year 1905.
This endless chain saw had a guide frame with chain teeth running around it.
But the patent for the first portable chainsaw is owned by James Shand, who developed it in 1918. Once again, its bulkiness didn't attract people to use it, so it fell to the same fate as John Muir's machine.
The 1920s and mobile chainsaws
Andreas Stihl patented the first electric chainsaw in the year 1926. It was still bulky and weighed about 116 pounds, but it had more success than its counterparts.
Early models of the mobile chainsaws usually needed two men for it to be operated. World War II put on hold a lot of its production as steel was prioritized for use in the war.
In 1927, Emil Lerp developed the very first chainsaw that was powered by gasoline and mass produced them, beating Andreas Stihl at it by two years.
After World War II, the use of aluminum alloys became more common, slowly allowing the chainsaw to become lighter and lighter.
And from then on, chainsaws started to get lighter and lighter, with more features added to it as time passed by until it became what we know now.
Timeline of the history of chainsaws
Year Pioneer Name Facts
1780 John Aitken & James Jeffray Flexible saw Originally meant for childbirth (symphysiotomy) and pelviotomy
1830 Berhnhard Heine Osteotome It was an original bone chainsaw
1861 Hamilton saw It had to be cranked by hand, needed two people to use it, and looked like a giant spinning wheel
1880s Hamilton American Riding saw It still had to be operated by hand, but this time it looked like a rowing boat
1897 John Muir Logging chainsaw Inspired from the osteotome, it was too bulky and weighed hundreds of pounds. It needed a crane to be operated
1905 Samuel J Berns Endless chainsaw It had a guide frame with chain teeth running around it
1918 James Shand First portable chainsaw It weighed too much and was too bulky so the idea didn't take off
1926 Andreas Stihl First electric chainsaw It was still bulky and weighed 116 pounds, but was more successful then James Shand's and John Muir's
1927 Emil Lerp First gas-powered chainsaw He mass produced these chainsaws, and beat Andreas Stihl by two years
1929 Andreas Stihl Gas-powered chainsaw
Post World War II Saw the rise of lighter chainsaws as more development was made to engines and the use of aluminum and other metal alloys
1950 First one-man chainsaw Despite recent post world war II developments, it weighed more than 30 pounds
1964 Andreas Stihl First antivibration system It was added to the chainsaw so that one could hold and use it for a long period of time
1972 Manual chain brake bar added to Stihl chainsaws Brake bars would serve as the emergency brakes to a chainsaw so that the chain did not keep spinning during kickback
1974 Oregon Low profile chains Low profile chains lessened the chances of kickback
1977 Oregon Banana bars Banana bars were chainsaw blades with a thinner tip. This new shape and smaller nose allowed for less kickbacks
1982 Automatic chain break from manual to automatic, this chain brake served the same function as the previous one, but instead of needing to be engaged manually, it automatically stepped on the brakes as soon as the blade felt any form of sudden backward force
1991 Automatic starting function Replaced the pull cord
What are the parts of a modern chainsaw?
The modern chainsaw has since evolved to require parts that must be in every single chainsaw for safety. You can find out more about these by reading the Occupational Safety and Health Administration's safety standards.
Chain catcher
This is perhaps the most important part of a chainsaw because of its safety implications. The chain catcher is a guard that prevents the chain from hitting the user in case it breaks while in use.
Chain Brake
A chain break stops the chain in its tracks should a kickback ever occur. A kickback is a sudden upward thrust that happens when the nose of the chainsaw comes into contact with anything.
Handguard
A handguard protects your hand from the debris and provides extra protection in case of a chain snapping.
Chain
The chain is what allows the chainsaw to cut through most objects. It is made up of sharp teeth interspersed equally across the entire length of the chain. They may also be a specific width or gauge.Chainsaws come in different shapes and sizes, and the chain is usually the most noticeable part. Its pitch and gauge affect the way they're meant to be used.For example, when cutting firewood, it is important to have a chainsaw that is at least two inches longer than the size of firewood you're aiming for.
Guide Bar
This is the bar of metal that juts out from the chainsaw's engine where the chain spins on. It keeps the chain in place and makes sure it remains straight while it is in use.
Nose
Similar to a human nose, the nose of a chainsaw is the frontmost part of the guide bar and is usually a rounded edge.
Chain Tensioner
A chain tensioner controls how tight and how loose a chain is around the guide bar. If the chain is too tight, the speed by which it spins around is affected greatly, but if it's too loose, the chain can fall off while it is in use.
Conclusion
So, when were chainsaws invented? That depends on what you want to believe. We like to believe that they were invented by the Scottish doctors in the year 1780.
Chainsaws have gone a long way since their original function for childbirth and bone removal. The history of the chainsaw may not have started out as well, but look at the process it underwent in its evolution.
From compactness to mobility to safety, different parts were highlighted at different centuries. What used to take a crane to hold up can now be operated by a single person.
We need to take pride in how far chainsaws have come, and how durable they can be. Without the excellence of the inventors in the past, we may still be using manual labor to cut our firewood and fell trees.