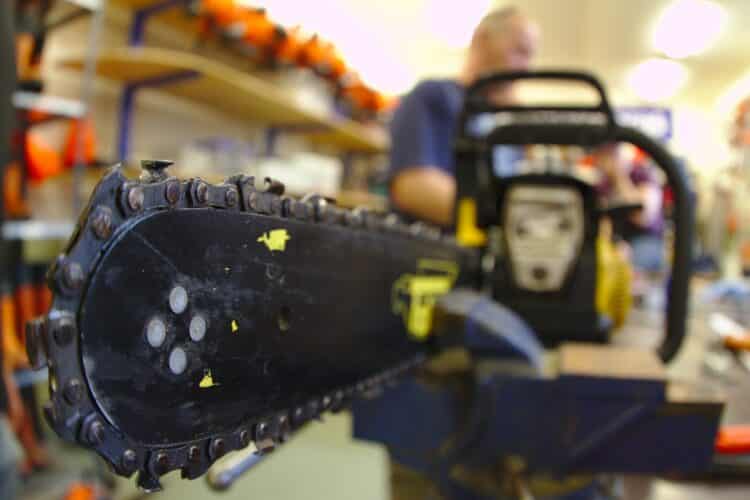 To keep your chainsaw whirring for years to come, proper maintenance of the bar and chain oil levels is critical.
The moment you power on your saw, its gearwheel movement will allow the chain to spin around the bar at incredible speeds. This will create friction in the process.
If your chainsaw uses up excessive amounts of fuel and its chain slowing down, it's a pretty clear warning that your saw is about to overheat. A lubricant, specifically a bar and chain oil, will do just the trick to keep your chainsaw running smoothly again.
Types of Bar and Chain Oil
While there are many alternative oils to lubricate chainsaws, a formulated bar and chain oil is your best option. These purpose-specific oils have a viscosity that can handle the friction caused by the high-speed gear wheel.
Different brands essentially do not differ much in quality. All brand-name bar and chain oils contain an additive called tackifier– an adhesive will allow the oil to stick to the metal surface.
A reliable bar and chain oil to try is Oregon's 54-026. The brand is renowned for making high-quality bars and chains.
If the bar and chain oil are inaccessible, plant & vegetable oils are an effective alternative. However, remember that these do not work well in extreme temperatures. These are kept as a final alternative when in an environment that prohibits products with petrol.
Motor oil should be kept away from your machine. The viscosity is not right for lubricating your bar and your chain.
Used motor oil, in particular, may contain some debris that can eventually wear down and damage your chainsaw.
Using Thinner Oil
Using your chainsaw during the winter entails considerable maintenance. You'll need to clean your bar, sharpen your chain, and grease your sprockets.
Choosing to use a lighter oil during cold temperatures will lubricate your chainsaw much more effectively than the regular bar and chain oil. Thinner oil listed under 10 weight oil will be less tacky during the winter months.
After the low temperatures, switch back to your regular bar and chain oil with a weight between 20 and 50. Thinner oil during hot temperatures is not very cost-effective due to spillage.
Chainsaw Maintenance
Getting Started
Many chainsaws are already built with a reservoir that feeds oil into the machine. The chainsaw's oil reservoir can easily be located by finding the oil cap on the chainsaw's body.
When you power on the machine, the oil from the reservoir will slide from the bar, then the chain. The chain will lubricate the groove and bars as the engine spins.
Before getting started, make sure that you prepare a set of gloves and some towels. You can also use a funnel to make transferring the bar and chain oil to your chainsaw's reservoir much easier and spill-free.
Filling Up the Reservoir
1. Set down the chainsaw on a flat surface.
2. Make sure to wipe away any dirt and oil residue that might fall into the tank. As well as being a safety hazard, dirt and debris will eventually end up damaging your chain.
3. Allow the oil to settle, then unscrew the cap. Use the funnel to slowly pour the oil into the reservoir until it is full.
4. Securely screw on the cap, then wipe down your chainsaw for any residue.
Professional and industrialized chainsaws contain a sprocket that helps guide the chain. Use a grease gun to lubricate that part as well.
Keeping your chainsaw oiled is a simple process, and it can extend the lifespan of your machine. Each time you power up your chainsaw, remember to check your oil levels, especially when you'll be using it for long periods at a time.