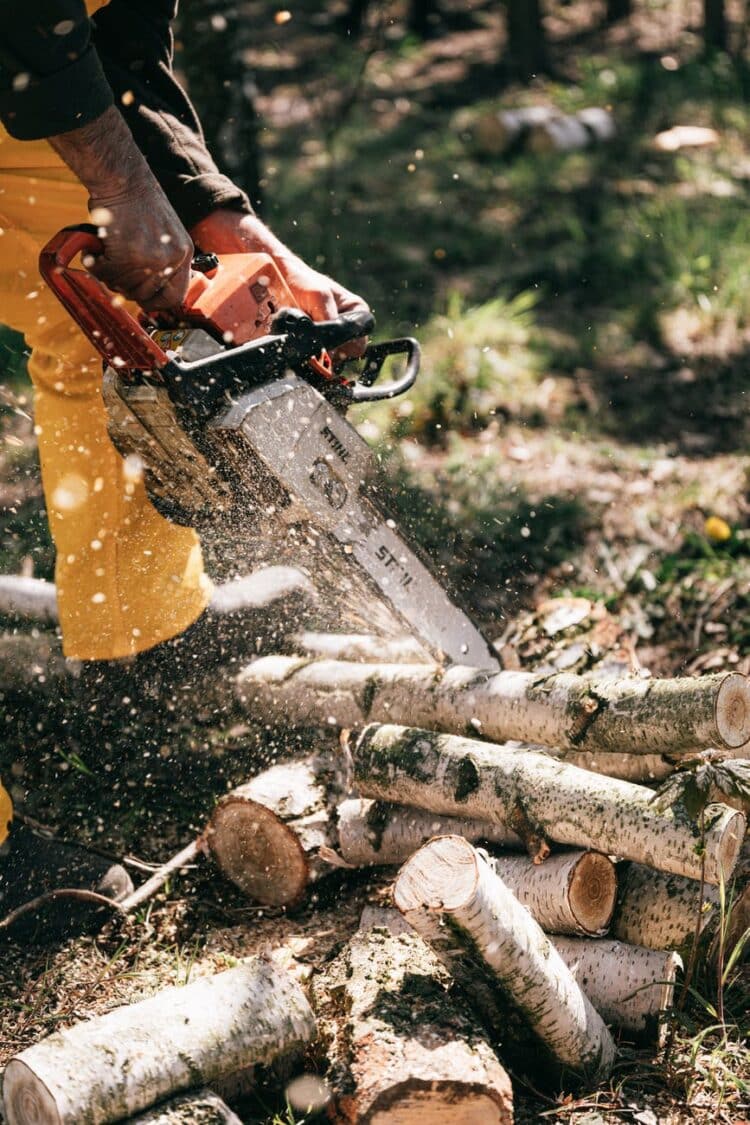 A Chainsaw is a convenient tool to own, even if you may not always need to use it. Chainsaws make work like felling, bucking, pruning, and limbing trees easy. But, that is not all they can do. After you do the cutting, you still have those heavy tree parts to haul or clear away. Or maybe there is some other load you need help moving. That is where a chainsaw also comes in handy. Your chainsaw can help you pull and lift heavy objects if you have a winch. You have the option of buying a winch with a motor. You can also buy a chainsaw winch. But of both these are expensive. If you are a firm believer in doing it yourself, you can build a winch to attach to your chainsaw and save a lot of money. Follow the steps in this article to learn more about how to make a chainsaw winch.
How Does A Chainsaw Winch Work?

Winches are designed to make light work of heavy pulling. They do not only make these jobs easier. They also make them safer.
Winches are manual, gas-powered devices, usually made from steel. The mechanics of these devices are simple.
It consists of a rope, chain, or cable wrapped tightly around a horizontal barrel that can rotate. Connect the winching device to the chainsaw.
You secure the wire around the object you want to move and then turn on your chainsaw. But, before you can do that, you need to know how to build your winch.
What To Do Before You Build Your Chainsaw Winch
Before you begin following our how to make a chainsaw winch guide, there are a few things you need to put in place.
Gather The Parts You Need
You can find the parts you need for your chainsaw winch in one of two places. You can check with a nearby scrap dealer or from a steel supplier. It will cost you less from the scrap yard.
These parts are available from a nearby junk dealer. You will get a better value than if you bought them new from a steel supplier. Ensure that you have a pulley, shaft, and other vehicle components. If you like to tinker with things, you can also find these components in old appliances and cars.
A chainsaw
Pulley
Shaft
Flat iron
Chanel
Angles
Separate The Chainsaw Blade From The Engine
It is impossible to run the chainsaw blade and the winch from the same engine at the same time. So, the first thing you have to do is separate the chainsaw blade from the engine.
To detach the saw, follow the instructions in the manual that came with the chainsaw. Not everyone keeps manuals. If you do not have the manual, you can find guides online to help you. Ensure you use the manual for the brand and model chainsaw you own. There may be variations in the designs.
When you need to replace the saw, the procedure should be the same.
To prevent rust and any damage, store your saw the correct way. You may need it later to complete another chainsaw project.
Examine The Engine Of The Chainsaw
Hopefully, if you have had your chainsaw for a long time, you serviced the engine when you were supposed to. How well your chainsaw winch works will hinge on how well you took care of your chainsaw engine. If your chainsaw is faulty, the winch will not work, and your efforts to build one will be wasted.
The clutch and throttle are two necessary components to the success of your winch. They should both be in proper working order.
Step-By-Step Guide To Chainsaws How To Make A Chainsaw Winch
As convenient as store-bought winches are, they will put you out at least $300. If you do not have that kind of money to throw around, but you have the time to spare, here is how you can make your very own.
Here, we begin putting your DIY chainsaw winch together.
Use Stainless Steel Aircraft Wire
I already mentioned that a stainless steel wire or rope is the best option for your chainsaw winch. Things made of stainless steel are durable. They will not rust. But if you have a rope or some other type of material, those will work also. But, in this article, we will work with a stainless steel aircraft wire or cable.
Here is the first step to building a capstan winch. Wind a length of stainless steel aircraft wire around the revolving drum of your pulley. To make the foundation of the winch, put together the angles, flat iron, and flat channels.
Find The Rubber Tube
Remove the tail shaft housing from the gearbox you bought from the scrap yard or an old car. In there, you see a rubber tube. Measure a section of rubber to match the size of the box's backplate. Make several holes in the rubber. You will fit the bolts through those holes and attach them to the winch's main shaft.
Use A Gas Torch
Weld the main support brackets of your winch with a gas torch. Not all DIYers own a gas torch. If you do not, you can go to a welder to get the job done for a small fee. Using a thick u-shaped channel, cut the pieces as follows. The channel dimensions should not be less than 3 inches x 10 inches x 3 inches.
In these three steps, you complete the base of the winch.
Secure The Transmission
After finishing the winch's base, secure the transmission up to the winch's main shaft of the gearbox. Drill holes through the metal plates of the bottom. There, you have to mount the drum bracket and crank.
Secure the handle of the winch to the framework. A lot of power goes into the winch to make it work. The handle has to be a bit long so it is easy and comfortable to hold to keep the winch stable when it is running.
Now all you have to do is thread your winch's crank joints and ensure that you weld all of your winch's crank joints as well.
Try Your New Winch
By this stage, your winch should now be ready to use. Feel free to attach it to your chainsaw and give it a test run to ensure it works well.
Once you are sure it works, attach the winch to the load you want to haul. Remember, do not give the chainsaw more weight than it can handle. Under typical conditions, a home-built portable winch carries loads of about 5000 pounds. But check the horsepower of your chainsaw and run it against the numbers in this article to be sure.
If you are in doubt, you can always contact the manufacturer for help.
Uses For Chainsaw Winches
Portable chainsaw winches are easy to carry around. They have many applications.
Towing a broken down vehicle
Hunters can use them to haul game
Logging trees
Moving heavy boulders
Your winch is manual and uses gas. You never have to worry about your job being affected if there is no electricity.
What You Need To Know About Home Built Chainsaw Winches
Making your own chainsaw winch will save you money and make some jobs so much easier. But there are some limitations to the use of winches that you must be aware of. Whether your winch is do-it-yourself or factory-made, those limitations apply.
Chainsaw Winches And Their Limitations
Winches can only pull loads over a slight incline. For pulling loads over a slope with an angle greater than 45 degrees, you need a hoist. A winch will not work.
There is a limit to the weight your winch can pull. But that limit largely depends on how powerful the motor on your chainsaw is. Before you attach your winch to any load, consider the horsepower of your chainsaw. The type of towline you use will also affect how much weight your winch can pull.
Consider what the power-to-weight ratio is when pulling these heavy loads.
Pulling A 2000 to 2500 pound weight needs chainsaw with 3HP
Pulling A 3000 to 3500-pound weight needs a chainsaw with 5-6HP
Pulling A 4000-pound weight needs a chainsaw with 7HP
Follow Our How To Make A Chainsaw Winch Guide
Moving heavy objects is no easy fit. Without the right tools, these jobs often end in injuries and aching body parts. Some people may suggest that rigging a chainsaw winch at your home could be dangerous. But, that is not true. Before there were factory manufactured winches, that is what people worked with. They used self-designed winches. There is no reason why you cannot build one for yourself today. With all the latest materials and technology to help you, it should be a lot easier.
You do not need to go out and buy a motorized winch. Your chainsaw already has a motor powerful enough to get the job done. Your chainsaw can serve two purposes. You may never need to cut down a tree or tree limb. But with your home-built chainsaw winch, you can move heavy objects whenever you need to. And you can do so without risking physical harm to yourself.
If you already own a chainsaw, a winch is a practical addition to this handy piece of equipment. The fact that you can build the winch yourself, and save a lot of money, is a bonus. Then you can enjoy the satisfaction that comes with another successful project.