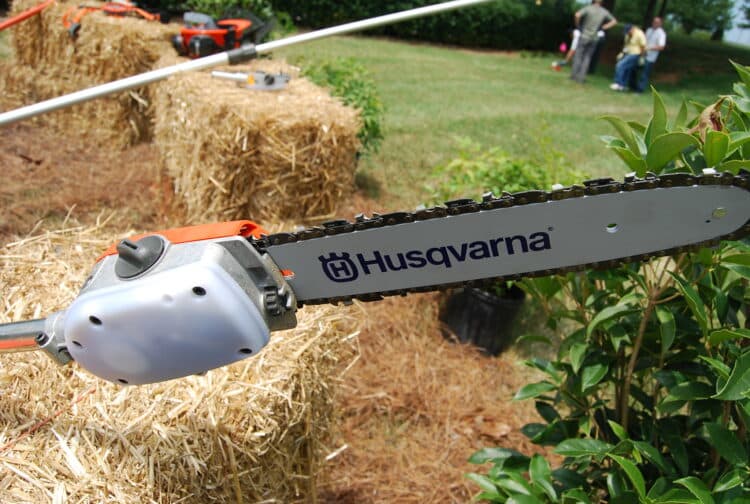 As the name suggests, a pole saw is a chainsaw attached to a long pole. It allows you to reach places that would otherwise be impossible or dangerous to reach with a chainsaw. Like a chainsaw, it comes with a few possible power sources: gas, battery, or through an electric main. Although there are manual pole saws available for use.
This article is going to tell you how to use a tree pole saw as well as a few tips so that you can use your pole saw without incident.
What are the possible uses for a pole saw?
Cutting off branches
It's easy enough to cut off branches that are just within your reach. The challenge lies in cutting off branches that are higher than 6 feet. Accidents can happen easily, and you definitely should not be trying to use a chainsaw to cut anything from that height.
Other than branches, you may also want to trim or cut off any vines that are crawling out of your reach. That's why it's better to use a pole saw to cut off these branches and vines. They have a longer reach and are relatively safer to use compared to a chainsaw.
Trimming trees
Your yard has to look great, but it can't do that when trees are in the way of the view. The growth of tree branches can block sunlight, in turn damaging grass and fertilization because some plants can't get enough sunlight to survive.
Plus, dead tree branches have to be cut off before they crack by themselves and fall on something—or someone. In disaster-prone areas, it's also dangerous to have tree branches that are getting too large because they could crack off the tree and cause even more damage.
A pole saw can help you reach those troublesome branches.
Pruning trees
Pruning trees is not the same as trimming trees. Pruning is the act of removing branches that are not necessary for the growth of the tree. Trimming is the act of ensuring a tree grows the right way.
For example, you prune dead leaves from a plant because they are not needed, but you trim a tree branch that's growing too close to the house.
Clearing bushes
It's always a satisfying sight to remove bushes that could start to house dangerous animals. You can use a pole saw to help you clear these dangerous bushes out.
What are the safety precautions when using a pole saw?
1. Know your surroundings
Always examine your surroundings before you start using a pole saw. Stay away from power lines or branches that are near a power line.
2. Wear the right gear
The gear for using a chainsaw is the same kind of gear you will need when using a pole saw. The basics are a pair of safety goggles, gloves, a long-sleeved shirt, boots, jeans, and a hard hat.
3. Plan ahead
If you're cutting branches that are way above you, stay away from the fall zone. You don't want to get hit by a heavy branch while it's on its way done.
4. Accept that you may not be able to handle things on your own
Branches that are over 8 inches thick have to be handled by a professional. It is not wise to try cutting these kinds of branches yourself.
How to use a tree pole saw
1. Prepare your work area
You have to make sure your work area is ready for you to work on. Remove any tree branches that are littering the property to avoid tripping and remove any valuable furniture that could be victim to a falling tree branch. Take note of any exposed tree roots that could trip you by accident.
Clear the area of any people to avoid any accidents. If it's an option, you could rope the area off. You must also have a safety plan in case of emergencies.
2. Create an action plan
You have to observe whatever it is you're planning to cut. Where is it located? How are you going to go about cutting it? You need to step back and assess the entire situation so that you are in control.
There is more to cutting a single branch than just cutting it from where it connects to the tree. You may have to do jump cuts or smaller cuts to the tip so that it's not as heavy once it's completely severed from the tree.
As much as possible, cut from a horizontal angle.
3. Start with lower branches
Work your way from the ground up. You need to create a clear path between you and the highest branches so that the whole process goes smoothly without a hitch.
4. Ensure you're in a safe position
You have to stand beside the branch, not directly under it. This ensures less injuries or accidents from occurring. Your position should also take into account how you're going to be holding your pole saw. The end you're holding should be at chest level.
5. Adjust the length of the pole saw
Extend your pole so that you are as far from the falling branch as possible. If it can't extend enough, then you may need to look for a pole that's of an appropriate length. You may need your pole saw's manual so that you know exactly how to extend it and lock it into place.
6. Position the blade of a pole saw
With your pole adjusted and your plan of action ready, you have to position the saw blade right next to the area that you will have to cut. Before switching the pole saw on, make sure that the entire pole saw's weight is within your control.
Once you're ready, rest the pole saw onto the branch's weight.
7. Start cutting
Cutting off limbs with a pole saw is easy enough because they're thin and snap off easily. Branches are trickier. When you are cutting a branch, you have to make sure that the stroke you're using is controlled. Nice and steady wins the race.
First, you will have to cut a small groove into the branch. Lightly tap the throttle and add a little push. Stop cutting if the pole saw slips off the branch. Reposition it before continuing.
Creating a groove allows you to follow a guide as you cut deeper into the branch. It secures the saw into continuing down the path you've already created.
8. Finish cutting
You can start increasing the speed of your saw as it starts to cut deeper into the branch. While it's finishing the job, keep a very close eye on the rest of the branch. A falling branch can be unpredictable, and it may shift to fall on you instead.
Adjust your position if you see that this may be the case.
9. Clear up fallen debris
Once you've been able to successfully down a tree branch, you have to remove it from your workspace or surroundings so that you can avoid any tripping hazards.
10. Prepare to repeat it all over again
After the first branch, you just have to repeat everything all over again. Make sure that you are slightly off to the side of the branch you're trying to cut, and that you keep a close eye on the branch as you finish making that cut.
Remember to start from the bottom and work your way up so that you can clearly see what you're dealing with. Position your saw first before trying to make any kind of cut, and always start with a groove cut before going out at full throttle.
What are some other tips when using a pole saw?
1. Take a break when you get tired
Pole saws can get heavy, especially if they are over 8 feet long. Switch it off and take a break every now and again to make sure you are in full control of your machine.
2. Always cut during the day
This way, you can see everything that you're doing without risking anyone's safety.
3. Watch the weather
It is definitely not a good idea to try using a pole saw if there's rain or if there are wet conditions (such as snow). Especially if you are using a pole saw that needs electricity to work.
4. Keep an eye on the branches
As one branch falls from your cutting, you should take a short pause to pick it up before moving on to cut the next branch. Furthermore, do not try to cut multiple branches in one swipe. Always cut one branch at a time.
5. Be prepared for kickback
Kickback happens when the chain is pinched or when something nicks the blade of the pole saw. Try to avoid this so that you can stay in control of your pole saw and prevent accidents.
How do you maintain a pole saw?
You can't expect a pole saw to clean itself. That is a responsibility for the owner. These are basic maintenance procedures that you can try on your pole saw.
Before use
Before using a pole saw, make sure it is connected to its power supply. If it's a gas-powered pole saw, then refill its oil tank with the right kind of fuel or gas. You will also have to make sure that the air filter in a gas-powered pole saw is clean before use. If not, you have to replace it with another air filter.
Make sure that there are no leaks found on your pole saw. Then, look for any loose parts that have to be tightened and check it thoroughly for any wear, tear, or damaged parts. Doublecheck just to be sure. Anything that's loose is a safety hazard.
The trigger of your pole saw must also be checked. You don't want to be out in the process of cutting wood when you realize that the trigger is faulty, and you can't switch off your pole saw.
The chain should have just the right amount of tension, and its blade cutters have to be sharp. Adjust it if it's too loose, too tight, or if it's too dull, then sharpen the blade cutters. Your manual should have more information on how to sharpen your pole saw.
After use
If you tightened the chain before using the pole saw, loosen it up a bit. Clean your entire pole saw with a damp cloth after each use to remove dust and debris that may have gotten caught around the edges and corners.
Store the pole saw in a place that is cool and dry and keep it away from anything that might stain. Too much moisture damages its parts, and if it's too hot, you will have to increase the frequency of its maintenance.
During storage, it is normal for the chain oil to have some leaks. You can place a rag over it or around the entire chain so that it doesn't stain anything else. You also want to keep your pole saw somewhere unexposed. You don't want to be dropping other tools on it because that sort of accident can damage its performance.
Conclusion
Pole saws are easy to use. They don't require a professional except in some cases when the job is too big for an amateur. Pole saws take some getting used to before you are able to use it with proper confidence.
Always remember to take necessary precautions before, during, and after using a pole saw because prevention is better than cure. Pole saws have their limits, and you cannot use them when you want to cut down a tree or cut up firewood. Those are jobs meant for a chainsaw.
Although they may have similarities, they are not alike. Know your pole saw better by reading the user's manual thoroughly. How you use a tree pole saw depends on your expertise and when using it, you must be stone cold sober.
Just follow the tips indicated in this article and make sure you do your research before trying to use a pole saw for the first time.