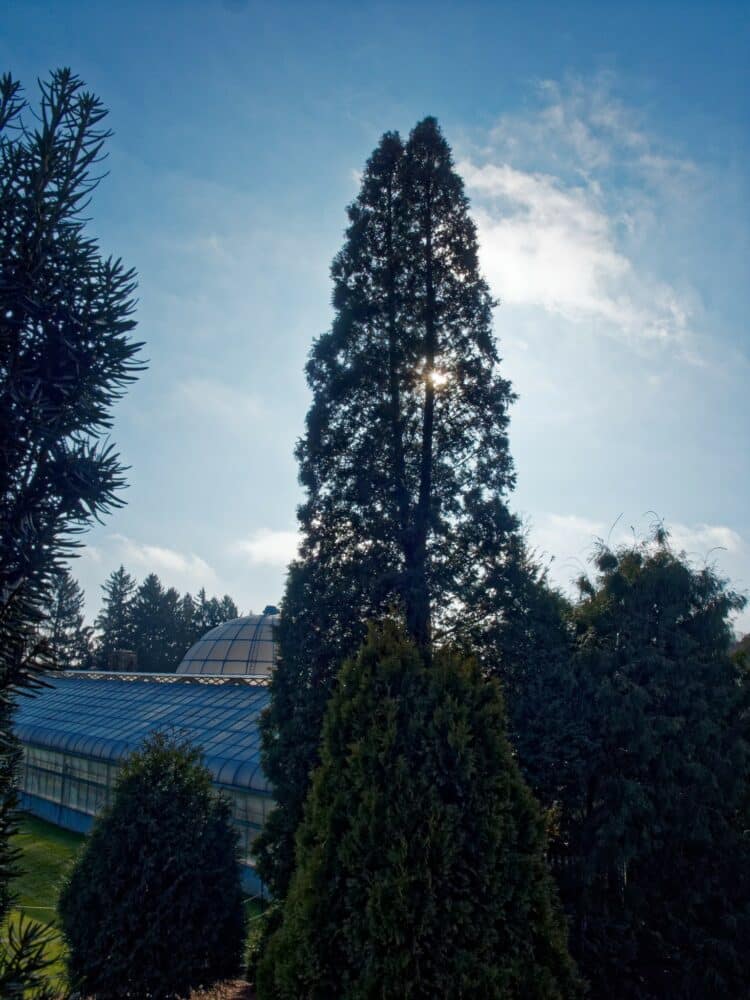 Are you looking for the best privacy trees for your home that can provide cover from nosy neighbors? Evergreen shrubs are the most beneficial plants to help you in this aspect.
Your home gives you a sense of comfort and belonging that you cannot get outside. You should feel safe in it, where no harm will come upon you.
One of the most important reasons why you need a home is because of privacy. You may need it to feel at ease with yourself, without judgments from the outside world.
To get the perfect sensation of privacy, you need tall fences that can keep prying eyes away. The best way to get that and is to make it environmentally-conscious and beautiful to the eyes.
A thick screening of evergreen shrubs is the one you need. You can plant them as hedges or in your garden as ornamental plants. One thing that you can be sure of is that it can provide the best concealment possible.
What can you do about evergreens?
When winter comes, and you see outside that your garden is barren and cold landscape, it is the best time to think about what to do with it. You intend to beautify it again when winter is over, and spring comes.
You can check on which tree or shrub goes where to make a maximum impact. The best all-around plant that can beautify as well as provide protection and cover from the rays of the sun are evergreens.
These types of shrubs are not only majestic-looking plants but are high enough to give a blanket covering for your home. It is a delicate balance in achieving the right mix of good concealment and getting magnificent aesthetic appeal for your home.
When planting these living fences, you should be aware of any possible disruptions like electricity lines, the main road's right of way, and potentially blocking your neighbors' view of the outside.
In a way, you need to be able to forecast the future in dealing with these types of noise-blocking trees. You want to avoid that they might obstruct power lines, become a sort of disruption against your neighbors, and be a nuisance for everyone.
Evergreens are sensitive plants. They need to get six hours of sunlight every day. If they do not get the right amount of sun, they cannot grow as tall as you prefer.
You will need to be patient in dealing with them. When you start planting, do not put them close to each other because they need enough space to grow and spread their proverbial wings.
Plant them beside each other in spaces in accordant with their sizes when they mature. So if you know that the type of evergreens you are planting grow to humongous lengths, plant them farther apart from each other.
Also, you do not want plant diseases to spread among each other. Being far apart fixes that.
Lastly, if you want to get the best look out of evergreens, do not plant the same breed together. Instead of one row of cedar trees, mix them up with magnolias, cypresses, or conifers.
Best-looking evergreens as privacy trees for your home
Leyland Cypress
This type of evergreen has leaves that appear like scales and looks like a massive pillar. It makes an ideal windshield, great privacy concealment, is resistant to salt and can grow to full length if it gets a good amount of sunlight.
Many new varieties are being cultivated from this type, some with different colors of foliage. It grows fast, so you need to prune it often to your liking.
It can grow as hit as sixty to seventy feet and with a span of fifteen to twenty feet.
One of its variants can change to a white coloration and needs partial to full exposure to the sun.
It requires soil that has a mixture of loam, neutral or acidic clay, and sand.
Boxwood
It has been famous throughout Europe and is the favorite landscaping ornamentation in most households. If you are particularly creative, you can prune and shape it to anything you want.
These make wonderful hedges for your home. They can prove the most adequate covering and makes it impossible to look over and pass through.
They are favorite components for topiary gardens. English boxwood is more pliant to shaping and makes the best design aspects for any garden. While Korean boxwood is tougher to manage and needs a strong hand to mold it into something worthy of display.
The best time for pruning is in late spring because when the foliage grows, it blackens, so you need to cut it out. Their physical magnitude is dependent on the species.
They do not need much sunlight. They can survive with partial sunshine and shade.
They need a particular kind of moist soil, which has a concentration of 6.8 to 7.5 pH.
Variegated Japanese Laurel
This type of evergreen is also called the "gold dust tree," due to the yellow specks on its bright green foliage. It is better known as "Variegata," because of its yellowish variegation.
It is an eye-catching tree and stands out from the other garden plants. It is better utilized in shaded areas where its golden specks serve as a form of illumination.
The Variegata is a female tree and needs to cross-pollinate with a male to yield red berries. There are species of Variegata called "Mr. Goldstrike" and "Maculata."
This plant thrives on moist soil but can remain vibrant in long periods of dryness. It can grow to be as high as six to nine feet with a leaf-span of three to five feet.
It grows slower than other evergreen types, so you can prune it spring going to summer.
Yew
If you want plants for instant screening, you may need Yew. It makes an especially thick shrubbery that is very receptive to pruning. Yew that has grown wild due to un-pruning can still be responsive to cutting and shaping, even in the dead of winter.
Yews that are utilized for hedges remain disproportionally wide and close to the ground. They can grow as high as six feet tall and sixteen feet wide, which works especially great for shrubbery in your home.
It can grow uniformly and can mimic man-made fencing, which provides a great form of barrier for your garden or home.
Its growth rate normal compared to other fast-growing evergreens. It means you can prune them less often.
Yews do not yield flowers but produce red berries. They have green needles that look sharp but are not.
Their exposure to the rays of the sun depends on the species. Some need full and constant sunlight, some just partially, and some can remain vibrant in the shade.
Yews need moist soil to survive with a neutral pH scale.
Cotoneaster
Cotoneaster makes the best evergreen fencing and landscaping and can create solid hedging for your home.
This type of evergreen has some of its semi-evergreen species. Here are some of the varieties:
The "C. lucidus" can grow as tall as ten feet. The "C. glaucophyllus" is not as tall. Its tallest is only three to four feet. The "C. franchetii" can be as tall as six feet, with a width that can become six feet as well, so it can be an ideal shrubbery for your home.
It is also beautiful and colorful to look at because it has bright green foliage and red berries.
It can need full sunshine to flourish, can survive in partial shade.
It needs to have moist and loamy soil to remain in blooming form.
Arborvitae Green Giant
This type of evergreen makes the best deciduous hedge trees. The U.S. National Arboretum was responsible for its creation and proliferation.
It is an especially durable evergreen tree and can virtually thrive in any condition of the soil, either clay or sand. It does not need to be pruned because it grows to be a perfect pyramid shape.
It can repel pests away due to its composition and can even is impervious to grazing animals like deer.
To get the best out of the Green Giant and make it a solid hedge or windbreaker, you need to implant them five to six feet away from each other.
To make them look even and level to one another, plant them five to six feet away from each other.
It can grow fast, so you can see the breadth of its beauty in just a short period. It can grow as tall as sixty feet and leaf-span of twenty feet wide.
It needs full exposure to the sun yet can survive with partial sunlight.
Heavenly Bamboo
When you are thinking about what to grow along a fence, you might consider this beautiful evergreen shrubbery.
Heavenly bamboo is not a real bamboo. It has striking colors of red berries and bright green.
It originated in the southern part of the USA, where it is a very popular ornamental hedging among homeowners. It is a sturdy plant and can withstand any harsh weather conditions.
In spring, the flowers bloom white and pink and can bear red berries. When autumn and winter come, the leaves become bright red.
It does not grow as fast as the other evergreen-types. It is as tall as five to seven feet, with a spread of three to five feet.
It only requires partial rays of the sun and needs rich and acidic soil to survive.
Holly
The holly is known for its shiny green leaves and lustrous red berries. It will be a more effective ornamental evergreen if pruned to its full magnificence.
You will need to cross-pollinate a male and female to get those wonderful red berries. However, some species already have that and do not require pollination.
Hollies need garden sulfur, peat, and acidic soil to survive. Varieties of American Holly are more capable of adapting than the English species.
They grow up to six to ten feet and five to eight feet wide. Set them two to four feet away from each other.
Privet
Privets are semi-evergreen, meaning some species are not. They grow especially thick and need pruning after bearing flowers.
Their flowers are white and have blackberries. They can grow in any soil condition and can survive in little sunlight.
They can grow as high as fifteen feet and six feet wide.
Firethorn
These can grow unkempt and wild but look brilliant as hedges. They are very colorful and grown white flowers in springtime and bear orange berries in summer and winter.
They are sometimes utilized as Christmas decorations. They can survive with less water and only need partial sunlight.
They can grow up to twelve feet and five feet wide. Be sure to embed them at least three feet apart from each other.