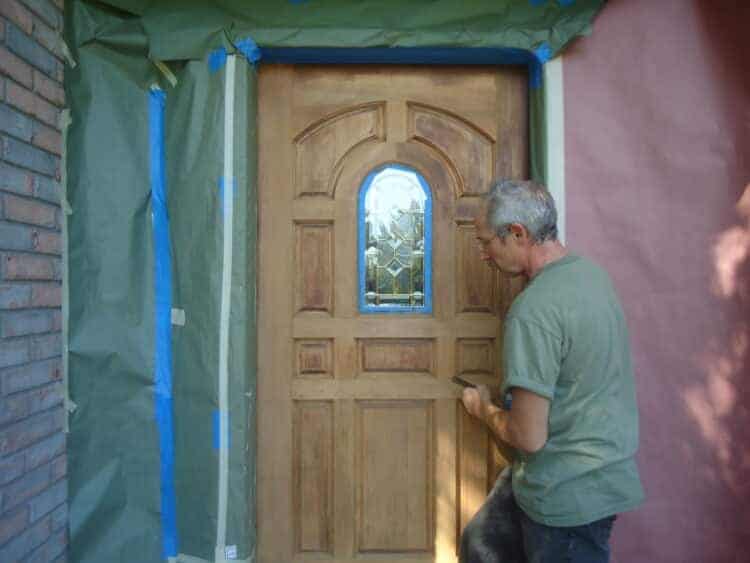 There are many ways of refinishing exterior wood door items.
Wood door refinishing needs to be done often because due to harmful natural elements like exposure to the rays of the sun, severe weather conditions, and wetness in the atmosphere. The likelihood that you will refinish your door will depend on the degree of the previous varnish and stain. Or if the said door is fully exposed or partially concealed from the outside environment.
If you get close, you can tell by touching and seeing if the door either is blistered, dry, peeling off, or cracked. These are the results when moisture has seeped into the wood.
The heat of the sun and water makes the wood change color and break apart. You have to do countermeasures and start refinishing the exterior wood door with top-grade stain every one or two years. It will keep damage from harsh weather occur and make it look brand new.
Six easy steps in refinishing exterior wood door
Are you thinking: "How to refinish my wooden front door?" Well, it is a very doable and easy process. You need first the right tools and materials for the job:
Tools
Different grits of sandpaper
Sanding sponge
Paint roller
Four-in-one screwdriver
Putty knife
Dusk mask
Roller sleeve
High-density foam roller covers
Orbital sander
Shop vacuum
Sanding block
Roller tray
Scrapers
Trapezoid and teardrop blades
New paintbrushes
Padded sawhorse
Rags
Materials
Stain-killing primer
Acrylic latex paint
Sandpaper
Spackling compound
Finally, the front door refinishing
Take out the door from the hinges. Set it down on cushioned sawhorses and remove the hardware.
Once the door is on a horizontal level on the sawhorses, power up the orbital sander and start sanding the front door. Use eighty-grit sandpaper to strip away the old varnish and the sun-dried flecks off the wood. You can change the sandpaper to a finer grit but do not over-sand it otherwise, the finish would not cling to the surface.
Scrape off the decorative strips with a sharp scraper. Scratch away hard to reach narrow areas that the orbital sander could not get to. Do it in a downward and gentle force with both hands so that no accidental nicking might happen to yourself and the surface. Use a trapezoid blade for flat surfaces and a teardrop blade for narrow areas.
Manually sand the previously scraped moldings with one-hundred grit sandpaper. Sand the previously unreached areas with a sanding sponge. Be sure to remove all scrapings and dust with your shop vacuum.
Before screwing and refinishing the exterior wood door back to its hinges, seal its bottom and side edges with a thick coat of varnish. Then reinstall the door back. Doing this will prevent any scrapes or mistakes before the finishing process.
Pick a good finishing agent. How to refinish a wood door? You can choose from three methods:
Using a painted finish
Look for a high-quality wood primer and paint it along with all wooden spaces, starting from the top then go downwards. Let it dry then sand it again with an orbital sander that has 220-grit sandpaper.
Pour the paint finish on the roller tray, dip the paint roller in it and make sure the sponge is soaked up evenly.
Apply paint to all the spaces. Use a brush for corners that the roller cannot reach. Let it dry.
Sand again, this time with 220-grit sandpaper. Clean the dust and apply the second coat. Let it dry for two days, then do the re-sanding and drying process again and add the third coat.
Refinishing a door with a stai.
Paint the whole of with a wood preservative like boiled linseed oil. Let everything dry.
Use a new brush to paint on the stain. If you want a darker stain, let it seep in for a longer period. Let everything dry for 24 hours, then apply a second coat with a healthy amount of stain.
After application, let it dry for two days. Then paint on many coats of top-grade varnish (the best one is called a marine-grade spar varnish).
If faded as time passes, re-apply varnish.
Refinishing solid wood front door with a mirror finish.
Cover the entire door with a high-quality primer. Then paint on many coats of top-grade enamel (the best one is an oil-based Hollandlac from Europe, called Fine Paints).
Between repainting, use fine-grain sandpaper for polishing. Then clear the accumulated dust.
To get the best out of the enamel, paint it on at least five times. Once it becomes shiny without polishing it, then you have gotten the right finish.
Would paint or varnish be better for old hardwood doors?
Your door looks old and worn out, and you want to make it look new like it was before. Your choices are either varnish or paint. So which is the best finish?
A few similarities
Both of them have the same goal for your door: to provide a protective coat from natural elements.
Both also improve and add to the aesthetic attractiveness of your home, and make it homey.
Either finish will accomplish that, however, it is up to you which will be more effective and will suit you the most.
The differences
Each type affects differently with your wooden door.
Varnish works better with wood, which has no issue in absorbing it. The beautiful and natural texture of the wood can also be seen and highlighted by the varnish.
The application of varnish is more labor-intensive. You have to sand it a few times then apply much coat on it. DIYers might not get the right shine necessary, so professional may be needed.
However, paint provides a heavy coat that can serve as protection from the elements. It does not absorb through the wood but creates a strong shield on the surface. It also allows you to match the overall color motif of the house.
Even though the paint is easier to apply, it needs at least two coats and many more depending on your type of wooden door.
Finally, which finish is better?
Whether stain, paint, or varnish, exterior door refinishing will depend on your ability and the outcome you desire for your home. Choose the best one, which will provide the best protection for your door and the right design suits you.