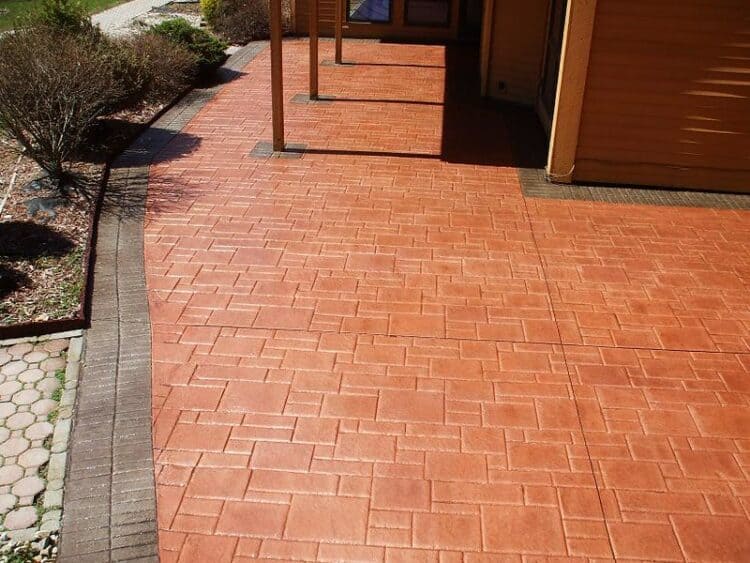 There are brick staining DIY tips and tricks that you can do for your paver.
If you think your faded paver is an eyesore and you cannot do anything about it anymore, then you are wrong. However, you need to answer this question first: should you restore faded tiles or replace them?
You need to evaluate the condition of your brick pathway first. In most situations, the restoration process is less expensive than the whole replacement package.
If they are structurally sound and all the bricks are still firmly planted on the ground, and if you still like how it looks, then you can refurbish them to look brand new.
You need to give careful consideration to the base and how it was made. If you observe many people walk through a particular portion and some bricks are separated, then there is something wrong with the base. Repairing them will only fail since it is not the solution.
A walkway, driveway, or paver patio restoration would not be easy. They are constructed in a particular way to furnish a pleasing look that will last for a long time, with less maintenance.
How the create the best colored concrete pavers
Before thinking about brick paver patio restoration (which should likely happen many years later, depending on the elements and the wear and tear of passersby), you need to construct a brick pathway first.
The process starts with digging on the area and sub-base compression.
Then about six inches thick of crushed stone is dispersed widely in the area and compressed again to attain the right density.
If the soil in the area is of poor quality like clay, integrate geogrid material into the subsoil to reinforce it.
Then cover one-inch bedding sand over the crushed stone and the geogrid material.
After cutting the bricks or flat stones, lay them on the whole perimeter. You also need to set up an edge restraint to prohibit the block from dispersing.
You will need a vibrating plate compactor to flatten out the surface evenly and in the proper place.
Finally, pour polymeric sand along with the spaces between the bricks or flat stones and vibrate them again with the plate compactor.
Why concrete paver restoration and sealing is beneficial
When your pavers look faded, then it is probably time to think about restoring it.
It can last for a long time if you properly care for it. It is a beautiful component of a front yard or garden and can add to the overall allure of the landscape. If you disregard it, then it will fall to disarray when fading and stains occur.
If you want to know how to restore color to brick pavers, the important thing to take note of is the application of sealant material. Here are the reasons why this may be the best restoration method.
Sealing your brick or flat stone pathway is a great way of protecting its surface from the harsher weather elements like ultraviolet rays, which cause degradation. Color pigmentation of the paver will fade as time passes, so reapplying a sealant will bring back the color.
Removing the paver stain is one benefit of the sealant. The ability to absorb any dirt or liquid substances will be less and will make for easier cleanup.
The sealant has the added curative benefit of extracting vibrant color and contrast from the bricks or flat stones. Some feature a "wet look" that brings out a glistening outward appearance.
By scattering a joint stabilizing sealer on the pathways, it will get into the small spaces and harden. It keeps insects, rain, and wind from displacement. It functions effectively in swimming pools by keeping sand away, and can also stop the growth of weeds in the small cracks.
The right time to apply the sealant
For some sealant manufacturers, application on the concrete pathway has to be done after one year from the time it was constructed. It is the right time for the natural dust buildup to appear on the surface, which will make it look grander.
There is a sealant that is good for the environment called the "Ure-Seal H2O." This type does not need a 1-year waiting time and is breathable.
How many times should sealers be applied to your faded block paving?
Resealing your paver should be done at regular time intervals, preferably around three to five years. This process is done to maintain the shiny pavers and not lose their gleam.
Brick staining DIY
Staining patio pavers is a doable process. It is done after the sealant has been previously applied.
You need two essential things: an "Outdoor Concrete Paver Stain" and a "solvent-based acrylic sealer."
Follow these brick staining DIY steps:
Make sure the brick pathway is cleared from any obstruction and dirt.
Prepare the "Outdoor Concrete Paver Stain." You can either pour it on a paint tray or a pump sprayer.
Proceed to distribute the stain evenly on the brick surface.
Wait for it to dry. If you think the coloring is not to your liking, add another layer to darken the concrete brick colors.
5.Once dry, then apply the sealant. Be sure to distribute it evenly and let it dry.
Changing colored pavers to another
You have the option of changing the color of your brick paver to your preference. There are over 40 colors you can choose from, like terra cotta, driftwood, goldenrod, etc.
If you desire a particular shade, then you have to utilize more layers to achieve it.
A summary
If you either have a weathered walkway, paver patio, driveway, or a faded red curb that needs an extra oomph, you now know the best thing to suit you.
You can do away with the old one and construct a new pathway, brick by brick (which will be more expensive).
Or, you can restore it to its former glory by staining it. It is a cheaper and more efficient method which, in turn, will make your home more alive and brighter.