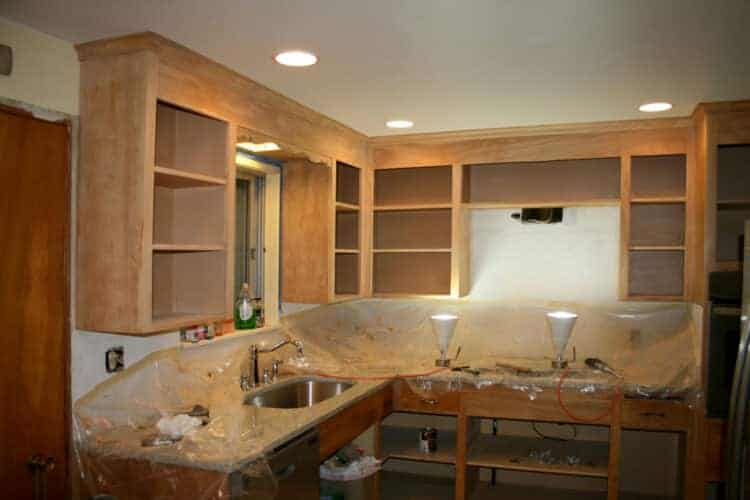 Do your cabinets look old and unattractive? If your home cabinets have many dents or look like it has been worn out, it might be time to consider cabinet refinishing.
Cabinet Refinishing will help bring your cabinets to life without having to spend thousands of dollars on getting new cabinets.
Spruce up your home and give it a new look by refinishing the cabinets.
What is Cabinet Refinishing
Cabinet refinishing is the process by which you change the color of the finish of the cabinet through hand sanding or removing the existing finish from the wood before you put a new stain or paint. It is a great option if you intend to change the cabinet's color without replacing them and keeping the style as it is. It is the quickest way to give your cabinets a new life without spending big bucks to replace them.
Refinishing however requires that your cabinet is already in good condition because if it is damaged, during the process of refinishing you can damage it more. Applying stains to your cabinet can give them a whole new look so it resembles any wood you want. You can perform refinishing on your cabinets if you're in the process of renovating your kitchen or cleaning it.
Cabinet Refacing vs Painting
Cabinet refacing, also known as resurfacing is the process where you refurbish and replace some parts of the existing cabinets to make them look better. You will generally leave the existing framework of the cabinet and resurface it with a wood veneer or laminate replacement material.
The parts you will focus on replacing are the drawer fronts and cabinet doors and leave the boxes as they are. You could also change the face frames, moldings, and cabinet side panels so they will match with all your changes.
Refacing will help cover up all of the finish challenges and blemishes on the cabinet so you can change the wood, color, or style to be more current and updated. During the process of refacing, you can also install crown molding or new decorated hardware to your cabinets.
Cabinet refacing is a far more intensive and demanding process for remodeling cabinets than refinishing. Refacing your cabinets is a far more expensive endeavor than refinishing.
You Should Paint/Refinish Your Cabinets If:
The cabinet doors are still in good condition
You want to change the color scheme but still want to retain the look of your room/kitchen
You have no intention of replacing the fittings and handles
You're satisfied with the internal shelves and frames of the drawer
You Should Reface Your Cabinets If:
The internal shelves, frames, and drawers are still satisfactory
You wish to change the cabinet fittings and handles
The cabinet doors are in bad condition or you dislike them
You want your cabinets to look new without spending a lot of money on replacement
You wish to make a big change in the aesthetic of your kitchen
You wish to give your home a makeover
Why Not Just Replace Cabinets instead of Refinishing or Refacing?
Replacing cabinets means you would buy new cabinetry parts from the beginning to the end while refinishing is just far cheaper maintenance work. Refacing, on the other hand, would involve the replacement of the cabinet hardware usually just the doors or veneer for the framework. This too is unlike replacement where you change the frames, shelves, doors, and the other parts.
So refacing is also cheaper and more cost-effective than replacement and refinishing is by far where you'll save the most money. Some people try to find their way around this by replacing their cabinets with basic and very cheap alternatives so that they can cut costs. A lot of the time, these sub-par cabinets would eventually need refinishing or refacing in no time so, the money is still spent.
Items Needed for Cabinet Refinishing
There are a couple of supplies you need for refinishing and you can get them from your local paint shop or store. Some of these items are:
Chemical resistant gloves
Steel wool
Shop vac
Orbit sander
Wood conditioner
Multi-tool
Stain or Paint
A couple of throw away brushes
JASCO Premium Paint & Epoxy Remover
Scraper
Triangle sanding attachment for multi tool
Lint free cotton cloths
80, 150 and 220 grit sandpaper for orbit sander
80, 150 and 220 grit sandpaper for triangle tool
Steel wool
Drop cloths or tarps
Inspecting the Cabinet Finish
The cabinet finishes and paint are essential for determining how you'll refurnish your cabinet. Then, you must find out if your cabinet has a finish that is ideal for painting. The material that the cabinet is made of is important here. For cabinets made of wood veneers, wood and metal, repainting is fine. You can also try repainting if your cabinets is of melamine or laminate material, but it will be challenging, and you might not be satisfied with the outcome.
If you decide that your cabinet is ideal for repainting, the next step is selecting the right paint finish for the job. Several professionals suggest the use of oil-based paints. When it dries, this produces a stronger surface, which is a better option than the alternative.
The problem with this option is that it is difficult to deal with oil-based paints. Oils have an irritating scent and take longer drying times. A latex satin finish fits well on cabinets as an alternative and is simpler to deal with than oil paint.
The primary principle to remember is to produce a robust and wipeable surface. In a couple of years, you don't want to paint again, so grow a finish that will be durable. Matte paint isn't going to work. Choose gloss, semi-gloss or satin. The tougher the finish on your cabinet, the better it is.
Choosing the Color of Paint for Your Cabinet
Don't be frightened of thinking beyond the box. Many homeowners are afraid that their rooms will be customized. Resale worth thoughts and keeping stuff impartial cloud their imagination.
Keep in mind, it is you who must live there. Unless you ready your home for immediate sale, feel free to make it a room that you would love instead of a design that you hope anyone else would appreciate years from now. Know, if you wish to sell, you can still alter the color down the line. If it is far further down the road, it will probably be time for your room to be revamped and refreshed again anyway.
Don't be afraid to get creative with any color you have in mind. To create appealing contrasts, pick anything you like and use variations. A kitchen island may have a different color than the cabinets on the perimeter. The color of the upper cabinets can be different from the lower cabinets. In reality, this additional contrast is a common trend that designers expect in the coming year to see more of.
Remember the overall style and contrast you want are going for in your room as you review your choices. For the best performance, use the following guide:
Look for inspiration: Take inspiration from anything present in the area or room. It's more difficult to fit an accessory, feature or furniture to fit the color in a room than it is to find a color to fit accessories or fixtures. Start with what you know, so if you know the colors of your counters, walls or other pieces in the room, begin there.
Using samples: Get paint chips from the shop and take them home. Many hardware stores provide paint specimen cards that you can take to your room and examine. Take a range of color shades and place them around the room that you are considering. Compare these with eachother so you can choose the best option from the bunch.
Select Good paint: Make sure to use high-grade paint when you collect samples and choose your paint color. Repainting your cabinets is already a great way to save your money instead of replacing them, so why don't you go ahead to spend a tiny bit more. The end product of your repainting project would make a lot of difference.
Steps to a Complete Cabinet Refinishing
You have to carefully plan your refinishing process from the beginning to the end so you get the best results from your efforts.
Step 1 – Prepare the Room
You should examine the area or room where the cabinets are and clear them off any important items so you can work without damaging anything. Remove everything from the cabinets, counters and remove freestanding appliances. Move all the tables and chairs to a separate room so you can move freely without obstructions.
Apply rosin paper to cover the flooring and countertops as well as tape plastic sheets to cover the windows, backsplash, interior doorways, and fixed appliances. This will protect other areas of your house from any fumes or dust that may be present during the process. Also mask off and close out the wall close to the cabinets before setting aside a worktable in the room for painting the drawers, shelves, and doors.
If the cabinets are in the kitchen, check the surface of the cabinets for hand oils, oiled smoke residue, or petrified gravy. Remove these items before you start painting or else, they will not allow the paint to stay in place.
Step 2 – Detach Drawers, Shelves and Doors
Unscrew and remove all hinge screws and separate from all the cabinet frames and also detach the doors. Keep working meticulously from the left side to the right and top area to bottom as you dismantle several parts of the cabinet. Label each of the parts with a well numbered tape so you'll have no challenges putting them back together.
Use the same method and identify the extremes of the cabinet shelves, then also the lower sides of drawers with unique numbers. Separate all self hanging hardware and keep them in a place where the paint will not touch them. Set the items on your worktable so it will be convenient for you to remove the hinges and pulls so you can save the items you can reuse. Transfer the numbers from all the tapes and move them to the side of the uncovered wood area under one door hinge. Use new tape to cover it all.
Step 3 – Clean up all the Surface exteriors
Make sure to leave all the windows open for proper ventilation before you start painting. Equip yourself with the safety gear you have bought or gathered so you're adequately protected. Scrub properly all of the important surfaces with abrasive pads put into any liquid deglosser.
These surfaces include the doors, shelving, frames, and drawer fronts. Put a rag under all these surfaces so all the drips will fall on it and not mess up the floor. Keep watch and wipe off the remains with a separate clean rag that has been dampened by the deglosser before the deglosser on the surface evaporates.
Step 4 – Close all the Holes and Dents
If you are moving the hardware, cover up the old holes from screws using a 2-part wood made of polyester or any other autobody filler. This should take approximately 5 minutes to set, so only mix it in small quantities.
A pea-size hardener should be enough for a tennis-ball size of filler. While applying, you'll notice that the filler will start to shrink a little so you'll have to overfill all the holes a bit. Once it is set in place, use a sharpened paint tool scraper to remove any excess. If it has solidified, sand it until it becomes totally smooth and even.
Step 5 – Tack, Vac and Sand the Boxes
Pick up a 100-grit sand paper and use it to sand off all the cabinet surfaces of the cabinet along the grain. Vacuum the cabinet's ins and outs and use any tack cloth to rub these cabinets down so you can gather any debris the vacuum does not catch. This will ensure that all the dust bits do not mar the wood finish.
Hand sanding is one of the best techniques on oak because you can move the paper into the wood's open grain which a sanding block or power sander will not be able to reach. While you're using any tack cloth, unfold each new cloth completely until you get to a single layer and then squeeze it properly to produce the best possible dust collecting surface.
Step 6 – Prime up the Boxes
The best primers to use are oil-based, slow-drying ones because they perform excellently well with woods that have tight grains such as cherry or maple and other man-made items. They don't produce the best results in woods with open grains like mahogany, hickory, oak, or ash and would just sink into them. An oil-based, pudding-thick coating is ideal for oak cabinets, and make sure you fill the grain up as it primes and prepares the wood. Just make sure you take note of the following:
Use an excellent quality polyester-nylon brush to apply it and dispose of after each coating
You have to use assiduous sanding to flatten the surface out as it dries because it does not become level itself
Start from the cabinet top and use brush directly on the surface of the primer or brushing putty along the grain and gently move the brush on the wet finishes of the surface in the same grain direction known as a "tip-off". Make sure you tip it off in one stroke and move from one side to the next. Leave it for 24 hours to dry but if you're brushing a putty, apply another coat the second day and wait till it dries too. Sand off the level surfaces with a 220-grit paper and random-orbit sander. Use a sanding sponge with medium grit to sand off all outline surfaces till all the cabinet surfaces are as smooth as glass.
Use your brush to stay on par with the underlying cabinet structure. If there is an area where a horizontal piece enters a vertical piece, start painting from the horizontal piece before moving gently to the vertical one. Just before the paint overlap dries off, paint the vertical piece. If the vertical piece moves into the horizontal, paint the vertical piece first before moving on to the horizontal.
Step 7 – Close up Seams and Plug Dents
Cut a 45-degree silver off the tip of your caulk tube so that the hole is no wider than a pencil tip. Squeeze out a thin line of a latex caulk inside all the open seams and spaces. Pull the container tip as you do it then use your damp finger to smoothen the caulk. Use this method to close up any scratches, dings, and dents with a vinyl spackle, also smoothen it out with a good putty knife. Leave and allow to dry in an hour.
Once it is dried, sand it again using a 220-grit paper, then vacuum, and clean with a good tack cloth. Use a spray can with a fast-drying and oil-based quality primer to identify, spot-prime all the spackle including all other spots the brushed-on primer might have gone through. Leave for an hour again and sand off the primer gently with a 280-grit paper. Also, vacuum up all the cabinet surfaces again and use a good tack cloth to wipe clean.
Step 8 – Paint the Boxes
Apply the paint across the grain from the top to the bottom. After each swipe, use paint to tip it completely with the wood grain. Continue this process for the exteriors of the cabinets. When you get to the cabinet interiors, use a mini roller with a plain surface to apply the paint so it leaves a slight orange peel-like texture.
Sand off all the cabinet surfaces with a 280-grit paper and just like the other steps, vacuum and clean with a good tack cloth. Paint the last coat with a new brush and when the last coat gets dry, change the shelf hangers. Pour your paint inside a different container to avoid your brush from picking up dust and contaminating the paint inside the can. For any left-over paint, pour it through a strainer with a fine mesh into the can.
Step 9 – Prepare the Cabinet Drawers and Doors for Sanding
The method for prepping adequately and painting the cabinet doors or room doors, shelves, and drawers is similar to that for your cabinets. The major difference here is that you should do all the processes and work on a dedicated table so the chances of any drips, sags, or drips are reduced. Paneled doors in particular are more challenging than others but if you follow our steps, you'll be good.
While you're painting any paneled doors, you should use an established sequence to brush in order to get an excellent-looking surface in a short time. The sequence should start from areas close to the panel, next move on to the primary field area of the door panel and end your painting with the rails and stiles close to the edges. Clean up any droplets of paint or prime on the dry surfaces so there are no lap marks present.
Use the same sequence as we have outlined earlier for cabinets – first clean with a deglosser, fill up the open holes, sand them, vac, and then tack. Also, use the same sequence for priming except in this scenario, use at least two coats brushing paint putty. Smoothen out the level surfaces down on the frame and panel with a random orbit wood sander. Put elbow grease and add a medium-grit level sanding sponge on the bevels and profiles. Spackle the surface and sand off all the dents.
Step 10 – Spot and Prime
After you have finished tacking and vacuuming all of the surfaces, use a fast-dry primer and spray on any areas with bare wood or spackle where the wood sandpaper passed between the primer. Leave it for 60 minutes before you start the process of sanding.
Step 11 – Lay the Finish Coats on the Surfaces
Use a vacuum and then a good tack cloth to remove all the dust from the surfaces. Inspect the areas and make sure they are dust-free before applying the final finish coat. After that, tip it off along the grain. After the first coat has dried up, use a power sand to smoothen the flats and hand-sand all the remaining areas like the profiles. Finally, vacuum carefully and tack every single piece of the cabinet before you brush on and apply the final coating.
To avoid drips from forming on the outside edges, ensure to pull the brush towards them while you're carrying out this step. Also, to prevent any drips in the corners of the cabinet, unload the paint brush first by carefully scraping off all the paint before proceeding to paint the surfaces by pulling the paint brush in a direction opposite the corner edges. If you notice any drip laps on a dry cabinet surface, clean it up instantly.
Step 12 – Hang the cabinets to Dry off Between Coats
You must find the balance between speed and perfection while painting kitchen cabinets. One method of hanging the cabinets is facing one cabinet side at once and leaving the faces level/flat so there are no runs. That will make up about 48 hours for each door to dry, one day for each side. The other method we're going to explain below will help you finish the job in one day.
Turn 2 screw hooks inside holes drilled into an unnoticeable door edge, use the upper edge for the top cabinets and the lower edge for the bottom cabinets. Apply paint to the door's outer face and allow it dry off for about 60 minutes while it is resting flat. Position the door upwards into the hooks and insert one drywall screw inside an idle hardware hole. Keep the door tilted up with the screw hook and apply paint to the back of the door.
After you've finished painting, carry the door with the screw side and any one of the hooks and keep the two hooks in place on a strong wire cloth hanger. Hang it from a clothes rod or a shower curtain rod till the door dries.
Step 13 – Set the Doors, Drawer and Hardware back
Wait till the last coat on the surfaces is completely dry and inspect to confirm. Once they're dry, return the shelves in place. Remove the numbered tape you put to identify each door so you can attach the knob and hinges properly and hang them in the empty opening you removed it from. You can change the drawer pull handles or put new ones before reinstalling each drawer to its initial opening.
Best Primer for Oak Cabinets
Painted kitchen cabinets should still, preferably with two coats, be primed before painting. If they have been primed before, even painted cabinets should be primed, and the paint is in good shape with no noticeable bleeding from tannin.
It should seal the surface of cabinets when you use the correct primer and bind very well with wood and paint to avoid rub-off when cleaning. Tannin and the current stain will bleed through the paint (regardless of how many coats are applied) if you paint directly over painted cabinets without primer, resulting in a hideous paint job.
Primers: Latex vs. Oil-Based
The use of latex primer instead of oil is one of the biggest errors we have encountered while painting cabinets. Items such as Kilz 2 and Bullseye 1-2-3 latex will not seal wood entirely to prevent tannin from escaping into the paint. When dry, Latex primer is soft and rubs off on surfaces easily.
No one likes their smell, but oil-based primers seal the cabinet surface the best, avoiding the bleeding of tannin. Oil primers dry harder and also sands beautifully. Paint usually bonds very well with oil, of course, when you're using good paint.
It can be difficult to buy the right one with all the different primers available, and even the people at the paint shop can give you the wrong advice.
Zinsser Cover Stain Oil-Based Primer
Sherwin Williams ProBlock Oil Primer
Zinsser BIN Shellac Primer
Common Methods for Painting Cabinets
Using Only Paintbrush: This just takes up the longest time and will deliver a bad finish, so it is not recommended. You could end up dissatisfied with brush strokes that cover up the cabinets if you go this path. The ideal result is a smooth, consistent finish that looks good.
Using a Paint Sprayer: Not only is this the easiest and quickest way to apply paint on your cabinets, it will also produce results with the best possible finish. There are no strokes from a brush because you are spraying the paint on. You'll also have a smooth paint finish if you use quality paint. There are also downsides to using this approach, of course. It needs further planning, and all surrounding surfaces will need to be masked off and a spray booth set up to paint the cabinet drawer and door fronts. Also, when you are finished, you will have to clean up the sprayer. This technique needs the most technique and skill.
Pros of using a Paint Sprayer
A cleaner, smoother look, sans brush strokes, is provided by spraying paint
Spraying needs a sprayer and, if you don't own one, you have to rent or purchase
In order to ensure the paint does not fall on unintended surfaces, spraying includes dust cloth covering your kitchen or other surroundings
Spraying works well if complicated patterns or raised panels are used in your cabinet designs or if the cabinets have plenty of nooks and cranniel
Cons of Using a Paint Sprayer
It is more complicated to use than an ordinary brush
Roller/Brush- In tandem with the paint brush, you can also use a paint roller to obtain a reasonably good paint finish. You would use the brush to reach the tight corners and the paint roller will be used for the larger surfaces to create a relatively smooth finish. The finish isn't going to be as flawless as if you were using a paint sprayer, however it's going to be a lot better than only using a paintbrush.
Normally, to paint anything, you can utilize a paint sprayer. Although, you might suggest using a brush/roller while working the cabinet boxes and a paint sprayer while painting the cabinet doors if you live in the house (or your customer lives in the house). The cabinets are going to be packed with things, and you're going to have to mask them all off very well. And, because you're going to make many paint coats (about 1 coat primer and 2 coats paint), if you want to spray the boxes, you won't be able to use the room where the cabinets are for at least 24 hours.
Helpful Tips for Painting Your Cabinet
Don't buy cheap brushes and rollers. Buy quality materials. Initially, it might seem like this will save you cash, but you will pay for it while painting and when you see the final outcome
Save time on cleanup—Wrap your rollers tightly with plastic bags if there is any need to take time off from painting or to allow time for paint to dry between coats. Put them in a fridge before you need them again. Around 15 minutes just before you start priming or painting, remove them from the refrigerator. This keeps the rollers from drying, and you don't even have to wash or clean them out everytime
Build a comfortable workspace to paint the cabinet doors using a worktable in the room if necessary. If you don't have one already, propping 2 x 4 flat boards on boxes or buckets can create an inexpensive and easy worktable
Using painting pyramids – Painting pyramids are inexpensive props you can use to paint the alternate side of your cabinet surfaces and doors so you do not wait for the first side to dry up. Look for them in your hardware store's painting section
Wood filler Alternative-Bondo is a suitable alternative for wood filler, a substance used for car bodywork. Bondo works wonderfully when fixing nicks and cracks in your cabinets
Take the time to finish their remodeling projects. Many homeowners have little time. It's crucial not to hurry through the process. On the first go at it, doing it correctly would save a lot of time and result in a durable end result
Stop painting under poorly lit or irregular lighting conditions. You're going to skip drips, and you're going to paint some sections unevenly
Apply several coats. Apply several light coats instead of one big one for better adhesion and excellent results
How Much is Professional Cabinet Painting
Painting your kitchen cabinets, doors or other small indoor home projects will cost you approximately $697, and also a median range between $382 and $1,064. Totals can exceed $7,000 for areas that have high living costs or those that need final removal. Most of your money and budget comes from $20 – $50 every hour for labor. For supplies, you'll pay $200 to $600. Because teardown and setup will take some time, you could save up to a small amount by joining all your small painting projects and giving one contractor to handle it.
An excellent way to spruce up and liven your home without having to spend thousands of dollars redoing your whole home is to paint particular areas.
On average, based on the amount available, and the time and energy needed to finish the task, you can spend $1,000 repainting your cabinets. Skilled work alone amounts to between $30 and $60 for every linear foot. For supplies such as drop clothes, tape, brushes and rollers you'll pay another $200 to $600. Your cabinet's appearance can be changed by painting or staining, but it cannot get rid of the problems inherent in structural problems or bad cabinet designs.
Over time, cheap or subpar materials will begin to wear easily. Consider substitutions. It is harder to patch vinyl paper veneers than wood when they peel. Fix, rather than a repaint, damaged particleboard.
Differences between Painting Cabinets Yourself or Professionally
The majority of the expense is labor if you do the painting yourself. Consider doing it yourself in order to cut costs. If you have the expertise and time with a brush, sprayer or roller, for painting cabinets, it'll make for an excellent DIY project. It will take you about 15 hours to about 30 hours for 200 square feet with an extra 20 hours for the removal of old finishes. Avoid these common errors if you try this yourself:
Remove all the previous old paint, lacquer or stain iso you'll be able to properly adhere the new coats. This move should never be skipped. Using hand sanding and chemical strippers to prepare the surface entirely. Failure to do this would lead to a rapid failure or decomposition of the newly paint cover
Leaving covers in place of the drawers and doors. You'll end up skipping the parts covered. Remove every cover possible
Not being adequately primed. You will be left with different shades of the color scheme you chose without primer
How to Protect Your Kitchen Cabinet
Keeping light shelf paper by the lower side and drying off the dishware you keep there can go a long way in keeping it in good condition. Protecting the under of smaller cabinets is, however, a bigger problem. Spills, leaks and daily use can harm to the cabinet surface especially the bottoms and this could even increase the chances of mildew and mold growth. You may safeguard the inside surfaces of your bottom cabinets with careful care and maintenance and maintain their quality.
Start up New
If any harm has already happened to the interior of your bottom cabinets, fix them. Putting a protective cover to shield current leaks or spills will trap the water/moisture and become a mildew and mold breeding ground. The underside of sink cabinets is particularly vulnerable to damage from water, but anywhere in an environment like a kitchen, liquid and food splash can be a problem. Use a damp cloth and household detergent to clean the spills and use a fan to dry off the cabinet. Put on protective mask for safety and clear the mold away by wiping and vacuuming the area clean using a bleach or other cleaning solution if you find a small amount of mold in the cabinets. To prevent mold from growing in the future, add a coat of mildewcide paint to the rim. Consult a specialist if you think your cabinet has a serious mold infestation.
Pick a Liner
The lower cabinets of a kitchen typically perform many distinct purposes. Usually, the cabinets beneath the sink contain the household cleaners. Other cabinets can be used to keep pans and pots, pantry goods and small accessories. For every cabinet, select a liner that gives it adequate protection. You can select non-adhesive liners from a variety of styles, you can remove these to clean them if necessary. Select waterproof liners that has a fine texture for under-sink cabinets that you can conveniently clean. Use cushioned liners to keep the cabinet bottoms safe, this side usually has canned goods or heavy cookware. If your cabinets only have a light use, adhesive backed papers provide a safe surface that's easy to maintain/clean and it is also cheap. For the bottom of cabinets, vinyl tiles help give a heavy-duty and lasting protection, although installing it might demand some skills in DIY.
Clean Them Regularly
No approach is foolproof for securing the interior of your kitchen cabinet. Liquids will find their way between vinyl tiles around the edges of liners and through the gaps. Shelf liners can become less effective over time. Tackle any problems when they occur in order to keep your bottom cabinets protected from damage. When they show signs of wear and tear, check the liners regularly and repair them. Wipe them to ensure that moisture and stains do not seep through the lining to the surface of the cabinet bottoms if spills — which are unavoidable in kitchen environments — occur. Special vigilance is required in the under-sink cabinets. Immediately patch any leaking pipes and always be on the lookout for mold and mildew.
Mount Shelves and Drawers
Liners keep your cabinet's lower side safe from scratches, dents and spills, but cabinet storage systems also decrease the chance of any damage. Mount sliding wire drawers in deep cabinets to keep pans and pots. Without any need to drag it through your closet floors, the drawers provide fast reach to heavy cookware. If the lower cabinets of your kitchen are used for a pantry, equip them and install wire shelves to allow you stack and store goods without creating the chance for a risky avalanche of jars and cans. They are vulnerable to moisture from leaks and condensation due to plumbing in under-sink cabinets. In this area, it is important to be careful about water problems, but by keeping your cleaning products in a plastic bin, you can reduce the risk of spill harm.
FAQs
Here are some common questions about cabinet painting.
For excellent coverage, how many coats of primer and paint are needed?
This depends on what kind of things you buy. High-quality paints and primers are needed to do the work correctly. To get single coat coverage, you need good painting equipment. When it comes to having to add more than one coat of primer and paint to cover kitchen doors, you can spend more time buying inexpensive or erroneous items.
Without sanding, can you paint kitchen cabinets?
Yeah, but when the paint begins to come off them, there is no guarantee. To decrease the chances of it flaking or peeling away, always sand anything you plan to paint. For the paint to hang on to, sanding the cabinets may produce a rough surface area.
How long are painted cabinets going to last?
The system you have used to prepare them and the materials used to repaint the cabinets will decide how many years they will remain in the same new state. To maintain their elegance, cabinets and drawers need to be cleaned regularly. Before needing to be reworked again or replaced, they can last for decades. The amount of time would be significantly decreased if your home is filled with tiny bundles of joy and energy.
If you like your cabinets, but you just want to refresh them or change the color scheme, it might be a good idea for you to paint. Keep in mind, however, that paint can last only for a limited time before it starts to fade, crack, peel, and need maintenance work. Longevity of your cabinets depend on if you make them yourself or not.
If you decide to paint your cabinets yourself (that is assuming you do a decent job of painting), the paint job should look good for about few years before maintenance can begin. Repainting your cabinet doors not only makes your kitchen look fresh but also avoids water damage to base cabinets, cabinet boxes and face frames.
Conclusion
Are you tired of the cabinets you have in your kitchen? Do yourself a favor and give your cabinets a makeover with our easy refinishing guide.
Refinishing your cabinets can do a lot to change the look of your room and make it look unique without spending much money or effort.
Anybody can follow and understand our DIY guide as long as you follow the instructions carefully.