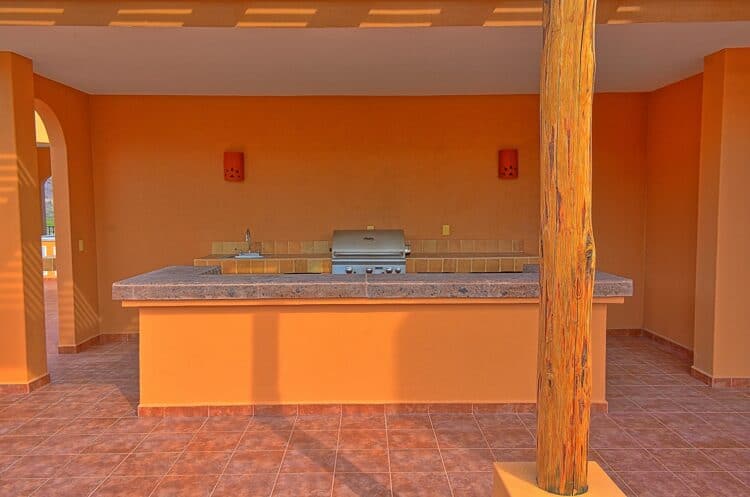 Fantastic design ideas for a low budget DIY outdoor kitchen
Are you looking for ways to create a low-budget DIY outdoor kitchen for your home? As it turns, there are a lot of things you need to consider.
Anything done outdoors, whether engaging in sports activities or simply hanging out, is always better compared to doing the same stuff inside the house. It adds an extra level to the experience which makes it more enjoyable.
More so in cookery. There is something about the experience of cooking outdoors that is different from doing it inside the house.
You feel oneness with nature, which harkens back to our ancient ancestors that hunted, foraged, and cooked food, with the forest and fresh air in the backdrop. The food and drink would taste sweeter when mixed with the ambiance of the outside world.
When planning for the best outdoor kitchen pavilion designs, you have to be aware of your particular taste and aesthetic inclination. Are you in favor of a contemporary look or a more traditionalist expression? You might be surprised by the plentitude of the available selections.
But first, before choosing the best look for your covered patio kitchen, you should strategize.
The planning stage
Before building the outdoor kitchen pavilion of your dreams, you should have a clear-cut project plan and think about the advantages it would bring to you and how it would serve as an important fixture to your home life.
You have to think about the reasons why you need a kitchen built outside since you already have one inside. Is it only for having the ability to cook outdoors? If that is the case, then why not do it inside? You would save time and lots of your hard-earned money.
Or, if you are an earnest cooking and food enthusiast whose intention is to produce the best food and prepared it in the best environment possible (which is outdoors), then you are on the right track.
Preparing food, cooking, and eating it outside is a great experience that everyone should try at least once in a lifetime. You will feel a closeness to nature that is both priceless and heartwarming.
The chief rationality on why homeowners want an outside kitchen is to cook food that is better done outdoors. Different food preparation processes like barbecuing many kinds of meats, baking bread and pizza using an outdoor over, meat smokers, oven rotisseries, cooking with high-pressure wok burners, or teppanyaki grilling.
These techniques only work best when cooked outdoors. Some are considered too dangerous to do indoors because of their usage of highly pressurized flames.
The placement of the outside kitchen will make or break the whole design aesthetic. Its particular location should be done in a way that is close to your house, especially to the original kitchen inside.
It should be built in a way that the water, electricity, and gas lines have the same connection from the inside kitchen. It will save you money and effort in walking to and from the inside and outside.
You have to make it useful and functional at all times of the year. When difficult seasons and weather arrives, that might prohibit you cook outside, which means all your construction was for naught.
So you have to make sure that it is built with shelter in mind and can provide adequate shielding from wind, rain, and sun. You also have to make sure there is a well-constructed outside kitchen canopy to protect the one who does all the cooking.
You should have a mental image of its overall appearance and how it is going to be organized. Before drawing up plans and deciding on its style and design, you should already incline its size and how much space it would take up.
You also have to think about where each component will be situated and how they can relate to one another. For example, the exact positioning of the fridge should be close to the cooking area, or if the counter would not be far from the water faucet.
Each should be ideally situated and would not be a hindrance to anyone or serve as a blockage to the passageways. A great way to handle this would be to subdivide the area into three parts: one place for preparing the food, another for cooking it, and the last portion is for serving and eating it.
Lastly, this is where you should think about the design aspect of your outdoor cooking pavilion. A good idea is to go along with the same kind of materials used from the interior of your home.
For example, if your home has a particular stylistic choice and using specific stuff like granite flooring and cabinetry, then do the same to the outside. It will not only appear consistent, but will look magnificent.
Necessary things for traditional outdoor kitchens
There are appliances, kitchenware, and essential items that you will need for an operational exterior kitchen:
A sufficient area for preparing food.
An appliance for cooking (griller, smoker, oven, etc.) permanently constructed.
A heater to provide an extra heating element.
Adequate lighting devices.
A sink with functioning water.
Sufficient cover and protection from high winds, string sunrays, and harsh rainfall.
A big enough depository for kitchen pans, pots, utensils, plates, etc.
What kind of cooking will you do?
To create your perfect brick kitchen outdoor, you have to determine the type of cooking which you want to do. Are you a pizza lover and like to bake all sorts of Italian pies in an outdoor wood-burning oven? Or a barbecue aficionado that loves grilling all kinds of meat cuts?
Exterior cookware has a wide range of costs. The cheapest that you can find in your local hardware store is about fifty dollars for an ordinary charcoal grill.
For the most expensive, it will cost you around seven thousand dollars for a top-of-the-line outdoor oven. However, if you think that money is no object for you and do not mind spending a great deal, it is always better to acquire the complete and necessary outdoor cooking equipment. It will make the whole experience worthwhile.
Low budget DIY outdoor kitchen ideas and tips
Have enough space
If your house is in a massive land area where there lots of open spaces, this might serve as a challenge for you. You have to make sure that the distance between the house and the outside kitchen is merely walking distance.
Also, as mentioned before, it would save you a great deal of money if your gas, water, and electricity lines are connected to the indoor kitchen. The proximity between both is a fundamental money-saving technique.
For smaller properties, you are presented with little choice and must adhere to the available space. This way, your creativity will be useful in creating a usable kitchen in the available area on your property.
Its movability or permanence
If you own your house and are planning to live in it indefinitely, then a DIY project like building a covered outdoor kitchen with a fireplace is a brilliant idea. You get to construct it to your specifications, along with the materials you have available in your garage.
However, if you are renting or planning to transfer soon, then you have to outfit the exterior kitchen with transportable attributes when the time comes.
Have a budget
You have to consider your expenses and how much you are willing to spend on what you deem as a perfect contemporary outdoor grill. Since you already decided for yourself that the budgeting would be lower, then that should be the priority.
Choose inexpensive yet durable building materials and appliances to inhabit the exterior space. Consult with professional contractors on your budgeting initiative and ask for suggestions.
Be sure to include in your budget essential aspects like the cost of permits, getting the right tools, plumbing, water, and electrical expenses.
The kind of weather you have
Your climate will play an important role in the design aspect and the proximity between your house and the outside quarters. If you live in an area where there is a moderate climate all year round, then you might want to spend a whole lot of time cooking outdoors.
You would want it to be as functional as possible, similar to the indoor counterpart. You would want a large enough space to accommodate many visitors and necessary kitchenware.
If you live in an area where the climate can be harsh sometimes, you should find an ideal place in your yard where potential damage is only minimal. You would want to stay away from sites where strong wind, extreme heat, harsh rainfall, or massive snow will tend to occur.
Take care of it
Since you opt to do the cooking outdoors, then you have to think about its exposure to the outside elements, which will affect it a great deal. A great way to prolong its lifespan is to provide enough coverage for essential appliances when not utilized. It might be damaged by corrosion and humidity when exposed.
Properly maintaining it is another way to extend its shelf life. Clean the areas and devices that tend to be filthy after each cooking session, like charcoal grill bars or a wood-burning stove.
Look for inexpensive yet durable materials
The best and least expensive materials that you can use as buildings blocks for your straight-line outdoor kitchen are either stucco, concrete, or brick. Along with it are detailing components made from tile or metal.
These materials are malleable enough to correspond to the original design aesthetics of the home. How large the space is will also be a determining factor of the kind of materials you will end up using.
Manner of living
The lifestyle of the family members will also be a deciding factor of its scope, design, and intrinsic value. Do you have the kind of family that spends weekends bonding together? Then a rustic and contemporary barbecue pastime spent in your backyard is perfect for all of you.
Also, you have to decide on the type of cooking all of you prefer. Are you're the meat grilling kind or the wood oven type? You can find the best devices to suit your needs without burning a hole in your pocket.
Price range for your covered outdoor kitchen structures
Cheapest
If you intend to build the least expensive working outside cooking area, a charcoal barbeque grilling station is the one you need. It will provide you endless hours of family fun and enjoyment do not need to break the bank.
Look for something that can be easily installed on a countertop so that it can produce a built-in and permanent appearance. This way, you do not have to spend extra on gas or electricity and still get enjoy eating delicious barbequed food.
The limit of this price range would be 5k dollars. Here is how you can make the most out of that price:
Shelter- The budgeting would not include a shelter, which can endure the elements. You would need cooking equipment that is portable and can be taken inside your home, or you can provide an appropriate covering for it.
Food preparation- Find a tough countertop or workbench made of stone, concrete, hardwood, or even steel. The right dimensions are one meter long and sixty centimeters deep. Be sure it has storage spaces below.
Pavement- If your preferred outside space is not yet paved, the cheapest way is to lay the pavers yourself. Consult with a professional or look for instructions online.
Sink- If your house is close to the outside kitchen, then connecting the plumbing would be easy. Or only use the sink indoors if it is that near to save the connection price.
Fridge- It is too expensive to set up a fridge outside. Alternatively, an ice bucket will be handy to keep your liquids and foodstuff cool.
Heater- If there is enough cash remaining from your 5k budget, a gas heater would be a great addition that can keep you warm in cold weather.
Mid-range
If you still worry about the budget but willing to spend more than necessary, you can set up a working kitchen outdoors, complete with a refrigerator and sink. You can select mid-level prices for outside appliances and cookware.
It might be tempted to splurge and go over budget, but you have to adhere to your set expense and purchase not too expensive materials that are durable at the same time.
This price range would be between 5k to 30k dollars:
Shelter- This would be different because you are operating on a relatively higher scale. A good addition is a pergola over the outdoor kitchen. It would provide shelter from the elements and also give off a naturalistic vibe once climbing plants will start growing over it.
Another great way is to install an awning if your house is beside the outside kitchen. It would not cost as much, and you would still be within the budget.
Another method is to provide shielding against natural elements for the cooking location is to build fencing or planting shrubs or hedge plants that will eventually grow tall and provide adequate cover.
Food preparation- For this budgeting, you can purchase a custom-built countertop with many uses made from durable materials. If the budgeting permits you, you can abide by the interior kitchen design for a well-integrated aesthetic appeal.
Pavement- You can also create a walkway that correlates to your interior flooring. You would probably hire a landscaper for this, so tell him to incorporate the inside and outside elements to create one cohesive flow.
Cooler and sink- Both items are within the budgeting expense and should be included in your plan. However, both electric and water lines should be connected to the indoor counterparts to save costing.
FYI: An outdoor cooler is more expensive than the inside one, and it not really an essential element for outside cooking.
Splurging
If you are looking to get the best outdoor bench-top materials or an extravagant outdoor kitchen with awning and do not care about how much you will spend, this will narrow down your selection process. There is a brand based in the USA that only produces top-quality kitchenware and appliances for the outdoors, called "DCS."
They provide high-caliber materials and appliances that are durable as well as appealing. If you properly maintain them, they will last for a great amount of time and still would not lose their luster and attractiveness.
With this brand, you can install a top-of-the-line barbecue and pizza oven in the same area, complete with its accouterments.
An over 30k price tag will allow you to indulge a bit and be as creative as possible, and everything mostly would be custom built:
Shelter- Your extravagant budgeting will allow you to custom-make every aspect of your extravagant pallet outdoor kitchen. You should not rely on anything temporary like an awning, but to have a material that is permanent and beautiful at the same time like a louvered roof.
Food preparation- You would want to hire a professional contractor to build strong yet beautiful countertops and storage cabinets. You should also want the exterior and interior space to coincide with each other, for a cohesive and unlined flow.
Deck and pavement- A man-made patio and walkways (that can also coincide with the indoor design) is a must-have. Have a beautiful and comfortable area for your family and friends, with the necessary trappings. Remember, do not have a limitation in budgeting.
Cooler and the kitchen sink- Both items are necessary for your perfect pergola kitchen. Two fridges are better than one because the first one you can store food and the other for any sort of drinks. These a well suited for your high-end outdoor kitchen.
Entertainment nook- You can install an entertainment system, which enables you to watch movies, listen to music, and sing karaoke. You can include bright lights that surround the whole yard to produce a lively environment.
Other great outdoor top kitchen ideas
There are still many things you can do to make the exterior kitchen of your dreams. Here are other design aspects that you can incorporate:
Pizza oven
Pergola bar
Country patio kitchen
Adjustable shaded kitchen
Southern charm aesthetic
A chiller trough built-in the dining table
Refashioned pallets
Asian-inspired lounge space
Fully covered patio
All-white concept
Rustic-designed barbeque kitchen
Posh garden nook
Retractable canopy
Tiny kitchen in the backyard
Sophisticated and modern look
Large outdoor kitchen pavilion
Swimming pool cabana
Many small lights on a string
Many small table tops
Kitchen against the wall
Outdoor kitchen island
Repurposed boat sail shades
Refrigerated drawers
Red bricks
Open air without roofing
Multi-colored bar stools
Rustic-style kiosk