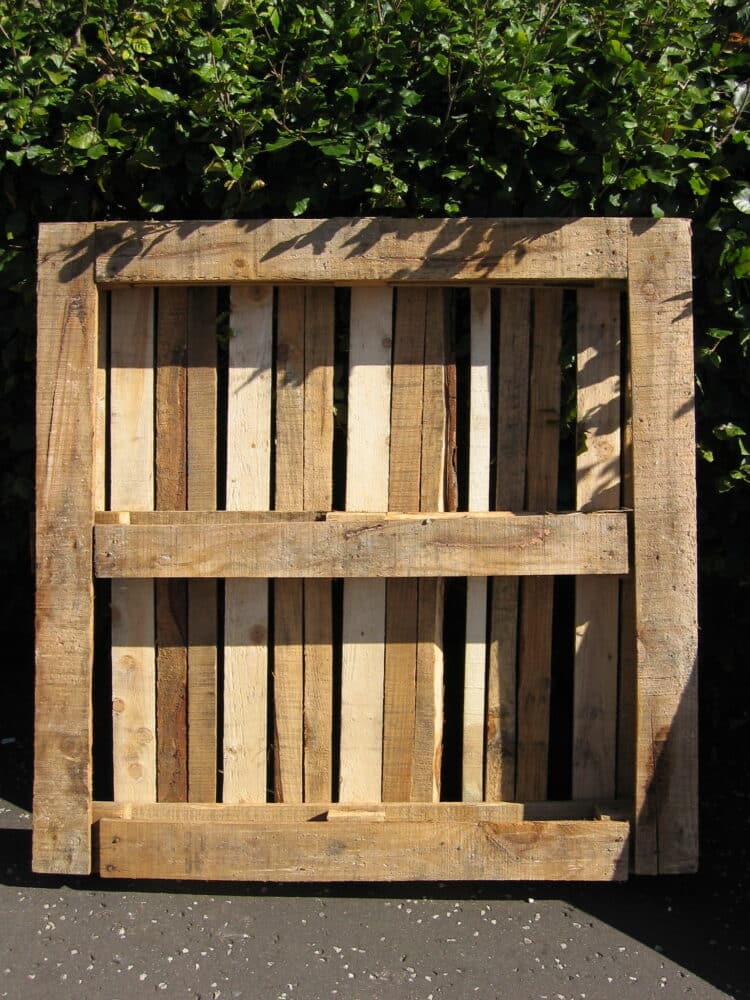 Do you want to know how to break apart a pallet? It is not going to be difficult at all. It is going to be dependent on you if you are going to use tools or not.
There is always an easy way to take pallets apart. It will take a lot of elbow grease and ingenuity, and you can dismantle pallets with ease and efficiently in no time.
After taking a pallet apart, you can use the spare timber in a lot of creative ways. But to get there, you need to break it apart carefully to not to damage the wood.
Companies that make and use pallets for their purposes discard them after. So they need someone to take it apart so that it would not take up space and be easily disposed of.
When looking for ideal pallets for your DIY hobbies, look for a high-quality wood. It is easy to look for these sturdy slats due to their vibrant brown coloring and stiffness. These can carry up to one-tonne capacity.
The trick for taking pallets apart is avoid letting the nails cause as much damage as possible. So you have to take it apart coolly and efficiently.
Materials that you will need
Circular saw
Two different sized pry bars
Reciprocating saw
Metal cutting blade
Hammer
Oscillating multi-tool
Safety goggles
Face mask
Gloves
Now you have the right materials. Here are four techniques in how to disassemble pallets easily:
How to break up wooden pallets without the use of tools
If you are an avid DIYer, you always have tools handy and would not be dismantling wooden pallets without tools.
However, to be completely thorough, there is still an easy way to take wood pallets apart using your bare hands:
The first thing you need to do is set it down on the ground, so the load-bearing portion is upwards.
You are going to need two pieces of strong wooden slats measured approximately three-by-two or four-by-two. These are utilized as a sort of improvised tool to jimmy up each nailed down piece of wood.
Insert each end of the timbers close the nailed part on either pallet side in opposite prying positions. Do not begin at the end portion of a slat. Start at one corner first and finish the rest later. Do not also start levering randomly. There should be a proper strategy on where to begin and end.
Set the two slats outwards from each other on opposing angles. Each front end touch with the other end forming a V formation. The pallet slab would be overhead, and the two pieces below. The two pieces will function as a fulcrum, which will allow prying the nails from the pallet.
With the lever pieces set, lightly push downwards as the nails are slowly becoming unglued. If some would not seem to budge, let it be. Return to it later.
Do the same process along the first pallet segment until the entire piece is removed.
Removing the last pallet slat is slightly tricky. Set down any of the two prying pieces about three inches away from the final one, along with a vertical position. Then use the other piece as a fulcrum and gently push outward again until the nails are unstuck.
After removing all the slabs that you did not have trouble in doing, go back to the remaining stubborn ones. Get another two three-by-two pieces and lay it down on either side of the unwilling slat, about three inches away.
Insert your prying pieces in a V formation on either side. Then gently but forcefully turn them outward until it touches the new pieces that have previously pried down. Do the same technique to any other pallet slat that is difficult to remove.
It may be the most taxing method since you do not have any appropriate tools available. However, it is one of the most effective and easiest ways to break up pallets. You only need to be patient and have good upper body strength.
A circular saw tool to take wooden pallets apart
The fastest method to take apart pallets easily is using a circular saw. However, there are some negative aspects. There will be a lot of wood that is still capable of good use, which might go to waste. But if you do not care about that, this is technique will work great with you.
Put the pallet down on the ground with the load-bearing surface above, facing up.
If you have a cordless circular saw, then you are fortunate. You would not have to deal with the cord, which might cause accidents. But the one toy is currently using has a cord, then you only have to be careful and deal with it.
Kneel to the level of the pallet and set the circular saw on the edge portion on the left side, right on the first slat. You will be cutting on the right side of the nails.
Before switching on the saw, be sure to put on safety goggles and a face mask to protect yourself from any flying shards and dust.
Switch on the saw. Hold it firmly and start cutting upwards along the edges of each slab. Be sure to remain near to the block. Remain cool, and do not rush it.
After finishing the whole side, go to the other and do the whole process again on the corner portion.
After cutting both sides, the only task remaining is the center portion, which is still nailed down. You can either use a long flat-nose screwdriver or a breaker bar to pry open the nails from the slats. Insert either tool below the wood and jiggle it up and down to release the slab from the nail's grasp.
Although this is the best saw for cutting pallets in the quickest amount of time, many usable wooden parts are damaged and cannot be repurposed anymore.
If you are still looking for the best way to take apart pallets, there are still two other methods.
A reciprocating saw tool to take pallets apart
For an easy pallet breakdown, a reciprocating saw is a great tool to use. If you utilize it with great care and expertise, nothing on the slabs will be damaged or broken apart.
The process is a bit tricky, so you should have some degree of adeptness with the saw. You have to cut right between the slabs and blocks meet and slice through the nails that had held both pieces together.
After cutting, no prying with tools is necessary since both pieces will come apart easily, and the only complication will be how to remove the nails, which can be difficult.
This technique is preferable for inferior-made pallets since using other methods will most likely damage them.
Doing this type of saw for a pallet disassembly tool will be more effective if it is upright on its side. Put another pallet lying down and screw the other to it at a ninety-degree angle. It will serve as a supporting blockage so that the other would not fall on its side.
First, put the wooden pallet in a standing position, with another lying down. Screw both together for a ninety-degree angle.
Bring out the reciprocating saw and securely fasten a bimetal blade in it, which can cut through the nails.
Before switching the saw on, set the blade on the part where the slab and block meet.
Switch on the saw and proceed slowly downwards and make sure you are not sawing through the wood but only the cramped spacing where both pieces link up. Once you have gone through, switch the saw off.
Check your work to see if the sawing has gone through.
Do the same process to all sides until only the center portions remain.
The center slabs that are joined across are the only ones remaining. You can use either a flat-nose screwdriver or a prying bar to jimmy it apart.
The only thing left is to remove the nails still stuck on the wood. The best tool to make indentations and bore out the nails is a punch. Turn over the wooden slats and use the punch to perforate the nails. A screwdriver can also do the task successfully.
How to take apart a wood pallet with a wooden block and carjack
Even though the abovementioned process may be the fastest and seemingly does not incur damage to the wooden pallet, not everyone owns or has access to a reciprocating and circular saw.
However, there is a tool that is always available in any household, which is a dependable and easy way to disassemble a pallet: a carjack, plus a couple of wood blocks for support.
Settle the pallet on the ground with the load-bearing area facing downward. Its underside is right on display on top.
Bring out the carjack and put it near the corner portion close to the nails. When the jack is set in the proper position, slowly begin to wind it and do not stop until the nails are unglued and the wood has broken away. Then go to another portion and do the same process again.
After all the downside slats have been unstuck, lift all the freed ones and put them elsewhere.
At this point, the base slats have been taken apart, leaving the four blocks on each corner, which you would need to break away. So, lay it on the side and mildly hammer each block downwards until it becomes loose. Then lever one out with a pry bar. Do the same process to the three remaining blocks.
At this point, the base slats and the blocks are out of the picture. The next step is to break apart the remaining slats that are still attached. Turn it over. So the top portion is facing down on the ground.
Bring back the three blocks, which you have previously unstuck, and put them right under the pallet. This way, the entire slats would not touch the ground would look like it was hovering midair.
Bring out the last block and set it down on the corner slat, which will serve as a drift. Then hammer the top of the block until the first slat becomes unstuck and falls to the ground.
Duplicate the same procedure for the remaining joints until every salt has been taken apart successfully.
How to easily take apart a pallet with a pallet buster
If you are in the business of acquiring a lot of pallets and spending loads of time disassembling them, then you need a handy tool specially made to do the job right.
It is not only useful but works like a charm. It can take apart pallets quickly and efficiently.
If you are an avid craftsman and DIYer, a pallet buster is a necessary addition to your workplace. So you need to find the best top-quality dismantling tool you can find.
Some are even strong and rigid enough to pry loose floor joints, wood siding, even roof joists. You can take apart a pallet in less than five minutes, then remove the nails. The total amount of time to finish the task is ten minutes!
There are many types available in the market, with prices ranging from $30 to $150.
It is the most user-friendly tool to use. You only need patience and a lot of elbow grease. You can finish the job with no sweat at all.
There are some that you can disassemble so that you can store them properly. Some even feature a built-in nail puller and an easy-to-hold grip.
Start by inserting the prongs, facing away from you, at either side of the pallet.
Then push the handle grip downwards to pry loose the slabs. Finish all sides until the center portion remains.
Then start levering the central portion. Once done, remove all the freed slabs and put them away.
Flip the pallet over. Then do the entire process again until all the slabs a loose.
Taking out the stubborn nails
Each method stated above has its advantages and disadvantages. You can pick from either one. However, there is one task that remains: removing the nails.
If you have many slats to de-nail, then the whole task will take a long time, and it is going to be a complicated process to undertake.
You might think that there is a special procedure and using a specialized nail removal tool, but there is not. There is one tool made to do the job properly and efficiently: a claw hammer.
You only have to be patient and pound each nail one by one and utilize the claw for extraction.
For long nails that are bent out of shape, which can cause complications. Instead of a hammer, use pliers to cut the bent portions so that you can easily pound it through.
Amazing DIY ides out of disassembled pallets
After knowing how to take apart pallets without breaking them, then you can go ahead and remove the slabs from each other.
After the backbreaking task, you are left with a giant load of wood that you can use for your DIY projects.
In recent times, disassembled pallet wood has become a valued material for avid DIYers. You already know it is already a strong type of wood because it was used to load heavy objects.
You do not have to distress it anymore because it has been exposed to the natural elements and acquired a beautiful patina.
These types of projects are a fun and frugal way to design wonderful furniture that you can add to your home, which can contribute to its rustic and homey appeal.
Pallet outdoor table
If you have a garden, then this is going to be very useful. You can build this in no time at all. You only need an old table that you do not use anymore, screw the pallets on top, apply a clear on the surface, and you are done.
Pallet garden wall
It is going to be a delightful component of your outdoor garden. You do not have to do a lot of rebuilding because the design is already built-in.
Just take apart two slabs in the middle portion and cut them evenly, so that it becomes the surface to put in the plants. Hang it on any outside wall. Pots and trays can neatly fit between the spaces.
Pallet bookshelf
After the pallet breakdown, then it is time to build another item. A bookshelf is a great way to build out of the spare slats, with minimal cutting necessary.
You may need a new place for your beloved books or a nice area to display family pictures, trophies, and other objects that you want people to see.
To complete this wholesome project, you only need four pallet pieces and some additional parts, and voila, a great furniture piece that you can be proud of.
Pallet bed frame
Pallets can carry the weight of very heavy objects, so it would not be a problem in utilizing them to support a bed. You only have to screw additional boards to the center spaces, place at least two pallets together, and you now have a bed frame that you have constructed that is nearly free of cost.
Pallet Radiator cover
A radiator is a necessary appliance in a home. However, it is somewhat unpleasant to look at and can ruin a carefully designed interior space.
An ingenious wide to conceal this unsightly feature is to create a rustic radiator cover out of a single pallet. Just remove one board piece and apply varnish, then you have an instant cover for your radiator. It can also serve as a shelf to display your books or family portraits.
Pallet patio chair
This chair is a radically distinctive and magnificent furniture piece that you can place on your outside patio. You can create this contraption in a snap.
After you have stripped a couple of pallets down, you need a couple of slabs to create a rustic and down-to-earth chair. Your porch would have extra chairs for visitors.
Pallet Compost container
Pallets have a perfect size and necessary features for an ideal compost bin. You do not need to cut or remove any wood slab. You only need four equally-sized pallets and use zip-ties to bind them together, standing up facing each other and forming a square.
The openings on the sides serve as aeration for the organic material. Your garden will then have a good source of fertilizer.
Pallet coffee mug holder
In building this contraption, you would not need to destroy wooden pallets. It is perhaps the easiest DIY project you can create.
You only need one pallet and be sure to look for the cleanest and smallest one. Install four metal hooks per slat, and your coffee mug holder is done. You can hang it on your kitchen counter or any place where you make coffee.
Pallet Tools Rack
You cannot seem to find a good place to deposit your garden tools like rakes, shovels, and brooms after using. You need to find a place to put any long-handled garden equipment without falling.
This instant DIY project is the best one yet. You only need to attach the pallet to the wall of your shed, and that is it. Your garden tools now have a secure place.
Pallet room divider
It is a genius way to get privacy for a home that does not have dividing walls. It is very simple to make. You only need four pallets of the same size, which you can screw together to form a standing rectangle.
It can serve a secondary function to hang posters or family pictures while serving the primary purpose of providing privacy.
Summary
Now you know everything there is about wooden pallets. You have learned how to take them apart with no damage whatsoever, using the best tools available, and creating magnificent furniture pieces that you can display in your home.