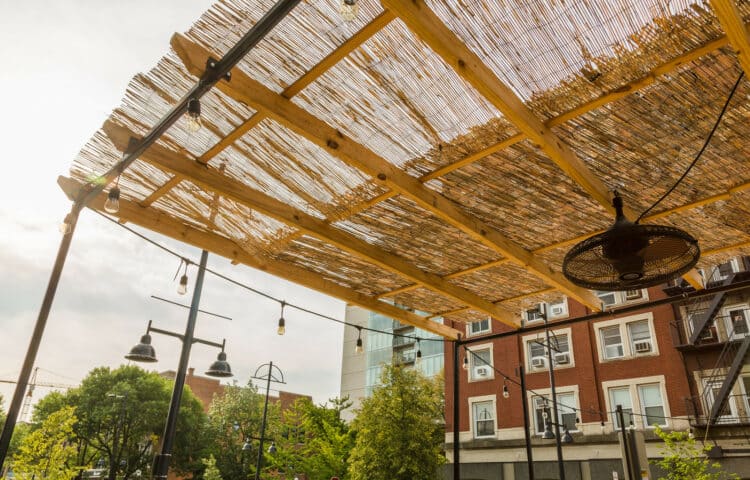 Let's face it: We all love a little sunshine and fresh air, but no one wants to sit out in the sun the whole day. If you've got a sunny patio and a thirsting for a DIY project to keep you busy, then this article is for you.
Give yourself some shade while enjoying the beauty of the outdoors—all of it just a few feet away from your home. Ladies and gentlemen, it's time to learn how to put a trendy roof to keep your patio covered.
This article is going to give you a few ideas on do-it-yourself patio covers. These ideas range in difficulty, so if this is your first time making a patio cover, then there are bound to be some choices for you.
Rain or shine, these patio covers are guaranteed to let keep you dry and in the shade.
Canopy Patio Awning
Let's start with one of the most popular patio shade choices. This kind of awning is usually made to last, meaning it's permanently installed into the framework of your home, but the cloth or fabric used can be removable.
A canopy patio awning is a structure with a fabric roof that is either firmly bolted down into your deck or stands freely and is only bolted directly to the house's exterior wall.
It has a rigid frame that ensures its sturdiness, and its fabric roof can either be left year-round or removed depending on the season.
This is an excellent choice because the fabric used can last as long as 15 years. You can also choose between two different styles: Hip and Pyramid. Choose the style that best suits you.
Give your deck a splash of colour by choosing a suitable fabric. You can even rotate the materials depending on the season or holiday.
On top of using the fabric as an element of design, you can also install outdoor lights on your patio to better capture this structure's elegance.
If you've decided to go with a canopy patio awning, you should check out your local garden supply stores or home centres. Online options are also available through a quick search on Google.
One of the pros of the canopy patio awning is its capability to offer complete shading of small patio decks and at least partial shading of decks larger in size. The fabric used to cover it is tear-resistant and strong, meaning it won't sag over time.
Its fabric is strong enough to withstand hail, rain, and strong winds. We advise that you take it down in cases of powerful winds brought on by hurricanes, typhoons, and tornadoes.
Be reminded that a canopy patio awning is a permanent part of your deck, but this gives it the added benefit of not having any moving parts that can get stuck or break.
On the other hand, this may come at a disadvantage at certain times if you want to let in a bit of sun on your deck. You'd have to remove the fabric—which is usually a two-person job—and then put it back on after you're done.
Backyard Canopy Pergola
If you only want partial shade on your patio deck, then you can just build a pergola. Most people also plant vines that creep up across the pergola to give it more spirit. This is an inexpensive option that requires treated lumber to stain and decorate however you wish.
A pergola is made out of classical columns that support a wooden lattice overhead. The wooden lattice can either be left uncovered to allow for partial shade or covered with fabrics or plants.
Partial pergolas are also an alternative if you have a small patio or deck. These structures are attached to the exterior of your home without the hassle of columns.
The wooden lattices that serve as the pergola roof make for plenty of great spots for you to hang plants or hang curtains from above to give your deck a little extra privacy.
Retractable Awning
A retractable awning is usually made out of a metal framework covered by a shade fabric. It stands as one of the more popular ideas for deciding on which patio shade design to use.
The retractable awning's framework is mounted or connected directly to the exterior of your house. Some models use diagonal support arms to give more stability, while others are more subtle and use "lateral" arms hidden within the framework.
The awning can either be cranked open or retracted with a motorized system or done manually using a hand crank.
Unlike the canopy patio awning we mentioned earlier, a retractable awning can provide instant shade or instant exposure, depending on what you want. There's no need to get a ladder to remove any fabric because they can easily be maneuvered.
At best, retractable awnings provide complete to partial shade or sunlight exposure because most are built to be about 20 feet wide, although they can usually only retract to half of their total size.
It is also more susceptible to damage from strong winds, given how the framework should easily fold over itself. We recommend retracting or "closing" your retractable awning if they are not in use.
Homeowners who know the basics of carpentry and have the skills to prove can get away with this do-it-yourself patio cover, but it is not a project for novices and beginners.
Portable Shade Canopy
Portable shade canopies are lightweight tents that comfortably fit your entire patio deck inside it. It has the essential makings of a tent: a four-post frame structure and fabric that falls on top and the sides.
If you don't want anything as permanent as an awning or pergola, you might want to consider a portable shade canopy instead. You can easily move them around the deck, depending on where you want your shade to be.
For beginners, we recommend this kind of canopy for your deck because they're easy to set up, and you can find them at most home centres.
Sail Shade
A sail shade is one of the easiest. If you're a beginner, you should consider starting with this type of patio cover.
It is a triangular piece of fabric with eyelets on every corner that lets you attach it to other structures around your yard using strong rope or twine.
The simplistic nature of this type of shade makes it perfect for those who like going out of the deck at a specific time. Since it might be a challenge to move this type of shade around, position it to best block out the sun on the time you're usually out on the deck.
This type of structure does require a few sturdy posts—you'll need three—to stretch out the fabric.
Outdoor Umbrella
Of course, who can forget this classic? This is the go-to of every novice and beginner out there. Why bother with fancy awnings and canopies when you can just get a huge deck umbrella and plop it right down on your deck?
Outdoor umbrellas have a vintage and timeless appeal that makes them an excellent choice for anyone who wants to pretend they're in a romantic movie. Most umbrellas can also be closed shut if you're going to bask in some sunlight.
We recommend closing your umbrellas when you're not out on your deck so that it stays safe from sudden gusts of strong wind. The shade provided by outdoor umbrellas is limited, though, and are usually only enough to cover a small corner of the deck.
You can either invest in a big umbrella or just get one that you can quickly move around depending on where you want to position yourself.
Fabric Patio Shade
You can make your fabric patio shade with a few strips of long fabric and some unused sturdy sticks or pipes. Like pergolas, this type of patio shade can cover your patio and allow for a bit of sunlight to seep in between fabrics.
If you live on a high-rise and have a balcony, you can consider this low-cost option instead. There's no need for a permanent framework because they are really easy to do.
Feel free to mix and match different fabrics depending on the style you want to achieve.
Green Shade
How could we forget nature's best remedy for staying away from sunlight? Plant a tree to keep your deck shaded. If you're in a country that has winter and summer, then we recommend a deciduous tree.
Deciduous trees serve as a suitable green shade option because they can keep your deck shaded during the summer but open to sunlight during the winters since it loses its leaves then.
On top of keeping your deck shaded, using natural green shade allows you to have your pick of fruits and nuts. You can even use a trellis to encourage vines to crawl up your current patio covers.
This type of shade can be combined with other shade options, especially pergolas. There's so much potential for combining green shade and pergolas because of its classic style.
Although it may take a while for your tree to grow and provide you with the shade you need, it will be worth it once it reaches full maturity. If you don't want to go to the trouble of planting a tree, you can use fast-growing vines instead.
If you decide you want to spruce up your deck, vines can easily be removed, and you can start over from scratch.
Conclusion
Your patio deck can serve as many things. It can be an entertainment centre, a second living room, or a classy dining space so you can enjoy your meals outside on a beautiful day.
Direct sunlight is not always good for the skin, especially if you're planning to spend more time out on your deck. That's why do-it-yourself patio covers are essential.
A patio cover can give you either partial or complete shade to be safe from the elements but still outdoors and enjoying the breeze and fresh air. Your deck remains at a comfortable temperature, and you and your guests are happy.
There are multiple patio cover options that depend on what you want or what you can handle. Some can be installed by a professional, but most are generally safe for DIY projects, especially if you have some basic carpentry experience.
The budget shouldn't be an issue with a patio deck because there are plenty of cost-effective options. While awnings and pergolas are usually more expensive, they are worth it because of the structure's sturdiness.
Options such as a patio umbrella, fabric patio shade, and a sail shade are available for those of you who are looking for cost-effective alternatives.