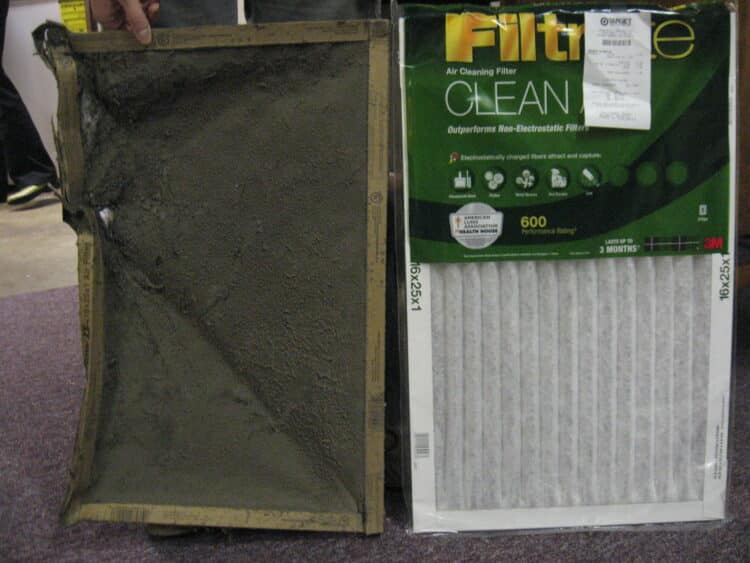 You should now understand better how HVAC filters work. Time, then, to pick out the right one for your system. And you must get the correct filter as it is all that defends your home and its vulnerable central forced-air heating system from harmful particles.
The filter must be the correct size and rating and adequately installed to work efficiently and ensure the air quality in your home. You can't merely select the first one you see on the shelf and fit it to your furnace or air handler.
How To Choose Your HVAC Filter
The following parts guide you through all the necessary steps to ensure you choose and install the right HVAC filter.
STEP 1: Measure The Filter
Find the filter slot in your home's furnace or air handler. Check if there are filters behind the return vents, too, as they are sometimes fitted.
By convention, furnace filters are measured as length, breadth, and depth. For instance, a furnace filter described as 16" x 14" x 1" means it is 16 inches long by 14 inches broad and one inch deep. A regular tape measure is adequate for taking these measurements. Alternatively, take the box the filter came in, or the filter itself, to the store.
Often, air filters like these have nominal sizes, i.e., the measurements are rounded up. Don't be surprised if your tape measurements are slightly different from those on the filter's label specification.
Always check the actual size beforehand and round upwards to figure out the nominal size. You may have to add on half an inch or more to arrive at a whole number.
Unsure where to find the filter? The filter slot on a furnace is usually found between the furnace assembly and its return air duct. It may be behind a removable plate or door. Check for a filter on the return vent as well.
STEP 2: Choosing The MERV Rating
The MERV is a measure of how efficiently your furnace air filter picks up particles. The abbreviation stands for Minimum Efficiency Reporting Value.
MERV ratings for furnace filters use a 1 to 20 scale. The lower on the MERV scale, the less efficient the filter is in capturing airborne particles. The diameter of air particles is measured in microns. As the rating increases, the filter's ability to capture the smallest particles increases too, but at the expense of restricting airflow.
For instance, say a filter has a MERV rating of 4. This rating means the filter can only capture fewer than 20% of the large particles in the air. By comparison, a MERV 6 filter can seize up to 35% of the largest airborne particulates. To put this in context, human hair will range in thickness between 50 – 100 microns.
Upgrading for higher performance, a filter rated as MERV 8 will capture 70% of large particles and about 20% of medium-sized.
MERV & Air Quality
When deciding on a MERV rated filter, you need to consider your air quality demands and the existing indoor air quality.
Various factors influence indoor air quality:
* Where do you live? A rural area or a big city? The level of pollution outside determines the air quality in your home.
* What's in your home? Paint, air fresheners, wood preservatives, adhesives, and heavy carpeting all contain volatile organic compounds that negatively affect indoor air quality.
* Who's living there? Smokers will drastically impact air quality with their cigarette smoke. Pets, too, release a substantial amount of microscopic particles, which cause allergies in many people.
The urban home of a smoker with two cats and two dogs will have low air quality. Their non-smoking, pet-free neighbor with wooden floors will have much better indoor air quality. In these circumstances, the urbanite smoker will require a high-rating MERV filter to adequately treat the air and protect their HVAC system.
This requirement also applies if there's anyone in the household who suffers from asthma or allergies. Here it is best to exceed the minimum MERV rating recommended for your HVAC system. You will wish to capture as many harmful particles as possible by opting for a filter that has a MERV 8-rating or higher.
That said, always consult an HVAC pro first. A higher rated MERV filter can reduce the airflow to your furnace or AC unit. If the system cannot handle a higher-rated MERV filter, fitting one could damage and make the system run inefficiently.
Conversely, if your main priority is fuel efficiency, then a lower-rated MERV filter may work. It will prevent larger particles from entering the system while not reducing the airflow. Bear in mind, though, that while cheaper, a lower-rated filter will need replacing more frequently.
STEP 3: Choosing The Filter Type
Now that you have the filter's dimensions and decided on a MERV rating, the next step is choosing which filter type to buy.
The MERV rating you choose will consequently refine your filter options down.
The filters with the lowest MERV ratings tend to be fiberglass and rated between 1 and 4. So they are not an option if you're looking for high-quality indoor air.
If energy efficiency is more critical, fiberglass filters work well as they place the least resistance on airflow into HVAC systems. You do, though, have to replace them more frequently, around once a month. When fiberglass filters become clogged, they may allow harmful dust particles to pass through.
Medium to high MERV-ratings typically means pleated filters. These catch smaller allergens and dust particles. Their performance in improving indoor air quality makes a high-rated MERV pleated filter a tempting buy.
IMPORTANT NOTE: Systems not designed to work with higher-rated MERV filters, for instance, MERV 13 or 14, can cause severe and expensive trouble. The restricted airflow could lead to the evaporator coil freezing up or the heat exchanger cracking. In that case, you will instead need to purchase an extra indoor air quality unit to compensate.
The highest-rated MERV filters are HEPA filters. These are used in medical facilities and hospitals. It's unlikely your home HVAC system will be compatible as HEPA filters severely restrict the airflow.
Adapting your residential system to cope with HEPA filters would involve an expensive professional redesign. Energy costs would go up significantly as a result. These filters are designed to protect the most vulnerable. HEPA filters capture almost all airborne particles, even those carrying viruses, that are as small as 0.3 microns.
STEP 4: Installing The Filter
It is now time to install your filter. First, completely remove the old filter from its position.
You must install the filter the right way round to work correctly. It needs to be placed in the direction of the airflow. All filters have an arrow showing you the airflow direction.
Insert the filter into its housing. Typically, the direction of airflow is towards the fan. With the arrow facing the right direction, ensure that the filter is a good fit, and there are no gaps anywhere on the filter rack. Job done. It's that simple.
STEP 5: Replacing The Filter Regularly
As the filter's job is to capture particulate, and over time it will inevitably become clogged. When this happens, the filter will no longer work properly. It will be inefficient and hamper the airflow to your furnace.
How frequently you need to replace your furnace filters depends on which type you bought and your home's air quality. If you have pets, heavy carpets, and a construction zone for a neighbor, your quality will be low. Any filter will need replacement more frequently than usual.
Homes with an average quality air and fiberglass filters should be replacing them at least once per month. Pleated filters will last around 30 to 90 days in these conditions.
An occasional visual inspection of the filter will help you determine if it's time for a replacement. If it looks dirty, then it's time for a replacement.
Shopping with confidence
Chain stores often carry filters whose manufacturers give their own-brand ratings to their products. If you can't see a MERV rating, you can safely assume the filter hasn't been accurately rated.