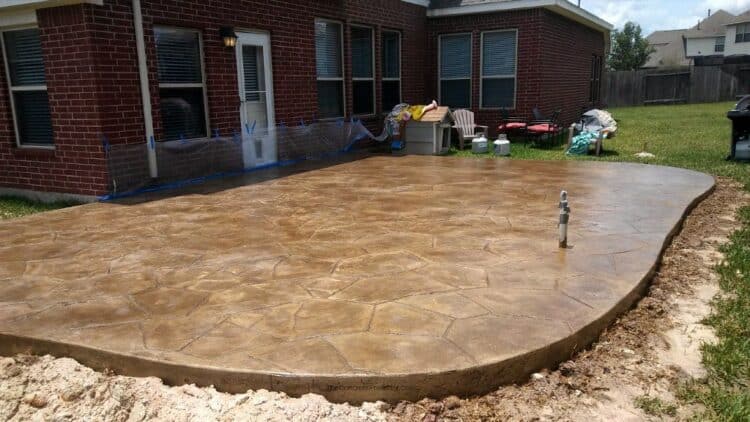 Have you ever wondered how those design folks on TV could easily transform a space in a matter of minutes? We want to let you know that it's absolutely possible to make this magic happen with a DIY project!
It's all in the technique and the process.
It might have never crossed your mind, but one place in your home that holds limitless possibilities is your drab and gray concrete patio.
A concrete backyard is functional and requires little maintenance. You'll be surprised at its ability to withstand even the harshest weather conditions!
The only problem with a concrete slab is not at all inviting. We want you to shift that mindset – a concrete patio is a perfect foundation for your creativity to thrive!
If you want to transform your concrete patio into an inviting and relaxing space, try these DIY refinishing concrete decorative ideas.
The easiest solution to Masonry Makeover
If you're a beginner DIY-er looking to transform your backyard, then we've found the solution for you: concrete stain.
A concrete or masonry stain is an acid or water-based colorant that effectively coats concrete surfaces. Although stains do fade over time, sealers can help make bold colors last for a long time.
We promise all beginner DIY enthusiasts that this simple concrete staining method offers endless possibilities to transforming a concrete patio.
You can choose from a wide variety of colors: you can customize your backyard further with borders and patterns.
Before we immerse ourselves in the colorful world of masonry staining, let's take a look at other DIY methods for decorative concrete.
Guide to Decorative Concrete DIY
How to give a new look to concrete patio?
If you plan on going DIY with your concrete patio makeover, the possibilities for personalization are endless! You can customize each element to truly give your patio some personality.
Here are some creative ways to renew your outdoor space:
Colors – use masonry stains and paint for an inexpensive yet beautiful patio makeover
Patterns – transform your concrete into new material by resembling surfaces like expensive wood or stone
Concrete Etching Patterns and Stencils – design your concrete backyard with bold logos and graphics
Borders – introduce depth and contrast into your patio with different colors and patterns
What are the best concrete coatings?
To successfully achieve your patio's new look, you'll have to invest in some good-quality masonry patio coatings.
It can get overwhelming because of the variety of options! Focus on the type of work you want to have done, and you'll find the best product for your project in no time.
Masonry stain and paint
These are your best options if you're working on a tight budget. They also give you the creative freedom to customize and personalize the space.

The only downside of concrete paint and stains is that they can't handle wear and tear and other coating options.

It might be counterproductive (and expensive) to constantly re-touch your concrete.

Epoxy coatings
Epoxy coatings give the best of both worlds: protection and personality.

After applying a layer of this product, the surface is protected from water and moisture damage. It's also resistant to constant wear and tear.

There are many epoxy coating options available on the market that can offer bold and striking colors to your patio!

Stamped concrete overlay
Although this option is more expensive than most concrete decorative solutions, many homeowners are excited to apply this technique to their patios. A stamped overlay is popular for the intricate details that it can give your patio while providing durability.

This gives your patio a beautiful transformation with endless possibilities with color, pattern, and texture.

You can choose to give your patio a new look by stamping and hand carving to replicate the look of earth, wood, brick, and cobblestones without spending a fortune.

Microtoppings
This is an easy DIY fix.

Microtoppings are a thin layer of cement. Simply pour this product over your old concrete flooring and get a blank canvas for all your decorative ideas!

Some microtoppings even come pre-tinted for an even easier patio makeover.
Will refinishing my patio with masonry staining be worth it?
Now that you know the basics of concrete patio transformation let's get into the nitty-gritty of the most convenient and easy decorative concrete patio solution: concrete staining.
Although concrete stain fades over time, it is able to permeate deeply into concrete, which gives the surface a permanently tinted appearance.
Stained concrete is a cost-efficient and versatile way to give life to a dull and boring concrete surface. If your concrete patio has minimal cracks and damage, then it's a good candidate for some concrete staining!
Don't want to spend a fortune on marble, granite, or wood flooring? Do a DIY staining project or get in touch with a talented concrete refinishing professional that can treat, repair, and stain your boring concrete patio.
Results can be as simple or as elaborate as planned! Choose a single color for a simple and classic patio, or you can apply different layers to get a unique look.
Cement stain offers flexibility when it comes to different hues and shades that can cleverly replicate natural materials and tones. A quick search on the internet will give you unlimited design possibilities with concrete patio stain.
Types of Masonry Stains
The best patio stain will depend on how you want your project to turn out. Choose between acid-based or water-based stains.
Water-based staining is best for your project if you're going for a bold and dramatic color palette. Water stains offer a much broader range of colors, and you can get dozens of variations of different shades and tints.

This type of stain is usually made up of acrylic pigments and polymers, which makes the stain produce a permanent color on the concrete surface. These can range from translucent to opaque colors.

Acid-based stains
Acid stains penetrate into the surface of concrete and chemically react with the surface to produce a color.

Acid stain application is strong enough to etch on the surface, which makes color application faster and easier.

Once the acid stain reacts to the surface of the concrete, it is permanently part of the slab. It will not fade or chip away.

On the other hand, acid stains don't offer a lot of color choices. Your color palette should be limited to earthy tones such as browns, terra cotta, tans, and some soft blue or green hues.
Where can I buy masonry stains?
Visit your local hardware store or home center for a wide selection of patio stain colors.
A gallon of stain is enough to cover the surface of 200-400 square feet of concrete. Get an equal amount of sealer as well to protect your stain from wear and tear.
Remember that stains will come out slightly different after application depending on the quality and material of the concrete surface.
Stains are lighter and more transparent than paint, so expect to see the concrete through the stain.
How much does it cost to stain a concrete patio?
The most basic masonry stain will cost you around two to four USD for a single color.
Concrete staining is one of the most affordable ways to refinish your patio, but if the concrete surface has a lot of damage or if you want to incorporate a lot of colors and graphics, expenses will definitely go up.
How long does it take to apply masonry paint?
For the most basic concrete patio staining process, set aside at least two days to complete staining and sealing.
Make sure to have clear skies and no signs of rain when you decide to stain your patio.
If you decide to give your patio a new look over the weekend, you can have the space up-and-running by Monday! Simply stain the concrete on Saturday, then wait at least a day before applying the sealer.
Et voila!
A new and inviting space just in time for a hump day relaxation!
Step-by-step instructions to Masonry Staining
Now that you know the benefits of concrete staining take a look at our DIY guide to concrete patio staining.
Tools and Materials for Concrete Patio Staining
Of course, you'll need the concrete stain and sealer of your choice. Remember to choose a product that fits your aesthetic and project design.
Aside from these two products, you'll need to gather a few more tools and materials to achieve the design that you're looking for:
Application brushes in different sizes ranging from ⅛ in. artist brush to 6 in. brush for borders (foam or bristle)/li>
Buckets to mix and keep stain in
Broom
Chalk line
Drop cloth
Hammer
Heavy-duty cleaner and degreaser
Paintroller
Roller sleeve and tray
Sponges
Straightedge
Different sizes of sprayers (hand spray and 1-2 gallon pump sprays)
How to stain your concrete patio?
After this DIY masonry staining project, you wouldn't believe that you once had a dull and gray slab of concrete as your base!
Before you get too excited and start spraying your backyard, there are a few things that you'll have to prepare.
Follow these steps to get the patio of your dreams:
Seperate areas with kerfs

The easiest way to transform your patio would be to choose a single color, of course. But if you want to work with different colors and patterns, you'll have to apply a border and some kerfs.

Kerfs are used to give a crisp separation of areas that will be stained in different colors. Use a large wooden board as kerfs to easily separate sections.

Use a chalk line and a saw guide to easily get a straight cut when customizing kerf sizes and dimensions. You can use heavy buckets to weigh down the boards while cutting.

Use a diamond masonry blade in a circular saw for the best results. The cuts don't need to run very deep – you can set the circular saw to a depth of about a quarter inch.
Spray some water on the blade as you cut the kerf to minimize dust. Don's use low-quality and cheap blades. They'll start to spew dust whenever you spray it with water.

Apply some adjustments to the kerf as needed using a masonry chisel and a hammer. You can also use a grinder with a diamond blade.

Clean the area

We know that masonry stains are semi-transparent, so don't expect a miracle that all the cracks and imperfections of your concrete slab will disappear.

This is truly a labor of love. You'll have to manually remove and clean unsightly signs of dirt, grease/oil, organic matter, color variations and stains, damage, or weather exposure.

For stubborn stains and rust, scrub the area with a stiff broom and some powerful heavy-duty cleaners or stain removers. Degreasers are effective at removing grease and oil stains.

Once the area is clean, make sure that your footwear is dry and free from any debris as well.

Protect surrounding buildings and fixtures

You're not done yet with prepping the area for staining.

Before you start spraying, remember to shield the lower portion of your house and nearby fixtures from drifting staining spray. The last thing you'll want is pesky stray marks on your house!

You can use plastic sheeting along sidings and to cover valuable furniture and fixtures, Secure these with tape.

You can also cover grass and plants with a drop cloth, but staining will not be noticeable on them anyway.

Have a broom nearby in case some debris or dirt gets into the area after cleaning.

Base color application

Much like applying a coat of paint over your bedroom wall, you'll need to apply a basecoat to make your final coat last longer and look more vibrant.

It will be best to choose a white or light stain as the basecoat.

Lightly wet the surface of the concrete, and apply a layer just enough to cover the surface. Use a continuous circular motion when applying the base coat with the sprayer wand.

Make sure to choose a day with clear skies and no chance of rain. Avoid windy days and overly sunny hours when applying the stain.

A cloudy and shaded time of day will be best as some stains don't work well under direct sunlight.

Endless possibilities for decorative concrete DIY

Here comes the fun part! There are literally infinite design possibilities when it comes to masonry staining.

When you apply the top coat, the design you choose will determine the process for application.

Sometimes a simple and classic approach to design is the best choice. You can use a single stain color that complements well with your home or landscape.

The most popular stain choices are natural earth tones that blend in well with the backyard.

You can also go crazy with daring and bold color choices!

We'll give you a comprehensive guide to some of the most timeless design choices for masonry staining in the next section.

Touch-up rough patches

Before you finish up, make sure to do a quick survey of the concrete surface.

Look for bare spots and rough patches after the surface has dried.

Easily touch up the spots with a hand spray bottle and a clean cloth. Lightly dap the patch until it blends well with the color of the concrete,

Allow your stained concrete floor to dry for 24 hours before seeing the final color. If the result isn't as bold and vibrant as you expected, you can add another coat of stain.

Make sure to lightly wet the area again before applying the second coat. Follow the steps as before and let the second coating dry for 24 hours to see the final color.

Repeat the process as necessary to achieve a rich and deep color. Keep in mind that your expenses go up each time you apply a coat of stain.

Protect your Patio with the stain concrete sealer

Let your final coat of stain dry for at least 24 hours before applying the patio sealer.

Most manufacturers don't require applying a concrete sealer, but your stain will be more likely to fade due to wear and tear. Patio sealers also enhance the appearance of your patio stain.

Most DIY-ers will think it's easier and better to roll concrete sealer into the surface than to spray it. This will give you much more control over the application.

To prevent the concrete stain from fading, we recommend applying a new coat of sealer every three to four years.

Before applying the sealer, make sure to clean the area again with a heavy-duty cleaner. Allow the concrete to dry completely for a full day.

Check the weather for clear skies when you apply the sealer. Make sure to choose a time when the patio is shaded because direct sunlight will damage the sealer.

Begin by applying the sealer to the patio edges with an artist paintbrush for precision. You can then roll the sealer to the majority of the area with a ⅜ inch nap roller.

The white and milky sealer will appear translucent after you apply it to the surface.

Wait for the sealer to dry. After two hours, apply a second coat. Remember to apply the second coat perpendicular to the previous one.
Now that you know how to apply concrete stain from cleaning the area to applying the sealer, it's time to have some fun with experimentation and your creative design ideas!
The great thing about concrete stain is that you can replicate any kind of material without going over your budget. By using special techniques and a lot of layering, you can make concrete appear like expensive wood, stone, marble, and even granite.
Let's take a look at some of the most timeless design choices:
Special effects

One of the most popular and timeless designs is creating a marbleized effect. Choose at least two colors for the color palette.

Apply the first layer, then lightly spray the second color while the previous layer is still drying. The wet layer will allow the second coat to blend and mix together.

To achieve a more natural marbleized effect, use a water stream to allow the stain to cover bare spots and to create artistic swirls.

Mixing three or more colors

If you're one of those ambitious and artistic DIY-ers, you'd probably want to create a space with vibrant and bold colors.

It's absolutely possible to create a space with a lot of colors without turning out too overwhelming!

To create a design with three colors, follow these simple steps.

First, spray on your base coat in a circular motion. This will make the other colors stand out.

While this first layer is still wet, spray the section with water again and simultaneously spray on the two colors.

Spray some more water over the stain to create artistic swirls and runs for a natural marbleized effect. Use the water to allow the colors to flow all the way to the bare spots of the concrete.

When you're switching stain colors, make sure that the lens shields are dry, or better yet, get a new one.
Concrete Patio Stain Maintenance
Masonry staining is one of the easiest DIY projects you can take on!
Regularly rinse off debris and dirt from your patio floor with a garden hose or a pressure washer to increase service life. Scrub on some soap with a broom for an even more pristine backyard.
Get ready to laze around in the sun with your friends after you wave your magic DIY-wand.