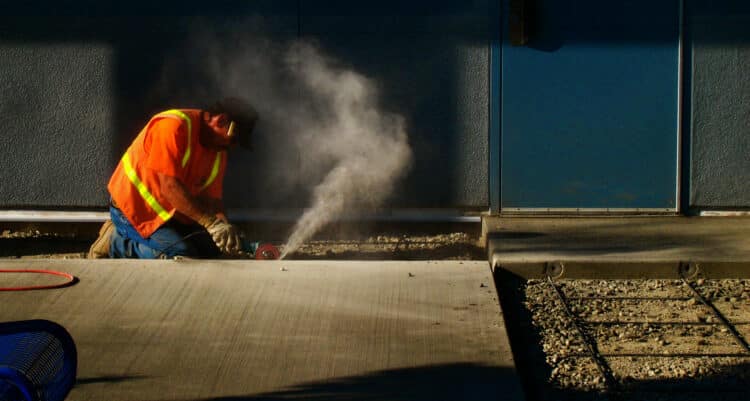 Is there construction work that you absolutely dread? We'll bet you our hard hats that you'll get the same answer when you ask both DIY-ers and experts.
While homeowners love concrete for its durability and weather-resistant qualities, concrete has gained a bad rep for the challenges it poses for repairs and replacements.
One of the most daunting projects for most DIY-ers is cutting concrete. The thing is, it doesn't have to be – you only need to work with the right tools.
Take a look at our guide on how to cut concrete. We'll give you the complete rundown of the concrete cutting saw blade tools you need to prepare and the best way to cut concrete.
When should concrete be cut?
The answer will depend on several factors.
First, you'll have to consider concrete quality:
Type of concrete/li>
Hardness of concrete
Surface abrasiveness
Next, consider the setting time.
Concrete reacts differently to changes in weather and temperature.
The type of blade you'll use will depend on the time you choose to cut the concrete.
Professionals recommend delaying the cutting process for as long as you can. This will ensure that the structure has maintained its integrity and that your cutting tools will work properly.
Some contractors will recommend that you cut concrete while it's still wet and green – about one or two hours after finishing. According to experts, cutting during this period will make it less likely for concrete to show signs of cracking.
Where should concrete be cut?
Don't think that you can just plunge your blade in concrete!
You'll also have to think about concrete joints, especially for doing large saw cuts on driveways and patios.
Concrete joints are generally 20 to 30 times as thick as the concrete slab. They'll be spaced around 10-20 feet apart, depending on the reinforcement slab.
You'll also have to think about your game plan for cutting the concrete. You have to think about the specific cut you will make and what patterns you will follow.
Consider if the concrete slab is reinforced with steel rods and other materials.
What are the best of blades for cutting concrete
Whether you plan on repairing concrete or doing some patchwork and replacement, your work's quality will depend on the type and quality of blade you choose.
There are several types of blades that are specifically designed to perform a specific task on different types of concrete.
Types of blades for cutting concrete
Abrasive corundum bladeMany workers are tempted to get cheaper corundum masonry blades but know that they can wear down quickly. You might end up spending more on replacements rather than if you've got a specialty diamond blade in the first place.

Abrasive blades can cut through concrete, asphalt, and stucco. These blades are incredibly affordable, with some brands offering 5USD for a 7-inch blade.

Abrasive masonry blades can only cut a quarter to half an inch at a time. Not only is it time-consuming, but the blade will wear down pretty quickly during the duration of your project.

You'll have to adjust the blade depth often for optimum blade exposure.

Abrasive corundum blades also create foul-smelling plumes of dust that can get dangerously hot.

If you're only planning to do a few shallow cuts on concrete, you can go with an abrasive blade.

Diamond bladesDiamond blades don't have abrasive teeth for cutting. These come with segmented or continuous rims with a diamond coating that is resistant to wear and high temperatures.

When it comes to durability and longevity, the diamond blade is the choice for you.

There are generally two types of diamond blades, depending on the type of work you'll be doing: dry cutting and wet cutting.
A guide on diamond blades
Before we get into the nitty-gritty of how to cut concrete, let's begin by understanding your best friend in the work station. Let's take a look at a diamond blade's parts, how a diamond blade works, and the types of diamond blades.
Parts of diamond blades
You need to understand how diamond blades work and their specific characteristics and cutting quality to match your project needs and requirements.
A diamond blade has four parts:
Metal core – an engineered steel disk with a rim that holds diamonds
Synthetic diamond teeth – slice through concrete
Matrix – metal that bonds diamond particles to resist wear
Weld – attaches cutting elements to the metal core
The diamonds on each segment effectively cut concrete using an abrasive action as the blade rotates. The matrix starts to shed away through wear and tear and exposes sharp metal crystals.
Choosing diamond blades
Take a close look at the characteristics of the concrete when deciding on a diamond blade.
Compressive strength (soft material – lower than 3000PSI; hard material – greater than 6000PSI
Aggregate hardness – hard aggregates include basalt, trap rock, and quartz
Aggregate size – (large – ¾ in. and above; small – less than ⅜ in.)
Sand type – affects the abrasiveness of concrete (crushed and river bank sand is sharp and abrasive, river sand is rounder and nonabrasive)
When considering the type of blade you need based on concrete qualities, the matrix characteristics will play an important role in the type of job you want to get done.
If you're working on soft, uncured, and nonabrasive concrete, make sure to have a matrix that is hard so that you efficiently use the exposed diamonds. When working on extremely hard and abrasive concrete, go with a softer matrix to allow for the exposure of new and sharp diamonds in a shorter amount of time.
Types of diamond blades
The most common type of job you'll have to decide between is dry cutting concrete vs. wet cutting concrete. The best choice for you will depend on the specific job requirements.
Dry concrete saw eliminates wet slurry and the need for equipment such as water tanks and hoses. Wet saw concrete cutting reduces dust but makes a mess with slurry.
Dry cutting diamond bladesDry diamond blades have segmented or serrated rim sections that can resist heat without water.

Most dry cut concrete saws run on low horsepower, so these are best for intermittent deep cutting to avoid overheating. These dry concrete saws are best for creating decorative patterns because of the clean and crisp cuts they can produce.

Since the process doesn't use water, expect that the toothed rims spew out waste and dust. If you're working indoors, make sure to seal off the area with duct tape and plastic.

Wet cutting diamond bladesWet saw concrete cutting tools can have a serrated or a smooth rim. The process uses a stream of water to help cool the blade and keep dust production down.

Due to the low dust resistance, this process is able to make very fast and clean cuts.

You'll need to rent or buy a saw that can distribute water. Never allow a wet-cutting blade to run dry. This will result in blade warpage and segment loss.
What are sawcutting equipment I can use?
You'll have to find a saw that is compatible with the type of blade you chose. Most blade manufacturers will include this information on the blade itself.
The factors you need to consider when choosing a saw are:
Type of saw: handheld or flat saw
Horsepower
Operating speed
Compatible with wet or dry cutting blades
Specially designed for green concrete cutting
Compatible with wet or dry cutting blades
Compatible with maximum blade diameter and cutting depth capacity
How much does it cost to saw cut concrete?
Diamond blades will be available from the most standard to premium-grade versions. The difference between these models will be in the diamond content, which is what will drive up retail costs.
Getting a professional, top-quality diamond blade will cost you about a fifth more of the price of a basic blade, but you'll get a higher concentration of diamonds and a longer service life.
To decide which type of blade to get, carefully consider the difference between initial blade cost and total sawing cost.
If you were doing small cutting projects, the economical choice would be a standard diamond blade. If you'll be doing a lot of concrete cutting, go for the top-of-the-line diamond blade you've been eyeing – you'll save much more in the long run on a cost-per-use breakdown.
Guide to saw cutting concrete
If you've decided to jump into this daunting challenge, prepare these necessary tools to have a smooth sailing DIY process
Concrete cutting tools
Blade
Saw
Chalk line
Extension cord
Sledgehammer, hammer, cold chisel
Tape-measure
PPE
How to cut concrete?
Pick your bladeChoose the type of blade based on your work preferences: dry cutting or wet cutting.

Dry-cutting diamond blades work well with your standard circular saw or handheld saw. Make sure to wet the concrete a little to minimize dust.

For wet-cutting diamond blades, the easiest saw you can go with are the walk-behind types that can distribute water. If you use the right tool and cutting strategy, a wet blade can cut to a depth of 8 inches without a chisel or hammer.

Prep the areaIf you're working indoors, make sure to seal off the room using drop cloths and duct tape. If you're outside, make sure to close nearby doors and windows.

This is to prevent damage and contamination that can be caused by dust.

Apply markersUse a chalk line to mark the specific area where you want to cut. Keep the line thick to keep your markers visible as water slowly trickles over the concrete.
Wear PPEAlthough a DIY-er can successfully cut concrete, it's still a dangerous job that involves heavy machinery and highly toxic dust.

Wear heavy clothes and steel-toed boots. The most important PPE to wear is safety goggles and a dust filtration mask.

Hose down the areaFor horizontal surfaces, position the hose where it water can trickle down to keep the surface damp. Don't overdo this step, as you might end up damaging your equipment and electrical lines.

For vertical surfaces, spray the area with water as you work.

Set up saw and guideboardTo allow for greater control during the initial cut, you can use a guideboard and set your saw depth lever at shallower depths – half an inch should be safe. Start on the lowest RPM settings.

Simply guide the saw and don't push down on the concrete. Cut for 30-45 seconds at a time to allow the blade to cool.

Remove the saw and guideboardOnce you're done with the guided cut, let the saw run freely to remove excess dust.

You can now remove the guideboard and work to make the cut deeper by increasing the depth lever in half-inch increments.

Work with sledgehammer and chiselOnce you've cut away most of the concrete, you can start making cleaner lines with the help of a sledgehammer and chisel.

You can also use a pry bar for stubborn concrete sections.

Clean-upCollect all concrete remains for your garden or the landfill.
Conclusion
Now that you've read through our guide, we hope that you see concrete cutting in a new light!
With the right materials and proper planning, even a beginner DIY-er could get this job done with great results!
If you're not willing to spend that much time and money on a single project, consider hiring your local professional contractor instead.