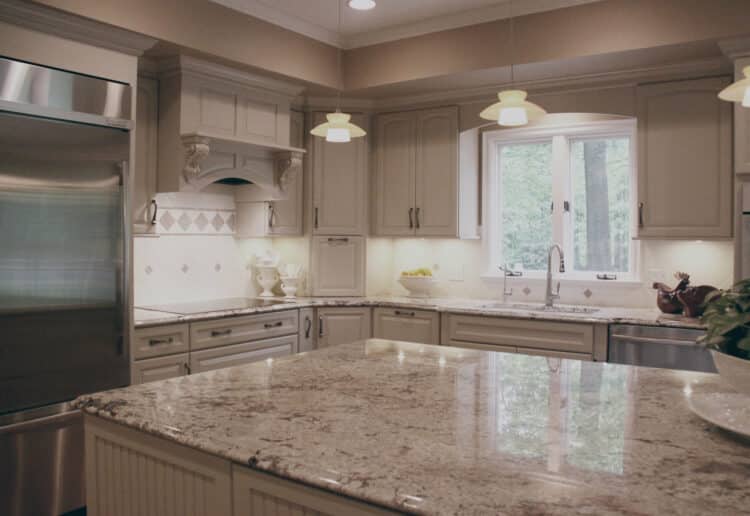 There are countertop options, pros, and cons that you should be aware of as a homeowner. You might want to learn more about this topic, in case you want to change the kind of material in your kitchen or bathroom counter.
If you are a responsible homeowner, you know that different countertop materials come with different sets of advantages and disadvantages. You know that whatever you may choose, it is going to be a massive chore.
Picking the right type of material and how the finished product will appear can be an intimidating job. There is an excess of materials out there that can be utilized for countertops, and it can be exhausting.
Once you have decided on the look you want to achieve that matches the previous decoration in your bathroom or kitchen. You have to decide on the type of material.
Check on these different materials and their advantages and disadvantages:
Quartz pros and cons
The usage of Quartz for counters has been regarded with favor throughout Europe for a long time. Its popularity became so big that word of mouth swept overseas and land on the shores of the United States of America.
Quartz is a type of almost nearly glass that comes from silica. Its rigidness and ability to become polished to a brilliant shine are the reasons it is a prized home fixture.
It blends the enchanting character of the stone and the low-cost pricing of laminate into one impregnable top surface. It is beautiful to look at as well as versatile.
One reason why many homeowners prefer quartz from the others is the infinite color combinations available you can choose from. When quartz is mined and extracted, it already comes in a unique coloration that is breathtaking to watch.
Quartz can also be engineered, which means that homeowners have the choice of coming up with any new shade or tinge for their counter surface. It is why artistic homeowners select quartz because they can get a color that fits into their current interior decoration.
Another good thing about quartz is that if you hardly maintain it, it will be alright. Compared to the other tabletop materials, which are expensive and high-maintenance.
It is durable and can withstand any brute force that happens upon it. When it becomes part of the kitchen or bathroom, it comes warranted.
Since quartz is not able to absorb liquid, there might be sanitary issues that occur.
Because of its durable nature, it can withstand any corrosive and staining elements, which is a notch above granite and marble. Stainable liquids like juice, oil, red wine are unmatched against the awesome capability of quartz.
As time passes, there will be no need to apply any type of seal because quartz is repellant to liquid.
However, quartz is not immune to heat like granite. Direct flame and too much heat can destroy it quickly. So when you cook something and place a hot skillet on the quartz counter, it will be destroyed instantly. The best thing to counter this is to have heating pads, so you're a place to put in your hot items.
Is quartz cheaper than the granite of marble? It is on the costlier side, but the two others are still more expensive.
Yet when you install quartz and make it as a tabletop, its pricing is one hundred dollars per square foot. When you want to remodel your kitchen and pick quartz to be the counter, it will cost less compared to the others.
One disadvantage is that quartz can greatly limit the options in your sink. It is not compatible with the integrated sink system, which granite and marble is. Rather, quartz can only use either under-mount, flush-mount, or drop-in sink system to prevent any harm to it.
Granite pros and cons
For a while now, homeowners have used granite to add improvements to their homes and made it a central fixture for ornamentation. Granite has many advantages, starting with the concept that it looks beautiful and seems to be compatible with any prior home decoration.
The best thing about granite is that each block it is mined from is unique. Each has distinct colors, patterns, and crisscrossing lines. It makes it a sought-after decorative piece for kitchen tabletops and countertops, or even in bathrooms.
It makes granite a keen asset for builders and contractors to provide for homeowners who prize uniqueness above all else. Since there are also twenty different granite shades for selection, you are bound to find something that you will adore.
Granite is made from a near-indestructible material. It is a plutonic igneous rock containing elements of quartz, feldspar, and mica. It has a texture of crystalline that makes it hard to touch.
Its hardness is akin to diamonds, which makes it resistant to breakage and scratches. It is one of the best tools for the kitchen you do not have to be concerned about damage coming from knife nicks or any medium to heavy pounding.
Also, it is resistant to fire or any heating appliance in the kitchen, which makes it ideal for countertops. There will be no problem when you place very hot pots and pans on the granite counter, and it would not be damaged.
Granite not only works well with heat but is repellant to stains when properly sealed. It cannot absorb liquid, so it would just slip right off.
One disadvantage is that when not sealed in the right manner, it can take in liquids such as juice, coffee, and red wine. It, in turn, will leave stains on the granite.
Sealing granite the wrong way will make it porous and can serve as a refuge for bacteria.
Even though it is made from a hard material, if a large object suddenly crashes into it, it can break apart. Thus breaking the seal. When this happens, the liquid can enter, bacteria will grow, and your granite counter will be no use.
Another con of granite countertops is their coldness. When you leave any part of your skin on it, you can feel its frigidness. The reason is that because it usually comes from a large granite block, it can suck the heat away from your skin and tricks your mind that what you are feeling is cold.
Another negative aspect is that granite is expensive to buy. Due to its uniqueness and its one-of-a-kind worth, it costs about one-hundred to two-hundred dollars per square foot.
If you compare quartz vs. granite vs. marble price, granite is the costliest.
Marble countertops pros and cons
Marble, like granite and quartz, are the top three materials that many homeowners use for their table and countertops. It has a distinctly elegant look that the other two seem to be lacking.
Throughout the ages, marble had been the top choice of material that noted architects and sculptors utilized to create their works of art.
Home designers of today also use it as decorative means for extravagant bathrooms and kitchens. However, for marble's sake, beauty comes at a hefty price.
The most amazing thing about marble is that it has a natural stained façade that makes it unique and appealing. Since it is a metamorphic crystalline stone that is not rare to find, it makes it always available for homeowners.
It has endless varieties, which is ideal for countertop-making. Similar to granite, each block of marble unique in its color and patterns.
If you properly maintain marble, its value grows as time goes by. It will make your marble fixtures a definite investment and will provide a particular quality to your home and adds to its marketability.
As a responsible homeowner, you should take good care of your interior marbling, not because it might earn more money in the future, but it is the right thing to do.
It can be a burdensome ordeal to maintain the marble in good condition, but doing this is equivalent to success. If you do not care about its upkeep, then you might want other materials in this list for your countertop.
Marble is a dense rock, which is why it is heavy. Its heaviness is one of the reasons why it is so expensive compared to the others. It also means that installing would not be an easy chore, so do not do it on your own. Some professionals know how to handle this weighty rock.
So you will end up paying a hefty cost for buying and installing marble. Also, be sure that your counter is strong enough to carry the heavy marble load.
One disadvantage of marble is its stainable nature because it is naturally porous. Any liquid that you spill on the counter can leak through its pores and turn into a permanent stain if you do no wipe it off instantly.
However, there are stain removal products available for purchase but can add to the large amount you have already paid for the countertop.
Another negative thing is that, compared to the others, it very delicate and soft. It means it can be easily nicked, scratched, and cracked. A heavy force can easily break it apart.
Another disadvantage is that it will wear and tear as time passes and degrade on its own. So as a responsible homeowner, it is of utmost importance to commit to maintaining it fully. Or else your precious marble countertop will be destroyed.
Little-know countertop options pros and cons
You already know the best-known countertop materials' pros and cons. But how about the materials that you did not know could be utilized for countertops?
Here are the other lesser-known materials for counters:
Laminate
If you are looking to save money on countertops, then laminate is the best option for you.
Laminate countertops are constructed from many layers of plastic that are stuck together with Kraft paper or particleboard. What comes out is an unbelievably strong surface.
Although most savvy homeowners want the raw option which marble, granite, and quartz provide, laminate has become recently popular.
HPL (high-pressure laminates) is the new and hip option for the homeowner with a modernistic taste. It is also very durable, is available in different varieties, and costs less.
Stainless steel
Are you wondering what professional chefs use for their countertops? That's right: stainless steel. It is the main feature of a professional kitchen, which you can emulate in your home.
There are many good things about this type. It is resistant to stains, very durable, and can tolerate the heat of any kind. They also never burn or rusts, because it is made from nickel and chromium.
It also does not stain and can be installed in a snap.
The bad thing about stainless steel countertops is that it makes a lot of noise when you drop pots and pans on it. Also, it can scratch and dent easily.
Concrete
The good thing about concrete countertops is that you have infinite options to customize them. You can choose exactly the color, shape, or any unique feature you desire.
You can follow any well-known design flourishes like rustic, traditional, modernistic, contemporary, or industrial. You can even add in a logo or bright light if you want.
It is also durable because builders usually reinforce it by mixing in fibers of glass.
The disadvantages are that it can stain easily. And if you have many designs when installing it, it will add to the cost. Its price is almost the same as granite and marble.
Tile
Tile is a brilliant choice for creative homeowners. They have the option of selecting just a simple design or complex mosaic patterns.
It is also inexpensive, and installation you can do yourself.
It is tolerant to fire. So it would work great close to a kitchen stove or oven without any damage.
However, tile breaks and cracks easily, so if any weighty material drops on the surface, it is damaged.
Even though stainable liquids would not stain the tile, the grout lines will. So do not forget to seal it with a top-quality finish.