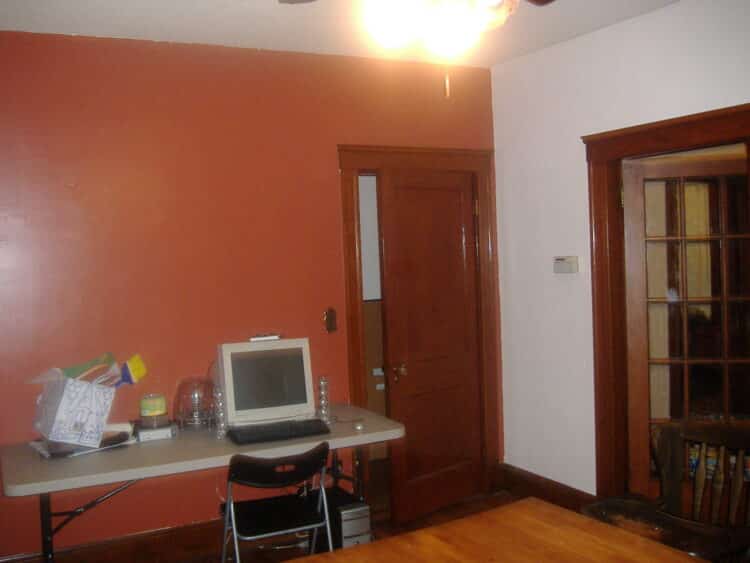 Do you feel like your home is boring or too plain?
If your home feels like it hasn't had a renovation or has been looking dull for a while, you might want to think about a DIY feature wall, also called an accent wall.
Putting a DIY accent wall piece in your home is a project that can entirely change the look of your house and get you excited each time you step into your home.
Beautify your home and make it look a little more sophisticated by putting a plank wall up to add extra attention to your room.
What is an Accent Wall
An accent wall is an exterior or interior wall in a building that may have a different shade, material, color, or design from the other walls around it.
It is a common feature in the decorating industry and is quite popular because of its flexibility and different options available depending on tastes. Accent walls are usually unique to individuals and might even have a deeper meaning to some people.
Guide to Designing an Accent Wall
There are a couple of things you have to consider before putting an accent wall up in your bedroom or living room. These factors vary widely between different people and are usually dependent on an individual's taste.
Where to put Accent Wall
There is no right or wrong wall surface to use for your accent wall, however, if you have walls with unique or interesting architectural details, they'll be a great fit as an accent wall. The color you put on the wall will enhance the details on it and make it look interesting. Other common places are walls with built-in shelving, fireplaces or inlets are also great spots. A wall that you will see as you enter a room is also excellent if you do not have any walls with unique details.
Here are some ideas based on the rooms in the house:
Bedrooms: A popular choice is the walls behind beds as it could make your room give off an amazing headboard effect or show off the headboard you already have.
Built-in Shelves: No rule says accent walls should be flat. You can put a bit of color in a wall of built-ins to make the items look professional and chic.
Narrow Walls: You can make the wall at the end of a narrow room have a different color to make the space open and give a feel of symmetry. This s great for bathrooms and kitchens.
Family's Gallery Space: Your framed photo collection can look high-end when they're on a bright and complementary color.
Selecting a Color
If the space you want to put your accent wall is furnished, you might already have a color in mind to use. It's best that your colors compliment each other and do not match. Select a color that will contrast smoothly with your furniture so the warm and cool tones will be balanced. You can also get inspiration from your tiles or patterned curtains.
Some things to consider:
Warm colors: These bring walls in visually so they're great at making your open spaces feel cozy.
Cooler colors: This tends to push walls away visually especially the more saturated tones like burgundies and blues. They can give smaller rooms a nice depth.
Bright Colors: These can give an aura of energy suitable for hallways or game rooms, pink or zingy citrus are great examples. Red and yellow colors could induce hunger so naturally should be a fit for the kitchen.
Soft Tones: Cool grays, sea foams, and other softer tones can give a soothing feeling co they are great for bathrooms and bedrooms.
Plank wall Pattern
Patterns can add more flexibility and options to your accent wall. Here are a few things to consider in selecting patterns:
Tone-on tone: These patterns will not complicate your color scheme. It is great for mixing patterns with furniture or curtains and still keep it looking nice.
Stripes: Vertical stripes add height to a wall and horizontal stripes will lengthen a wall. You can also choose uniformed stripes or varied stripes to get a more textured vibe. Thicker stripes have an expansive visual effect while narrow stripes add depth and interest.
Geometrics: Depending on the pattern, geometric shapes can give off a retro or modern flare. If you're using narrow lines or intricate patterns, wallpaper is great. Use a professional paint job if you want thicker geometrics so you can customize your color schemes better.
Organics: If you want to go the organic route such as florals, wallpapers are a great option. You can go the bold route especially if it's over a large space.
Starting Your DIY Accent Wall Project
We're going to take you through a DIY Plank Wall Tutorial so you can design yours for your home as you see fit.
Materials Needed for Easy DIY Accent Wall
Hammer
Level
Paint brush
Finish nail gun
1"x6" tongue and groove boards
2 ½" finish nails
Old rag
Stud finisher
Pencil
Sealant
Any Stain brand
Step-by Step Process on How to Install a Plank Wall
Follow this guide to design your accent wall and make the little alterations based on what you want.
Tag the Studs
Tongue and groove boards make the installation simple, cost-effective, and very quick. Check behind the sheetrock, inside the wall to identify the studs before you put any wood planks on the wall. If you're having any difficulty, you can use a magnetic stud finder to quickly locate it.
Make visible marks on the wall with a Sharpie or pencil and make sure you get every stud on the accent wall from up to down. If you do this carefully, you'll be able to see the places to nail when you start installing the boards.
Cut the Boards
If your wall is 12 feet, you can use 12-foot boards and cover the accent wall without any seams. However, if you have walls longer than 12 feet, you can use 8-foot boards and stagger the seams. When the seams between the boards are not lined but staggered out they're much harder to notice. Even if there are seams, it won't greatly affect the look of your wall.
Use a miter saw to cut the tongue and groove boards so you can get accurate 90 degrees cuts. If you do not have a power tool like a miter saw, other great alternatives are a speed square and a circular saw.
Firstly, measure your wall and then cut the boards so they fit your wall length. Try to leave a 1/8" inch gap on both sides so that your board will fit well and will not scuff the other walls while you're installing. Take care to make sure all the cuts and measurements you make are precise.
Putting Wood Planks on Walls
Remove any baseboards on your wall before you start installing your wood accent. Start from the bottom of the floor and place the board with the tongue side facing up and the groove side facing down.
Set the bottom board straight to stay firmly on the floor, if this board isn't straight it will affect all other boards you'll add on top. Once it is set in position, use a nail gun to hold it to the wall. The previously marked stud lines will make it easy to hit the stud and you should put three nails in each stud along the board length.
Follow the above precautions as you add other boards. Make sure the tongue and grooves fit tightly without any gap, if you notice any openings use a hammer to set the board in place.
Giving Allowance for Electrical Outlets
Continue with the above step until you get to any electrical switches or outlets where you'll have to pause and make cutouts. Measure the outlet carefully so you'll know the exact place on the board you'll need to make a cutout. Make all cutouts before you install them into the wall and a jigsaw may come in handy for this stage.
If the electrical box lands in between two boards, you'll have to cut the bottom half into one board and the other half in the other board.
Setting the Top Trim Board
As you get to the top, you may not be able to add another complete board so you have to cut the board to size so it'll fit on top. However, if your last board fits perfectly then do not bother about this step entirely.
Take measurements of the space between the ceiling and the top board across several locations on the accent wall. If all of the measurements are in the range of ¼", you can use a table saw to rip the board to size.
If the measured distances are more than a range of ¼" then you will cut the top board at a little angle so it will fit. You can do this by marking the board with the custom angles you measured with a chalk line and then cutting at the mark.
Apply Stain and Sealant to the Wall
You can also take care of this step before installing the wood accent but we think doing it after is better. Get a stain brand from any paint store and use a paintbrush to apply it to your wood accent wall, feel free to select any color you like best. Let it stay for a couple of minutes so the wood can soak up the stain and wipe away any excess.
Once the stain is dry, apply about 1 or 2 coats of sealant to keep the wood protected. There you have it!
Conclusion
Does it feel like your house could use a little more sparkle anytime you enter? Give your home a makeover with an accent wall.
With our DIY accent wall guide, you can get to work on beautifying your home. It is easy to follow and anyone can use it to produce excellent results.