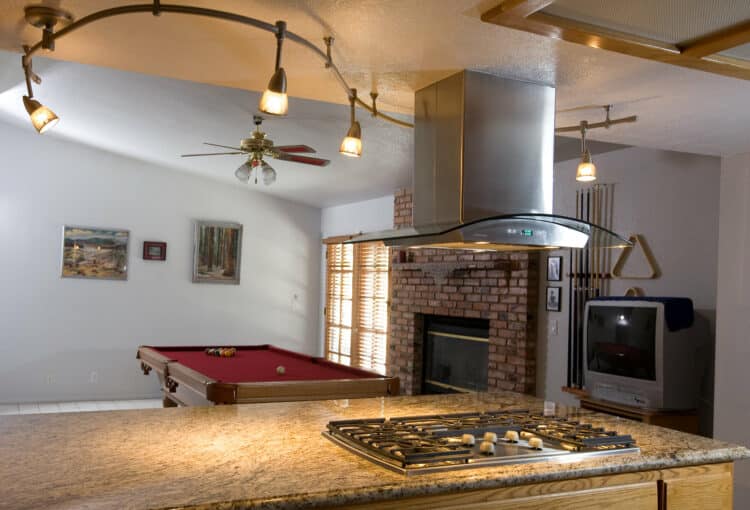 Is your vent damper not functioning as it is supposed to? Or is it making a lot of noise? Maybe you have to take a look to find out.
People may not be familiar with the term and this piece of equipment, which is very important in a kitchen. What is it anyway?
It has many names. It is known by people as a: kitchen hood, exhaust hood, extractor hood, stove hood, vent hood, cooker hood, or ventilation hood. It has other names and is often called an electric chimney, cooking canopy, fume extractor, extractor fan.
The most significant component in this device is a mechanical exhaust fan that is situated above any cooking device, like a stove or oven.
Its main chore is to suck out any smoke, fumes, heat, grease fire, and any foul-smelling aromas that might come out of a particular kitchen. It enters a filtration system and exits the chimney.
Some models takes in air, reprocesses, filters, recirculated it back inside. But most types would just let it out to the outside environment.
Three principal parts
Types of hoods
Ducted- These are the common types and mostly used in home kitchens. Its main feature is the ductwork, which is utilized in processing and discharging contaminated indoor air.
There are ducts of massive sizes, which are used in commercial establishments and large kitchens, and some affluent homes.
Duct-free- These types do not have ductwork for air processing but an ultra-powerful air filter system that sucks out unpleasant fumes and lets it back out in a cleaner form. These are mostly used in ordinary kitchens in the household.
Under-cabinet- These types do not have ductwork. However, you can substitute the filters.
Wall-mounted- This type looks like a chimney and is set up on the kitchen wall.
Ceiling-mounted- It is better known as an island hood. This kind hovers above cooking spaces.
Customized- This type is particularly built to incorporate within the cabinets with vents built through the wall.
Three kinds of filters
Charcoal- It is made from activated charcoal and is mostly utilized by duct-free hoods. You have to substitute it constantly and cannot clean it.
Mesh- It comes from aluminum strips and very efficient in catching and removing greasy substances from the smoke. It can be utilized in either ducted and duct-free types.
Baffle- It is also made from aluminum but has frames and an arched panel. The curls entrap the oily refuse. It can be cleaned easily and very durable. It works great with either type.
Some problems that might occur to your vent damper and hood
When these issues happen, there are some that you can easily fix, but others you will need a professional repairman:
Noisy hood
Sometimes, a strong puff of wind will open the dampers and will sporadically bang it shut. The sound can be irritating, and you want to find a way to stop it.
The best way to stop any clanging noise and rattling vents from the cooker hood is by installing a spring mechanism on the damper to inhibit loud sounds.
These are called "backdraft dampers," which cost about nine to thirty dollars, depending on how large it is.
To get rid of the noise, install the spring-loaded dampers on the discharge cap in the hood. You will need a screwdriver to set it up.
If the clanging sound persists, then you should ask for professional assistance.
Fumes are not clearing out
This issue often occurs in duct-free installations. The cause might be a worn-out filter that needs to be substituted.
In the ducted types, the issue might be resulting from any blockage prohibiting the discharge from emptying. You can attempt to clean any obstruction. Otherwise, you should call a professional.
Smoke would not ventilate outdoors
This problem occurs as a result of either a damaged fan, malfunctioning fan motor, or defective blower motor. It will disable any proper functioning and stop working altogether.
Sometimes, there might be something caught in the mechanism and halting its performance. You can call a professional that can guide you in troubleshooting the problem or merely bring in one.
Humming motor
If you hear a slight buzzing sound coming from the vent hood, the fan motor might be malfunctioning. Also, there might be something lodged in the blades or the wheel housing.
You can attempt to dislodge the unknown blockage. Or if the defect is in the fan motor, you have it fixed or replaced.
Motor makes a loud noise
The motor again might be defective and has become too worn-out. You can attempt to get it fixed, but if the wear and tear are already very prominent, you have to replace it.
Also, there might be problems with the bearings in the exhaust fan. You can try troubleshooting steps. If not, call a professional.
The lights are not turning on/off
Fixing a defective cooker hood lighting system might be comparatively easy to substitute a malfunctioning light bulb.
However, if the issue is coming from the lighting assembly, main control board, switch, or socket, it is going to be complicated and too difficult for you to fix.
If replacing the bulb would not fix the issue, then call for professional help.
Both the light and fan systems are not functioning
This issue might be occurring because of the malfunctioning thermal fuse, faulty switches, or a bad control board. If these problems remain unfixed for a long time, the fumes might accumulate in your kitchen and cause health issues.
These complicated problems can only be fixed by a professional repairman.
Defective keypad
This issue often occurs by one single problem: ma malfunctioning control board. It is a complicated issue and need a professional assistance.
Ventilation hood components that often need replacement
You have to take note of these parts in your kitchen exhaust system because these are the ones that always break down and need to be constantly substituted:
Blower wheel housing
Light
Motor
Fan
Control board
Light assembly
Socket
Switch
Conclusion
Knowing where the malfunction is will make the repair easier because you can directly tell the repairman exactly where it is. So familiarize yourself with your kitchen exhaust system so you would not have complications in the future.