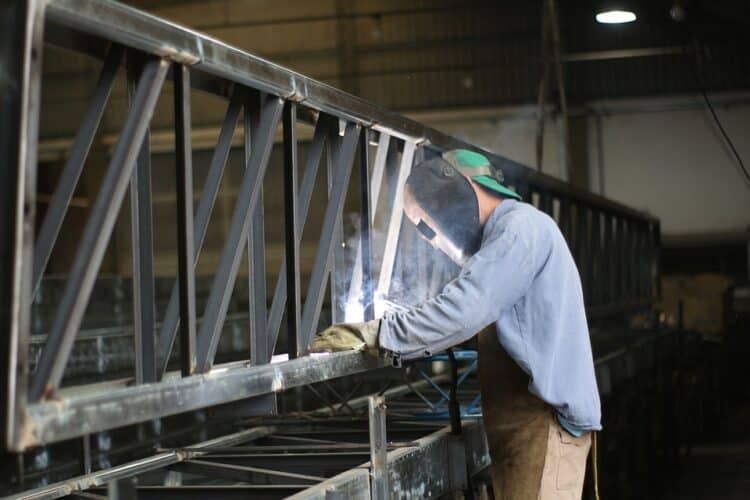 Welding puts you in physical and chemical danger since the welding machine produces fire sparks that could burn your body. The machine also emits harmful radiation that could be detrimental to your skin. Given all these, do you need to use a welding cap?
A welding cap, also known as a welding hair cover, will protect you from these hazards. Knowing the best welding caps to buy or why do you need to use a welding cap will help you protect yourself.
But why welding caps? And how do you choose the best welding caps for efficiency and safety? What about wearing baseball caps and beanies? What is it with the designs and decorations of the badass welding caps?
In this comprehensive guide, we will look at the reasons for wearing a welding cap and why go for the cool welding caps. We will also learn the factors to consider when buying a welding cap or beanie hat and how to wear a welding cap. In addition, we will recommend the best welding caps in the market.
What is a welding cap?
A welding cap is personal protection equipment (PPE) worn by welders to protect their eyes, scalp, hair, ears, and neck from flying sparks. These sparks emanate from the welding machine cutting through metal. In addition, other home improvement workers such as ironworkers, pipefitters, and boilermakers. Regular people also buy welding caps and beanies to look fashionable.
Why do you need to use a welding cap?
There are several reasons why you should put on a welding cap, but all of them revolve around your comfort and safety.
Protection
The primary reason why you should wear a welding hat is to protect your scalp, hair, eyes, ears, and neck from those flying sparks. The cotton material is flame-retardant. It blocks any fire-causing sparks that could otherwise burn your hair and skin.
Some caps have flaps that make the cap fit according to the shape of your head. Also, the flap presents a space to tuck in your hair for those with long hair. High temperatures and sparks can damage hair; thus, wearing a cap can keep you from going bald.
In addition, the cotton material which makes the skull caps create a barrier between your skin and the harmful radiations created by the machine. These radiations would otherwise cause hazards such as skin cancer.
Comfort
Welding is a craft practiced under a lot of heat and can cause sweating and discomfort. The sweat may drip down your face into your eyes, neck, and back causing unclear vision and itchiness.
An absorbent material makes the welding cap. The fabric sucks in the sweat, leaving you feeling dry and cool. The cap is also designed in a breathable make that allows airflow that cools your scalp and ears.
In addition, the cap fabric acts as a cushion to protect the body from the discomfort caused by the metal that makes the helmet. Wearing the hat under the helmet puts the latter in place and prevents slipping off. Therefore, pairing a helmet with a beanie is a great idea.
Fashion statement
Although this is a less popular reason, some people wear welding caps to look fashionable. That is why creators design cool welding caps with funny designs such as skulls, half-naked women, insects, and flowery patterns. Welders, ironworkers, sprinkler fitters, and other workers who work under heated conditions also use these bad-ass welding caps. But, they are more common among hippies who want to make a fashion statement. That is why you will find all kinds of graphics on these caps, from company logos, flags, and stylish designs.
How to pick a welding cap
With dozens of welding hats available, it becomes hard to choose from the different sizes, designs, and qualities if you are relatively new to welding. That is why we have put together the factors to consider when shopping for a welding cap.
Fabric
Picking the right material that makes the welding cap goes a long way in ensuring your comfort and gives you value for your money. Please choose a cap made of a hundred percent cotton fabric.
Firstly, cotton is absorbent and will ensure sweat does not build up on your skin as you work. This feature is vital because you will be working under hot conditions that cause sweating.
Secondly, cotton is flame-retardant. The material puts off fire sparks as soon as they land on your head or neck area. In addition, fabric designers sew the cotton threads in a breathable manner which allows airflow. On the other hand, polyester and nylon fabrics are susceptible to flames and are poor absorbers.
Type of welding cap
In today's marketplace, you will find various skull caps; all made to protect your head, ears, and neck while welding. These varieties are suitable for different reasons. Depending on the welding cap purpose, you can choose a skull cap, rag cap, beanie hat, or baseball cap.
The shape is the determining factor here. For example, skull caps and beanie hats fit the skull and ears and are commonly used together with a visor or helmet. On the other hand, baseball caps and rag caps protect the head, ears, neck, and collar area due to the flaps and bills.
Design
Welding caps have always had more than one layer, also known as a panel. The best welding cap is a multi-paneled one because it fits any skull shape and structure. Since you may not have the luxury of sourcing for a custom-made cap to fit your head, a multi-panel cap will save the day.
In addition, the cap should have two sides such that you can wear it on any side. The outer side should have prints, and the other side made with one color fabric. The double-sided cap is more durable. The cap should also have super absorbent linen to arrest sweat flowing into the face or neck area.
Size
Choose a welding cap that fits well. A tight cap can cause discomfort, while too loose one can fall off as you work. The best way to ensure your welding beanie fits is by buying one with adjustment options like hook and loop or elastic bands.
Flexibility
You can adjust most caps to sit differently on the skull depending on the welding need. For example, if you are welding something in an overhead position, you want to protect your head and neck from the falling sparks. This way, you need to adjust the cap to have the flaps at the back of your head.
Likewise, if you are welding on a one-sided angle, you may want to protect the chin and the ear facing the machine. In this case, a cap that you can flip to the side will come in handy.
How to fit a welding cap
Welding caps come in different shapes, designs and sizes. Some have a high crown, while others have a general crown like in ordinary non-welding caps. Others cover only the skull while others go down up to the neck and collar area.
So how should a welding cap fit? Well, it depends on the type of cap and your head size.
Follow these steps to fit a welding cap:
Hold a tape measure or string and measure the circumference of your head
Ensure the measuring tape is lying on the part where your cap will fit on your skull. It should not be too tight or loose
Remove the tape and note down the measurements. For the string, take the circumference length and lay it against a measuring tape, then write down the number of inches
Proceed to estimate the crown height by putting the measuring tape or string at the highest point of your head and bringing it down to where you want the bottom band to rest on your skull
You can also estimate the crown height using another of your hats that fit your liking
A local welding cap merchant will help you choose the best fitting cap based on your measurements. If you are shopping online, you will find a comparison chart to determine the most suitable welding capsize
How to wear a welding cap
The primary role of a welding cap is to protect the scalp, ears, and neck from the sparks flying as you work through your welding schedule. There are three ways in which you can wear your welding cap:
Wear the cap with the crown up high and the bill on the side
This position comes in handy when you are welding in a one-sided position. The bill faces the side to protect the chin and ear facing the machine directly. You don't want a hot spark getting into your ear canal and melting your ear wax as you dance to the tune of that pain, do you?
Wear the cap with the bill to the back, pulling down the crown to cover more space at the neck and collar area
This posture is suitable if you are welding an overhead position such as window grills and door hinges. As you work on an overhead site, the sparks may fall on your head, neck and go down to your shirt. A back-facing bill will also cover long hair as it protects the neck and the collar area.
Best welding caps in 2021
The following are the top welding cap brands based on quality, efficiency, and positive client review:
Lincoln Electric Welding cap
This welding cap falls under the beanie type. It is most efficient when paired with a welding helmet.
Notable qualities:
Flame resistant
100% cotton for breathability
Washable with a washing machine
Absorbent
Affordable
Revco Armor Cotton Welding Cap
The Revco brand is multi-paneled and made with 100% cotton to guarantee a breathable and self-cooling cap. It is also easy to fit thanks to the re-adjustment elastic headband that assumes the shape and size of your head.
This cap has side flaps that protect the ears, eyes, and neck area. In addition, the high crown provides enough room to tuck in long hair. The elastic band holds the hair in place.
Notable qualities:
Flame resistant
Elastic band to conform to any head shape or size
100% cotton
Has side flaps for all-round protection
Double–paneled, making it durable
Welder Nation 8-Panel welding cap
This cap is one of the most efficient welding caps. It has eight layers, a popular feature since the early days of our forefathers. It is also made from 100% cotton fabric, making it breathable for smooth air circulation.
It also has flaps that protect the eyes, ears, and neck. This cap is also appropriate in Metal Inert Gas (MIG) welding. The only downside is that it comes in big sizes. Small-headed users will have difficulty fitting one.
Notable qualities:
Has eight panels
100 % cotton
Has side and back flaps for an all-round protection
It is light in weight
BSX Gear BC5B-BK Welding Beanie
Unlike most recent welding skull caps, this brand does not have flaps. Instead, it fits only the skull and you may need to pair it with a welding helmet. However, the super-absorbent cotton fabric is flame-resistant to put off flying sparks quickly. In addition, it hugs your skull to provide a nice cushion against the helmet's discomfort.
Notable qualities:
Non-combustible fabric
100% cotton
Light in weight
Elastic fitting to fit all sizes
Comeaux reversible welding cap
This cap has a camouflage pattern and is multi-paneled. Its material is 100% cotton for sweat absorption and cooling effect. Comeaux has a medium-sized crown with flaps covering the ear and the neck. You can also reverse them to cover whatever head area you want to cover.
Though the grey color is the most prominent, it also comes in other colors
Notable qualities:
Flame resistant
Six panels
100% cotton fabric
Light in weight
Size ranges from 7 to 8
Conclusion
It would be best if you used a welding cap when welding. It protects your scalp, hair, ears, and neck from sparks. The cap consists of super-absorbent cotton material that absorbs sweat. In addition, the cap holds the helmet in place. Choosing the best welding caps is essential to save you money and give you the desired results.