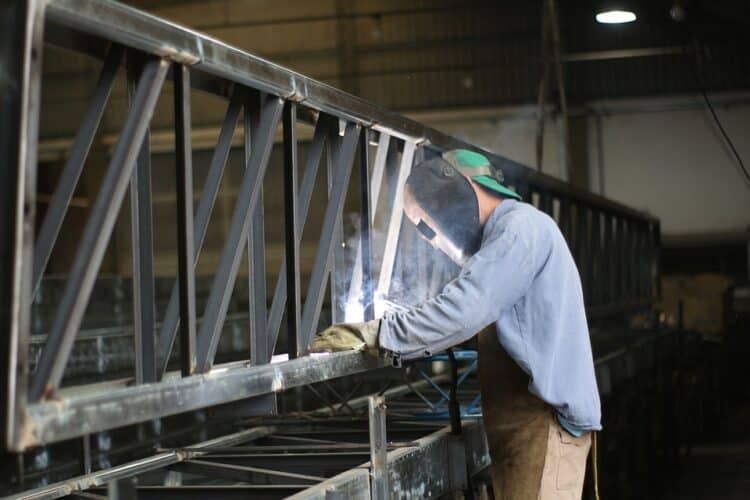 The welding machine produces fire sparks that could burn your body. Welding puts you in physical and chemical danger and emits harmful radiation that could be detrimental to your skin.
This headgear reduces the risk of injury. Take care of the safety of your skin, eyesight and even hair. In this article you will learn how to choose the best welding headgear.
What is a welding cap?
The welding cap is personal protective equipment (PPE). Welders use it as an element of protective clothing against sparks coming from the welding machine.
Find out why you should wear this hat
Protection is the main reason. The cotton material is flame retardant. It blocks any sparks that could cause a fire that would otherwise burn your hair and skin. The flap provides a place to hide the hair for people with long hair.
Comfort of work thanks to the cap coating that adapts to the shape of the head. The fabric also absorbs sweat, leaving you feeling dry and cool. The cap is also designed with a breathable material that allows airflow that cools the scalp and ears. This makes it much easier to work in hot conditions. It is worth combining wearing a helmet and a protective cap. The cap material acts as a cushion to protect the body from the metal of the helmet. Wearing a cap under the helmet immobilizes it and prevents it from slipping.
Fashionable design of the cap. Definitely not the most important sub-point, but many people wear welding caps for the sake of fashion. Designers present more interesting caps, with interesting prints and patterns.
How to choose a welding cap?
The choice is large, but it will be wisest to focus on the following factors:
Fabric
First of all, choose the best material from which the welding helmet is made. By choosing 100% cotton, you will provide your head with working comfort. Cotton is highly absorbent and prevents sweat from accumulating on the skin. In addition, cotton is flame retardant.
Type of welding cap
Depending on the purpose of the welding cap, you can choose a yarmulke, rag cap, beanie cap or peaked cap.
The decisive factor here is the shape. Beanie hats fit the skull and ears. They are popular to work with a helmet. Remember, however, that peaked and rag caps protect a larger area of your body thanks to baseball cap and flaps.
Design
The best welding cap in this category is the multi-paneled cap. Panels are layers of welding caps. The multi-panel cap fits every shape and structure of the skull.
Size and flexibility
Take care of your comfort and work safety. You can't have a hat too big or too small. The easiest way to adjust your cap size is by adjusting it.
Depending on the job you are doing, you may need to wear a different protective cap. You should have a hat that will protect you from all sides.
How to fit the welding cap?
When buying a hat online, pay attention to the information with the size comparison table. If you have the opportunity to go to the store, the seller will definitely help you adjust the cap. To measure the circumference of your head yourself, you need a tape measure and a string. You can also measure a hat you already have and it fits your taste. Once you've decided on the perfect shape and size for you, make sure you wear your welding cap well. Remember to always protect the parts of your head that are most exposed to the job. You can wear the cap in different ways and rearrange them to reduce the risk of injury.
If you don't know which hat to choose, here are the best brands of welding caps in 2023.
The following are the top welding cap brands based on quality, efficiency, and positive client review:
Lincoln Electric Welding cap
Flame resistant
100% cotton for breathability
Washable with a washing machine
Absorbent
Affordable
Revco Armor Cotton Welding Cap
Flame resistant
High crown
Multi-paneled
Elastic band to conform to any head shape or size
100% cotton
Has side flaps for all-round protection
Welder Nation 8-Panel welding cap
Has eight panels
100 % cotton
Has side and back flaps for an all-round protection
It is light in weight
Big sizes
BSX Gear BC5B-BK Welding Beanie
Non-combustible fabric
Beanie type
Doesn't have flaps
100% cotton
Light in weight
Elastic fitting to fit all sizes
Comeaux reversible welding cap
Flame resistant
Medium-sized crown with flaps
Six panels
100% cotton fabric
Light in weight
Size ranges from 7 to 8
In brief
With such knowledge, you will definitely protect yourself with a welding cap now. The cap does not interfere with work, on the contrary. With a well-chosen hat, you will save money and achieve the desired results.