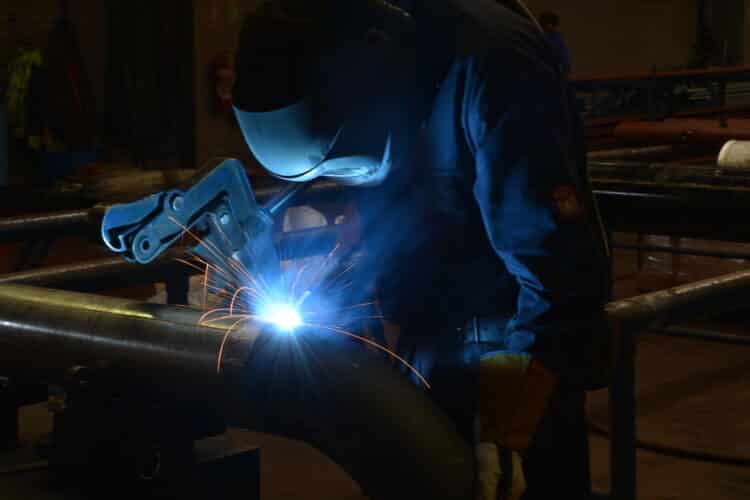 Welding is defined as the process of joining two metals by heating their surfaces to melting point. It is a process that is very technical and comes with a variety of types and techniques that are learned by skilled workers through constant application and practice.
There are a lot of different kinds of welding:
Arc Welding
Metal Inert Gas (MIG) Welding
Tungsten Inert Gas (TIG) Welding
Flux Cored Arc Welding (FCAW)
Shielded Metal Arc Welding (SMAW)
Plasma Arc Welding
Submerged Arc Welding (SAW)
Gas Tungsten Arc Welding (GTAW)
Metal Active Gas (MAG) Welding
Gas Metal Arc Welding (GMAW)
Friction Welding
Electron Beam Welding
Laser Beam Welding
Resistance Welding
Resistance Spot Welding
Resistance Seam Welding
As you can see, Metal Inert Gas (MIG) Welding is not the only type nor technique. There are numerous others that can be used. However, this article aims to answer the question, "What is MIG welding?" and touches upon the often-confused counterpart, MAG welding.
What are the safety precautions that have to be taken while welding?
Welding can cause long-term medical conditions that are detrimental to the welder. To avoid these, you must always follow the necessary safety precautions. The most important one is to wear personal protective equipment and ensuring the workplace is up to standard:
Wear the appropriate Personal Protective Equipment (PPE)
PPE protects you from long-term illnesses brought on by welding. Make sure they are of high quality and that there are no repairs needed. Standard PPE includes, but is not limited to:
Welding helmets that have side-shields
Respirators
Ear protection
Boots and gloves
Fire-resistant clothing
Ensure your workspace is up to standard
Proper ventilation
A lot of gases are released during welding, and you have to make sure you do not inhale these gases.
No flammable materials
Sparks are created during the welding process, and you have to make sure they don't catch anything flammable. Keep all flammable materials in a separate room, and make sure the structure you're welding in is not flammable as well.
What are the terms involved in MIG Welding?
Parent metal
This is the metal that will be joined during the welding process.
Filler metal
This is the metal that is added to the parent metal in order to join them during the welding process.
Weld metal
This is the final output of the metals that are joined together. It is basically the metal that was melted and then kept as the weld was formed.
Heat Affected Zone (HAZ)
A Heat Affected Zone is a part of the parent metal that is has its metallic elements affected but does not melt during the heat generated by the welding process.
Fusion line
A fusion line is the line between the HAZ and weld metal. It can also be called a weld junction.
Weld zone
The weld zone includes the entire weld metal and the Heat Affected Zone (HAZ).
Weld root
The weld root is the area which is far away from the welder as they are making the first run.
Weld face
It's the exposed surface of the weld as seen from the side welding was done.
Weld toe
The weld toe is the line or boundary found between the weld face and the parent metal in between a pass. They are where stress is highly concentrated and could be one of the locations where cold cracks or fatigue cracks can come from.
These have to blend well with the surface of the parent metal so that stress isn't as highly concentrated.
Excess weld metal
Also known as overfill, excess weld metal is unnecessary weld metal that joins the toes and lies outside the plane.
Layer
A layer is one pass of weld metal. Usually, weld metal is added in multiple layers through multiple passes.
Run/Pass
The process of depositing one layer of molten metal through a torch, MIG gun, blowpipe, or electrode.
What is MIG Welding?
It was first invented in the early 20th century and is praised for how easy it is to use and the speed at which one can use it. This is the go-to welding method for beginners.
MIG Welding falls under the category of Arc Welding. It joins two metals by heating them up using an arc. The arc formed by MIG welding is found between the surface that has to be welded and a filler electrode that is consistently fed into the MIG gun.
It uses a shielding gas so that the molten pool created by the weld metal does not react with elements found in our atmosphere. The electrode used is a Direct Current Positive Electrode (DCEP) and may also be known as a Reverse Polarity.
How does Metal Inert Gas Welding work?
No matter where you are using MIG welding, it more or less follows the same principle. Electricity is used to create an electrical arc between an electrode wire and a parent metal. The electrical arc will melt the electrode wire in order to create a weld pool.
The weld pool cools down into a solid, and the metals are now fused together.
A modern welding machine for MIG welding would have a spool-fed electrode wire that it feeds though a tensioning mechanism and into a co-axial supply line that leads to an MIG welding torch.
While this is happening, a shielding gas also passes through the same supply line the gun has. This shielding gas prevents atmospheric gases from weakening the weld by protecting the weld pool.
What is the actual process involved in MIG Welding?
Another term for MIG welding is "wire welding" because of the wire electrode that it uses. This wire electrode is a thin wire from a wire reel that is continuously fed through a welding machine. It is either solid or cored.
A cored wire has composites formed from a metal sheath. It has filling made out of metals or powdered flux. Meanwhile, solid wires are just normal wires. Whatever wire is used, it becomes a source of heat and serves as the filler metal to connect the joint.
An arc is formed between the wire electrode and the metals being fused together. It melts the wire and the workpiece, creating a weld pool. The tube the wire is fed through is made out of copper, and this is often called the contact tip. It ensures there is current being conducted into the wire.
To prevent atmospheric gases from damaging or weakening the weld, a shielding gas is also released through a nozzle surrounding the electrode wire. Shielding gas varies depending on what the metals being welded are, and what they will be used for.
The wire used in MIG welding has a positive charge and must be connected to an electrical source that has a consistent direct current (DC). The DC has to flow from the negative terminal to the positive.
What is an MIG Welding Unit/Gun?
There are a lot of components in an MIG welding gun and you have to familiarize yourself with them before you can even try to wield one. It has c power cable, control switch, gas hose, gas nozzle, electrode conduit and power, a shielding gas flow, and a contact tip.
Sometimes, a water hose is connected to the gun so that it can cool down the unit when performing operations that generate a lot of heat.
Contact tip
The contact tip is what reduces the spatter created while welding and it is usually made of copper. It connects to a power source that transmits electrical energy to the electrode. The contact tip must be the correct size because it is what determines the contact area between the base metal and the electrode.
Gas nozzle
The gas nozzle directs the shielding gas to the welding zone in order to protect it. During high-current operations, it is recommended that a larger gas nozzle is used so that there is a wider shield effect and so that a larger pool of molten weld is developed.
Electrode wire
An electrode wire is protected by the conduit and liner. It prevents buckling and makes sure the wire feed is not interrupted.
Wire feed unit
This is what gives the workpiece electricity. It passes through the electrode conduit and liner before reaching the contact tip.
What is the difference between MIG and MAG?
In many ways, MIG and MAG are similar. They are both arc welding processes that use an electric arc which forms between the wire electrode and a work piece. Their main difference is the shielding gas each welding technique uses. MAG stands for Metal Active Gas.
The active gases MAG uses adds an additional electrical conductivity so that the weld penetrates the metal better. This is not found in MIG because MIG uses inert gases. Inert gases just protect the final weld.
What are the modes of transferring metal?
Short-circuiting mode
Otherwise known as the Dip Mode, the short-circuiting mode is a method of metal transfer that has a low-heat input, and can only transfer metals that are physically touching the puddle of molten metal or base material.
It can be used in any position from vertical-down, horizontal, vertical-up, overhead, flat, etc. Since it has a low-heat input, weld distortion is reduced, electrodes have a 93% efficiency, and it is easier to use.
In short-circuiting mode, there is a deposition of continuously fed solid wire or metal-cored electrodes through repeated electric-short circuits.
Spray mode
This is a mode of metal transfer that is of high-energy. It results in a consistent stream of small molten metal droplets that have a regular shape. The solid or cored wired electrode is deposited at a high energy level.
This mode has the added benefit of an electrode efficiency of 98%, a high rate of disposition, neat weld bead appearances, easy cleaning and usage, and it can use a wide range of electrode diameters and filler metals.
Pulsed mode
Pulsed mode is an even higher energy or higher-controlled form of spray mode. It has both low and high current levels and when the metal transfer happens, a single molten droplet is left behind if a high current level is used.
It has the most advantages out of the rest of the metal transfer modes because the weld beads look great, it appeals to high operators, there is less distortion from the heat, defects in fusion are minimized, resistance is high, and there is almost no spatter at all.
Globular mode
In a globular transfer, an electrode that is metal-cored or solid wire is continuously fed and deposited in combinations involving short-circuits and gravity-assisted drops. The droplets created will be large and irregular.
This transfer is somewhere in between short-circuit and globular, but its main difference is that it continues just as the short-circuit mode ends. The electrode does not make contact with the base material in a globular mode of transfer.
Its benefits include\ high-speed welding, the economic use of carbon dioxide as a shielding gas and the economic use of solid or metal-cored electrodes and equipment.
What are shielding gases?
Shielding gases are used in MIG welding so that the molten weld pool does not react to elements that are in our atmosphere such as oxygen. They can also affect how metal is transferred and how stable the arc can be. On top of that, it also performs the following functions:
Arc plasma formation
Stabilizes arc roots
Ensures that there is a smooth transfer of the molten metal drops from the wire to the weld pool
The gas used in MIG welding allows you to determine how deep the weld can penetrate into the material you are welding. It also allows you to determine the weld's mechanical features and the welding arc's characteristics.
Shielding gases used in an MIG welding process can involve:
Carbon dioxide (CO2)
Oxygen (O2)
A mixture of gases that involve helium
A shielding gas can also depend on the type of metal that is being welded. For example, when welding steel, there is usually about 5-25% of carbon dioxide, and Argon and 2-5% of oxygen.
But if non-ferrous metals are being welded, Helium and Argon are usually mixed together.
What metals can be welded using MIG Welding?
MIG Welding can be used by almost every type of metal such as carbon steel, aluminum, and stainless steel. By far, carbon steel is the easiest type of metal to weld using MIG Welding.
The quality of welding may not be superior in an MIG weld, but it gets the job done and it caters to a wide variety of metals.
What are the applications of MIG Welding?
It shows great promise in the automotive industry because it can provide welds that are robust and sturdy even to metals that are as thin as 0.5 mm
It can be used in welding sheet metal and pipe welds. Its long-lasting welds save time and costs
What are the advantages of MIG Welding?
MIG welding produces high quality welds for both ferrous and non-ferrous alloys without costing too much. It comes with a lot of advantages:
It can join a wide variety of materials that have varying thicknesses
Its electrode efficiency is 92-98% higher than all the other types of welding
Its equipment and the respective components are available in affordable prices
There is a lower hydrogen weld deposit
There is less slag and weld spatter so there is less to clean
It can be applied to high-speed robotic applications and hard automation
There are fewer welding fumed produced, so it is safer for welders
It is suitable for beginners because it does not require a high skill level
There is lesser downtime in the replacement of electrodes because the welding wire runs continuously
It is great for tack and spot welds
MIG welding allows the welder to weld in all sorts of positions: horizontal, vertical, or flat welding
All electrodes are used in MIG welding because of the wire that is continuously running
It is fast thanks to the reduction of stopping and starting brought on by the continuously-fed wire
You can do "long weld passes" which means you will have to do less passes if you're trying to weld a huge joint. Productivity is thereby increased
There is no electrode stub loss
What are the disadvantages of MIG Welding?
Welding equipment for MIG welding may require more maintenance than most, but most modern machines are reliable and don't need as much maintenance
When compared to TIG welding, MIG welding can give welds that have less control
It is difficult to conduct MIG welding outdoors because the wind can affect the shielding glass. Nevertheless, it is easily remedied by using higher gas pressure, gasless wire, and portable wind breaks
MIG welding is not applicable for thick metals. It is recommended for metals that are either thin or medium in thickness (0.6 mm to 14 mm)
It is not as portable as other types of welding because it needs an external gas source
What are the advantages of MAG Welding?
Thanks to shielding gas, oxidation does not occur
The rest of the metal that isn't directly touched by the arc experiences lower heat
MAG welding can be done in whichever position the welder finds themselves in
What are the disadvantages of MAG Welding?
MAG welding has to be done indoors because the wind can affect the effectivity of the welding gas
Rust and other contaminants have to be removed from the parent material before starting the welding process
This type of welding requires a little bit more experience than MIG Welding, but it's still simple enough for beginners to pick up easily
What are the limitations of MIG Welding?
Although it is one of the most common and famous types of welding, it also has its limits:
MIG welding via short-circuiting mode is restricted to welding metals that are either thin or medium in thickness, between 0.6mm to 14mm
Its spray transfer mode allows it to weld thicker materials because of its high-heat input
The spray transfer mode is only applicable for welding positions which are either flat or horizontal
The shielding gas (Argon) used in spray and pulsed transfer mode is more expensive than pure carbon dioxide
The welder cannot stray too far from the MIG machine
MIG welding is not recommended for outdoors use. It must remain indoors because wind can affect its effectivity and safety
It requires a bottle of gas
Contact tips can easily seize up because spatter often gets on their surfaces
All parts of the MIG machine must be in excellent working order in order to produce excellent welds. A professional in repairing MIG machines has to be called in to check what's wrong with it, and even then, it's a tough challenge
How can I avoid defects in MIG Welding?
These are common defects that can happen while using MIG welding.
Incomplete penetration

To correct this, increase the feed coming from the wire and reduce wire protrusion in the MIG gun.

Excessive penetration

Reduce the gap size of whatever you're trying to fill.

Incomplete fusion

Keep your electrode wire to the back of the weld pool.

Whiskers

Don't let your wire stray to the back. Keep it in front of the weld and reduce the size of the weld pool. You can also make wire adjustments so that it doesn't protrude from the MIG gun as much.
Can you combine MIG and MAG welding?
Yes, you can, and this is called tandem MIG/MAG welding, GMA welding, or twin-wire welding. A special welding torch is needed for this since instead of just one wire, two wires must be fed through in order to form one molten pool. The wires are isolated by the time they reach the contact tip.
Modern welding machines allow each wire to operate independently.
Conclusion
The main difference between MIG and MAG Welding is the shielding gas used during the process. MAG Welding uses active gases to create additional electrical conductivity so that the weld penetrates the metal better. This is not found in MIG because MIG uses inert gases which serve to simply protect the final weld.
What is MIG Welding? MIG Welding stands for Metal Inert Gas Welding and it is one of the most common welding techniques because it doesn't require a large skillset from its user. Beginners can easily use it and it serves as a decent introduction to welding.