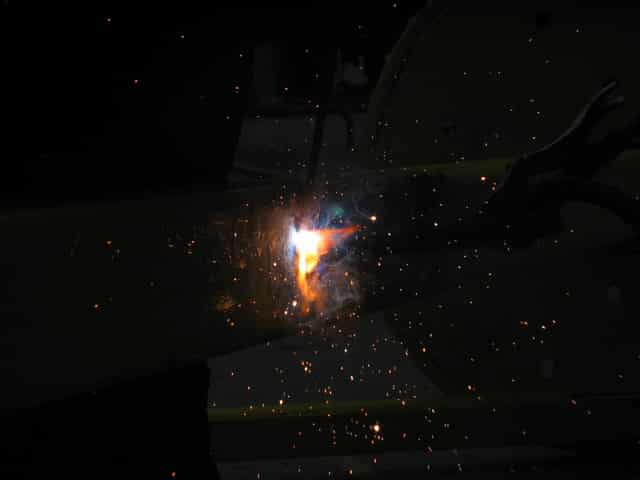 Are you eager to find out what is duty cycle in welding is?
If you have had experiences with welding or not, you may have heard of Duty Cycle before and at least had a vague understanding about it.
Those that know operational work in construction and heavy machinery would be familiar with the term.
What is duty cycle in welding, and why is it significant?
The term-Duty Cycle refers to the amount of time a particular machine is safely operating at an established amperage.
It resembles a Production Cycle, wherein you compute the average production output in a set time.
The difference is Duty Cycle refers to a particular machine while Production Cycle concerns the output it produces.
All welding machines are equipped with thermal overload protection, whose principal function is to prevent damage by cutting down its operability when some of its internal parts reach critical temperature.
The thermal overload protection will enable the welding machine to restart as it has reached a lower and safer temperature.
Duty cycle changes at various amperages; the welding machine will become hotter quickly at a higher amperage, thus reducing the duty cycle.
If the welding machine operates at a lower temperature, then the duty cycle will increase.
The duty cycle is generally measured in ten minutes, and to illustrate its use and importance, here are examples:
At two-hundred amps, the duty cycle is at thirty percent, and here is the explanation:
A welding machine operating at two hundred amps that has a thirty percent duty cycle can run for ten minutes.
You can operate the machine continuously for three minutes while keeping it at two-hundred amps. And as it reaches the seven-minute mark, it will cool down by switching automatically to thermal overload.
At one-hundred and forty-five amps, the duty cycle is at sixty percent
At one-hundred ten amps, the duty cycle is at one-hundred percent
How does duty cycle in a welding machine functions?
As mentioned before, the duty cycle of a particular machine will change when it reaches a different amperage. When operating at a higher amperage output, the duty cycle will decrease as the machine heats up.
And as the machine operates in a lower amperage, the duty cycle will increase.
Few factors that can influence the result of a duty cycle test
Ambient temperature – If the test was conducted at a higher ambient temperature, it will be more demanding.
Timeframe – The length of time the measurements were taken, which experts had recommended between five to ten minutes.
Condition of the machine – It refers to testing done to either a heated or cool machine and prepared for lengthy use.
Also, performing tests on an already hot machine will take its toll on the cooling system.
How do you calculate the duty cycle?
Calculating the duty cycle is not difficult since you only need to notice how long the machine stays on while being tested. You will then mention it as a percentage.
Yet, there are a few variables that intrude in the equation to alter the result.
The length of time that the welding machine had been tested will make a difference. Most of the time, it will take five to ten minutes for the test to run. And since ten minutes can be more demanding, the duty cycle will be lower for these tests.
An ambient temperature will affect the way the test is carried out. If the temperature is higher, the welding machine will become warmer quickly.
The last variable is knowing if the test was made with an unused welding machine or one that has been heated from use. To no one's surprise, testing a heated machine will be rougher in its cooling system than a cold and unused machine.
This is a particular welding machine's duty cycle is calculated:
D=(PW/T) *100%
D – Refers to the duty cycle
PW – Pertains to the pulse width, which will only be relevant if the pulse is busy or on
T – Refers to the signal's total period
When the digital signal is ON and eats up half of the time and the other half is OFF, it has a fifty percent duty cycle.
If the duty cycle's percentage is more than fifty percent, the time spent by the digital signal is more with the upper state than the lower one. Yet, whenever the duty cycle is higher, the system will be operating better.
What are the various kinds of duty cycles?
Continuous duty or S1 duty – This type of duty cycle is the first of its kind and is the most direct. In doing this functionality, the motor of the welding machine operates in an expanded time before approaching thermal equilibrium.
The length of time when the welding machine is operational has a substantial effect on how the temperature is determined.
Short time duty or S2 duty – It is similar to operability as S1. But S2's operation will be shut off before attaining equilibrium.
Also, letting the welding machine cool down in S2 will take a longer time.
Periodic duty or S3 to S8 – This refers to all types of duty cycles ranging from S3 to S8 irrespective of whether they have brakes or not. It also concentrates on problems like electric braking, starting, and load swapping during breaks.
Particularly, many of these types of duty cycle operations are duplicated every periodic duty between S3 to S8. Of which the welding machine is disallowed to attain thermal equilibrium.
The periodic duty also has two duty cycles:
Intermittent periodic duty or S3 – It pertains to identical cycles as categorized by operations. Each bears a time of constant load and a rest session.
Continuous operation with electric braking or S7 – This type of duty cycle consists of electrical braking, regular load, and starting. Also, this functionality does not have time for rest between the series./li>
Where can you use duty cycle?
Duty cycle in MIG or metal inert gas welding
MIG welding is made with a high-degree duty cycle that makes welders operate the welding machine for lengthy periods.
It enables the welders to work uninterrupted, and this way, they can do large orders. But this deviates with various applications.
An instance where the duty cycle is necessary is in a production set-up, wherein jigs are utilized for cutting set up, thus capitalizing on the welding task. A welder that has a larger capacity can work without interruptions.
Duty cycle in TIG or tungsten inert gas welding
With TIG welding, the significance of duty differs in each situation. In addition, the application of TIG welding is used in complex work welding smaller and intricate materials.
The welding machine utilizing TIG welding might not even come near to achieving its duty cycle limit. Or can even do high amounts of welding in lower amperage in a one-hundred percent duty cycle.
TIG welding is a process done manually that involves utilizing the metal filler and makes the off-time and on-time ratio lower than MIG welding.
Some TIG processes that necessitate a high duty cycle include joint pipework TIG welding. And applications like these need continual and lengthy welding.
Duty cycle in stick MMA or manual metallic arc welding
MMA or stick welding is utilizing many more manual procedures involving alternating features similar to chipping electrodes and slags.
The amount of time a welder does welding is not as long compared to MIG since Stick welding involves manual procedures. And due to this, its duty cycle is not as crucial as that of MIG welding.
An MMA welding machine with a maximum output of one-hundred forty amps is regarded as least in the weld class range. Yet, at sixty percent duty cycle in one-hundred amps will have enough power to operate non-stop 2.6-millimeter electrodes. And also can enable running a 3.2-millimeter electrode smoothly.
What are the advantages of the duty cycle for welding purposes?
It can prevent accidental fires
As the welding machine attains the highest temperature of its duty cycle, it will ignite the thermal overload temperature. And once on, the welding machine will automatically shut down.
With these safety measures in place, you can weld properly more productively and efficiently. Of which can result in creating top-quality welding and maximizes your returns.
It can supply superior welds
Once you are in sync with the welding machine you are using and its duty cycle, you can make high-quality welding products with no defects.
Giving priority to your welds
After gaining a broad understanding of the intricacies of the duty cycle of your welding machine, you can give priority to your schedule for welding.
And also other similar tasks like knowing when the welding is done so that you can finish all your targets.
What are the disadvantages of a duty cycle for welding purposes?
the costs involved during welding accidents
On rare occasions, overheating occurs in the welding machine and can become inflamed.
What may have happened is that the thermal overload protection did not trigger after the duty cycle went haywire.
It may result in monetary losses and can potentially lead to accidents and death.
Constant disruptions during welds
In doing complex welding tasks, you need the welding machine to work constantly without interruptions.
Welding machines with lower duty cycles can result in always cut in and out. And prevents you from finishing the tasks and not meeting deadlines.
Low quality welds
Some welding machines that are always close to exceeding the duty cycle after short welding periods will lower the quality of welds.
FAQ
Is duty cycle the most beneficial means in judging a welding machine's performance?
In using the duty cycle in determining the performance of a welding machine, the answer is not a simple yes or no.
The rating of the duty cycle in a welding machine is a practicable indicator of its output, capacity, and performance.
But you should not only use the duty cycle as the only basis for judgment. It is similar to only basing a purchase of a car on its speed and not considering other factors.
The same thing with the duty cycle, other factors need to be thoroughly considered.
In the first place, the task of welding changes the significance of the duty cycle. MIG welding gives importance to higher duty cycles, but TIG and MMA welding does not.
Factors like efficiency, power supply, and power draw of the welder add another level of importance to the duty cycle subject.
The duty cycle on its own is not enough to know how productive a welding machine is. It is determined better if based on its efficiency, which is a mixture of good duty cycle and higher output in the same power input level.
The duty cycle is only another component in judging a welding machine's efficiency, so it is better to focus on it rather than focus on one factor with many variables.
But the duty cycle is still significant, and you will realize it if you run the welding machine longer than its supposed duty cycle, the welding will have poor quality and become agitated and firm.
Also, it can be risky if the welding machine has been operating too long and can burst into flames.
What will happen when the duty cycle is surpassed?
As the duty cycle of a welding machine attains optimal temperature, it will trigger thermal overload protection. It will result in the machine shutting down to cool off until used again for another welding task.
Furthermore, welding machines are designed to give priority to their needs first, and the welding operators come second.
Welding machines can limit themselves from being unintentionally overworked by the welding operators.
What does sixty percent duty cycle mean?
Sixty percent duty cycle is usually computed by letting the welding machine run for five to ten minutes.
It specifically refers to the amount of time you can safely run the welding machine, which is sixty percent of that time at the specified amperage.
Is there a circumstance when the duty cycle becomes a problem?
A duty cycle will be problematic depending on the number of welding sessions. Some welding tasks take only a short time, like arc welding, which necessitates you to alter the electrode.
And when doing TIG welding, you will need to take breaks to change your positions.
Are there factors that affect the duty cycle?
A particular welding machine's duty cycle is impacted by a few factors like voltage, amperage, ventilation, and ambient temperature.
For instance, when a welding machine is situated against a wall, it will get less flow of air coming from the fan. Without enough airflow, the machine will become cool slower and become warm faster, thus impacting the duty cycle.
What is a good duty cycle?
Attaining a good duty cycle is the result of a few factors. Everything has to be in conjunction to achieve it, like the welder, the welding machine settings, and the welding procedure.
For instance: TIG welding involved doing a lot of manual procedures, dissimilar to MIG welding, wherein it is automated.
The difference is in the level of importance of the duty cycle since TIG welding is less compared to MIG welding.
Conclusion
All professional welders want a welding machine to work efficiently and effectively. To achieve this, you have to be aware of the duty cycle to keep from having financial losses, breakdowns, and accidents.
Make your welding machine undergoes regular maintenance and check-up, and this way, faults are identified and avoid further problems.