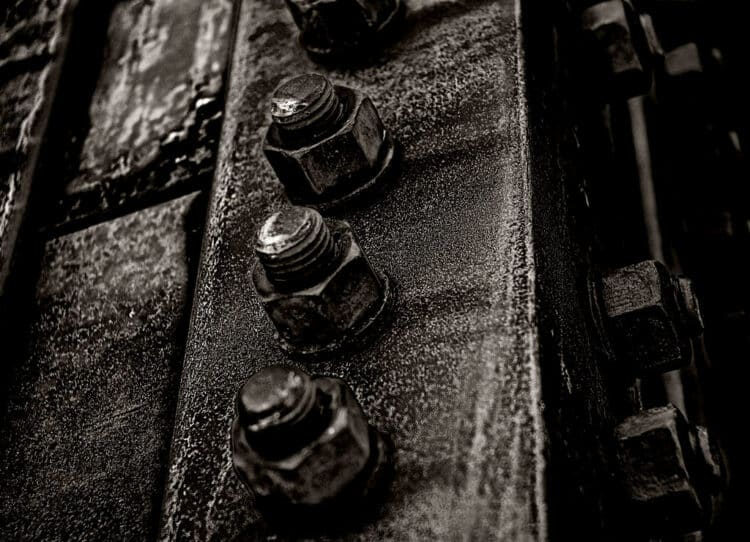 Welding bolt pieces may not always be the best option for most engineering problems. But, it can sometimes be significant. Various bolts work best with specific structural projects. So, it is worth knowing if it makes sense to weld bolt pieces?
Does it make sense to weld bolt pieces? Yes, it makes sense. Though, you'll need to prepare the bolts aptly and heat-treated. That's because welding heats the bolt pieces above their temperature point. This makes them weaker.
You'll also need to understand the kind of materials that make up the bolts. The best way to do so is by referring to the bolt's MTR (Mill Test Report).
While these answers are precise, there is a lot of information you need to know about welding and bolts. This article comes in handy to provide all the answers you're looking for.
How to know if you can weld bolt together?
Welding a preheated bolt tends to alter its strength. Applying heat to a tempered bolt in an unregulated condition causes an uncertain outcome. That's because it is not recommended to bolt heat-treated bolts. According to AISC (American Institute of Steel Construction), heat-treated metal and Grade 105 rods are non-wieldable. In other words, you shouldn't weld any powerful, heat-treated bolt.
But, you will not always deal with heat-treated bolts. Before the weld, consider checking the bolt's MTR. This will help you examine if the material is weldable. And if you notice that the bolt is weldable, it is crucial to follow proper welding procedures. If you are handling a safety-sensitive project, seek help from a nearby expert.
Bolt Composition
When it comes to bolts, different situations demand bolts with different strengths. And for you to know whether the bolt is weldable, there are various things you should know.
Why do high-strength bolts get heat-treated?
Hardened bolts are often heat-treated. This helps make them withstand great tension and shear forces caused by loads. The resultant bolts become an essential component in most automobile applications. That's why most off-road cars, forest trailers, and heavy-duty trucks use heat-treated bolts.
Heat Treatment Processes for Bolts
Many people tend to perceive heat treatment as a hardening process. That's not the case. There are different heat treatment processes, all dedicated to achieving particular results. Besides, the nature and type of materials used determine the kind of process to use.
Here are the two common processes used for heat-treating bolts:
Quenching
This process aims at changing the bolt's original mechanical properties. The metal gets heated to an extremely high temperature and cooled rapidly.
Tempering
The ultimate goal for this heat treatment process is to increase the metal's quality. It is usually done by heating the bolt at higher temperatures and cooling it slower in the open space. You will find some of the processes conducted to make the bolt hard while others make it soft. For instance, the annealing process softens the bolt. This lowers its residual stress to promote elasticity.
If you are handling a hardened and softened bolt, it is easier to know the results from welding the bolts.
Reading the MTR (Mill Test Report)
The MTR enables you to know before performing any operations with a specific steel bolt. It describes the mechanical and chemical specifications of the steel industry's legalities. This report outlines the following:
Melt/Heat Number
Every bolt features a specific heat number. The number allows you to trace the bolt's properties to the original manufacturer. This heat number act as a source for processing the needs of a particular group of steel bolts. Therefore, you can easily examine its operating conditions with ease.
Mechanical and Chemical Configuration
It is critical to assess the bolt's properties before starting the weld. The MTR offers you a general idea of what you should do and avoid when dealing with specific bolts. For instance, you can know how best to safely weld a bolt that emits poisonous fumes due to its composition.
The chemical properties often vary depending on the various kinds of steel differentiation. Such differentiation may include carbon, ferric, alloy, boron, and many more. Besides, the MTP outlines the bolt's hardness, flexibility, tensional strength, and fatigue strength. All these mechanical properties are often determined through destructive testing.
Steps for reviewing a bolt's MTR
Inspect the bolt's physical appearance and confirm the properties stated match your needs.
Check the table for the bolt's chemical composition. Then note down the vital properties you ought to know.
Analyze the mechanical properties to determine if they are ideal for your project. But, high-grade bolts are not always the best solution for many fastening projects.
Finally, make sure the properties please you and move on to use your ideal bolt.
Can you weld a steel bolt?
Yes. Yet, it is not advisable to weld steel bolts under incredible temperatures. Overheating hardened steel bolts may soften and weaken them. That is if you subject the bolt to higher temperatures or expose it to heat for a prolonged time.
Thus, the resulting joint will not be ideal for heavy-load projects. The best way to do it is to weld the steel bolt under controlled conditions.
How to weld hardened steel bolts
When it comes to joining two hardened bolts, different welding processes apply. They include:
Resistance welding
This refers to the process which uses heat current and pressure to bond two metal pieces. It requires incredible force during the bonding process. Besides, pressure helps to hold the two-bolt pieces together while they cool. This ensures that the metals bond together aptly. Usually, the force used in the boding process comes from an operator or a suitable machine.
Projection Welding
Projection welding is the most popular method used to weld nuts and M or T-thread bolts. The bolts and nuts may have annular projections, 3 or 4 separate projections. This depends on the type of project.
Combining an annular projection with a plastic insert may form a watertight joint. Thus, it is the most preferred method for joints exposed to high loads and fatigue tension. Unlike in separate projections, the annular projection provides lesser crack initiation points. You'll need proper welding equipment with a suitable resistance level for better attachment.
Projection weld bolts have three accurate weld projections on the head. This type of design enables faster bonding of two metal pieces from the panel's underside. The three projections are equally spaced with equal diameter and height. This, in turn, gives an excellent weld that is well-balanced and positioned.
In most cases, weld pins and bolts are a perfect fit for through-hole applications. Plus, you'll find them self-locating, removing the need for extra jigging. Weld pins and bolts are available in various thread sizes, lengths, and diameters. You'll also find them manufactured from steel or stainless steel. And all have a design meant for use with matching panel materials.
Projection Welding Process
Projection welding for bolt pieces is constricted to a machined or pressed projection. You can use either DC or AC sources for power for clasp welding. However, some factors may affect the heat balance for the welding process. They include:
The design and location of the projection
Heating rate and intensity
The thickness of the sheet where the fastener gets attached
The metals' abilities to conduct heat and electricity
Type of electrode alloy
Projection welding of bolt pieces takes place in three different phases. The projection first makes contact with the mating sheet. Current flows and heats the node to optimal welding temperatures. Then, the projection gets heated rapidly. And the excess current melts it; hence it collapses.
Finally, a fusion of the two metal pieces takes place. But ensure that the current is a bit high to enhance fusion before the projection collapses. It's essential to weld for a shorter period though this needs a higher amperage. You can optimize the welding parameters to avoid overheating. Or else, this could lead to metal expulsion.
To form a high-strength weld steel bolt, use impulse welding to control the heating rate. This is also ideal for welding thick sheet projections. Plus, it's perfect for heating metals with low thermal conductivity. Moreover, the electrode's force should be enough. This will help to flatten the projections after reaching their welding temperatures. It should also move the fastener to make contact with the sheet metal pieces.
That's because excess force may cause the projections to collapse prematurely. This can make the fusion incomplete at the center. While the projection collapses, make sure the welding tool follows the electrodes' movement. A slow follow-up could cause metal expulsion even before joining the parts.
Other Methods of Joining Bolt Pieces
Welding isn't the only option for joining metals. Below are the alternative processes you can consider for your project:
Riveting
This process requires force to join the bolt pieces. However, it doesn't alter the chemical composition of the metals you're connecting. The rivets should give a semi-permanent or permanent joint that fits your desires.
Brazing
Brazing involves using an alloy or filler material that melts to join metal pieces. The good thing is that it doesn't affect the parts you are joining. So, it's the perfect method for many applications. The process is also faster and effective for joining metals with different thicknesses.
Can you weld high-strength bolts and fasteners?
Usually, it's not a good idea to weld high-strength bolts. The fastener industry describes "high-strength" as any medium alloy steel or carbon that gets subjected to a heating process to obtain strength properties that meet specific requirements. Such specifications may include:
A193 Grade B7
A449
A325
A354 Grades BC and BD
A490
F1554 Grade 105
Re-heating a heat-treated bolt alters the strength (physical properties) of the bolt. If in an uncontrolled environment, you can't tell what impact the heat will have on the fastener. As a result, it is not recommendable to weld high-strength bolts.
However, you can avoid altering a hardened bolt's physical properties during welding. That's possible by welding the bolt before heat-treating the fastener. What it means is, you can weld a nut, plate, or other components to a bolt before the pin gets heat treated.
But a base medium alloy steel or carbon used for making high-strength bolts cannot get welded. That's due to the higher manganese and carbon levels in their structures. This could help avoid the unique welding procedures involved. But it would be better not to weld high-strength bolts together.
As for applications involving anchor bolts, use an anchor bolt that has a forged hex head. This design helps peen the thread to avoid the nut from backing off. You can also jam two bolts together to secure them in place. Sandwiching the two nuts with a square plate on the anchor rod's embedded end could also work.
How to loosen a welded bolt
This task varies with the nature of the weld. You may use a screw extractor or drill the bolt out. Besides, you can cut through the bolt gently using a saw to remove the welding material. Adopting the screwdriver method needs cutting a shallow hole to reach the bolt's head. All these techniques may work on a mild weld.
Can you use a high-strength bolt and mild steel nut together?
The answer is yes. But, if you wish to make a strong and reliable design, it's vital to match the correct bolt grade and nut. Unmatched grades often have different elasticity, affecting the fastening and environmental conditions negatively. Such effects could lead to a terrible result.
Conclusion
To this end, you probably ask this, does it make sense to weld bolt pieces? And if it is an excellent decision to make. First, assess your situation and determine if welding is the only option for making a robust joint. If not, be sure to try out other options.