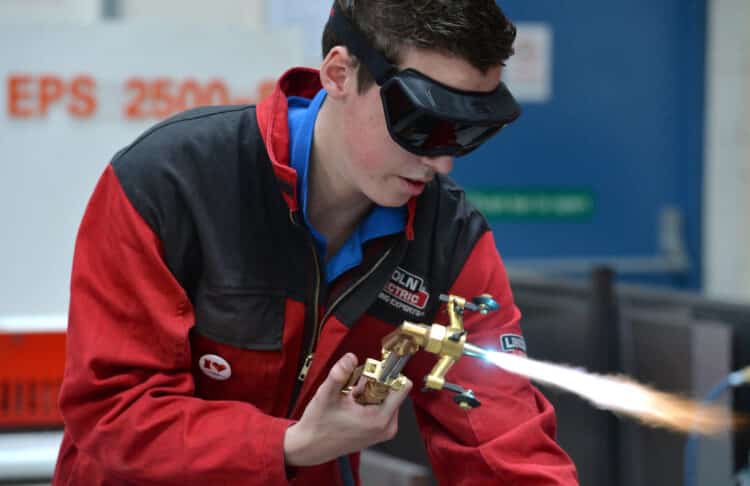 If you've been doing construction for some time, you'd probably know the difference between welding, brazing, and soldering.
The three might seem interchangeable to newbie DIY enthusiasts and metal workers. If you are one of them, stop scratching your head!
Brazing, soldering, and welding are all methods that involve the fusion of two pieces of material, usually metal. These processes are also used to fill in gaps in metal parts.
The three methods are very similar, but taking a few moments to examine each method will considerably benefit your metalwork skills.
Welding vs Brazing and Soldering
To properly differentiate the three fusion approaches, we first need to define each method. It is necessary to know all the definitions of each method to explain the others.
Let's begin with the definition of welding and contrasting this to the definition of brazing and soldering.
What is welding?
Welding is a fusion process that produces coalescence of materials.
Coalescence in welding means that particles of two or more materials are combined to form one bigger unit.
Welding coalescence is completed through heat and/or pressure. Filler metal is also not required in welding, but it is often involved.
While welding can combine dissimilar metals, it is often not encouraged because of the complexity. Welding will most likely involve only similar metals.
In simple terms, welding requires both materials to be heated and melted to combine them. A quality weld is robust and has similar properties to the base metal.
A low-quality weld forms only a weak bond that does not acquire the base metal's properties.
The most common welding processes are MIG, TIG, and Stick welding. Each welding process is classified by different processes, materials, and general function.
These welding operations are commonly used in industrial settings, construction, automotive, aerospace/aviation, artworks, and ornamental design.
What is brazing and soldering?
This part might seem confusing at first. It is initially hard to differentiate brazing versus soldering because both methods have the same definition!
Soldering and brazing involve a solid and liquid phase to complete fusion. The liquid refers to the melted filler metal, while the base metal remains in solid form.
In this case, it is easy to differentiate welding from soldering and brazing. Welding requires both base metal and filler to be melted. In contrast, in brazing and soldering, only the filler metal is melted.
Before we differentiate brazing from soldering, let's dive deeper into the individual definition and applications of brazing and soldering.
What is Brazing?
Again, brazing involves the melting of filler metal to complete fusion.
The filler metal is applied with heat and must reach the melting point. This is where we will begin to see the difference between brazing and soldering.
Brazing usually involves copper and silver vase alloys.
Brazing must reach a melting point of at least 840° Fahrenheit. This can successfully join dissimilar metals.
These include gold, silver, nickel, aluminum, and copper.
Silver alloys have a melting point between 1000 to 1500° Fahrenheit.
Flux is a liquid that encourages the filler to flow easily and join the metal parts. It is also effective in removing contaminants.
The molten filler forms a stronger bond with the solid base metal.
Brazing can produce relatively strong joints, but these are not as robust as welded joints.
The heat of brazed material is also not enough to alter material properties after fusion.
What is Soldering?
Soldering can be described as a low-temperature alternative to brazing.
The filler metals in soldering need to reach the melting point to effectively join with the base metal.
The distinction that sets soldering apart from brazing involves metal fillers that melt below 840° Fahrenheit. Metals that melt below this temperature include iron, brass, copper, gold, and silver.
The most common tool for soldering is the soldering iron with a copper tip. This is heated by an electrical power source, by oil or gas fuel.
After the filler metal is cooled, it forms a bond with the solid base metal. The joint is much weaker than a brazed or welded joint.
Flux is also commonly used to clean surfaces and encourage the free-flow of filler metals.
Soldering is generally not used in construction or structural work because the joint is not strong enough to withstand constant stress. On the other hand, it is often used to connect metals for electrical currents to flow through.
Classifications and Applications
Soldering can be defined either as: soft or hard soldering.
Soft soldering is widely used for metalwork that involves the fusion of sheet metal that will not be exposed to high temperatures or excessive loads. This is also widely used in joining electrical wires and small metals.
Melting points range from 300 to 660° Fahrenheit.
Hard soldering can melt metals at higher temperatures. This produces a stronger joint than soft soldering.
A common method for hard soldering is silver soldering. Melting points can reach up to 1000° Fahrenheit.
Brazing vs Soldering
Now that we know that the main difference between brazing and soldering is the melting point, do brazing and soldering have any more distinctions?
Here is a list of brazing and soldering's main differences:
1. Strength
Another main difference between soldering and brazing is that brazed joints are significantly stronger than soldered joints.
2. Applications
The melting point reached will have a significant effect on bond strength.
Soldered joints are not strong enough to withstand high heat and stress. It is usually used in the electronic industry. Soldering is also widely used in artwork and arts and crafts.
On the other hand, brazed joints are strong enough to be used for construction work and the automotive industry.
3. Corrosion properties
Soldered joints do not resist corrosion as well as brazed and welded joints.
4. Metal types
Soldering is only able to fuse similar and thin sheet metal.
Brazing is capable of fusing both similar and dissimilar metals as well as thick sheet metal.
5. Preheating
To form a high-quality joint in brazing, preheating is required. On the other hand, soldering can be completed without preheating.
6. Cost
Soldering is much cheaper than brazing. The downside is that the joint formed is also weaker.
You get what you pay for.
CONCLUSION
Now that you understand the difference between welding versus brazing versus soldering, you can say that you're a more responsible metal worker!
Knowing the basic functions of these fusion techniques will make a big difference when deciding which process to use in your metalwork projects.