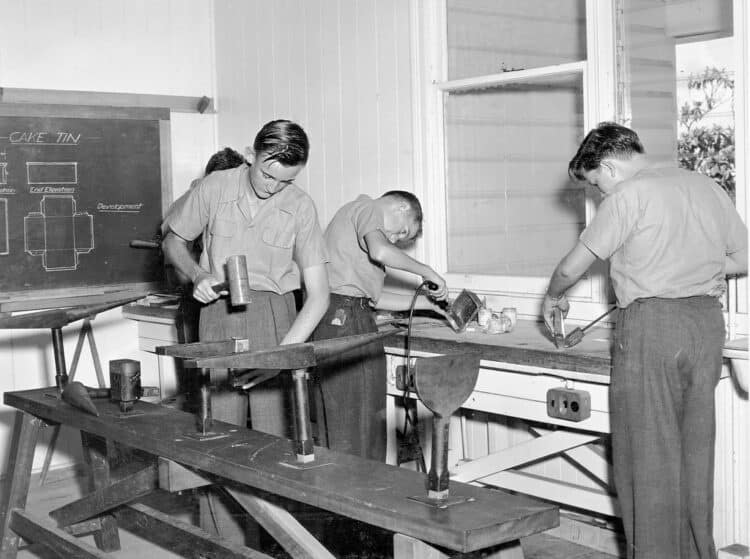 Are there hidden tricks to use when brazing copper to steel? Probably yes, there are tips to silver braze copper washers to stainless bolts and copper block to a swivel foot. Mostly, people use silver brazing instead of a silver soldier since anything over 840 degrees F is brazing.
Procedure to Brazing copper to stainless steel
Brazing/ soldering is the process of joining two metal pieces using filler materials at a low temperature. Common plumbing solder with 95% of Tin and 5 % Antimony works perfectly. Besides, one can use Lincoln electric solder stay –bright with flux?
For better results one require 95% Tin and 5% silver. The surface require thoroughly cleaning and applying flux coating. Flux dissolves oxides that form during the heating process. Moreover, flux aids in ensuring the solder flow into the joint by providing a shield against oxygen in the air.
Essential requirements for brazing
Harris white flux paste
Steel wool
Plumbing soldering with 95% of Tin and 5% OF Antimony.
Propane or map gas torch
Procedure involved
Clean the target parts using a piece of steel wool
Apply white flux paste on the part. The flux ensures that the soldier bold perfectly.
Put the two parts together and applying heat using either propane or MAPP gas torch to the copper.
Leave the part to cool until warm and then wipe the excessive flux using soap and water.
Advantages of soldering process
Dissimilar metals can be joined
The process is flexible
It is low cost and economical
Low amount of power used when heating the soldering iron
Process done at a low temperature and controlling it is easy.
The joints can be dismantled.
Disadvantages of the soldering process
It is not suitable for heavy sections
Solders are costlier and the process require proper solder to create strong bonds
The process require skilled labor.
Brazing copper to steel
Due to the high % of silver in the rod, brazing copper produces stronger bonds. The process is costly and requires the use of acetylene in melting the brazing rod. A brazing rod should have a varying percentage of silver content, and either flux coated or uncoated rod. For greater strength, one can use an orange flux coated 56% silver brazing rod. It is also necessary to clean the parts before brazing.
Important materials for brazing
Steel wool or emory cloth
Blue flux coated 45% silver brazing rod
Acetylene torches or map gas torch
Procedure for brazing copper to steel
Perfectly clean the surface using steel wool
Apply flux to the parts to be brazed. The flux should have etching stainless steel for high heat brazing (over 840F).
Slip the parts together and begin heating copper in a circular motion, ensuring you heat around the pipe evenly.
Leave the part to cool until you can touch then remove flux using soap and water before fully cooling down.
Perform a leak test to confirm if the joint is fully sealed.
Advantages of brazing
Brazing process can join dissimilar metals
Thickness is not a barrier when joining the metals
Brazing is economical and straightforward
The joints produces does not have stresses hence they are attractive.
Containers tanks and pipes can be brazed easily because welding it not suitable.
The process leak proof and pressure tight joints
Disadvantages of brazing copper to steel
The process produces low strength joints as compared to welding
The employees must be experienced
It only fit small and this section plates
Can copper and stainless steel be welded?
Welding copper and stainless copper is somehow tricky and provides little structural strength. However, two issues may emerge in the process. First, the two metals have different melting points. Then there is the issue of dissimilar metals mixing.
The fact that copper is not soluble and has a higher melting point solidifies and forms crystal structure hence creating weak bonds. The stainless steel contract during the cooling process, thus leading to the grains pulling apart.
At that time, copper is still hot, thus adding structural strength to the grain structure. The process compromises the weld strength of this type of weld.
How to TIG weld copper to stainless steel
Those who do not possess an electronic beam weld have other ways to weld or braze their stainless and copper.
Crucial requirements for welding or brazing copper and stainless
Tig welder
Argon gas
1/16"silicone bronze rod
The fact that copper is not soluble and has a higher melting point solidifies and forms crystal structure hence creating weak bonds. The stainless steel contract during the cooling tungsten electrode head
Procedure to folow
Clean the parts to be welded with a steel wool
Join the parts together and ensure fit the snugly together. Clamp may be done when necessary.
Turn on argon gas, setting welder to DC and 33pps using a pointed tungsten electrode.
Concentrate the heat on the copper slowly and the filler rod material to the pool. You may be required to drag your pool to the stainless steel ferrule.
Clean the target area with a wire brush and check imperfections and leaks.
Advantages of using tig welding
Works well with thin components
It is economical
Disadvantages of tig welding
Does not fit thick components
The resulting product is less resistant and less beautiful
Key reason for using flux when brazing brass and not with copper
The fluxing agent is necessary for brazing and soldering applications. It removes oxide from the base material hence preventing oxidation during the heating process. Besides, flux enhances the free ad smooth flow of brazing filler metal.
Nevertheless, when the copper application is involved, phosphorous in BCuP alloys acts as a fluxing agent. If you need to boost the wetting action of filler metal, a smaller amount of flux can be suitable for the process.
Deference between flux coated and uncoated silver brazing rod
One of the advantages of using a flux-coated brazing rod is convenience. When brazing, it is not necessary to apply flux since it's on the road.
The disadvantage of flux coated brazing rod is that it is hard to monitor the amount of flux applied in the joints. If the rod is overheated, the flux can form a hard black-like glass that is hard to remove.
Can copper and stainless steel be brazed or soldered together?
With filler material containing tin and silver, brazing or soldering copper and stainless is very simple. When welding, you can melt the two metals together, but brazing or soldering filler materials bond the two parts without melting them.
The difference between brazing and soldering is the temperature. Moreover, the filler materials contain slivers to enhance the melting point and creating strong bonds between the parts. Therefore brazing process produces a stronger bond than soldering.
Conclusion
Now you have learned everything about soldering, brazing, and welding copper to steel. When looking forward to changing copper to stainless steel, you will not find it hectic. The best method to use will depend on the strength required and the size of the plate.