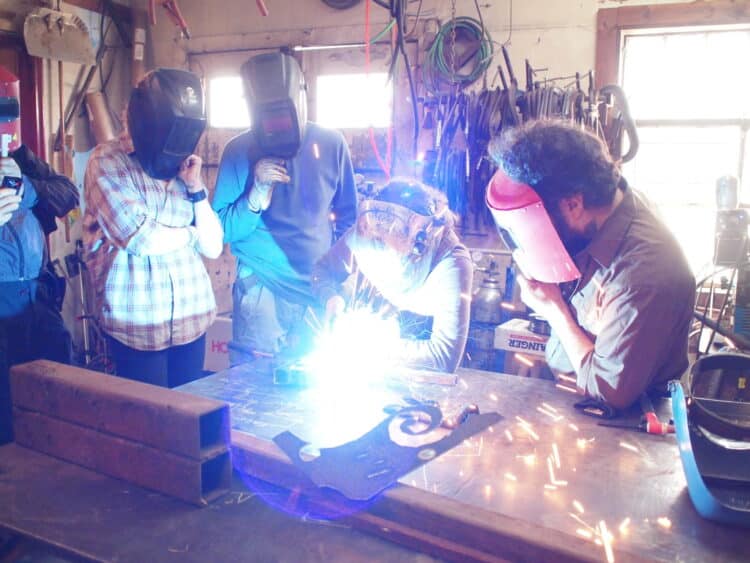 Welding is a fabrication process that involves the fusion of two or more materials using heat and/or pressure.
The type of welding technique to be used will depend on the type of heat, pressure, equipment, and production specifications to produce the desired assembly. Most welders' choice typically boils down to MIG vs TIG Welding.
Numerous techniques have been developed to optimize the production of job-specific high-quality welds based on the type of material to be used. These include:
1. Arc welding: Use of electrical currents
2. Friction welding: use of mechanical friction
3. Electron beam welding: uses electrons to melt thick material into a joint
4. Laser welding: a high-speed process that uses a laser to form a joint
5. Resistance Arc welding uses heat generated between electrodes and rotating wheels to form the joint
This article will focus on two of the most common arc welding processes: MIG and TIG welding. The two techniques may seem similar, but one will ultimately be better based on the specific project details.
How do MIG and TIG Welding Work?
MIG welding and TIG welding are both arc welding processes and basically, work under the same principle.
An electrical current is used to generate heat, which melts the base materials and bonding elements. When cooled, this effectively forms a new and solid joint.
Both methods require clear and clean metal surfaces for the best result.
To choose the best welding method for your project, let's take a look at how MIG and TIG welding work.
It is essential to consider the suitable materials for each process, their advantages and disadvantages, and their typical industrial applications.
What is MIG Welding?
MIG stands for Metal Inert Gas Welding. This welding technique is also known as Gas Metal Arc Welding.
The process uses a consumable welding supply in the form of a solid wire electrode. This metal wire is continuously fed to the weld pool using a welding gun to join the base materials.
In simple terms, its consumable metal wire acts as both the electrode and the filler material.
MIG employs short-circuit welding.
Shielding gas is also sent through the welder gun to protect the weld from oxygenation. For MIG welding, a gas blend is used instead of a completely inert shielding gas, which will negatively affect the efficiency of the procedure.
Since the MIG welding process uses a consumable filler material, the process is prone to weld spatter, regardless of welding speed.
Aside from being an additional safety issue, this also produces a joint that will need sanding and polishing.
MIG welding is generally less time-consuming and easier to apply compared to TIG welding. This makes MIG the more common process used. Production cost is also significantly lower than TIG welding.
The process is easier to learn and requires little training, but the resulting weld is less precise, weaker, and not as clean as a TIG weld.
What are the applications of MIG welding?
If the project requires heavy-duty, thick, and bigger material, MIG welding should be the way to go. It is the most common type of welding used for sheet metal.
Since MIG welding requires a filler material to be continuously fed to the weld pool, this reduces the chance for defect compared to other start and stop methods. This also allows for bigger projects that require longer production runs as the welds are faster and easier to manage.
MIG welds are also easy to control. The device features a trigger that controls the operation, allowing the user a free hand that may be used to hold the metal or the weld more appropriately.
MIG welding is widely used in the manufacturing and construction industry to pressure vessels and steel structures. It is also commonly used in the automotive and home improvement industry.
What is TIG Welding?
TIG stands for Tungsten Inert Gas Welding.
TIG Welding uses a tungsten electrode to send a current of electricity that will heat the base metal. Amperage and heat are easily controlled by a remote control switch or a foot accelerator.
Unlike MIG, TIG welding uses a non-consumable electrode. This means that TIG welding may be completed without a filler metal for the welding supply.
Inert shielding gas is also applied to the welding pool to prevent contamination from the air. Argon and helium are some of the most common inert gasses used for TIG welding.
Since TIG welding does not require a filler metal, spatter is significantly less. This allows TIG welders to produce a high-quality, clean, and precise weld from direct metal-to-metal contact.
Compared to MIG welding, TIG welding is less time-efficient and requires special training to produce high-quality welds. This makes TIG welding a much more costly welding option.
With proper training, a high skill level involving precise and accurate dexterity and patience can produce incredibly strong, detailed, and cosmetically attractive.
What are the applications of TIG welding?
TIG is best for welding thinner and smaller materials. It is the best option if you are looking to create clean, intricate, and precise welds.
TIG welding requires specialized training. A three-part process requiring dexterity and great hand-eye and hand-foot coordination is required to complete TIG welding.
Welders can opt to use a foot accelerator or a finger-tip remote to control amperage and heat. The latter is preferred when working on smaller areas and odd angles.
TIG welding is your best bet for short, technical, and specialized projects. TIG welding is used widely in aerospace/aeronautics, automotive, artwork, and other ornamental designs.
TIG welding produces high-quality and strong welds that are reliable in critical and sensitive industries such as nuclear power. Large scale projects with longer production runs will be more expensive and complicated.
MIG vs. TIG Welding: A Quick Comparison
Now that you have a general idea of how the MIG and TIG welding works, let's focus on two more significant differences that will help you determine which welding method will be best for your project:
Material Thickness
Since MIG welding uses a consumable filler material, it will be less time consuming to weld thicker material compared to TIG welding.
TIG welding can be completed without filler material. This would require high temperatures that will be enough to allow base metals to form a bond.
This method will work best for thinner material as thick pieces of metal will be more prone to cracking due to heat stress.
For heavy-duty welds involving thick material, go with MIG welding. To easily apply intricate and precise detail on thin pieces of metal, go with TIG welding.
Ease of Use
For first time operators and non-professionals, MIG welding is generally easier to use and requires less skill.
On the other hand, TIG welding requires a high level of skill to control dexterity, timing, pressure, and amperage to create a high-quality weld.MIG would require the continuous feeding of a metal wire electrode through the welder gun.
TIG welding requires the use of both hands. The dominant hand will hold the TIG torch while the other hand feeds the filler metal.
Because of the consistent level of skill required for TIG welding, most projects would make use of an automated TIG welding machine. These machines can produce identical welds faster and with much ease compared to a manual application of TIG welding.
When setting-up your automated MIG or TIG welding machine, make sure that you have set the proper controls and settings. Otherwise, you'll be reproducing products with incorrect specifications.
When to Use MIG vs TIG Welding?
These two arc welding methods are versatile when it comes to the type of metal to be used.
You should remember that MIG welding is best for thick material and that TIG welding is more suitable for thin materials. Typical materials are aluminum, stainless steel, and carbon steel.
To help you decide which welding technique to apply, consider your welding experience and skill, the materials you plan to work with, your budget, and the project deadline.
Here are a few questions you need to ask:
1. What is the thickness of the metals?
Thicker sheets of metal would require more energy to increase the temperature to the melting point. It would be extremely inefficient to use TIG welding on thick and heavy-duty material.
For especially thick metals, application of MIG welding will be less expensive, faster, and easier.
2. Is the metal high or low in electrical conductivity?
A metal that conducts electricity well needs to be heated for longer periods for its temperature to rise. On the other hand, electrically-resistant metals typically get hotter much faster–ideal for TIG welding that does not require a filler material.
Malleability will depend on how well the metal conducts electricity.
3. Are the metals dissimilar?
Welding dissimilar metals are not recommended as this will likely result in a weak bond and corrosion.
For welding projects that require the fusion of different metals, it would be best to use a carefully chosen and compatible filler material.
In this case, MIG welding should be applied.
4. Should the surface remain smooth?
Using filler material will likely cause weld splatter on the workpiece. This will require extra polishing and sanding to remove any cosmetic imperfections on the surface.
Since TIG welding does not require filler metals, direct metal-to-metal welding may be applied to produce a much cleaner and physically attractive surface.
5. Are you working on a large project?
MIG welding will generally work better with larger projects that require longer and continuous runs. TIG welding is best left for smaller projects which require precision and more intricate details.
6. Are you working with a budget and a deadline?
TIG welding demands more skill and is more time-consuming. The labor costs and increased work hours make TIG welding more expensive than MIG welding.
For projects requiring higher production rates, MIG will be your best bet.
7. What is your skill level?
MIG welding is more straightforward and requires less control, making it an easy option for beginners.
On the other hand, TIG welders need to have specialized training to hone their skills in dexterity, timing, and balancing.
Which is Better, MIG or TIG Welding?
Now we come to the most critical question. Between MIG welding and TIG welding, which is the better option?
The answer will all boil down to what the task at hand requires.
As mentioned before, MIG welding is best for heavy-duty welding that requires working with large and thick pieces of metal.
This will require the use of filler metal. This method is less time-consuming and is more affordable than hiring TIG welding services.
On the other hand, if only small and thin pieces of metal are fused, TIG welding is the way to go. You can apply direct metal-to-metal welding using this method. While TIG welding is more expensive than MIG welding, choosing not to use filler metals will significantly reduce spatter. This will save you some time and money that need to be spent on cleaning and polishing the weld.
The electrode is also not consumed during TIG welding. This means that it will be easier to maintain your TIG welder even after multiple uses.
The Pros and Cons of MIG and TIG Welding
Pros of MIG Welding
* Faster production time: This welding process requires less skill and can produce welds much faster
* Cheaper Option: Both labor costs and equipment for MIG welding is less expensive than TIG welding
* Accuracy: MIG welding can form an accurate bond due to the continuous nature of this method
Cons of MIG Welding
* Weaker bond: MIG welding is not able to produce a bond that is as strong as TIG welding
* Less clean: Using a filler metal will cause weld spatter that damages the surface of the resulting weld. This will have to be sanded and polished, which will require more money. This process also produces significant rust deposits.
* More hazardous: Safety concerns include the production of heavy weld fumes and smoke, sparks, and spatter. Because of these safety hazards, MIG welding is best done outdoors.
* Material thickness: It is not ideal to work with small and thin materials using the MIG welding process
Pros of TIG Welding
* Precision: TIG welding produces more precise welds and has a significantly higher quality than MIG welds
* Clean Process: TIG welding is much cleaner and is safer for the environment. It also produced less spatter, which will make clean-up much easier.
* Controllability: With a remote control switch or a foot pedal, the welder can easily control amperage and heat while welding. This also makes it easier to switch between different metals that require different heat settings.
* Low-maintenance: Since TIG welding uses a non-consumable electrode, maintenance is limited to cleaning the electrode and the surface metal.
* Does not require filler metal: To produce a much cleaner weld, direct metal-to-metal welding may be applied through TIG welding.
Cons of TIG welding
* Requires more skill: Only specially trained TIG welders can properly produce a clean and high-quality TIG weld. This requires dexterity and balance.
* Time-consuming: TIG is considerably more challenging than MIG. More time is spent on preparation and the welding process compared to MIG welding.