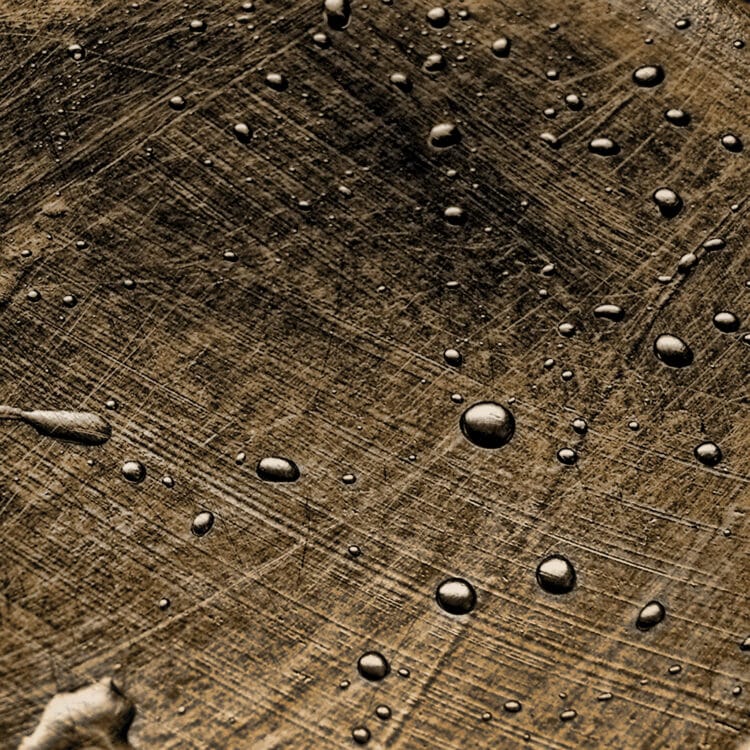 FOCUS KEYWORD:
DESCRIPTION: Understand weld spatter causes and how to avoid them
You have your welding helmet down. Your torch is aimed and ready for firing.
Sparks are flying everywhere, and you're surrounded by smoke.
This scene looks straight out of a cool movie, but all welders will agree that sparks and spatter are something that is best left out of a real-life scenario.
Welding definitely has several risks and hazards. Huge amounts of weld spatter is definitely a nightmare for beginner and professional welders.
Aside from being a safety hazard, spatter can damage your weld.
While welding spatter can't be avoided completely, there are several techniques to minimize it considerably to avoid welding spatter burns and injuries.
What is weld spatter?
If you've completed a welding project or two, you'll definitely be familiar with weld spatter.
Spatter is the liquefied blobs of molten metal that dangerously flies from the weld pool.
This can cause considerable personal injury and damage to your weld joint. Dried spatter gives an uneven and rough surface.
Spatter is also inconvenient to remove and clean up because it will adhere to almost any surface that it lands on.
Why is weld spatter a problem?
Aside from being a significant health and safety hazard, spatter will ultimately damage and negatively affect the manufacturing and construction process.
Some of the most common problems include:
* Spatter sticking to the workpiece and tools. This results in inconsistent temperatures and weld speed
* Spatter can cause severe burns
* Significant safety hazard
* Loss and damage of weld and the arc
* Troublesome clean-up
What causes spatter?
While welding equipment can considerably reduce spatter, investing in these technologies is expensive and impractical for many DIY welders.
A tip to reduce weld spatter is to understand your metals. This will allow you to anticipate and prevent possible problems.
Read on about the common causes of spatter in welding. Use specific solutions for each issue to effectively prevent weld spatter.
Causes of Weld Spatter
Let's classify the causes of weld spatter into three categories: problems with the base metal, the metal wire filler, the control settings, welding technique, and the welding gas.
Problems with the Base Metal
The overall quality of your chosen base metal will have a considerable effect on the amount of spatter produced. Welders should be careful to consider the composition of the metal, the coating, and any possible contaminants.
1. Metal Composition
If weld spatter prevention is your top priority, make sure to only use weldable metals.
Be careful when buying your weld materials because many products on the market are combined with other materials that compromise product strength and weldability.
These mixtures can include metals that are non-weldable and cheap filler additives. These mixtures are usually sold at a very low price, which entices many welders.
The problem is that these cheap mixtures not only compromise the final weld but are also a safety hazard.
Solution
If you want to have a successful weld, first make sure that your base metal is of great quality.
Going with the cheaper alternative is enticing, but you'll soon regret this choice after you have to spatter burns and a weak and unattractive weld.
2. Metal Coating
Some welding projects will involve metals that have some form of a coating.
Metals can be covered in paint or rubber, or any galvanized or metal coatings. Some products have pre-primed coatings that do not have any weld contaminants that incite spatter.
Generally, the less coating on your base metal, the cleaner the welding process will be.
Solution
The most practical solution to this problem is to carefully grind off the metal coating before proceeding with the weld.
While the metal will also melt once you start welding, removing the coating will give you a clean and pure surface that is not likely to produce any weld spatter.
Be sure to remove at least three-quarters of an inch around the weld area. The heat from your welding torch will indirectly melt the area surrounding the weld pool.
3. Contaminated Surface
Dirt, dust, rust, oils, grease, and other surface contaminants all contribute to weld spatter. The more contaminants on the surface, the more dangerous the weld operation.
Solution
Welding operations don't begin when you power up your torch.
Remember that material preparation is an important step in the welding process.
Make sure to allot some time to clean the surface of your base metal. A quick and simple wipe with a rag can make a huge difference in forming a pristine weld.
Problems with the Filler Metal
Using a quality filler metal is just as important as choosing the base metal. A high-quality metal wire will form clean welds and produce minimal weld spatter.
1. Low-grade filler metal
All welding applications will require a high-quality consumable metal filler to produce clean welds with minimal spatter.
Filler wires will vary in metal composition, coating, and diameter.
Like the market of base metals, many companies produce cheaper filler metals with many additives. This will compromise the quality of your product.
Especially in automated machines, low-quality metal wires will produce dangerous amounts of spatter. High-quality filler metals are critical for these applications.
Solution
It may be tempting to go with the cheapest option, but remember that these cheap alternatives contain a lot of additives that will compromise weld quality and personnel safety.
Make sure to research the quality of consumable fillers. In this case, you will get your money's worth and have a successful project.
2. Contaminated filler metal
If your welding shop or your project operations don't give special attention to filler storage, chances are your materials are already contaminated. A thin covering of dust, oil, and rust can have significant effects on weld spatter.
Solution
It may not seem like a big deal, but proper storage of your metals should be a top priority. Failing to keep your filler metals covered will likely cause rust and contamination that will involve additional expenses and bad weld jobs.
When not stored properly, moisture easily builds up on MIG spools.
Rods used in stick welding have a flux rod that removes gas contaminants and other impurities. Though this is the case, accumulated grease and oil can still cause significant spatter damage.
Stainless steel filler wires are not likely to rust, but a thin layer of dust is enough to cause significant weld spatter.
Dust and debris from steel and other metal welding operations also encourage rusting and contamination of welds. Make sure to cover or keep away stainless steel wires when grinding steel.
Incorrect Control Settings
You might have the best quality of base metals and filler wires to work with, but this will all go to waste if you fail to choose the right control settings.
Welding settings to keep close attention to include:
1. Amperage
Amperage will determine the speed at which you feed the filler metal. Amperage that is too high will cause a lot of spatter and a dirty weld.
If your weld is spewing a lot of spatter, consider lowering the amperage to slow the wire feed speed.
2. Voltage
Low voltage levels will increase the amount of spatter produced.
To decrease spatter, you can choose to either lower the amperage or increase voltage.
3. Electric Stick Out
ESO simply means how far the tip of your welding machine is to your metals.
For MIG welding, a distance of ¾ inches is safe. Higher amperage will mean that the ESO should be greater as well.
ESO that is too high will increase weld spatter and negatively affect weld quality. Metal porosity will occur due to low levels of shielding gas and insufficient metal penetration.
Preventing Spatter in Common Welding Operations
Two of the most common welding processes that produce a lot of weld spatter is MIG welding and Stick welding.
Weld spatter prevention is possible if you give close attention to control settings and weld techniques.
To set the correct settings for both techniques, trial and error is the only way to prevent any damage to your weld. Adjust the control settings and practice on a clean piece of scrap metal until you find the perfect settings.
1. Reducing Spatter in MIG welding
One of the most common reasons behind spatter in MIG welding is feeding too much filler metal.
You can easily remedy the spatter issue by reducing the feed speed.
If this solution does not work, spatter is most likely caused by arc blow. Try welding to the direction of your ground clamp.
If these methods do not work, switching to an AC power source might reduce spatter levels.
Control Settings
Excessive splatter in MIG welding is usually caused by issues with the metal wire.
Feeding the filler wire at a fast speed and at irregular intervals will produce excessive weld spatter. Wire fillers at low temperatures will also encourage spatter.
The MIG settings should be carefully monitored before welding begins. Heat is managed by adjusting the amperage and voltage settings.
Make sure that the wire filler reaches a temperature that will allow it to completely melt into the weld pool.
At the same time, carefully monitor the tip of the torch. Residue build-up will cause inconsistent feeding of the filler wire, which results in spatter.
Welding Technique
MIG welding will always produce spatter. On the other hand, applying certain techniques in MIG welding can significantly reduce spatter production.
1. MIG welding: Push or Pull Technique
Choosing between the push or pull technique will depend on the type of weld and the metal.
If your weld operation will require high, localized, and consistent heat, pulling the weld will be best. 'Pulling' means that the torch is angled opposite the travel direction.
If the welding operations require a more dispersed heat input, pushing will be best. 'Pushing' meanest that the torch is angled toward the travel direction.
2. Weld Angle
There is significant debate if pushing or pulling while MIG welding will produce less spatter.
Whichever team your on, remember to apply the right weld angle to your technique. Finding the right work angle will encourage efficient penetration and a robust weld.
Remember that a work angle of 15 degrees or less will produce the least amount of spatter. The steeper the angle, the messier the welding operation.
3. Weld Speed
Make sure that both your travel speed and feed speed is consistent. Consistency in speed will produce less spatter.
Make sure that the wire is fed consistently at the proper tension.
2. Reducing Spatter in Stick Welding
Control Settings
The same control settings apply to Stick welding.
Make sure to apply the appropriate heat settings to the wires according to metal diameter and thickness.
The Stick settings should carefully be tuned before welding. Adjust the heat by giving close attention to the amperage and voltage settings.
A cold metal will result in a weak, messy, and inconsistently formed weld.
Maintain the temperature that effectively melts the metal into the weld pool. Aside from this, make sure to apply consistent travel speeds.
Welding Technique
Compared to MIG welding, there are fewer tricks and techniques to reduce weld spatter in stick welding.
One thing to remember about excessive spatter in stick welding is that this usually indicated a welding arc that is too long. The general rule of thumb for arc length in stick welding is that it should be close to your electrode's diameter.
1. Stick welding: Push or Pull technique
While either is beneficial in MIG welding, stick welding generally works better using the pushing technique,
2. Weld Speed
A faster welding speed will also cause more spatter in stick welding. Find the best welding rate that consistently melts your metal by using the trial and error method.
Problems with Equipment
Before you can apply these settings and techniques, make sure that your equipment is well-maintained and in great working condition.
Make sure that the wire feed is working consistently and has a reliable speed rate.
Check if your equipment is emitting the correct amount of shielding gas according to your settings.
Another thing to check is if your contact tip is the correct size and is not worn-out.
Lastly, check your ground clamp. Make sure that it has been cleaned and is able to make direct contact with the metal. Otherwise, this will not produce consistent settings.
Problems with Welding Gas
Shielding gases also have a significant effect on spatter levels. Low-quality gases and incorrectly labeled mixtures produce significant amounts of spatter that affects weld quality.
Aside from choosing the right shielding gas, make sure that your equipment is emitting the gas freely.
Ensure that all hoses and regulators are connected and functioning properly. Hoses that are unconnected or have snags can result in further damage to equipment.
There are a lot of shielding gases on the market, but the two most common shielding gases used in MIG welding are Argon and carbon dioxide.
Pure Argon
Argon is primarily used for MIG welding aluminum. It is also commonly used in TIG welding stainless steel.
Using steel with argon settings on MIG welds will produce low-quality welds and high amounts of spatter.
Pure Carbon Dioxite
Carbon dioxide is the more affordable alternative to Argon.
CO2 is a reliable shielding gas, and it also encourages deeper penetration. A disadvantage is that it produces significantly greater amounts of spatter than Argon.
Argon and Carbon dioxide mixtures
The percentage of gases in this mixture can be adjusted according to the weld type and metal specifications. One of the most common mixtures is 90 Argon and 10 CO2. Choosing to go with a mixture that has at least 80 percent of Argon can guarantee less spatter.
On the other hand, if your project involves thick steel, a higher percentage of CO2 is required.
Other Causes of Spatter to Watch Out For
Being a responsible welder means anticipating events that can cause injuries and damage to your project.
Some common cause of spatter also include:
* Gas popping or arc explosion occurs when there is a sudden surge of heat at the weld bead. This causes large amounts of spatter to fly out. In this case, adjust amperage to get a lower temperature.
* Repulsion force from the welding arc causes the weld bead to scatter
* Magnetic repulsion force from short-circuiting can break-off weld beads
* Splashing of molten metal may occur when weld beads fall into the weld pool
Extra Measures
Suppose you're working on highly sensitive projects. In that case, it will be best to invest in some tools and accessories to mitigate the damage from spattering.
Refer to these additional anti-spatter solutions that will ensure your weld stays pristine and robust.
1. Anti-spatter spray
Anti-spatter oils and spray do not prevent spatter, but it provides an extra layer of protection over your metals.
Simply apply the anti-spatter directly on the weld area, and it prevents spatter from adhering. Spatter can then be easily brushed off or wiped away.
While anti-spatter spray and oils are good precautionary measures, they do not guarantee that spatter will melt and damage your product.
Not all anti-spatter works for the same metals. Some basics you need to remember is that water-oil emulsion anti-spatter does not work well with aluminum.
Another tip to remember is that more does not equal better results! Products will usually indicate the correct amount of anti-spatter, but the least amount possible that safely covers the welding area guarantees the best results.
2. Weld tape
Welding tape is made from aluminum. It can be applied directly to surfaces that can be damaged by weld spatter. A disadvantage is that it can't be applied directly to the weld area.
Aluminum tapes are also expensive, but the investment is necessary to protect valuable machinery and metal parts.
More affordable options that use different materials are available, but these are not as effective as aluminum tapes. Cheaper material will easily burn or melt when in contact with molten spatter.
Grinder
Grinders is an easy and quick solution to clean any surface that is covered by spatter. Simply grind the affected area, and you'll be left with a clean finish.
Spatter Hammer or Chisel
Easily and effectively remove or chip away at spatter with the use of a hammer or chisel.
A spatter hammer includes a handle spring and a cold chisel. This is effective in leaving little trace of an area that was damaged by spatter.
Conclusion
Spatter is one of the reasons why welding is such a dangerous job. Dealing with spatter is a reality all welders need to accept.
While it can be reduced, all welding operations that use filler material will produce a lot of spatter. Taking the necessary steps to prevent spatter production will ensure a high-quality weld and a safe environment for all workers on-site.
Frequently Asked Questions
How to prevent weld spatter from sticking to your equipment?
Besides prepping your materials and tools, make sure to properly clean them before and after every welding application.
Use a needle nose to effectively clean your weld nozzle. Anti-spatter also helps in preventing spatter build-up in the torch tip.
You can also apply an anti-spatter on the gas nozzle.
What other weld defects should I watch out for?
Welding requires a high level of skill and preparation. Without the proper knowledge and application of techniques, damage to your weld can include cracking, porosity, distortion, and damage to the surface, hollow fillings, and incorrect profiles.
What PPE offers protection from weld splatter?
Keep in mind that welding is a dangerous career. Aside from slag and spatter, personal injury from fumes, gases, and sparks is inevitable.
Invest in full head-to-toe safety equipment to protect yourself from spatter. Always wear safety goggles/glasses, welding helmet, gloves, a PPE suit, and closed-shoes.