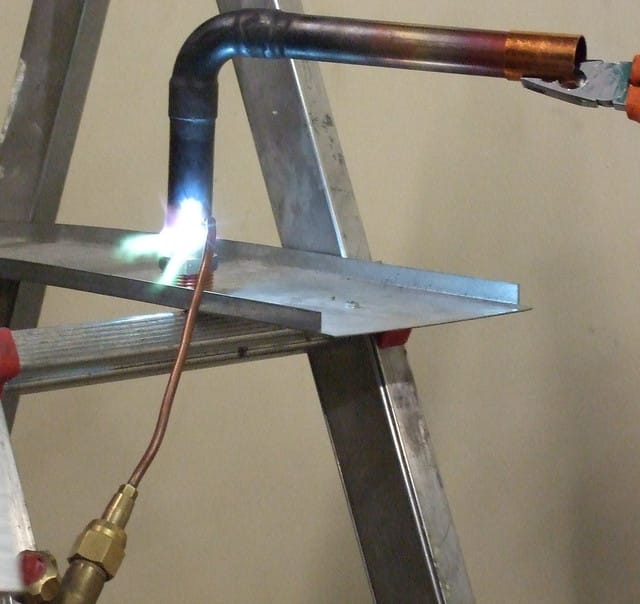 Are you interested in really knowing what is tack welding? As it turns out, the whole process is quite interesting.
People familiar with the various welding procedures dismiss tack welding as unimportant and temporary because, in a way, it is.
However, as professional welders attest, tack welding is as significant as other welding processes and provides many practical uses.
What is tack welding, and why is it an essential welding process?
Tack welding refers to temporary and minor welds that enable two separate components to be attached for the final and permanent weld.
Instead of utilizing a clamp to keep some items steadfast, tack welds are used. It enables you to weld without worrying about the metal parts being misaligned.
Tack welding is essential because it will ensure that excellent quality welds are maintained by keeping every part is spaced, aligned, and prepared for final welding.
How will tack welds work?
Tack welding works by making minor welds that are closely spaced to each other along with a particular piece. The materials used are beads of the same kind utilized for final welding.
How many tack welds will depend on the size of the piece being worked on that will be joined together.
Even though tack welds are thought of as temporary welding, it is still considered as another form of welding.
Why is tack welding necessary?
In welding separate fixtures together, you have to fasten them with a clamp to make them unmovable and steadfast.
It has to be this way because any slight movement can alter the positions from welding. Thus, throwing off the alignment and affecting the quality of the welds.
To keep any possible movement from occurring, tack welding is done by temporarily holding the separate pieces together. This way, they are properly aligned in place for final welding is done with no problems.
Tack welding is quite functional since it does not necessitate the usage of fixtures and is applicable for low volume production and one-time welding jobs.
Tack welding does not only make sure that the necessary joint gaps are maintained, but it also reduces metal distortions during welding.
Since tack welds are slight and minor, they can be removed easily and welded again if the pieces are the wrong way.
In general, since tack welding is small, the general rule is to apply them close to each other, and this way, the edges of the workpiece are held steadfastly.
In many situations, tack welding is done by utilizing the same procedure in the final weld. For example, various pieces made of aluminum alloy can be tacked welded together before doing the final friction stir welding process.
Another good example is utilizing an electron beam process with a reduced power setting. Then the concluding electron beam welding can be done with more power.
Since tack welding is temporary, some will incorrectly assume that its quality is unnecessary and good welding processes are not required, which are not factual.
Tack welding necessitates the same kind of attention and care as the final welding process, and if not done properly, tack welds might not accomplish its main intent.
What are the different functions of tack welding?
It does away with the necessity for fixtures
It keeps various pieces properly aligned and steadfast in the correct position
It strengthens the functions of fixtures
It cuts down on metal distortions develops form welding
It keeps the joint gaps in place at the proper value
It maintains the orientation of the assemblage from overturning, moving, or hoisting
What are the risks of faulty tack welding?
If the welder is doing tack welds properly or if they are defective, they will not be powerful enough to work effectively.
If these faulty tack welds are in an assembly of many separate pieces, the temporary joints will collapse if moved in even the slightest manner. Of which can cause injury to people and destroy property.
Tack welding must be done in a manner that will not be degrading the final welding process. And not create defects like cracks, leftover slag, arc strikes, and many more.
Various types of steel used in fabricating pipework and transportation vessels can undergo defects resulting from speedy cooling and quenching.
This element must be considered while utilizing tack welds since the heat was introduced into the base metal, even though the heat is less compared to the final welding procedure.
The right amount of heat is done in these situations to minimize the development of substantially made microstructures and brittleness.
By speedy quenching, hard and crack-sensitive microstructures can arise in heat-affected zones. It can be dangerous because even though the tack welds are removed by grinding, the areas close will still have the same defects.
The faulty areas can undergo cracks as the welded metal hardens and solidifies or if stress occurs in the assembly.
Since the cracks are below the joints, they sometimes are overlooked from inspection. Some are so tiny and seldom seen in the naked eye.
These can be potentially dangerous since they can develop into larger cracks as time passes and cause fractures.
How can you make sure you are doing high-quality welds?
In managing its quality, welding codes are mandating that tack welding must be done by certified welders who know proper welding practices.
It is a prerequisite that has to apply to all welding procedures.
What are the challenges of tack welding?
Whenever performing tack welds, you have to make sure it is strong enough to adhere the various pieces together.
If your tack welding is not correct and done in a flimsy manner, the pieces can fall apart from even a slight movement. The worse thing that can happen is that it can potentially cause harm to people and surrounding machinery.
Since the purpose of tack welds is for supporting the final welding procedure, the welder should reduce the quality of the completed weld by admitting defects like craters, cracks, arc strikes, etc.
Another challenging aspect that welders experience with tack welding is cooling and quenching from some types of steel. Of which are mostly utilized in the fabrication of vessels and pipes.
If tack welding is too rapid, cooling and quenching can enable imperfections into the base metal. It is because tack welding imparts heat to the piece, even though it is supposed to be lesser than the concluding weld.
Whenever quenching is done too rapidly, it can make the piece hard and brittle, and micro-structures sensitive to heat will form in affected hot spots.
These types of defects can still happen close to the welded spot even as the tack weld has already been ground away.
Since the final welding procedure necessitates high heat, tack welds can still be made by utilizing techniques, like shielded metal arc welding.
This method can result in brittle and sensitive spots forming, which cannot be taken out even by much greater heat input passes. Thus, cracking will frequently happen on final welds.
As the welded metal becomes more solid or if the joints are stressed, cracks will appear in the defective spots. They might even be too small to be seen or concealed below the welded joint.
And the smallest cracks can become bigger as time passes and will result in fractures.
Are there procedures for controlling distortion?
For fusion welding applications, the arrangement and direction of tack welds are essential to control distortion.
Tack welds should be powerful enough to maintain a proper joint gap and also be able to resist traverse shrinkage to encourage enough welding penetration.
Some steps need to be taken to get rid of cracks from tack welds. In preventing this, some measures should be made, like high heat input procedures, pre, and post-weld heat.
However, tack welds do not get the same type of care and maintenance as final welds.
A high heat input technique might be selected for the final weld, and shielded metal arc welding is chosen for the tack welds. As a result, spots that are sensitive to crack and brittles will develop.
These cracks will not disappear even after the tack welds are ground away and cannot be removed by many high heat input processes. These cracks will go deep into the base metal resulting from the final weld.
What are the various materials can be tack welded?
Tack welding is ideal for fastening materials and can be fastened by other processes.
Since tack welding can be done easily, there are factors like thicknesses and types of materials that depend on them.
Some thinner materials can be burned through by tack welding. And some like, aluminum can be unmanageable to tack weld because of their low temperature if being melted.
What are some useful tack welding tips?
As mentioned, the purpose of tack welding is to temporarily hold assembly components in position until the final welding occurs.
Even though tack welds have no specific sizes, professional welders use them in sizes ranging from one-half to three-fourth inches in length, but never one inch.
While doing a particular welding job and determining the number and size of tack welds, you have to carefully consider the complication of the assembly components and the thickness of the various metals being attached.
Tack welding is usually done by welding many pieces together by applying heat and pressure to the spot being welded.
Two pieces are fastened together by utilizing electrodes in sending an electrical current through the assembly pieces.
These minor welds keep the different assembly pieces in place and keep them from overheating and warping until the final weld is done.
On most occasions, tack welding is usually done this way:
Use a filler rod to place on one side of the joint small tack welds.
Once you see that the welds have cooled, do the same procedure on the other side of the joint.
FAQ
Is a tack weld strong enough to hold up various pieces together?
As mentioned above, the principal purpose of tack welds is to temporarily keep different pieces together and aligned correctly until doing the final weld.
Each tack welds are supposed to be minor and slight, yet they are still strong enough to hold different pieces together.
Since there are no specific tack weld measurements from each other, they are generally not over one inch in length and around one-half to three-fourths inch.
What is the history of welding?
The invention of welding is one of the most significant discoveries in developing modern construction and metal fabrication.
Welding originated as far back as three thousand years ago and led to creating utensils, weapons, jewelry, etc.
The bronze and iron ages were the time people started fusing metals through welding. The oldest artifact discovered was made through welding procedures were small gold boxes dating back two thousand years ago.
During this period, archeologists also found utensils, jewelry, and weapons. Egyptians pressure-welded their swords using charcoal, which led to iron smelting.
During the Iron Age, around one thousand years before Christ, archeologists found weapons and tools throughout the Middle East.
Ancient welders had fused iron, bronze, copper, silver, and gold to make various items for thousands of years.
In China, around five hundred A.D., Chinese metalworkers invented the process to turn iron into steel. Around the same time, Japanese metalworkers created Samurai swords through forging and welding steel.
During the Middle Ages, iron became the preferred metal to create functional objects, then the blacksmith trade began and flourished. Forge welding was developed at this time and practiced to this day.
Forge welding and blacksmithing continued as the years passed, and during the Renaissance period, it boomed.
Blacksmiths were central tradecraft in the Middle Ages and made furniture, horseshoes, locks, weapons, and many essential items needed during that time.
The blacksmithing skill was essential in developing small villages, which provided equipment for transportation, protection, and many more.
Around the nineteenth and twentieth century, welding techniques became modernized and developed. Here are some important discoveries made at this time:
In 1800, chemist Sir Humphrey Davy discovered how to produce an arc by using a battery with two carbon electrodes
In 1802, Vasily Petrov, a Russian scientist invented the electric arc, which allowed the melting of metals.
In 1836, Edmund Davy discovered acetylene.
These developments led to the creation and invention of many crucial welding procedures and equipment like the electric generator, gas cutting and welding, stable arc welding, and many more.
During World War I, welding techniques were used in the war effort, specifically, producing weapons and transportation. Arc welding was done in making ships and airplanes in England and Germany.
In 1920, automatic welding was invented that works by continually feeding electrode wires through the welding machine.
Around this time, new kinds of welding gases were utilized, like oxygen and nitrogen, which prevents welds to become rusty and brittle.
In the mid-twentieth century, many welding techniques were invented and established. And examples of these were underwater welding and stud welding.
In 1941, gas tungsten arc welding became safer after many years of development. Thus, allowing various types of nonferrous metal to be fused.
After thousands of years of development, welding has advanced significantly to become more efficient, accurate, and quick.
Modern welding practices now have over ninety welding techniques in use, and these are being developed and applied in transportation, nuclear, space, and many more.
These new welding methods have been developed to provide safer, better, and more sustainable welded products.
Also, newer inspection techniques have improved welding practices and made imperfections and defects easy to locate and fix.
Can aluminum materials be tack welded?
Luckily, aluminum materials can be tack welded, but a filler metal must always be used.
Aluminum can be tricky to weld because it has a low melting temperature and does not respond well to many welding techniques.
Can you use a stick welder to tack weld?
Set up the stick welder to what you usually do in welding, then proceed with the tack welding process.
Weld the pieces together, but make sure that the tacks are just right and not large enough since you might need to alter them or change their direction.
What you need to remember is tacks are small enough to be burned or ground off before doing the final weld.
What is the American Welding Society standard for tack welding?
Based on the AWS or American Welding Society terms and definitions, tack welding explains as welding various joints in proper alignment until doing the last weld.
However, it does not mention that tack welding has to be temporary or if they have to be removed after having fulfilled its purpose.
Irrespective of how long the tack welds are supposed to be in place, they must be welded properly to prevent the formation of cracks.
They may seem like insignificant welds and can be the weakest spot in the piece. Of which can lead to the applications like cyclic loading failing.
AWS does not say the exact dimensions of the tack welds, even though there are small gaps between weld beads along the length of the piece. And often, these are not enough to make them stable.
Tack welds should be created of appropriately ample size, and this way, they can withstand any stress from thermal expansion. They should also be different in proportion to the throat size and length.
A bigger throat can be utilized for a more powerful tack weld, and the longer length can also increase its power. And combined, it will make the assembly pieces more stable.
You can also apply a continual tack weld along the length of the piece. It is usually done if irregular tack welds are not enough.
For stronger and heavier steels, it is required to preheat them before applying tack welds. If not, the tack welding process will not work.
And re-melting will be easier if the tack welds are small in size and proportion.
Conclusion
Do remember that tack welding is particularly designed to be temporary. It means you have to weld the assembly pieces again and be permanent at that time.
Tack welds have to be strong enough but still can be easily removed and not compromise the base metal.