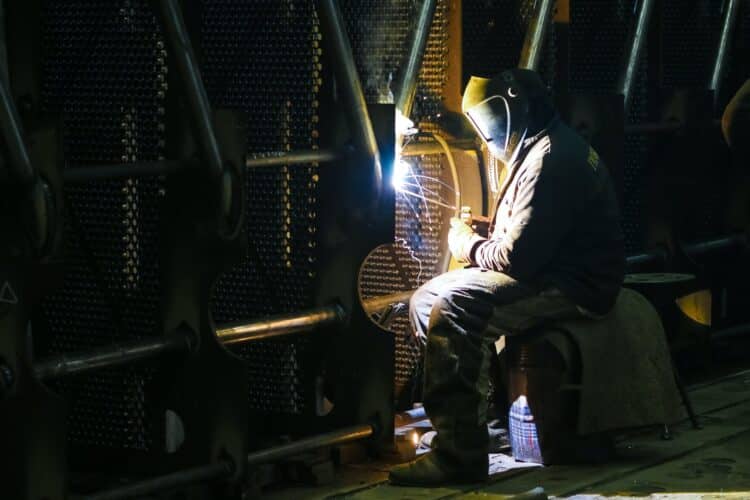 The one question that is lingering on your mind is, is welding black iron pipe possible?
It's simple to create projects out of black pipes and fittings. Even those found at hardware stores or scrap metal sites. They are good because they have thread connections and come in many sizes.
Can you weld black steel pipe?
For many years, black steel pipe has been a popular building material. It can be spotted , thanks to its distinctive appearance and strength. Knowing what can and cannot be fused can be confusing at times. One wonders whether it is possible to weld black iron pipes and if it is even safe to do so.
Arc welding is a technique for joining black iron pipes. Arc welding joins materials by using high-pressure gas or electricity. Although it is commonly confused with cast iron, it is steel, which allows the metal to be fused. Welding black steel pipe poses no additional dangers beyond welding. The risk is minimal because the tubing has not been zinc-treated. Welding any material has some risk. But a black iron pipe is not one of the materials that increase the potential for harmful gases.
Black iron is a popular welding material because it is non-galvanized with zinc. The outer layer (the coat) that gives the metal its color is iron oxide coating. And it is the one that produces the black color. Its work is to prevent the iron from rusting or damage. Since black iron is a type of steel, it is hard to join with other metals.
However, black iron is ideal for welding for many reasons. The absence of zinc in the metal prevents fumes from coming from the material during the welding. Moreover, the lack of zinc material enhances the bond between the metals. The extra coating could prove burdensome to the joints. Remember to use the usual safety standards to prevent bodily harm while welding.
Always ensure that the area you are about to weld is clean to avoid impurities. Use a wire wheel or sandpaper to clean the specific place. Cleaning is critical. It it removes the extra coat in the metal to make it easier to carry out the welding procedure.
It is worth noting that it is always safe with black iron for the very simple that it is non-galvanized. It is crucial to be aware that shocks, toxic fumes, bodily harm, and burns are all common in welding. They are all part of the occupational hazards that one can face daily as a welder. So, you still need to take the usual precautions. For example, wear protective clothing and headgear and follow workplace welding guidelines. It is critical for your safety.
What is black iron?
We may have had a glimpse of what a black iron is, but it is critical to make a clear definition. Before you start welding, understand the type of materials you will be welding. In this case, black iron is just the usual steel that contains a black coating from the outside. Black irons exist in most applications like gas or water lines, especially in older homes.
Another word for black iron pipe is black steel pipe or industrial pipe. As we have already said, welding is achievable because this material is mild steel. But, due to the many terms used, some people confuse black pipe for iron. They also have false belief that welding is difficult.
Besides, the black pipe has a variety of applications. It is often used to transport compressed air, natural gas, propane, and steam as supply lines. It is also utilized as a supply line in sprinkler systems.
Black iron piping might be the best option if you need more options. This is particularly true when combining different materials with different fittings and seams. The black coating is critical. It prevents corrosion and helps to maintain the coolness of the pipe.
In short, a black pipe is a regular iron pipe that has a black paint. Iron oxide develops on the metal's surface during manufacturing. That is why it is black. These pipes are important in residential applications. They assist to produce propane gas and natural gas. This pipe is continuous, which is why it is preferable for gas transit and other fire fighting tools. .
A welder's favorite tool is the pipe. Projects and fittings can be bought from local hardware stores and are simple to make.
The distinction between black and galvanized pipes
Coating Variety
Aroused channel and black pipe are both composed of steel. What matters is that the stirred pipe is zinc-coated, but the black tube is not. That is the main difference between black iron and galvanized zinc.
Excellent Application
Black pipe is ideally used for gas lines and not for water lines because it corrodes fast. Galvanized zinc can't be utilized for gas pipelines because the zinc can stop up the ropes when it begins to crumble. The electrified pipe is the more secure pipe to use in water lines.
Unique corrosion Resistance
The black iron pipe is a light coating that provides only the least security. Outside, the black metal pipe will corrode. By any stretch of the imagination, the galvanized zinc pipe will not rust.
Different pricing
Black steel is less expensive than the galvanized zinc. The reason is that the extra zinc added to the stirred channel makes the galvanized zinc costly.
How safe is it welding black iron pipe?
There is no risk of producing harmful zinc-oxide fumes while welding with black iron pipe. Reason? The black pipe has not been zinc-galvanized. So standard well-being safety precautions are enough.
Still, there are some concerns, but the good news is that one can avoid these risks. Take into account the following:
Black iron channels are well-known for their strong heat resistance. They can also be found in sprinkler frameworks and conveying cooling fluids. Black iron pipe rusts fast. This, makes it unsuitable for carrying water. Yet, it is still helpful because it is inexpensive and easy to find.
Are there risks associated with welding black iron pipes?

The main danger with welding black iron pipes is the same as others. It is the same with risks you will find when welding other materials. The absence of zinc in the black iron metal reduces the amount of poisonous fumes. That means you are not inhaling as many poisonous fumes as is the case with other materials. But, other dangers remain unchanged. So when dealing with a black metal iron pipe, you need to be vigilant against the usual hazards.
Shock could be the most common danger with welding. Ensure that you are safe and protect yourself well, and your welding environment is not messy. Make sure that you have put on appropriate defensive clothing and headgear. Also, make sure that the surrounding you are operating is dry and clean. Wet surfaces are often responsible for causing shocks.
Another danger with welding is the production of fumes. Production of fumes during welding is unavoidable. Indeed, welding black iron will not produce the same harmful fumes as other materials. But you are still going to inhale a lot of gas and vapor, which can affect your health and wellbeing
Injuries are also common occurrences during welding. You could tip, fall or some metal could fall on your head or toe. The possibility of an injury is real, especially if you have not taken enough precautions.
Is it possible to weld black malleable iron?
After several days of heating white cast metal, ductile iron with god properties emerges. Black metal tube fittings made of iron with higher malleability are extremely durable. It's also shock and wear resistant.
As a result, welding isn't viable with black steel fittings. Welding heat will affect their characteristics. The fittings become fragile and readily shatter.
Galvanization or welding at temperatures below 1700 degrees Fahrenheit is helpful. It is an effective method for joining iron fittings to black steel tubing.
Another option is to utilize welded forged steel pipe fittings, like socket welding accessories.
Please note: Since the black pipe is a steel made of light carbon. One can solder it with other steel (carbon). The welder can use the usual metal-to-metal welding methods. .
Black steel pipes can be welded using any steel welding process. stick curve, MIG, TIG, and motion center welding are all welding techniques that you can use.
Black pipe fittings, on the other hand, are manufactured of malleable black iron. Black iron fittings are hard to carry out welding without causing damage to the joint.
The simplest way to weld a black iron channel is to use a welding technique known as bend welding.
Conclusion
Now, the next time you have a welding black iron pipe project, don't be afraid to take it on. Besides, keep in mind that while this metal is safe to weld you must follow the steps outlined above. Remember to follow the step-by-step instructions we've provided. That's the only guaranteed way to effectively weld black iron pipe without issues. Following proper procedure is the surest way to avoid the shocks, fumes, and injuries. This type of welding can come with many hazards. You can use the black iron pipe for a variety of welding tasks.