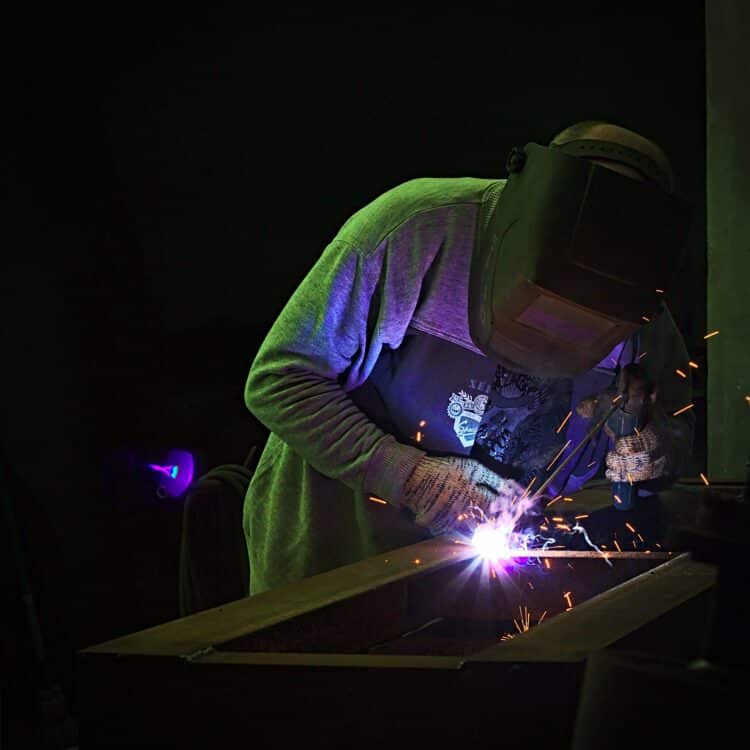 There is no room for any funny business in welding.
You can't afford to be slack.
Welders are often exposed to dangers and hazards such as sparks, hot slag, radiation, and metal fumes.
Regardless of skill set and the type of welding technique, personal protective equipment (PPE) and safety measures should be the number one priority. Just as important is the welding environment. Proper ventilation and respiratory protection should be observed at all times.
PPE should cover welders from head-to-toe, giving special protection to high-risk parts such as the face, eyes, and hands. One of the most essential PPE is the welding helmet.
The bottom line? You've got to learn How to pick the right welding helmet just as much as you need to learn how to weld correctly.
What is a welding helmet?
Helmets are essential to operator protection and safety during welding and grinding operations.
All welding helmets should meet ANSI (United States) or CSA (Canada) standards. Each helmet needs to offer at least the basic foundational features.
One of the most essential features includes protecting the eyes, face, and skin from sparks and spatter and the potentially damaging effects of ultraviolet (UV) and infrared (IR) rays.
The market today offers a wide variety of helmets.
Welders can choose between different colors and graphics to add some personality to their everyday work attire.
More importantly, innovation from the last decade or so has now allowed for the development of helmets focusing on next-level protection, functionality, and comfort.
A quality helmet is designed to accommodate a welder's specific needs. It is lightweight and well-balanced to provide ultimate comfort for extended work hours while providing complete protection of the eyes and face from radiation, sparks, and spatter.
What are the features to consider in Selecting a Welding Helmet?
There are several factors to consider when choosing a welding helmet.
The great thing is that welding helmets today offer a wide selection of features designed to cater to all welding needs.
Before selecting your welding helmet, here are a few considerations that are critical to look into:
Lens Type
The two types of welding helmets–passive and auto-darkening–are generally defined according to lens type.
Passive Welding Helmet
A passive helmet features built-in dark tinted lens, usually with a shade of 10. During different welding operations, the lens will not switch between different shade levels but will remain as is.
This would prompt the need to remove the helmet when inspecting a weld. While helmets are generally lightweight, having the constant, built-in dark lenses compromises safety, comfort, and versatility in the work environment.
Auto-darkening Welding Helmet
Auto-darkening helmets have filters that allow their lenses to switch from a light shade to a darker shade.
When the helmet is put on, welders have clear visibility, allowing unobstructed inspection and evaluation of the weld and work area. Once the welding arc is struck, the helmet will automatically darken to the pre-selected.
There are two types of auto-darkening helmets: fixed-shade and variable shade.
A fixed-shade helmet is generally used by welders who work on the same welding process involving similar material.
A variable shade helmet allows welders to select the shade level based on different welding applications and operations. Most variable shade auto-darkening helmets offer a shade range between 8 to 13.
What to consider when selecting an Auto-darkening helmet?
Auto-darkening lenses are available for both the hobbyist and the professional. These will vary according to the number of sensors, usually two for beginner welding needs and four for industrial applications.
More sensors mean better coverage. This is especially important for out-of-sight welding operations.
For general production work with an unobstructed welding arc, a three-sensor helmet will be sufficient. For out-of-position welding work and complicated construction and fabrication work, go with a four-sensor helmet.
It is also important to select a welding helmet that gives special attention to sensitivity. Sensitivity levels determine the minimal amount of light required to darken the lens filter. Most helmets offer the convenient option of selecting helmet sensitivity.
1. Shade Control Settings
The next thing you should consider is the helmet's variable shade range.
Entry-level helmets will usually allow a selection of shades between 9 to 13. In contrast, industrial-grade helmets offer a wider range between 5 and 13.
A wider shade range allows welders versatility, flexibility, and comfort when working on different welding processes.
Workers who can benefit from a wide range of shades include those who work on other construction operations and those who work on various welding processes, materials, amperage, and machines.
2. Delay Control Settings
Delay controls refer to the amount of time before the darkened lens returns to the light state.
For welding operations involving shorter weld duration and quick switching between processes, such as tack welding, a short delay time is more efficient.
On the other hand, for performing lengthy welding and thicker material, it would be best for the delay controls to be set for longer periods. This will ensure that the welder is protected from the larger and hotter weld arc after it has cooled.
A good quality helmet should have settings between 0.1 seconds to 1 second. Some helmets allow for selecting both delay and sensitivity settings, ensuring optimum versatility and flexibility during work operations.
Auto-darkening helmets feature control settings that can be operated by either external or internal control functions.
External controls are convenient, allowing easy adjustment of settings without having to remove the helmet. On the other hand, exposure to sparks and spatter also makes external controls and wiring more vulnerable to damage.
Internal controls are located on the lens cartridge, offering more protection and removing the need for wiring. A disadvantage, though, is that the removal of the helmet is necessary to adjust settings.
3. Viewing Area
Another important factor to consider is the viewing area.
A larger viewing area increases peripheral vision and clearer visibility of the weld and the worksite. On the other hand, a smaller viewing area gives the advantage of a more focused view and a more lightweight option.
4. True Color Technology
One of the more recent innovations to welding helmets is the true color or real color technology.
Auto-darkening lenses in the past had an unnatural saturation and contrast, as well as a slightly green tinge. This enhances the visible color spectrum of the lens, which allows color to be seen more naturally, allowing for better hold and control of the weld.
With true color technology, welders will have no difficulty telling colors apart even between shade levels of 8 and 14. True color technology was also found to significantly reduce working time, making it easier for welders to notice fine details and avoid mistakes and weld defects.
Apart from increased efficiency and productivity, this feature also significantly reduces eye strain and fatigue. Welders are often expected to work long hours, which can cause headaches and vision problems.
True colors ensure increased comfort by providing more clarity and natural colors.
5. Power
Auto-darkening helmets can either be battery-powered or solar-powered. Some models feature a combination of these two options.
Battery-replaceable batteries are generally more durable and have a longer total service life than non-user-replaceable batteries with a general shelf life of 5 to 7 years. If you have a user-replaceable helmet, make sure that you check battery levels before every use and that you have an extra set of batteries on-hand.
This type of helmet is also prone to automatically turn on/off. Before striking the welding arc, make sure the helmet is powered-on.
Solar-powered batteries, which get their power from solar energy or welding arc light, give the advantage of never having to constantly check and replace batteries. This ensures ease-of-use and efficiency.
7. Grind mode
Apart from the development of optic and lens technology, welding helmets now offer more flexibility in terms of functionality.
Before settling with a helmet, consider the specific applications and operations you will be performing on your project, such as cutting, brazing, and grinding.
Many helmets now integrate a ground shield to offer maximum versatility for workers.
Some helmets even allow the selection between "weld/cut/grind modes." Not only does this eliminate the need for other equipment, having an all-in-one device ensures greater efficiency.
It reduces the risk of injury as users do not need to constantly change in-between gear operations.
8. Comfort and Ergonomics
Welding operations often require lengthy and tiring work hours that can compromise quality and safety.
Many new helmet models feature a lightweight design that ensures comfort while not compromising protection. Newer full-coverage helmets only weigh between 500-600 grams, while models with a smaller viewing area only weigh about 350 to 420 grams.
Another important factor for comfort is balance. A quality helmet ensures that the weight is distributed evenly across the user's head while eliminating pressure points that can strain the neck and/or the head.
The color of the helmet shell also significantly affects comfort.
Most helmet designs have steered clear of the old bulky and square design for a more compact, lightweight, and tactical design. Some colors, such as grey, will reflect ambient heat during welding, especially during high-amperage operations.
This can significantly affect comfort, and ultimately, productivity.
9. Protection from metal fumes
Aside from protection against heat and optic damage, helmets also reduce the risk of injury and illnesses associated with exposure to toxic metal fumes. Helmets that provide additional protection from contaminated air are called Powered Air Purifying Respirator (PAPR).
These provide the user with respiratory protection through a 'positive-pressure' breathing zone within the helmet.
PAPR helmets have a specialized frame, a blower, a HEPA filter, and a mounting harness. This system allows the PAPR to draw ambient air from the environment, filtered to at least 0.3 microns. The filtered air then enters the helmet.
Some other useful features
Welding technology now offers many simple and practical features that will ultimately improve comfort and productivity.
For welders suffering from bad eyesight, many models offer magnifying lenses that are specifically designed to improve visual clarity for near-sighted and older individuals.
As an additional safety measure on large construction sites, many helmet models are also equipped with additional safety precautions like an adapter that allows the user to wear a hardhat and helmet at the same time.
How to choose the right welding helmet?
Aside from the essential features mentioned above, there are other factors that you should consider before selecting the best welding helmet for you.
Long-term Operating Costs
If you're on a budget, you might be thinking of buying the cheapest helmet with limited features. Remember, though, that ill-equipped PPE will definitely compromise productivity, efficiency, and safety.
A helmet design that does not value comfort and visibility will result in a slower operation process due to strain, fatigue, and difficulty identifying details and mistakes. Delays due to weld defects and injuries will ultimately cost your project more money in the long-run.
Spare Parts
It is also important to consider the cost of spare parts.
Since welding is a high-risk job involving constant exposure to stressors, regular replacement of helmet and spare parts will drive up the initial cost of your helmet considerably. Features that would need a regular replacement include polycarbonate lenses and the sweatband.
Make sure that these spare parts are easily available in your area. If you cannot get spare parts, your helmet will be practically useless.
Keep track of new innovations
The recent development of welding safety equipment is at an all-time high. Companies are interested in evaluating every feature of the welding process that might improve performance and productivity.
Features that are currently being developed include:
* The integration of an easy-to-use and convenient external remote on the helmet shell that will control operating mode and shade level. This will make it easier for users who need to jump between different fabrication operations and amperage rages.
* The development of a heads-up-display (HUD) will allow the machine to recognize patterns in welding operations, allowing for automatic control of welding parameters.
* Voice-command welding helmet for easy control
One of the most exciting things to watch out for in the future of welding helmets is smart technology and connectivity. The welding industry is excited to see welding helmets and other PPE connected to smartphones (with the help of applications) to exchange real-time data that will increase productivity.
Voice-command functions will use artificial intelligence (AI) that will allow easy control and manipulation of settings.
Personal Preference and Personalization
Your choice for the best welding helmet will all boil down to personal preference. For something as important as safety equipment, ensure that you choose a model that will serve your specific needs and the necessary applications.
As much as possible, try to fit on different helmets and check if they can be adjusted to accommodate your features to ensure optimum comfort. Check if the headgear allows for adjustment to go up/down, forward/back, and tightening/ enlarging.
Make sure to check the sensitivity settings available on welding helmets to ensure safe welding operations for your particular project.
Another thing to check is the amount of control the helmet allows for the rate of fall and the degree of tilt. Some helmets provide the option of adjusting resistance and the frame's angle, which will work best for your welding operations.
It is also equally important to consider the helmet when it's in the upward position. Does it securely lock in place? Make sure that the helmet is well-balanced in both positions to avoid fatigue and strain.
In terms of personalization, welders can go crazy with all the different colors and options available. Many welding helmets are now available with a variety of personalization kits with decals and graphics.
A Note on Safety
If there's one thing you should keep in mind, it is that you should never weld without the proper PPE, regardless of skillset and welding process.
Welding is a dangerous career that can lead to personal injury such as damage to eyesight and burns, not to mention the damage that exposure to toxic fumes and UV/IR rays could do to your body.
Remember to always wear safety glasses under your welding helmet.
Conclusion
With all the features and options available, choosing the right welding helmet ensures protection, comfort, convenience, productivity, and even personalization is undoubtedly a daunting task.
If you plan on having welding as your career, take the time to find the welding helmet that is right for you based on the mentioned features.
While it may be tempting to go with the cheapest option available, remember that you are not only compromising your safety but also production and operating costs in the long-run.
With all the recent innovation and development of welding helmet technology, there is definitely a choice for every welder in the industry. All you need is a clear picture of your specific welding needs and job specifications.