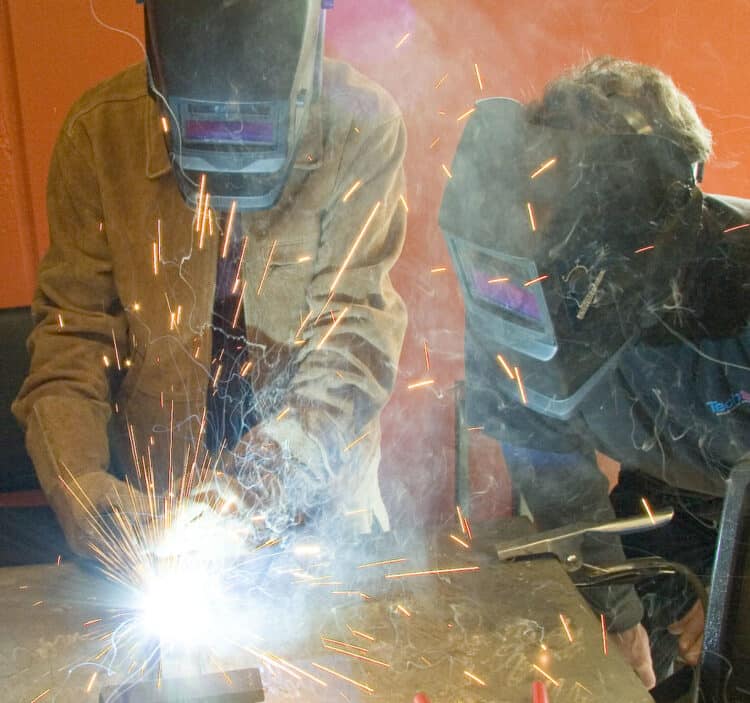 When it comes to welding, there are serious matters to take into consideration. You're not just using fire to melt metal. There are always sparks flying around you. Even if you're doing welding as a hobby, you're always at the risk of catching fire and you need to always have the best welding jackets, which brings us back to the question. Do you need to use a welding jacket?
The answer is a resounding yes! You do need a welding jacket because they are fire-resistant. Whenever the sparks land on you, the jacket burns. Instead, you will continue welding without worrying. Now I know you're wondering how the jacket is fire-resistant. In this article, you will learn on how to select the best jacket for you to use.
Why do you need to use a welding jacket?
A welding jacket is made of a flame-resistant material that helps protect you from getting burnt. It mainly protects your chest area and some part of your hands since it is flame resistant. But what exactly is fire resistant?
It is Fire resistant
Flame-resistant material is a self-extinguishing material that does support the burning of fire. However, many usually misunderstand this definition. Since the jacket is flame resistant now, you won't get burnt if you expose yourself to the fire. You will. However, if you get the jacket out of the fire, it will stop burning.
Flame resistant vs flame retardant
The flame resistance jacket is also known as the FR jacket. They are divided into two groups that are flame resistance and flame retardant. For the flame resistance clothes, the materials used to make the jacket are flame resistant. You can try to remove the flame resistance of this jacket, but you can't, no matter how you try.
When it comes to flame-retardant jackets, this means that flame-resistant materials coat them. The coated jacket functions similarly to the flame resistance jacket. However, if you purchase a low-quality jacket, it will lose its flame resistance property in a matter of months. But if you purchase a high-quality jacket, it will last long enough.
Now let's get back to why you need to use a welding jacket? If you fail to use a darkened Goggles for your eyes while welding, you're going to get injured. The same applies to the welding jacket. For a full-time welder, you're always at risk.
One time you're going to have an accident, and the welding jacket protects you from a costly trip to the doctor. Some companies require a certain level of welding jacket. You will have no alternative to being safe.
However, if you're not recommended any specific, beware of various FA clothes to ensure you have the right one. However, buying the right flame-resistant clothes isn't easy. You have to look at various factors, such as the type of weld you do.
Types of welding jackets
Jackets come in various styles, welding applications, and welding materials. Below are some of the most common welding jackets for you.
Flame resistant cotton

This material is commonly used because it is cheap, light, and comfortable. This material is treated with a material that off-gasses when it comes to instance, heat sources and flames, depriving the flame of oxygen that would otherwise support combustion.

Although the FR jacket will provide welders cost and comfort, they can be burnt when exposed to intense sparks and molten heat. Be aware of such environments. However, this type of jacket does hold on to all welding applications. You will opt to choose another welding jacket that can withstand intense sparks and molten heat.

Leather

Leather has been considered the best garment for welders over the years. Its hard layer prevents puncture and abrasion-resistant. There are various grade types and cuts in a lather, impacting the cost, quality, and welder's comfort.

The top layer of the animal skin is referred to as the frain lather. This pert can be made as thin as the under part of the hide, making it lightweight. Additionally, the hide repels sparks and spatters, making it most suitable for welding.

The type of welders jacket is known as split leather. It is made from the underside of the animal skin. It has a fuzzy feeling and looks and a little inexpensive. The leather jacket is a little he3avy and can easily put a welder into fatigue. It is a little unbreathable, and when it comes into contact with oil, it will easily absorb it. Over time it becomes less pliable and stiffer.

Aramid/rayon

When you combine welding jacket, synthetic fiber, welding jacket, and enhanced rayon design, you end up with spatter resistance cloth with a great fit. Armed design is used to replace asbestos. Enhanced rayon fabrics are great and comfortable but none insulating. Therefore the aramid is the one responsible for flame resistance in the jacket.
Welding jacket pros and cons
Every welder's safety gears have its pros and cons and it only fair that we look at them so as to help you make an informed decision while shopping. Below are some of the pros and cons of a welding jacket.
Pros
Provides great protection to the entire torso as well as the arms
Provides great sealing and can easily integrate with other welding equipment such as the helpmate, and bibs. To provide maximum protection by diverting the spatters and sparks away from you.
Great while doing some overhead work
Offers different designs
Holds your body tight which means that is no hanging areas that can get tangled.
Cons
Offers no protection to the legs
It may offer no heat release from the body during a hot day
Takes time to put on as compared to bibs
Can I wash a welding jacket?
When it comes to washing a welding jacket, there are different criteria that you can use. Don't just take it and put it in a washing machine. That is wrong. It will damage your welding jacket. Here I will provide you with a step-by-step guide on how to wash it.
First, take soap and two rags. Dampen the first rag and squeeze it a little so that there is enough dump. Then apply soap and until there is foam on your rag. Then scrub on your welding jacket, especially area with stains. Don't apply too much effort, but you will need a little more effort if it doesn't come out.
After you are done scrubbing with the first rag. Dampen the second rag a little bit in clean water. Then scrub on your leather jacket to remove all the soapy areas. Then after your done, leave it to dry. You can hang it in the sunlight for a few mounts are let it dry in your workshop.
Conclusion
You will always need a welder's jacket for your safety. The above guidelines will help you select the right one for you. And you will also know what to expect over time. Some jackets are made for specific types of welds, and you should know if it's best for you. However, if your company recommends a specific type of welding jacket, you should get the right one.