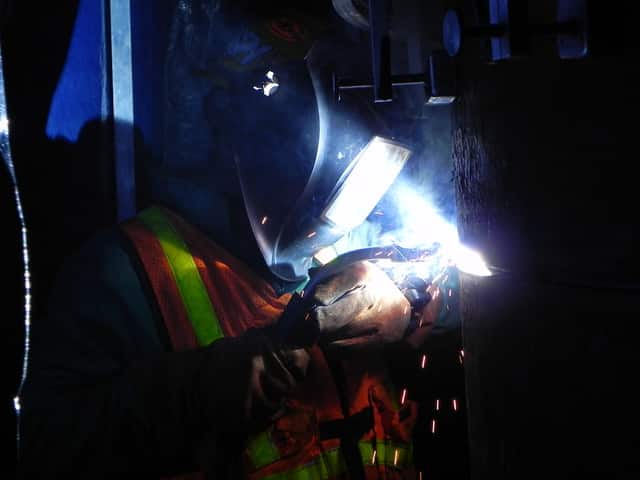 MMA welding is a fabrication procedure wherein various pieces are fused by heat and pressure.
Welding is mostly done on metal or thermoplastic pieces but can also be applied to wood, and the finished product is known as a weldment.
Welding has similarities to soldering and brazing, but their processes do not melt their base metals.
Yet welding does melt the base metals with a high heat procedure with a filler material.
High heat temperature will produce a weld pool of melted material that cools down to create the intended workpiece and will be much stronger tougher than the parent material.
Welding also uses a shielding gas to protect the filler and molten metals from oxidization or contamination.
What are the four most popular types of welding processes?
Along with MMA welding, there are other various welding methods that welders often use:
FCAW of flux cored arc welding
This type of welding method was created as an alternative to shield welding. It employs a semi-automatic arc weld utilized in construction, due to it being light enough to be carried and welding speed.
FCAW welding has many components that make it essential in various welding tasks, which are dependent on the welding machine and the kind of wire selected.
Its flexibility is apparent from its many voltage levels, operating angles, and polarity, including the rapidity of the wire feed.
Since it has a faster welding speed, the newly fused metals do cool quickly. If the welder is utilizing a flux-cored wire, he should be aware of the welded joint's porosity.
FCAW welding can be used to full effect in outside settings or underneath ventilation hoods because of the number of fumes and gaseous particles made during its procedure.
GTAW/TIG or gas tungsten arc welding
This arc welding technique is mostly used in welding non-ferrous metals like stainless steel. It uses a fixed tungsten electrode to weld sections together.
The TIG welding process takes longer to finish compared to other welding methods like Stick, MIG, or flux-cored arc welding.
Non-ferrous metals melt in varying degrees, which depends on the metal type. It is why intense care must be taken in properly distinguishing the makeup of the base metal.
Both steel and stainless steel contain iron, and to be regarded as stainless steel, it has to have about eleven percent chromium. And carbon steel will melt at a temperature ranging from two-thousand six-hundred to two-thousand eight-hundred Fahrenheit.
TIG welding is necessary with aluminum, wherein the welder needs to be proficient in creating an excellent and smooth weld.
GMAW/MIG or gas metal arc welding
This welding technique is usually known and referred to as MIG or metal inert gas.
Its main feature is a shielding gas that is situated along the wire electrode. This position enables it to be able to heat two metals to be fastened.
This welding technique necessitates unceasing voltage from a direct electrical power source. It is the most common welding method in many industries, like the production of large-bore pipes and plates.
Here are the four welding procedures that GMAW/MIG uses for metal transfer:
Globular transfer – This technique is practicable in welding dense metal plates in horizontal positioning.
Short circuiting – This method works by contracting the base metal by the welding wire using a tapping technique done a few times per second.
Spray transfer – This technique works by transmitting small drops of molten metal steadily and still maintaining a contact arc weld.
Pulsed spray – It works similarly to spray transfer but utilizes a higher to lower current pulse that allows periods of micro-cooling.
MMA or manual metal arc welding
The fourth welding technique that welders often utilize is MMA or manual metal arc welding.
What is MMA welding?
MMA or manual metal arc welding (or MMAW) is also known by many other names, SMAW or shielded metal arc welding, stick welding, or flux shielded arc welding.
This welding method works by striking an arc between a work piece and an electrode flux coated metal rod. Then what happens is the work piece surface and the rod will melt to produce a weld.
The success of MMA welding depend on these factors
The welder has proper knowledge about MMA welding and is comes prepared
The welder has the right electrode
The welder has the right travel speed
The welder has the right size of the electrode to fulfill the welding task
The welder has the right arc length
The welder follows the right angle for electrode to do its task
the welder follows the right welding current
What are the advantages of MMA welding?
There are many favorable aspects of MMA welding compared to other welding methods.
MMA welding can produce more power than MIG welding, which means it can solder many stronger materials with the same degree of amperage performance.
Even small MMA inverter welders can weld up to four-millimeter electrodes. These are ideal for a wide scope of applications and thicknesses of materials without using wire feeding or shielding gas.
MMA welding has compact and portable welding machines due to inverter technology, which makes them practicable for field and on-site activities.
Compared to the other welding types in this list, MMA welding can be used for welding corrosive and contaminated metals, which make it ideal for maintenance tasks.
How does MMA welding work?
MMA welding originated in Russia in 1888 and only constitutes a metal rod that does not have a flux coating to enable gas shielding.
In the 1900s, the Kjellberg process was established in Sweden, and the coated electrode was included. And around this time Quasi-arc method was developed in the UK.
However, coated electrodes took a while for welders to adapt to their welding processes due to their high expense.
Soon the demands of sound welds became prevalent, and coated electrodes became in demand.
MMA welding works by having an electrical arc generate extreme heat between the electrode and piece that has to be welded.
As the electrical arc is supplied between the electrode and workpiece, it melts them and forms a weld pool.
The electrode has an outer layer called the electrode flux, whose purpose is to melt and create a barrier across the weld pool. It then prevents it from becoming contaminated and enables it to make an arc.
The melted pool then cools down and creates a substantial slag over it.
After completion or before putting in another weld bead, the slag has to be stripped away. Which enables the creation of shorter weld lengths. And the electrode's length will be apparent before introducing a new electrode to the holder.
The power source of an MMA welding machine uses an AC or alternating current, which are mainly for minor maintenance tasks.
Larger machines that use DC or direct current power sources are used in bigger industries.
It is worthy of notice that not all DC electrodes can function on AC power sources. Yet an AC electrode can operate on both AC and DC, and the most widely utilized is DC.
FAQ
What is MMA inverter welding?
Newer inverter welder models provide excellent benefits for MMA welding and can solve many issues, which made it more efficient.
The selected power source for the inverter welding should have enough power to melt the electrode and welding material. It also needs to have enough capacity to maintain the arc voltage.
MMA welding necessitates a higher output ranging from fifty to three hundred fifty amps and at a lower voltage ranging from ten to fifty volts.
Also, the electrodes designed for MMA inverter welding are made to function on different power outputs and voltage levels and are still recommended to go through its user's manual before usage.
Here are some benefits that MMA inverter welding has:
It has efficiency levels and high control
It is compact and lightweight
It can enable high output for low input
It has an energy-saving power source
Is MMA welding a beneficial welding technique for welders?
In the modern age, MMA welding is used in many applications, in small and large capacities.
MMA welding is incessantly used due to these benefits that welders found to be helpful:
Its low cost – compared to other welding methods, MMA welding equipment is relatively inexpensive, and maintaining them is also of little expense.
It is flexible and versatile – Even though MMA welding is typically utilized for iron and steel pieces, it can also be used in various materials.
The following metals, like aluminum, nickel, and copper alloys, prove to be compatible with MMA welding, producing an excellent welding output.
And compared to MIG and TIG welding, MMA welding is not affected by harsh weather conditions, which makes it incredibly efficient for outdoor use.
It is uncomplicated – Powering a typical MMA welding machine provides little complications, and its welding technique is also fairly simple.
It is the mobile -The best thing about MMA welding machines is that they are lightweight, compact, and sustainable for usage in any location, indoors or outdoors.
What is the history of welding?
The invention of welding is one of the most significant discoveries in developing modern construction and metal fabrication.
Welding originated as far back as three thousand years ago and led to creating utensils, weapons, jewelry, etc.
The bronze and iron ages were the time people started fusing metals through welding. The oldest artifact discovered was made through welding procedures were small gold boxes dating back two thousand years ago.
Ancient welders had fused iron, bronze, copper, silver, and gold to make various items for thousands of years.
In China, around five hundred AD, Chinese metalworkers invented the process of turning the iron into steel. Around the same time, Japanese metalworkers created Samurai swords through forging and welding steel.
During the Middle Ages, iron became the preferred metal to create functional objects, then the blacksmith trade began and flourished. Forge welding was developed at this time and practiced to this day.
Blacksmiths were central tradecraft in the Middle Ages and made furniture, horseshoes, locks, weapons, and many essential items needed during that time.
Around the nineteenth and twentieth century, welding techniques became modernized and developed, which includes all essential welding practices used today.
These developments led to the creation and invention of many crucial welding procedures and equipment like the electric generator, gas cutting and welding, stable arc welding, and many more.
In the mid-twentieth century, many welding techniques were invented and established. And examples of these were underwater welding and stud welding.
After thousands of years of development, welding has advanced significantly to become more efficient, accurate, and quick.
Modern welding practices now have over ninety welding techniques in use, and these are being developed and applied in transportation, nuclear, space, and many more.
These new welding methods have been developed to provide safer, better, and more sustainable welded products.
Do you need to remove oil or rust in a workpiece before performing MMA welding?
Compared to other welding methods, MMA welding is more adaptable to dirty surfaces.
However, having clean workpieces is always a more efficient and better way to do welding tasks. You can use coarse sandpaper to grind rust and a wire brush to clean off any dirt or grime on the workpieces.
However, a good welder has to come prepared before performing the welding tasks. Unpreparedness will result in slag inclusions, cracking, and fusion deficiency.
Tip for novice welders: Remember CLAMS
CLAMS mean Current, Length of arc, Angle of the electrode, Manipulation of the electrode, and Speed of travel.
All of these elements should be in perfect unison to provide an excellent MMA weld.
Conclusion
The four types of welding (MMA, MIG, TIG, FCAW) are the most commonly used by welders and MMA most of all.
As you have already learned, MMA welding provides better benefits and advantages for welders. Specifically for the ones looking for an inexpensive means to weld.
However, safety is still a must, and make sure you are wearing protective gear whenever performing MMA welding or any of the other types.