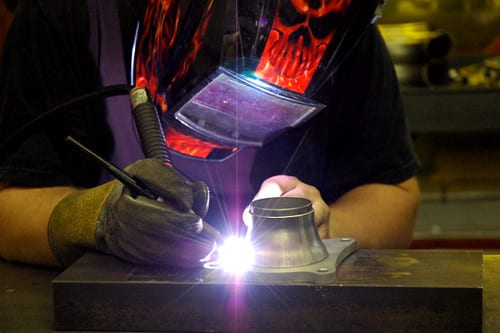 Any welder worth his salt would know how difficult it is to get to TIG weld stainless steel.
With TIG welding, you would need a far higher manual dexterity level compared to MIG welding, which is mostly automated. This usually takes some time to master.
Additionally, there can be scores of things that can go wrong, resulting in a shoddy final output.
For newbie welders just starting out, we will guide you on some of the most common problems one faces in this line of work and how to avoid them. We will also describe some TIG welding techniques you can use for better results.
If that sounds good enough, let us dive right in!
How To TIG Weld Stainless Steel
At the start of the process, the welder turns on the gas valve situated in the TIG torch. He positions the torch right on top of the weld joint so that the gas flowing out creates a barrier against the atmospheric air.
Next, the welder would press the foot pedal to start an electric arc between the tungsten electrodes. The heat from this arc melts the stainless steel pieces forming a pool.
With his other hand, the welder than expertly uses his filler wire to fill out the puddle and join the two separate pieces into one.
Top 10 TIG Welding Steel Problems:
If you wish to improve stainless steel TIG welding, here is a list of few common problems that you may want to look out for and avoid.
Insufficient gas usage leading to contamination
Atmospheric gases react with weld pool metal creating contamination.
One way to prevent this is by shielding the weld set up with inert gases. However, when you use too less gas, the shielding may not work.
To address this, you can do the following:
Check what gas you are using for TIG welding. Usually, a mix of helium and argon is used.
If by mistake you end up using a cylinder of carbon dioxide and argon mix that could cause contamination
In TIG welding, too much gas flow is to be avoided. A high-speed flow can be detrimental as it often causes to suck up contaminants from the surrounding air.
Check your pipes and hoses to ensure there is no leakage. Any hole in the pipe can cause normal air to mix with the noble gases, thereby polluting it.
Sometimes even the gas tank may be already contaminated. This happens rarely, but it is an option you cannot discount. In such cases, you need to get in touch with your gas supplier.
Graininess in Weld
A defective welding rod or problems with the filler metal can cause the weld to appear grainy.
Also sometimes welding at very high temperature might cause excessive dilution of the base metal. When gas bubbles get trapped in this metal pool, it might lead to a grainy appearance.
In order to prevent this, try to set the temperature right.
Also ensure to use clean metal for welding and remove all dirt, paints and grease from the surface.
To get the perfect TIG welding beads, make sure to address these concerns.
Craters In Weld
If you bring down the welding temperature too fast or remove the filler rod too soon, it may lead to a formation of a crater or a hole which eventually would cause cracking.
Some good quality TIG welding guns have automatic controls to reduce current flow gradually towards the end of the welding process. This helps in gradual cooling as opposed to an instant drop in temperature.
Lack of Sufficient Cleaning Of The Steel
Cleaning steel before welding is crucial since a dirty metal would result in an ugly-looking weld due to oxidation.
Contaminants like dirt and oil can also impact the strength of the weld resulting in a weaker product.
Make sure to clean your stainless steel surface diligently before welding to get a better finish.
Cleaning can be done by giving a soap water wash for easily removable dirt.
For more difficult stains and coating of impurities, sandpaper scrub followed by a wash with a cleaning chemical could be advisable.
Discolouration In Weld Caused By Excessive Heat
Too high temperature can lead to colourations on the stainless steel surface as well as make it structurally weaker.
Atmospheric gases mix with the weld at high temperature to create coloured streaks.
Discolouration could ultimately impact the metal's resistance to corrosion and make it structurally weaker.
Heating can be reduced by decreasing the flow of current, by reducing the arc length and by enhancing the shield gas quality and quantity.
Sugaring
Another name for sugaring is oxidation.
While you are busy welding one side of your stainless steel, the back end is often left exposed to air which can create oxidation.
Ensure to use good quality noble gases to protect the backside from such distortions.
A good quality back purge setup would usually prevent such problems.
High Amperage
Welding current determines how fast the electrodes melt, which determines the metal deposition rate and the amount of metal molten.
Too much amperage can waste electrode, cause excessive welding and result in distortions.
Distortion created by Improper Arc Length
During welding, the base metal along and the weld metal keep expanding and contracting depending on alternate cycles of heating followed by cooling. This change in temperature leads to change in physical and chemical properties, creating distortions.
Arc length is another term for the distance between the metal that needs welding and the electrodes.
The voltage at which welding is done depends on the length of the arc. More the arc length, more is the voltage. Very high voltages increase chances of crack formation in the metal and cause difficulty in slag removal.
Getting to gauge the right length usually requires some practice and experience.
Stainless Steel Welding Tips:
Listed below are a few tig welding tips meant to help you weld like an expert!
Keep your Work Area Separate
You need to make sure not to use tools made of carbon steel while cleaning stainless steel.
Keep your TIG setup for stainless steel separate to prevent exposure to carbon steel which can cause corrosion and defects in welding.
While welding stainless steel, ensure to wear gloves so that oil and moisture from hand don't pass on to your steel.
Select The Right Tig Torch
One key point to keep in mind while choosing what torch to use while stainless welding is the kind of insulation it has. Insulation made of silicon rubber prevents high-frequency leakage and cracking.
Another important consideration is the cooling mechanism of the torch. Go for an air-cooled TIG torch for applications needing less than 200 amps and involving thin metals.
For higher amp processes, use a water-cooled torch as it helps combat overheating.
Go for a torch with movable necks that allow you to manoeuvre difficult positions while welding.
Decide on The Right Diameter for Your Tungsten Rod
As a general rule keep in mind that heavier the steel that needs welding, larger the diameter you need for your tungsten rod.
You will have a rough time doing your job correctly if you do the reverse. For example, if you use a large diameter rod for welding thin gauge stainless steel, you would start seeing stars trying to get it to weld!
The purity of tungsten content in the rod doesn't matter as much as the welding rod gauge sizes do in getting your welding done right.
Clean Stainless Steel Before Welding
Cleaning metal for TIG welding is exceptionally crucial.
You can use some soap water or ammonia solution for stainless steel with superficial stains to clean it. However, ones with more tough dirt and grime may need cleaning solutions and chemicals to be used.
Scrubbing with sandpaper may help. If there is too much rust on the surface, you can go for blasting. Once done, follow it up by wiping the surface with acetone to remove any remaining contaminants.
Choose on the Shape Of The Tungsten Tip
When you are welding light gauge stainless steel on low amperage, using a pointed tungsten tip makes sense. The tapered tip helps in focussing the arc on achieving perfection.
A truncated tip works well for higher amperage applications.
Keep Your Filler Tip Clean
The sharper the tip of your stainless filler rod, the more precise your arc will be, helping you to weld aesthetically.
While most welders start out with clean tips, during the welding process, as the filler wire keeps coming in to contact with molten metal, some of that liquid sticks on the end of the wire and solidifies forming a bead on the tip. This keeps growing the more you dip it into the pool.
This makes you lose your precision and gives a dirty appearance to your job.
Increase Usage of Gas
Atmospheric air is a medley of chemically active elements that can contaminate if they come in contact with the molten weld pool metal. They form bubbles that get trapped in the molten pool and then solidify giving a distorted appearance.
These gases also react with the metal in the pool, forming different compounds that impact the integrity of the weld structure.
Therefore the practice is to create a shield around the pool using chemically inert gases.
What gas do you use for Tig welding stainless steel?
Pure argon- Its benefits include wider availability, lower cost and ability to create arcs of high frequency
Pure Helium -It has high speed and higher heat conductivity. This makes it suitable for using while welding thick metals.
However, its availability is less and is more expensive compared to argon.
A mix of argon and helium- The percentage composition of helium and argon will determine the characteristics of the mix. Usually, a higher helium content will help get a hotter arc, but the arc stability might reduce. The helium percentage can vary anywhere between 25-70%
Decide on the temperature
Amount of heat you need for welding depends on the steel you want to be welded.
For austenitic steel which is the most common type of steel and made of an alloy of chromium and nickel, don't use too much heat and don't preheat.
For Martensitic steel, on the other hand, preheating is required to prevent cracking.
Too much heat can lead to an increased grainy appearance by reducing the speed of cooling.
It can also affect the toughness of the metal and make it weaker.
Decide On What Filler Wire To Use
What size your filler wire is and what it is made of will determine your welding quality.
The material used for welding must be the same quality as or better than the metal being welded. Otherwise, the welded area might turn out to be a weak point for the metal.
One can determine the right size of the wire from experience.
Back Purging TIG Weld
While welding, the underside of your metal being weld, comes in contact with air if not appropriately shielded, leading to oxidation and creation of ugly stains.
Back purging covers the backside of your weld with aluminium wrap and shielding gas to prevent direct contact with atmospheric air.
Inert gases like argon do not react with metals. By introducing a layer of such gas around the molten weld pool, one can prevent oxidation by reactive gases present in the air.
Cool The Welded Metal
Too much heat on your weld can give rise to colourful streaks of blue, red and black on your welded metal.
To prevent such colouring, you need to slow down your speed a bit. What that means is while welding your metal the moment you notice some colour showing up, switch off your gun and let the metal cool down before starting again.
This can help give you a much neater appearance once your weld is done.
Some More Tips On TIG Welding Techniques
Perfect Fit up: This makes sure that you use only the necessary quantity of filler material
Foot and Finger control: With foot control, you can change the amperage with your foot while using your hand to guide the torch. But when you are working on difficult positions like on ladders, you may opt for fingertip control.
Size of the Weld Puddle: Keep the puddle no thicker than that of the base metal. If your puddle grows more significant in size, you can reduce the heat settings using your foot or fingertip control.
Gas Flow: Do not turn off the gas until the orange colour of the puddle fades. Also, make sure to handle the torch carefully. If you move it faster than required, gas may be diverted away from the electrode and cause it to turn black.
CONCLUSION:
Whether you are an amateur or a seasoned welder, learning to properly TIG weld is crucial. The quality and durability of the finished product make TIG welding such a highly recommended type of welding for stainless steel.
But as with any high-quality product, a lot of effort is needed to get things perfect.
This article intends to be your go-to stainless steel welding guide. Reading this would familiarize you with the primary problems welders face in TIG welding stainless steel. You would also have learned how to avoid those pitfalls.
Next time you decide to weld steel, adopt some steps taught here and watch all your steel welding troubles disappear!