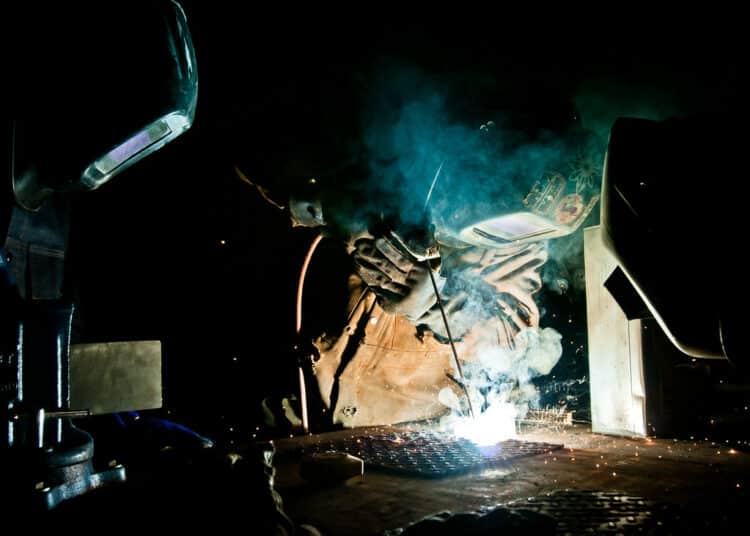 When it comes to welding, safety always comes first. Welders are always required to wear their safety equipment at all times. The safety gears includes the fire blanket for welding. The welding blanket is made of different materials that are fire-resistant and protects the welder from spatters while welding.
This safety gear varies from one to another, depending on the purpose. Even though it is primarily made to protect the welder, creative individuals have developed a way to solve their problems and needs. In this article, you will learn all you need to know about fire blankets for welding.
Materials used to make fire blanket for welding
When it comes to welding blankets, material plays a huge role. Below are some of the materials that are used to make welding blankets for welding purposes.
Leather fire blanket
Leather blankets never disappoint. Though expensive and a little heavy, this type of welding blanket can last a lifetime compared to the fiberglass type. In addition, it can withstand high temperatures, and therefore you can be assured it will protect you from sparks and splatters.
Felt fire blanket
Felt is not that common, and not many know about it. However, this material is more fire-resistant than leather and fiber. It is also more comfortable than any of them and less irritating. The only reason that makes it less valuable is that it does last long. This means that as soon as you purchase a new one. It won't take long before your back on the streets again.
Fiberglass fire blanket
Fiberglass is the most common type of fire blanket in use. It is made from a similar material that makes glass. When it comes to fiberglass, you can be guaranteed you will never reach its melting point in your workshop.
Fiberglass fire blankets are cheap and durable. The only thing that many hate from fiberglass is that it can be uncomfortable at times, especially when it loses small sheds. This makes it less comfortable while working. However, this can be prevented by the different coating done on the fiberglass blanket.
Types of fiberglass coatings.
Various coatings are done on fiberglass. Every coating is done to add specifications on fiberglass.
Coating with heat treatment

This is the cheapest available method of coating fiberglass welding blankets. The technique makes the fire blanket cost less and, on the other hand, improves its heat resistance. Though this method is cheap, it is less effective than fiberglass shed. Expert's advice that the fire blanket coated by heat treatment should be worn using gloves.

Silicon and acrylic coating

The combination of both materials makes them best for coating fiberglass fire blankets. They also feel smooth on the skin. However, the only downside to this coating is that they are not resistant to high temperatures.

Vermiculite coating

This type of coating is the best for coating fiberglass fire blankets. This material does not irritate your skin and has high resistance to high temperatures. The vermiculite coating is the best choice for anyone who wants the fiberglass welding blanket.
Other ways to use fire blankets
Welding blankets are primarily used for welding. However, their heat resistance features have made others develop innovative ideas to help solve other problems. Below are the proven ways that welding blankets have been used other than welding.
Welding blanket for grilling
What other way to have family time other than a barbecue on the grill in your back yard. Friends and families come to gather to celebrate on July 4th and celebrate together with a grilled barbecue.
However, no one wants ever to serve the guest with an undercooked barbecue and ruin everything. The best way to ensure that your barbecue is well-cooked is by ensuring that all the heat is directed to the meat and there is no heat loss.
Here is where the welding blankets come in handy. The blanket allows the heat to stay in and protects your smoker from wind and rain. You wrap it around your cooking chamber, and you will burn less fuel with excellent results.
Camping welding blanket
Welding blankets have helped families to have easy camping in their backyards and not destroy their lawns. You can light up a bonfire, and since the welding blanket is entirely fireproof, you can be assured of perfect camping. However, one should be careful of the type of fire to ensure that not exceed that heat level indicated on the fire blanket.
Since they are fireproof, you can use a welding blanket for fire emergencies, such as extinguishing the fire. Fiberglass types are especially best to extinguish fire due to their high resistance to heat.
Welding blanket for safety purposes at home
Welding blankets are also used at homes to put a small fire, especially in the kitchen. Many homeowners put it beside fire extinguishers to help in fighting the fire. It easily puts out fires, and one of the best things is that it requires no maintenance. They are so common that even restaurant owners have them in their kitchens to put out fires.
Specification of welding blankets
When selecting the right welding blanket, specifications are paramount. Below are specifications to consider when choosing the right welding blanket for you?
Firefighting blanket
This feature runs through all the specifications. However, there are some made purposely to help you fight and prevent fire at home. Other factors that help you not fall to fire hazard:
Must be durable and long lasting

You must ensure that your welding blanket does not tear or crack. Otherwise, it will not serve the purpose.

For heavy-duty, they must follow the BS476 Pt 20

Medium duty

It is a flexible variety of welding blankets. It serves the purposes where you require wrapping and does not deteriorate in quality due to frequent use. It can serve its purpose even at 290 degrees Celsius. It is mainly used in oils, grease, acids, and liquids.

Neoprene welding

This kind of welding blanket is used as curtains. It has brass eyelets that allow you to hang it vertically in your welding area.

Heavy duty

When it comes to temperatures that reach 1000 degrees Celsius and above, a heavy-duty welding blanket is the best alternative. This blanket has been put through the fire tests and ensured that it complies with the BS476 Pt 20.
Conclusion
There is more to look for when it comes to choosing the right fire blanket for your use. Ensuring that you understand the types, purpose, and specifications will help you shop for the right fire blanket like an expert. However, it best to ensure that proper care is taken on the fire blankets to ensure they last longer.