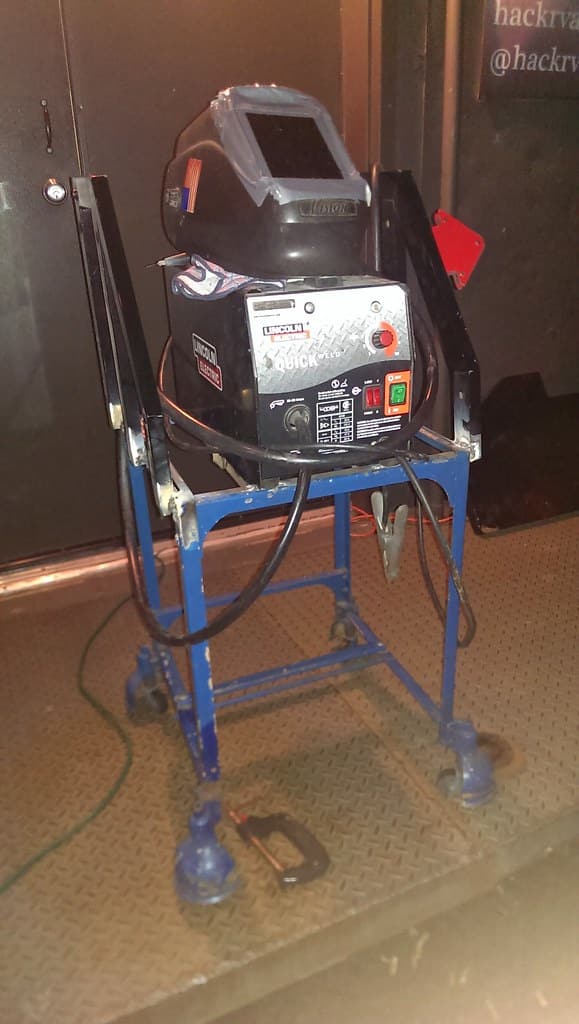 If you have been to a welding shop and seen welding machines unused at a corner, you might be wondering: why are welding carts angled?
Most welding machines are bulky and heavy, which makes them difficult to bring from one area to another.
Even more, if you are welding in an outdoor structure, lugging around a hefty welding machine will pose a challenge.
Welding carts have become essential as welding machines themselves and are practicable for welders needing mobility in their welding tasks.
What is a welding machine cart, and why is it useful for welders?
A welding cart is a practicable piece of equipment that metallurgists need as well as welders. It has storage compartments, shelves, and wheels that allow it to carry all necessary tools and equipment easily.
It is useful for welders especially, since they need many tools for their welding tasks aside from the welding machine.
A welding cart saves time walking back and forth in the welding shop and allows the welder to do quick and efficient welds.
Welding carts are especially necessary if the welding machines are heavy, like MIG and TIG machines.
Why are welding carts angled?
As mentioned, the chief purpose why welders need welding carts is to assist in their mobility.
The welding carts will save you time and unnecessary effort in hauling it around by you and someone else or having a forklift to carry it.
Here are some of the reasons why welding carts need to be angled:
Its visibility
Sometimes, welders are asked to weld in a location where they will find it difficult to do their welding tasks, like inside a crawlspace or on the ceiling. And re-calibrating the settings in the welding machine will be hard to do.
Angled welding carts are situated, in a way for welders to make adjustments with ease, even in tough welding locations.
Its safety
The way welding carts are angled prevent welders accidents from happening to the welders.
Due to the angle, the welding machine's center of gravity is low so that it would not tip over, and if not, any heavy type of welding machine might cause accidents.
Also, it will save your physical effort to bend down since you can see the machine settings while standing.
It prevents cluttering
Besides the welding machine, a welder will need other tools to do the welding task.
An angled welding cart is crucial since it can carry necessary welding tools like grinders, slag hammers, welding leads, and even personal items like energy drinks.
It will prevent any clutters in the workplace, thus preventing unnecessary injuries.
Its other features
Angled welding carts have many features that make them useful for welders. They have shelves to store many important items that welders need and are situated on a level surface.
Welding carts had had handles to push them at the back, similar to shopping carts, which makes it easy to hang and roll up other items like an oxyfuel hose slack, extension cords, extra leads, etc.
Another feature in a few welding carts is a cylinder mount, which allows welders to transport shielding gas if the welding machine used is either a flux-cored welding machine or a MIG machine.
What are the various types of welding machines?
Before learning about why welding carts are angled, you have to know the various types of welding machines carried by the welding carts.
(Some welding machines on this list are either too big or stationary, thus, do not need welding carts anymore. However, they are still included, and this way, you will have a broader scope of understanding about the different types of welding machines.)
GMAW or gas metal arc welding machine or MIG machine
Welders tend to use a MIG welding machine due to its ease of use. There may be variables that a welder might find difficult at first but will be able to pick up quickly.
This type of welding machine necessitates a gas tank (usually Argon) since it uses an external gas shield.
After using it for a while and will gain familiarity with the equipment and how different gases react, you can use various gases to work with various metals.
Stick machine or SMAW or shielded metal arc welding machine
These welding machines are available with both DC (direct current) and AC (alternating current).
A welder will need a stick or a flux-covered electrode rod, which is available in different sizes.
This welding machine does not need a gas shield to operate, so there is no need for a tank.
The rods are encased with flux to protect against contaminants, and you can use them to weld outdoors.
You can use this welding machine on rusty and painted surfaces along the electrode rod.
Stick welding does not provide the best welding output since twenty percent of the rod goes unused and produces a lot of waste.
But it is affordable and ideal for novice welders to use.
GTAW or gas tungsten arc welding machine or TIG machine

Welders that use the GTAW welding machine need to have a thorough understanding of it since it demands to multitask.
With one hand, hold the welding torch and feed the filler wire with the other.
Controlling the amps for temperature is done through a foot pedal to make it either lower or higher.
This type of welding machine is mostly used for intricate and exact welds, which work well with various metals and can be used with different metal thicknesses.
FCAW or flux-cored arc welding machine
Due to a flux-encased electrode, a welder can use the FCAW machine outdoors as well as indoors. And also, you do not need an external gas shield for it.
The electrode is continuously fed, and this way, you do not need to stop the machine then start it up again.
The FCAW machine does not emit too much smoke and electrode discharge.
It works well with thick metals and is not to be any thinner than twenty gauges.
It has similarities to the MIG welding procedure, but it is more powerful and utilizes a different gas shield.
PTAW or plasma transferred arc welding machine
A PTAW welding machine has similarities to the GTAW machine but surrounding its tungsten electrode is an anode. It acts as a shield for the electrode, shielding it from the filler used in this welding procedure.
This type of welding machine is massively built and used in large industries, which makes it more costly. It is mostly utilized in manufacturing aircraft.
EWB or energy beam welding machine
The EWB welding machine is not appropriate for home use since it needs to be operated in a vacuum due to the air absorbing the electron beams.
However, it is beneficial in welding thick and thin metals and can fuse different metal types.
AHW or atomic hydrogen welding machine
A welder needs to know everything about this type of welding machine before using it. It has a welding procedure that uses hydrogen as a gas shield, wherein an electric arc is formed between two tungsten electrodes.
This welding technique is hardly used by welders due to its high incurring costs. Yet, it can be used for thick and thin metals and is practicable for fast welding.
Gas welding oxy acetylene
This welding method combines oxygen and fuel gas to provide heat for welding. The principal feature of this technique is to produce a flame at the end of the torch.
The flame then melts the base metal and a filler to create an uninterrupted weld. This method works well with thin metal pieces but not thick ones.
With this technique, you can maintain its temperature and weld beads effectively. It is especially effective for people looking for an affordable means to weld and whose equipment is portable.
This welding method only works well with iron-based metals that are applicable in many industries.
Submerged arc welding machine
This welding machine is done mechanically wherein an arc is made between a work base and a continually fed electrode.
A powered flux is used instead of a gas shield, and then it is submerged by the arc and disappears. To reduce wastage, you can reuse it.
This welding process creates excellent and high-quality welds. Since this process is machine-based, you do not need to have experience in using it.
Multipurpose welding machines
There are types of welding machines that apply to various techniques. This way, you will not be limited to a single welding method and can do different welding processes.
These MIG welding machines can also be used for FCAW techniques, and you may need to get more accessories to accommodate it or alter their settings.
There are also TIG machines applicable for Stick procedures, and you only have to change their settings.
Where can you buy an excellent quality welding cart?
For regular people, welding cart seems to be like a new invention, but welders have been using them for a long time. And there are many places where you can get it.
Experts have recommended that the best place to choose and buy fantastic and top-quality welding carts is Amazon, the online shopping store.
Amazon has a first-class return policy whenever the item purchased is defective. It also has a comprehensive user review system wherein you can find out why buyers either love or hate the product.
The site provides potential buyers user reviews to give extra info about the item itself. It even shows videos and pictures of how the product works.
What are the factors to look for in picking the right welding cart?
Size – The size is crucial since you want one that can carry as many tools as possible, along with the welding machine.
Compartmentalization – Look for a welding cart that has its storage space well-distributed.
Build quality – The sturdiness of the welding cart is crucial since you do not want one that easily bends or breaks.
Wheels – The wheels should be made of rubber since they last longer and make it quiet. They should also be positioned in a way to evenly distribute the weight.
Price – The average price of a welding cart ranges from fifty to one hundred US dollars.
Conclusion
Angled welding carts are an excellent addition in a welding shop and save time, physical effort, probable damage to the welding machine, and cleaning up.
There are many welding carts that you can choose from, so get one now!