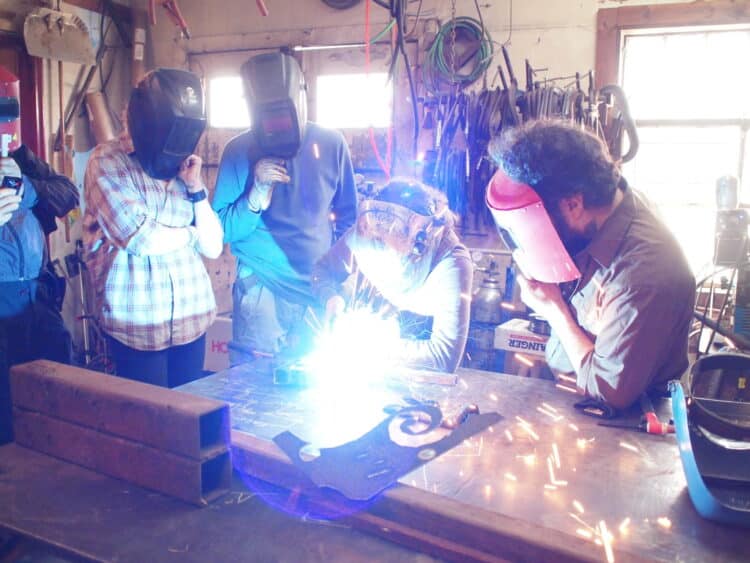 Don't worry. You're not the only one feeling torn about this issue!
Many home-welders and DIY enthusiasts are stumped when choosing between TIG and MIG welding. Both processes use very similar techniques, but when you look a bit closer, you'll quickly find their strengths and most functional purpose!
What is MIG and TIG Welding?
Many welders and DIY-ers find it challenging to differentiate between the two because both use very similar techniques! Both TIG & MIG are arc welding processes.
Both techniques use heat from a welding arc to fuse two or more materials to melt a base metal. This then forms a weld pool where filler metal is fed.
At the same time, an inert gas is added to the welding arc to prevent contamination from dirt, dust, and other gases. This will also prevent corrosion and the formation of weaker bonds.
The Process: What's the difference?
While both MIG and TIG use arc welding processes, the difference between them is how the arc is manipulated. To ensure that your weld is of the best quality, it is critical to choose which is better between MIG and TIG welding for your project's specific requirements.
If you fail to choose the right arc welding technique between TIG and MIG, it is the perfect invitation for a weak weld and corrosion.
What is MIG Welding?
MIG stands for Metal Inert Gas.
MIG uses a machine that consistently feeds a metal wire directly into the weld pool.
MIG needs a filler material, so the welding supply is steadily being used up.
The welding arc in MIG is heated by an electric current that passes through the filler metal wire.
Filler metals induce a lot of spatter, which causes the resulting weld to have an uneven surface. Further polishing of the surface is needed to produce a neater finish.
What are the applications of MIG welding?
MIG welding is generally used for large and industrial applications.
It is the best functional and affordable option for projects that require heavy-duty and thick sheet metal.
MIG welding is less complicated than other welding techniques that require "start/stop" methods. This effectively reduces the risk of any operational defects.
With MIG welding, the operator simply has to switch on the machine, which automatically feeds the filler wire into the weld pool.
Fast operations that can easily be monitored and managed makes MIG welding the perfect option for large-scale projects that require longer production runs.
MIG is commonly used in the manufacturing and construction industry to produce pressure vessels and many other steel structures. It is also widely used in the automotive and home improvement industry.
What is TIG Welding?
TIG stands for Tungsten Inert Gas.
TIG machines have a tungsten rod that stays in place during the welding process. The welding arc is formed only once there is direct contact between the tungsten rod and the base metal.
This forms an arc that is narrower than the MIG arc, effectively allowing the TIG welder to work on more detailed and finer welds and deeper penetration.
Unlike MIG, TIG does not always require a filler wire. This significantly lessens the spatter. This produces a high-quality, clean, and precise weld from direct metal-to-metal contact.
When a filler wire must be used, it needs to be hand-fed into the molten pool.
TIG welding is more time-consuming than MIG welding. It also requires special training to produce high-quality welds. A high level of skill, dexterity, and patience is required to produce a precise and accurate product.
This makes TIG welding a much more costly welding option.
What are the applications of TIG welding?
Since TIG welding produces a smaller welding arc, it is the perfect option for projects that involve small areas.
TIG is able to produce fine details. This process is your best bet for clean, precise, and accurate welds.
Many beginners ask: "Why is TIG welding so hard?"
TIG welding requires specialized training to master a process that requires an intense level of dexterity and hand-eye and hand-foot coordination.
TIG welds produce high quality and reliable products widely used for high-risk industries such as nuclear power, aerospace/aeronautics, and automotive. It is also commonly used for intricate ornamental designs and artwork,
The TIG welding process is best for short and technical projects. It will be extremely expensive and complicated to use TIG welding on industrial projects and thick sheet metal.
MIG vs TIG: What factors to consider?
Now that you have a general idea of how the MIG and TIG welding works, let's focus on some significant factors.
These will help you determine which welding method will ensure a successful project.
When does MIG have the upper hand, and when does TIG take center stage?
Find the answer by carefully considering these critical factors:
1. Material Thickness
The first thing to consider when choosing between TIG and MIG arc process is the material thickness.
Since MIG welding uses a consumable weld supply from the filler metal, it is much easier and faster to weld material that is thick.
On the other hand, TIG welding does not require a filler metal because it allows the direct application of heat to two pieces of metal to form a bond. This method is best used for thin pieces of metal. Using the same process on thick sheet metal will cause cracking and weaker bonds.
The first thing to keep in mind is material thickness: For heavy-duty and thick material, MIG welding is the more affordable and manageable method. For small and precise details on thin pieces of metal, TIG welding is the more effective method.
2. Arc Scope and Depth
This factor is very much related to the previous one.
Remember that the MIG arc is heated by the electric current that passes through the wire from the MIG machine. The TIG arc is created by a stationary tungsten rod.
These different processes impact the scope of the arc and how deep penetration will be.
The MIG arc has a much larger scope. The heat is distributed over a wider area that results in a shallower weld than TIG.
TIG arcs cover only small and narrow areas. This also means that heat is concentrated on a much smaller spot, which allows for deeper penetration to create very fine and accurate welds.
TIG is much better in terms of efficiency because the same amperage will produce higher temperatures in a more concentrated area. Since the MIG arc spans a greater surface area, a lot of heat is lost and unused.
3. Type of Material
The next thing to consider is the type of material. Both MIG and TIG are versatile welding processes that can work on almost any material.
On the other hand, this fact shouldn't give you the go signal to work on any metal using either method! Of course, one option would still be better than the other.
Here are two of the most commonly used metals:
1. Aluminum
Both arc welding processes can weld aluminum, with the exception of a TIG machine with only a DC power supply.
2. Stainless steel
Many operators often ask which welding process is applicable for stainless steel. The answer is: both MIG and TIG welding can be used!
MIG welding stainless steel is still done by a few people, but it is better to keep in mind that the majority of professional welders agree that TIG is the best welding process for stainless steel.
Stainless steel is often uncoated and unprotected. It is an expensive material that leaves very little room for any defects and errors. Choosing the TIG welding procedure for stainless steel will ensure a clean and precise weld.
Welding stainless steel with an MIG welder is usually done when the surface's smoothness and appearance are not critical. Some projects would require an extra coating after the welding procedure, so you can choose to use MIG instead.
Welding stainless steel also requires a clean and pristine surface.
TIG welding steel will be time-consuming. You need to ensure that the surface has no leftover dirt and grime. With MIG welding steel, it is easier to penetrate through dirt and other contaminants.
4. Speed
Since the MIG gun automatically feeds the filler material and electrode, it is much less time-consuming than TIG welding.
The MIG machine is specifically designed to run for continuously long periods of time, making it perfect for large-scale projects. It is also very quantity-oriented, which makes it useful in industrial operations that use automated machines.
On the other hand, speeding up the welding process too much can also have a toll on the depth of penetration.
5. Weld Quality
What are the factors that determine a high-quality weld? Let's tick these three boxes to ensure the best quality results.
1. Strength
When comparing TIG vs. MIG strength, both are reliable methods.
On the other hand, MIG welding is usually not completed perfectly. This produces a weld with many bubbles that compromise weld strength.
In this case, many operators and industries opt to use TIG welding instead to make sure that all welds produced are of the highest quality in terms of strength. TIG welding is often considered the strongest welding process.
TIG welding is the go-to arc welding process for sensitive power, military, aerospace/aviation, and automotive projects.
Since TIG welding produces a hotter arc, deeper penetration results in a much stronger bond between fused materials. The same result is possible even without any filler material.
To ensure that you MIG weld better and form strong bonds, try using weld preparations and joints that will encourage deeper penetration.
2. Precision
In terms of precision and control, TIG welding is better than MIG.
The MIG machine contains both the filler metal and the electrode, while a TIG machine only contains the electrode. The filler metal needs to be manually inserted into the pool.
This extra level of control of speed, heat, and depth results in a very precise weld. With specialized training, TIG welders can use a foot pedal or thumb switch to control these factors that will ensure a detailed and intricate weld.
In this case, TIG is widely used in artworks, construction, and ornamental pieces that involve fine detail and thin materials.
3. Cleanliness and Appearance
The MIG welding process uses a consumable filler material, making the process is prone to weld spatter, regardless of welding speed.
Aside from being an additional safety issue, sparks and spatter will also cause an unattractive weld that needs extra sanding and polishing. Though it is possible to treat the MIG weld, the result will still be far from TIG welds' pristine quality.
TIG welding weave patterns and uniform beads produce a surface that is attractive and clean. This process will rarely produce spatter that will need additional polishing, sanding, and other finishing work.
For projects that will be left uncoated, like stainless steel, go with TIG.
Some projects would not need a smooth surface because an extra coating of paint or protection will be added. Go with MIG instead to save on production time and costs.
6. Ease of Use
Beginners and non-professionals can usually figure out the proper way to MIG weld without any problems. The MIG welding process is generally uncomplicated, easier to use, and requires less skill.
MIG is often called 'point-and-shoot' because it only involves the continuous feeding of a metal wire electrode through the welder gun.
On the other hand, TIG welding requires specialized training and immense control of dexterity, timing, pressure, and amperage to create a reliable weld. You'll be using both hands to hold the torch and feed the filler metal, making it a more complicated and slower procedure.
In this case, TIG welding is a very lucrative career choice. Since the procedure requires intense skill and training, a TIG welder's salary is definitely higher than the MIG welder's.
Since TIG is extremely reliable, most projects would make use of an automated TIG welding machine. These machines can produce identical welds faster compared to a manual application of TIG welding.
When setting up an automated MIG or TIG welding machine, ensure that you set the proper controls and settings. Otherwise, you'll be reproducing welds with incorrect specifications.
7. Expenses
Since MIG welding is much less complicated, the process is faster and more cost-effective. MIG welding also requires less preparation work, which significantly reduces production time.
MIG machines are cheaper and easily available, and MIG welders charge less than TIG welders.
8. Maintenance and Clean-up
Both MIG and TIG welding require a clean and pristine torch for optimum results. But in terms of ease of maintenance of the machine, TIG is much less complicated.
Since the TIG torch doesn't require a consistently fed wire, the issue of spatter and other debris is eliminated.
MIG clean-ups are time-consuming because of filler wire spatter. You'll also be needing to do some extra polishing and sanding to get an attractive finish.
When to Use TIG versus MIG Welding?
Now that you're familiar with the strengths and weaknesses of each welding process, you can easily determine what purpose TIG vs. MIG will serve best.
The great thing about MIG and TIG arc welding is that both are very versatile and can be used on almost any material. Typical materials used by welders are aluminum, stainless steel, and carbon steel.
To help you decide which welding process is best, you need to evaluate a few questions first.
Consider your welding experience and skill, the materials you plan to work with, your budget, and the project deadline.
Here are 7 important questions you need to ask about the project:
1. What are the materials?
Both MIG and TIG welding is versatile and can be used on almost any metal and unique alloys.
MIG is best for: thicker sheet metal, including stainless steel, mild steel, aluminum, galvanized metal, bronze, and nickel alloys
TIG is best for: thinner gauge materials, including aluminum, stainless steel, and nickel alloys
2. What is the material thickness?
Number one point to remember: thicker sheet metal requires more energy to raise the melting point's temperature. It would be more efficient and cost-effective to use MIG welding on industrial projects with thick and heavy-duty metals.
For specialized and technical projects, the application of TIG welding will produce intricate detail and will reduce cracking from heat stress. TIG welding is better than MIG when working with thin and small metals.
3. Are you working on similar or dissimilar metals?
Welding dissimilar metals are not recommended. This will likely result in a weak bond and corrosion.
For welding projects that require the fusion of two different metals, it would be best to use a carefully chosen and compatible filler material.
In this case, MIG welding is the more comfortable and more effective option.
4. Is surface appearance important
For uncoated metals such as stainless steel, it will be best to use TIG welding for a pristine finish. Since TIG welding does not require filler metals, direct metal-to-metal welding may be applied to produce a much cleaner and physically attractive surface.
In MIG welding, filler material will likely cause weld splatter on the workpiece.This will require extra polishing and sanding to remove any cosmetic imperfections on the surface. For projects that will use coating and do not need a very clean finish, MIG welding is the cost-effective choice.
5. What is the project size
For industrial and large-scale projects, MIG welding will be beneficial. MIG welding was designed to optimize productivity and quantity. It is much faster, cheaper, and you can for longer and continuous runs.
TIG welding is best for specialized and technical projects that require precision and more intricate details. Since TIG welding is more complicated and requires a high level of skill, it is a slower process that prioritizes quality over quantity.
6. What is your budget and deadline?
For projects that are quantity-oriented and require higher production rates, MIG is the way to go. Using a straightforward method will allow for longer production runs. This will make the welding process faster at a more cost-friendly price.
TIG welding demands immense skill and is a slower process. The labor costs and increased work hours will make TIG welding more expensive than MIG welding.
7. What is your skill level?
MIG welding is simple and requires less control, making it an easy option for beginners. Some welders joke that MIG welding is no harder than using a glue gun!
TIG welders will need to have specialized training to hone their dexterity, coordination, timing, and balancing skills. Before wielding a TIG torch, remember that with great power comes great responsibility!
MIG vs TIG Strengths and Weaknesses
Still a bit confused about which welding process will be best for your project? Refer to this simple comparison between MIG TIG's strengths and weaknesses.
MIG Welding Strengths
* Simple and easy operation
* Fast production times
* Cost-effective
* Best for on large-scale and industrial projects
MIG Welding Weaknesses
* Weaker bond
* Spatter results in unattractive surface
* Safety concerns include spatter, sparks, heavy smoke, fumes,
* Will damage thin and small metals
TIG Welding Strengths
* Precise and strong welds
* Clean procedure with minimal spatter
* Controllability is easy with remote controls
* Low maintenance machine
* Filler metal is not required
TIG Welding Weaknesses
* Only trained professionals can produce a quality TIG weld
* Time-consuming
* Expensive operational costs
Now we get to the real question: What is better, MIG or TIG welding? The answer is neither!
Each arc welding process has its pros and cons. It will all depend on your project needs and specifications.