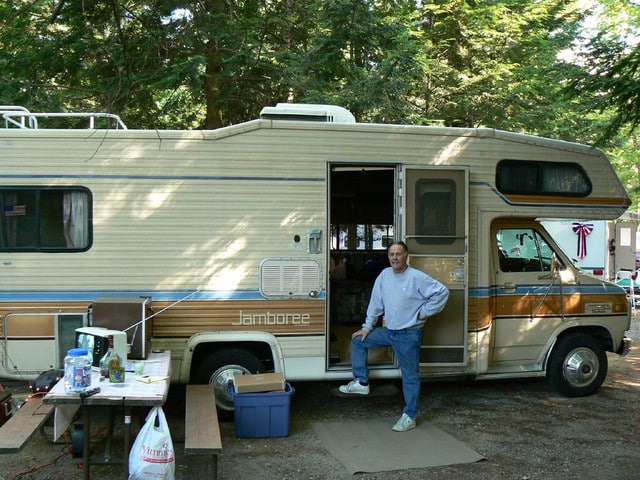 Are you curious to know how to store RV water filter on a trip?
Owning an RV (or recreational vehicle) means you get to go on road trips with you and your family. You will get to relax, watch the sights, go camping and sleep under the beautiful night sky.
You will also need to bring all the necessary stuff for the trip, and one basic necessity that you must have in ample supply is water.
Having access to a clean water supply that you will need for drinking, showering, washing dishes, etc., is an essential element for RV road-tripping.
To be able to have plentiful water in your adventures, you will need to bring an RV water filter along, but you also have to know how to store it.
But before learning the procedure in storing an RV water filter, it is also essential to learn about the various types of RV filters available in the market today. This way, you will know which will suit you and your RV best.
What is the best RV water filter that fits your needs?
A particular RV water filter's goal is to get rid of sediments, harmful minerals, and many other contaminants from the water supply in your RV.
Whenever you decide on a pit stop, you have to deal with campground water, which you do not know is safe to drink or not. Some water types in campgrounds are so bad that they are even unsafe to wash in them.
However, there are ways to fix that, and one is an RV filter.
What are the types of RV water filters?
Exterior RV water filter
This type of RV water filter goes between the freshwater tank in your RV and the campground water hookup.
It is also called an inline water filter since it filters out all kinds of water that enters the RV, including drinking water. It wants you will typically find when you look for a filter for the hose in your RV.
Its outlet and inlet size is a three-fourth inch threaded fitting that will fit any RV drinking water hose.
The price of an inline water filter varies, ranging from inexpensive with simpler functionalities to pricy and complex systems.
The more expensive systems merge the inline filter functionality with water purification and employ sediment or carbon filters.
These types of inline filtration systems are made to get rid of weird smells and sediments in the water, which enter the freshwater system of the RV but are not able to eradicate harmful microorganisms.
Interior drinking water filter
These types of water filters are situated between your RV's fresh water tank and the faucet for drinking water.
These kinds are not specifically made for RVs and can be used in an average household.
Here are the best types of water filters that you can use in your RV
Carbon water filter – It can remove the smell and taste of chlorine in campground water systems. It can also remove other impurities like pesticides, herbicides, and other VOC or volatile organic compounds.
Carbon acts like a magnet by having the impurities adhere to the surface like Velcro.
Sediment water filter – Its principal purpose is to remove dirt, grit, and debris in campground water and protects the RV's plumbing system from wear and tear.
This type is recommended for all RV users since most campground waters have sediments and need filtration.
UV or ultraviolet water purification – This type of water filter works well in getting rid of microorganisms like viruses and bacteria by exposing them to ultraviolet wavelengths, which kill them.
Some microorganisms are disease-carrying and can potentially spread to everyone in the RV.
They come in the form of UV lamps that employ radiation to disable their ability to reproduce and infect the water source.
Reverse osmosis water filter – This type of filter is one of the most effective and powerful filtration systems in the market today and incredibly useful in an RV.
It works by letting water go through a semi-permeable membrane made of uncountable pores that breaks up solids and salts out of the water.
An RO filtration system usually include a sediment pre-filter (for debris extraction) and a carbon post filter (to remove weird tastes and smells).
How to store RV water filter
Whenever you go for an adventure with your family in an RV, you have a checklist in mind of the things you need to bring and do. Food, water, and a handy water filtration unit are on top of the list.
One task that should not be ignored, which can make your RV road trip easier and worthwhile, is to store your RV water filter in between trips.
It will save you lots of time and money if you do this procedure and will enable you to reuse your RV filter for your entire trip in the days to come.
Storing an in-line water filter
When you are not using your in-line water filter (or exterior RV water filter) in between trips, here are a few steps you need to do:
First, thoroughly drain it with excess water
Seal both ends with plastic caps that came with the filter upon purchase. You can also attach a three-foot hose on both ends
Put it inside in a zip-lock bag and seal it
Put it inside your RV refrigerator (or cooler)
If you do not have a fridge in your RV, store it inside a cupboard or any dark compartment to prevent bacteria from growing
Some claim that painting your inline water filter can block harmful exposure to the sun, but there is not sufficient evidence to support it. But you can still apply fluorescent paint or tape for people to avoid tripping on it
Storing a two-stage water filter
A two-stage water filter storage follows most of the same process as the above mentioned inline water filter procedure:
First, thoroughly drain it with excess water
Seal both ends with plastic caps that came with the filter upon purchase. You can also attach a three foot hose on both ends
Put it inside in a zip-lock bag and seal it
Put it inside your RV refrigerator
If you do not have a fridge in your RV, store it inside a cupboard or any dark compartment to prevent bacteria from growing
Be sure not to place it inside the freezer since it would destroy and renders it unusable. Ice crystals will tear open its paper like material and damage the carbon
Storing a fresh water hose
The freshwater hose is as crucial as the water filter itself and should be stored appropriately. It is not the same as a regular garden hose wherein you just coil it up and toss it in the garden shed.
The difference between freshwater and a garden hose does not end there. The main difference is how the water lines are made.
The purpose of a garden hose is for outdoor gardening use, whose liner is designed to prevent leaks.
But RV water hoses have specially-made lining used for bathing, human consumption, and many more. It also prevents chemicals, pesticides, and other impurities from seeping through the hose.
It is the reason why many owners choose an inline water filter for their RVs because of the cleanliness and safety assurance a freshwater hose provides.
Here are some storage tips that you can do for your freshwater hose:
After you are done using the freshwater hose and coil it up, make sure to let the other end loose on an RV jack pad or any other clean surface to let the water drain out.
Clean the brass ends with water and plug in the hose caps. Or you can also screw in together the female and male ends. This act prevents any foreign objects from entering the freshwater hose.
After making sure all the water has been drained, and the opening capped, store the freshwater hose in dry storage bin wherein you can seal it to prevent any water from leaking in.
RV freshwater hoses have a five to ten-year lifespan. Before going on an RV road trip, make sure it is in proper working order by running water through it at home to check for leaks.
Brass connection leaks can be fixed by substituting the rubber gasket. Also, ensure that the exterior surface is clean and any possible contamination from the hose itself.
You can also disinfect the freshwater hose by washing it with a mixture of bleach and water, about one-half teaspoon for five gallons.
If all else fails, you can just replace them by buying one, which only costs about twenty US dollars.
What are the benefits of RV water filters?
An RV water filter improves the taste and smell of your water by eradicating impurities and pollutants
An RV water filter protects your RV's plumbing and water-based appliances from damage and sediment buildup
An RV water filter keeps you safe from harmful bacteria and other microorganisms
An RV water filter will save you money since you would not need to buy water bottles
A RV water filter helps in reducing environmental impact since you would need plastic water bottles anymore
The price for these types of filters ranges from quite affordable to very expensive and fancy. This way, you can choose the best one, which is based on your preferences.
FAQ
Do I need an RV water filter for my road trips?
Fresh, clean, and potable water is an essential component for every human being in all situations. And more so in road trips, wherein you cannot be sure of the kind of water you are going to get whenever you do a campground pit stop.
Your RV is equipped for all types of amenities in your home like a functioning kitchen, shower, electricity, water system, etc.
You will find out that many places you will stop over have unclean water that smells and have lots of contaminants. And that is the reason why you must have a comprehensive water filtration system in your RV.
What is the right amount of water should I filter for my RV?
It will depend on how many people will use it in your RV and the type of campground water you will get at the very stopover.
If the water is especially smelly and dirty and full of sediments, you will have to filter all of it. There is no harm in having extra water in your RV that you may need In various situations.
Most waters from campgrounds are chlorinated or come from well water sources, which can be removed by carbon filters.
Can I remove the weird smell and sediments with a single filtration unit?
Yes, a single unit includes a carbon filter and for removing sediments. Some RVs have these already built-in upon purchase.
It is inexpensive, compact, and quite useful for long road trips for a regular-sized family.
For longer trips and bigger families, it is best to have either a two-canister or three-canister water filtration system, which is more comprehensive compared to single canister units
.
What is the average lifespan of an RV water filter?
A typical RV water filter has a lifespan of three to six months. But how long yours would last will depend on how many times you use it, where you will be storing it, and other factors.
RV owners that use it full time will quickly wear it out within three months, while those that only use it rarely like only on weekends can make the same filter last for six months, and also with proper storing methods.
The cartridges that a three-stage water filtration use can last longer than six months if cleaned properly.
These filters are sensitive, so make you are using the right cleaning agent with the right solution to clean them.
Can your RV water filter get rid of bacteria?
Unfortunately, the best water filters made for RVs cannot remove bacteria in the water. But except for UV water purification that eradicates bacteria via UV lamps.
Campground water comes from municipal water sources, which sometimes have microorganisms like bacteria. They are most likely undergone treatment like chlorination, but some just break through.
However, municipal waters must adhere to government standards concerning microorganism counts and treatment methods like the one mentioned above.
Also, commercial level filtration systems are employed by natural wells to lower virus and bacterial counts.
What order should I put my filters in my RV water filtration system?
If you have decided to create a comprehensive filtration system in your RV that includes many filter types, putting them in the proper order will be more effective.
The sediment filter should come first since it can protect the more sensitive and expensive filters onwards.
The next is a combination filter or merely a carbon filter to get rid of any weird taste or smell.
The next are specialized cartridges that filter out arsenic, iron, etc. If you are in a campground where these contaminants are not present, leave the third cartridge empty to enable faster current.
How do I clean my RV freshwater tank?
Whenever you want to clean your freshwater tank in your RV, you have to thoroughly sanitize it. Create a solution consisting of one-quarter cup of bleach for fifteen gallons of water.
Mix it in a container able to carry one gallon, then pour the contents onto the freshwater holding tank.
Fill the tank almost full with water drinkable water, and you are done sanitizing it.
Where is the water filter usually located in the RV?
A typical recreational vehicle will have the water filter installed inside, so it does not take up space outside and may cause unnecessary injuries.
It is set up specifically at the point where the municipal or city water can be attached and enter your RV. This location is beneficial since you can install a bigger RV water filter that can do more work and provide more potable water.
Does RV water filters soften hard water?
As mentioned above, the chief purpose of RV water filters is to specifically remove sediments and weird tastes or smells of water coming from campground water.
Most RV water filters are not equipped to remove the hardness in water, so you have to purchase a water softener separately, which you can attach to your RV filtration system.
If I only use my RV water filter during weekends, how many times can I use it?
For RV owners that only does weekend road trips, they can use it for as long as six months. If they properly adhere to the water filter storage procedures as mentioned above.
That would make it twenty-six weekends in six months, which is a lot of time and more than three months than the regular lifespan.
Conclusion
Family road trips in an RV are the kind of journeys worth remembering. You can have adventures and relax at the same time.
Sufficient water is crucial to making these trips a success, and you cannot accomplish that without an effective RV water filtration system.