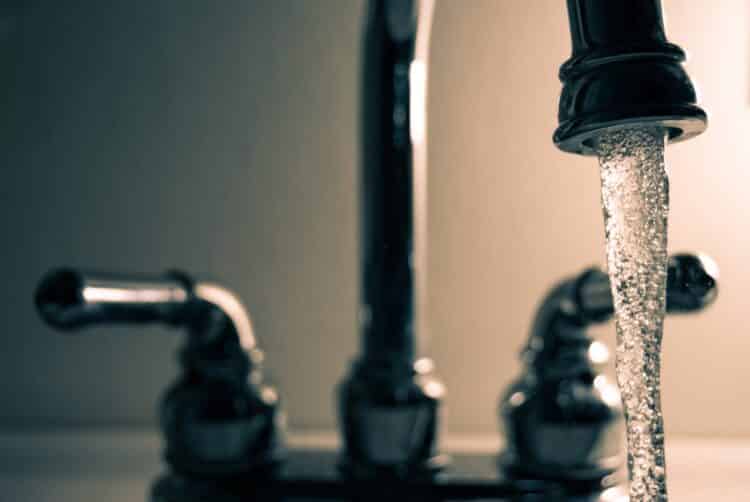 Imagine you just finished your afternoon jogging with your dog. Both you and your pet are tired but happy from that bonding activity. You get water from the tap only to see brownish water coming out of the faucet. You smelled it, and you get repelled by the rotten vegetables odor. You officially have contaminated brown well water! The instant question that comes to mind: how to get rid of brown well water.
In this article, we will look at the causes of the discoloration of water. We will also answer the following questions. Is this brownish water harmful to drink? You'll also learn how to get rid of it.
What are the causes of water discoloration?
There are five common causes of discoloration in the water. These are:
Iron
Rust
Silt
Tannins
Iron bacteria
Let us discuss each of them to see how they contaminate the water supply.
Is iron harmful to the body?
Iron is a vital mineral needed by the body. First, it regulates hemoglobin, a nutrient that carries oxygen to the bloodstream. It also helps increase the energy used by the body to do everyday tasks. In addition, iron increases body immunity.
On the other hand, too much iron can cause mental disorders, cancer of the liver, and diabetes. Pregnant women are prone to iron deficiency anemia and must take supplements prescribed by doctors.
So, having iron in water is not deadly as it is. But consuming large amounts over long periods can be harmful to your body. Also, a heavy concentration of iron will cause the water to have a metallic smell and taste. It is a foul and offensive odor to most people.
In addition, iron in water can cause stains on your clothes. Your whites will have brownish to yellowish spots. You will also notice that your faucets and showerhead will get the same brownish residue. It is the result of brown well water.
Why is there rust in my water?
Rust is a chemical process that happens when iron combines with oxygen. Since water is one part oxygen, exposure of metals such as pipes to water will eventually lead to rust.
Drinking rusty water is not deadly, but it can affect your skin and hair. Rust removes natural oil that makes your skin dry and itchy. As for your hair, rust can cause it to break and weaken, leading to split ends.
Rust can also clog and damage your appliances that depend on water. It includes your washing machine, dish dryer, and water filter.
Seeing rust in your water is a sign of a bigger problem. If you do not fix it, your pipes can burst. If this happens, the internal pipe system of your house will get flooded and discharge water all over the place.
How did silt get into my water?
Silt is sediment that looks like dust but is a bit smaller than sand particles. It is due to the erosion or decay of rocks by the force of water, ice, or wind. Silt settles in water but is not 100% dissolved.
You can spot silt contamination by simply filling a clear glass with brown well water and letting it settle for a few minutes. If you see deposits at the bottom of the water, then you have a siltation problem.
Silt can reach your water supply through flooding, well-drilling, or damaged pipe systems. Rainwater can also seep into the soil or flow through a broken pipeline.
Silt water may taste weird and look muddy. But it is not deadly to drink. The problem is when the silt gets infected by bacteria like E.coli. It can cause diarrhea and other infections. Pipe leaks that absorb water from flood or sewage systems are likely to carry bacterial infection.
What makes up tannins?
Tannins are substances found in plants and fruits. Leaves, tree barks, fruit skins, and grass all have tannins. This natural chemical has a bitter and astringent taste. They mix with rainwater or ice and finds their way to your water source or broken pipes.
You will notice tannin-contaminated water through its appearance. It looks like water dipped in tea. It is not deadly to drink this brown well water, but it doesn't taste good. Also, it can stain your clothes, leaving marks that even bleach will not be able to remove.
Do this simple experiment. Completely clean your surroundings of dried leaves, mowed grass, and fallen fruits. And then observe the water from the tap in the next few days. If it clears up, then the juice or tannins from plants are the culprits.
Why are iron bacteria in my tap?
Iron bacteria are organisms present in the soil, wells, and natural bodies of water like lakes and rivers. It feeds on iron and oxygen. If there is abundant iron in the water, the bacteria multiply fast. And this causes the water to change to a brownish color.
An easy way to check if brown well water has iron bacteria is to look for slimy deposits. It is colored reddish-brown. Find them in the toilet flush tank, water filters, or the wall of the water well.
This type of bacteria is not responsible for any diseases in humans. But it produces a foul odor and bad taste in tap water.
Also, the rapid growth of iron bacteria invites more bacteria that have harmful effects on us. One example is the Aeromonas hydrophilia that causes abdominal pains, diarrhea, and vomiting.
Other effects of the iron bacteria are clogging of pipes and waterways, faster corrosion of plumbing devices, and damage to appliances that run with tap water. It includes washing machines, water heater and cooling systems, and water purifiers.
What is the first step in solving my brown well water problems?
To know the best solution to your problem with brownish tap water, you need to identify first what is causing the water discoloration. And the best way to do this is through a water test.
You can do the water test yourself. All you need is a testing kit that you can buy from amazon or other shopping apps. These kits can measure the iron, lead, or bacteria in water. Some can tell the acidity and pH levels in your water.
If you want an expert opinion, you can bring your water sample to a laboratory near you. It can break down the water components and identify all the chemicals present. Since technicians do the tests, the results are accurate.
You can also call a plumber to do an overall assessment of your water. He will look at your water source, the pipelines, and other factors that might cause the problem. It is the more expensive option so, get ready with your dollars before calling your neighborhood plumber. But you can always haggle for a cheaper cost. Ask for free assessment and service fee discounts.
How to get rid of brown well water?
Now that you know what is causing the discoloration of water, you can proceed with solutions. These are common fixes to brown well water problems. It may not be the best for you so, consult your plumber for expert advice.
Ion exchange. In this process, one substance is replaced by another. In water softening methods, metals such as iron get replaced by sodium or common salt. When iron is out, then the water naturally clears, and the brown color gets removed.
During ion exchange, metals such as iron get trapped in filters. The machine then releases salt as a replacement. It uses electricity from the outlet and many gallons of water to get this process done.
It is an affordable solution using a simple device to operate. However, since it uses electricity and lots of water, you may see an increase in your utility bills. Also, you have to stock up on salt.
Ion exchange can work if the cause of your water discoloration is iron or silt. It can remove rust only if the device is after the location of the rusty pipe. Tannins and bacteria will remain in the water after treatment by ion exchange.
Air injection filters. It is a hybrid of a water softener where mineral-rich water passes through to a pressurized water tank. The water is then injected with oxygen from the air to separate the iron from water. It results in pure water without the taste and color of iron.
The air injection filters use media like catalytic carbon to make the oxidation of iron possible. It is the equivalent of resin in ion-exchange water softeners.
Where will the oxidized iron and other metals go? They will form around the media filters. And will get flushed out based on a preset date. You can also manually clean the media filters with chlorine and other sodium-based cleaners every three to six months.
Air injection filters are high maintenance devices but can effectively eliminate iron from water. It can also work with rust and other metal contaminants in water. But if iron bacteria and tannins are your sources of water discoloration, this product will not be helpful to you.
Sediment filtration. It is a type of water filter that screens dirt, sand, and dust from water. It is effective in keeping substances that are one to five microns small. If you have water problems due to sediments, this device removes them and results in clear water.
The best location is at the start of the house piping system. Or the point where the outside water source meets the internal pipes. It is because this starting point is where dissolved rocks and dirt are.
A sediment water filter comes in many forms and is one of the cheapest in the market today. It is also easy to install with just a few simple connections and screws. Most do not need electricity. What's more, the center white filter called propylene is washable.
Sediment filters effectively remove silt. It can also filter against rust. However, smaller particles can move around freely like iron bacteria.
Reverse osmosis. It is the process of purifying water by pushing it through a semi-permeable lining. It is 95-99% effective in removing contaminants like silt, rust, and salt. It also prevents microorganisms and some bacteria from entering our tap water supply.
Reverse osmosis is an economical solution to brownish water. Most water refilling stations use it as the gold standard in a water filtration system.
It is also an environmentally friendly solution to water purification systems. It reduces the carbon footprint and biological wastes from bottled waters and ion exchange water systems.
Most causes of brownish water get eliminated by using reverse osmosis. Iron, rust, silt, and iron bacteria are some particles filtered out by this treatment method.
Replacement of pipes. If the brownish water in your tap is caused by rust, replacing your pipes is the best solution. Many old houses that have no residents for some time will develop rusty pipes. You can try to flush out the rust with water pressure. But it will not remove all the rust in the entire pipe system.
Most modern houses and condominiums use PVC pipes that are rust-resistant. It is also non-conducive to the growth of bacteria and easy to install. But stainless-steel pipes have higher pressure tolerance and function well in both cold and hot weather.
Both PVC and steel pipes have their advantages and disadvantage. Choose the one that is best suited for your home and the water conditions in your area.
When replacing pipes, contact your local plumber since they are experts in this task. They will also tell you what type of pipe is best for your community and water source. They also offer free check-ups and maintenance. So make sure to ask for this when hiring plumbers.
Get rid of bacteria. There are different ways of treating water contaminated by iron bacteria. It includes physical removal, pasteurization, or chemical treatments.
Physical removal of iron bacteria involves the removal of slime or oily substances in contaminated water. You can also let the water pass through micron filters as small as .001 to separate the bacteria from water. Reverse osmosis is another way of filtering them out.
Pasteurization happens when water gets heated to 140 degrees Fahrenheit for at least thirty minutes. Another method used is by injecting steam into the water source or reservoir halfway to boiling point. Both these methods kill the iron bacteria in water.
Lastly, you can use chemicals like chlorine. Yes, the same chlorine used in swimming pools can effectively kill iron bacteria. A method called shock chlorination can treat the entire water system of a house. It uses a strong bleach or chlorine solution.