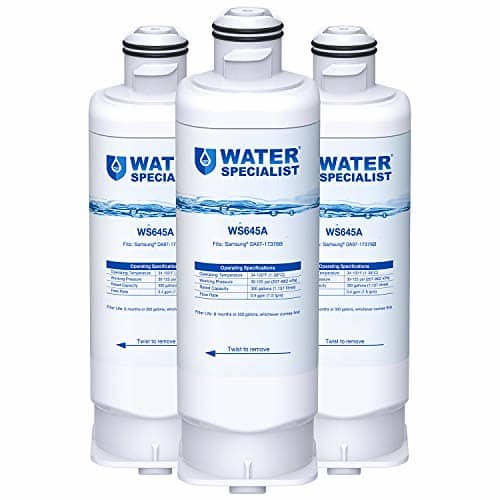 What is RPWF vs RPWFE filters? There has been some confusion about this since they sound similar and do the same purpose in water filtration.
The chief task of water filters is to eliminate contaminants and other impurities, whether you're utilizing municipal tap or well-water in your home.
The tap water has trace amounts of pollutants that include progesterone, fluoxetine, ibuprofen, and many more. Well-water is much riskier to ingest and has pesticides, lead, and chemicals that leak through the soil and are absorbed into the water.
Irrespective of the type of water you have in your household, RPWFE, and RPWF filters have many levels in their filtration process, which effectively terminates the impurities. And thus, purifying and making it potable.
But what is the difference between the two, and how do they relate to refrigerators? The chief difference is older model fridges utilize RPWF ones, and newer types have RPWFE filters already pre-installed.
RPWF vs. RPWFE: The differences
Are refrigerator water filters worth it?
There are various deviations between each of them. RPWFE types are upgraded versions of RPWF., but not all upgrades and improvements are not concerning the quality of filtration.
RPWFE has RFID or radio frequency chips to convey information to the fridge. Like detecting leakages and monitor the status of the filtration. You cannot use old RPWF cartridges for your fridge if it specifically requires RPWFE filters.
The RPWFE RFID chip is the reason why an RPWF filter cannot perform in an agreeable combination with newer fridge models. But older refrigerators can still utilize an RPWFE filter and function with it, but they don't have sensors or touch screens to communicate with the chip.
So using an RPWFE filter in an older fridge has no advantages and no improvement in functioning.
Since RPWFE types are newer and better versions, naturally, they are more costly. In turn, some fridge owners are looking for ways to use older RPWF filters to work with their new refrigerator models should read to administer water.
All fridge types have a bypass cartridge already pre-installed. This way, you still utilize the water dispenser even though no filter is attached. However, the water that pours out is not filtered.
If you don't want to purchase a costly RPWFE filter, ingest unfiltered water, and use a bypass cartridge, there is a way to make RPWF ones usable. Some owners have discovered that they can take out the chip attached at the back. It is the portion that has to be set up touching the sensor to read the card.
If you strip off the label, you can see the chip and you can be sure how it is situated in the RPWFE filter, this way, you can set it up properly on the other filters. You can also fasten the chip directly to the sensor, and so you can do it one time. Rather than using it to a new RPWF type once every six months.
RPWF utilizes a medium called ACB or activated carbon block. It extinguishes ninety-seven percent of sediments, chlorine, corrosion, turbidity, bad smells, and taste. It makes the water refreshing and enhances hydration.
Since RPWFE is an advanced version, it has a greater filtration capability. Its filtration medium is made from carbon block coconut shells. And it can remove more than fifty contaminants like microbes, mercury, chlorine, sediments, and many more.
RPWFE also gets rid of ninety-nine percent of PFOA or perfluorooctanoic acid and PFOS or perfluoro octane sulfonate. It can also take out five trace pharmaceutical elements like fluoxetine, atenolol, ibuprofen, progesterone, and trimethoprim.
Since RPWFE has a stronger filtration ability, it surpasses the capability of RPWF.
The similarities
If you look at RPWF vs. RPWFE, it is crucial to know that they have mutually similar properties and attributes.
Both are effective in filtering out impurities and contaminants. They are deemed safe to drink by the ANSI (American National Standards Institute) and NSF (National Science Foundation). Of which given them verification and approval.
Both types have equal lifespans that can last for six months, which means they can filter water weighing three hundred gallons.
They are available for purchase in several packs at once so that the consumers won't buy them frequently. Also, these filter types are easy to set up and user-friendly.
Installation
Setting up and replacement of both filter types are easy and uncomplicated. That is if you are following the proper procedure.
Some buyers have complained about the new RPWFE ones that do not fit the right way. It is because they were doing a similar method for the substitute filters.
The RPWF filters have a twist-fix method of installation wherein you have to twist it within the slot to lock it securely. However, the newer RPWFE types don't adopt the same procedure.
Setting it up is easier because you no longer have to enact the twist-fix way for the attachment of the fittings. Once either of the filters is attached correctly, you can easily substitute the cartridges if necessary.
Warranty
The warranty alternatives of both kinds of filters may not be clearly stated. For any claims, you have to call the manufacturer to further explain in detail.
Certification
As mentioned above, both are verified, tested, and certified by ANSI and NSF.
The RPWF's certification is due to its capability to reduce and remove contaminants like sediments, chlorine, mercury, lead, and other damaging substances.
While RPWFE has the same certifications, but the standards for safety are not stated.
Design
Both of the designs are similar, and you couldn't tell them apart if you see both at the same time. But each is compatible with different refrigerator models, most of them with the GE or General Electric brand.
Since the RPWF type is an older one, it is compatible with many GE models and most of them are not newer fridge models.
RPWFE filters are only compatible with newer GE refrigerator models that have French doors. The RFID chip is what makes it unique, special, and better than the former.
Cost
If you have a limited budget, RPWF filters are even cheaper and have similar qualities to RPWFE ones.
RPWFE is more costly since it has more advanced attributes in dealing with filtration.
Conclusion
Even one is more expensive than the other, and both give you excellent value for your money. The important thing is that you both are capable of purifying your water source. This way, you and your family will have potable water to drink.