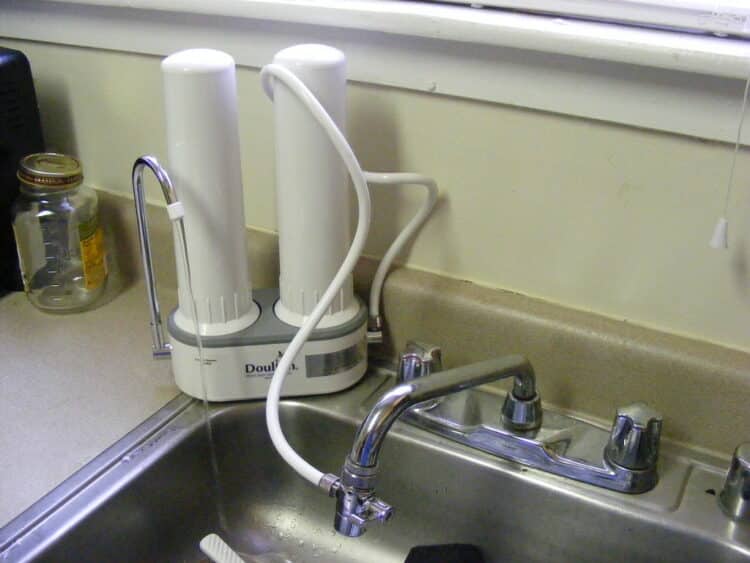 Do water filters remove fluoride? This question actually gets asked by a lot of homeowners interested in their family's dental health.
Filters remove lots of impurities in water, and if you're worried about the fluoride content in your drinking water, some filter types are more effective than others.
It is up to you to be aware of what they are and how you can tell them apart. This way, you will know the best one out there that can suit your needs.
Different filter models provide varying results, and sometimes researching about them can sometimes be confusing. Here, you will know the different kinds so that you can make a valid judgment in picking the right one.
Do water filters remove fluoride? A short background
What can water filters remove? They can remove lots of bad stuff in the water, including fluoride.
However, fluoride is not a bad thing. There has been a lot of contention going on about the supposedly ill effects of fluoride.
However, medical experts disagree about this. If fluoride is adjusted to the right amount in the water you drink, it can prevent tooth decay. But it is excessive, it can result in fluorosis, which causes your teeth to stain and become fragile.
Fluoride is present naturally present in your tap, and water provides should have measures in place to control it in the system.
There are many methods for the masses to get fluoride. They can acquire it through toothpaste and tablets, and also, milk and salt can be fluoride-enriched.
However, water fluoridation has been an emotional and political issue for many years in a lot of countries, and many groups oppose this. It has intervened with many health advocacies in many areas, thus preventing its progress.
But currently, its implementation has been carried out in many locations and has been adopted in major United States cities. And three-hundred-seventy million people from all over the world drink water that has optimum fluoride levels.
What filters remove fluoride?
If you still want to remove fluoride from the water, you can there a filter available in the market that can aid you.
Does reverse osmosis remove fluoride?
Does a reverse osmosis system remove fluoride?
Reverse osmosis and fluoride go hand-in-hand since it's able to remove it, along with many other impurities. It is effective in getting rid of about ninety-five percent of it.
RO systems work by forcing the water to go through semi-permeable filters. It gets rid of all the particles, chemicals, and contaminants that courses through it.
However, it also removes necessary materials that are good for a person's health, like calcium and magnesium.
For this reason, many of these system types have a procedure of alkalization, which balances the water pH. It also returns the minerals removed beforehand.
Its advantages:
It has a powerful filtration capability that can get rid of difficult to remove contaminants like bacteria, mercury, lead, etc.
Longer lifespan can reach two to three years because its membrane is always washed.
Its output is the freshest, cleanest and purest water to drink.
Its disadvantages:
It cannot get rid of chlorine, organic chemicals, pesticides, VOCs or volatile organic compounds, and solvents.
During the filtration, it lets out excess brine water.
It will lower the pH level and removes crucial minerals the body needs.
The whole enterprise is costly.
Does gravity water filter remove fluoride?
If you are going to pick between gravity water filter vs. reverse osmosis in removing fluoride, the former is more effective. Some models can even remove about ninety-seven percent of fluoride in the system.
This kind is also portable that you can bring with you everywhere and use for any emergencies. It functions by hanging the reservoir and let gravity do the work, thus pulling the water downwards via the filter.
The water bag reservoir can force the water via the squeeze filter. It is one of the cheapest on this list, but it could not filter large quantities simultaneously.
Counter top water filters
A top-quality countertop filter can remove fluoride from the system. This type lowers down the level of fluoride to about ninety to ninety-five percent.
This filter type is available in two different kinds.
The first one has the filtering mechanism on the topmost portion and a reservoir underside to hold water. It can store more water than the previous pitcher filter and can hold up to 2.25 gallons.
The disadvantage is it cannot fit any refrigerator, so you can only get lukewarm water.
The second one you can attach to the kitchen sink, and is connected is to the mainline. It has its spout or faucet to provide filtered water once it is switched on.
Compared to t first one, it is smaller and compact and would not take up lots of space on your tabletop. However, it is more costly than the previous one.
It can provide unlimited filtered H2O (since it is hooked to the main line), but is slow to create it.
Water pitcher that filters out fluoride
There are some water pitcher filter models that remove fluoride in the system, but some don't. Before buying one, look first at the specifications.
A water pitcher filters are self-explanatory: a large pitcher of water with a filtering system inside. It is a cheaper option to get clean drinking water for your home, compared to the others on this list.
Yet, the capacity is limited and can amount to only six to ten cups of water. Some of its bigger counterparts can contain up to twenty-three cups. Some have nozzles that are made to remain in the refrigerator except to fill up.
Whole house water filter that removes fluoride
This type follows the same process as water filter pitchers, wherein it utilizes activated carbon as filters. It also means it is useless in removing fluoride from the water.
However, some models use a filtration medium called activated alumina, which can get rid of fluoride, but not as much as other filter types.
Look at its specifications before you but one, and some even can remove from seventy to ninety-six percent of fluoride.
It is the biggest compared to the others and costlier. It costs many times more but being expensive means it has more power and can filter out all the water in your household.
Its flow rate can reach ten to fifteen GPM or gallons per minute. This type has multi-stage systems that can thoroughly get rid of all the contaminants in the water.
This type also has water softeners that can remove water spots. Installing it in a home requires a professional technician since it necessitates the entire household's water capacity.
Distillation
This process is an effective method of getting rid of fluoride in the system and has been utilized since ancient times. It is not as famous and used widely as reverse osmosis or activated carbon, yet it is effective in filtering out pollutants.
It works by heating and evaporating the water using electricity, up until it boils. The steam is trapped and condensed into pure distilled H2O.
It is utilized for industrial purposes since this process only produces a small amount of distilled water. It also takes a long time to make it.
Its advantages:
You do not need to substitute the cartridges.
It can remove all t pollutants in the water.
It can get rid of bacteria, extra minerals and dissolved solids.
Its disadvantages:
It has a low output.
It necessitates constant maintenance and has a high cost of operation
The entire process takes a while
It has a flat taste.
Water filters: what do they remove
What do water filters remove?
Water filters are very capable of getting rid of many contaminants in drinking water. Yet what they remove is dependent on the kind you are using.
There isn't one that can completely take out everything from H2O, and utilizing one in conjunction with another can provide you with the purest water.
These two methods in how filters function, chemical or active filtration or physical filtration. Current filters out in the market use a combination of both.
First, the chemical filter alters the contaminants, and the physical filter does the actual filtration of the water. If you utilize this process and use another purifying method, you can take out everything from it and leave it to its purest form.
How long do water filters last?
How long do whole house water filters last? There is no distinct answer to the question since it will depend on many combinations of factors.
Many elements like how often you use the filter, the manufacturer's conditions, the amount that goes through, and the kind that courses through it. These will be further discussed in the sections below.
Also, the filter's lifespan will be contingent upon either hard or soft water that goes through it.
What do filters do?
If you want to know how long do water filters last, you have to comprehend what filters do. The filter cartridges trap the sedimentary components, chemicals, and other harmful substances in tiny spores, which act as active ingredients.
As time goes by, the pores become filthy from all the goop filtered from the water. When that time comes, it is not able to do its filtering task anymore, and you have to replace the cartridges.
If you won't change it, would not cause harm to the water, but it won't become clean. You will be using water that's unfiltered and may cause bodily harm upon ingestion.
Taking out sediment, silt, and sand
Physical filters are the ones that take out silt, sediment, and sand for the water. These types are important components of a water treatment system. It is because bigger particles can destroy sensitive mechanisms like the membranes in RO systems.
A cartridge or a backwashing filter is also effective in getting rid of sediments. Each kind might have a different style, but they function the same way.
They work by water coursing through the filter and a particular media, like pleated polyester or filtering sand. The sedimentary particles are blocked by the filter and get trapped. Thus, clan water goes out from the other side.
Chemical or active filters
To get rid of ions and chemicals that were dissolved in the water, you will require an active or chemical filter. The medium of filtration has undergone treatment. So when it comes into contact with pollutants in unclean waters, it alters them.
After the pollutants have been altered, the physical filters entrap them, thus getting them out from the water.
There are many kinds of active filters available for purchase, like ion exchange, bone char, or granular activated carbon. Each of the processes functions in varying water issues.
Getting rid of chloramine and chlorine
The best and most direct way to know what is in your water supply is you call your water provider and ask what they use for water treatment. They are required by law to provide that information to their consumers.
You also have to know that they may substitute water sources and chemical additives at various times of the year. They do it depending on factors like the amount of rainfall, the temperature of the water, etc.
You can also do testing yourself and purchase a chloramine test kit or do tap water chlorine tests. You can also test it with ammonia, and if it is positive for it, then chloramine is in the water. Once you know it, you can find the right filtering procedure to remove it.
Luckily, it is easy to get rid of chlorine in the water.
Since chlorine does not have a long-staying power, you can leave a full pitcher of chlorinated water in the refrigerator without the cap on for a few days. It will volatilize it and soon disappear.
You can also use household filtering systems like refrigerator pitchers, filtration pitchers, and under-the-sink filters. These can work by removing chlorine and the bad taste that goes along with it.
Chloramine is more difficult to get rid of in tap water.
You can utilize a reverse osmosis filtration process to get rid of it. It is one of the most powerful filtering systems in the market and can easily remove it. Its technology can efficiently target chlorine and take it out.
You can also use a special kind of carbon known as catalytic carbon, which can also remove it with ease. It is found in top-quality water filters, and along with chloramine, it can remove other harmful contaminants.
Conclusion
There will always be some form of contaminants in the water in your house. Even fluoride might be considered one, even though it has proven to have health benefits.
But if you care about you and your family's health and welfare, you need to utilize an effective water purifying system. It will enable your precious self to live a longer, happier, and healthier life.