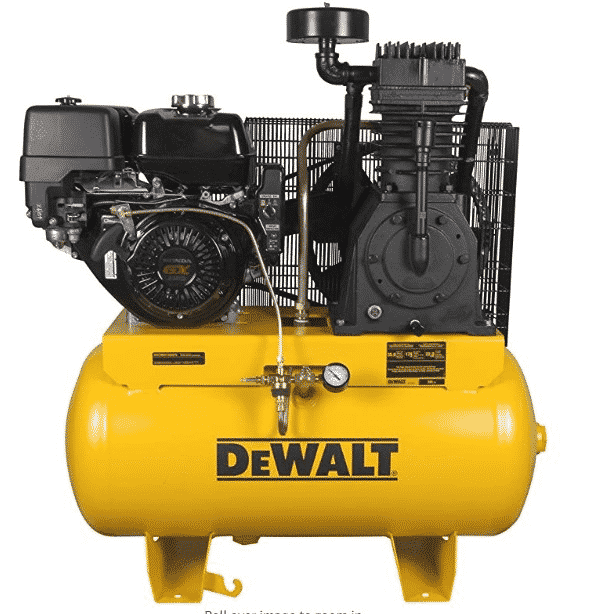 Are you looking for a quality air compressor for industrial use? You should consider Dewalt 30 gallon air compressor. This is an air compressor that can provide enough air capacity for different applications.
Dewalt is one of the companies that is known for producing high-quality tools. The company's air compressors impress many professionals and hobbyists alike. It manufactures air compressors that can be used in different workshops, garages, and industrial settings. Though this company started by producing a woodworking machine, it has managed to expand its tools to fulfill the industry standards.
One of the most popular air compressors made from this company is Dewalt 30 gallon. Though this air compressor is mostly used in workshops, you can still use it on your DIY projects. It is an oil-lubricated compressor that can manage tough jobs efficiently. Every feature that is included in this air compressor is designed to enhance convenience and performance. Find out everything regarding this air compressor before purchasing it.
What to expect from Dewalt 30 gallon air compressor
If you are a contractor that specializes in massive home improvements, you need to invest in useful tools that can get the job done. One of the crucial tools that you should have is an air compressor. Dewalt 30 gallon is a great air compressor that is ideal for different consumption air tools such as paint sprayers, sanders, and nail guns. Though some of the Dewalt air compressors are hard to move around, you should expect this model to be more portable. This is useful, especially when you have a small workspace.
The air compressor does not restrict you to a single place of work. As long as you are not far from the power supply, the air compressor should work fine. It is a vertical air compressor that comes with pneumatic tires and a footprint that enhance the portability. You can also use the front handle when you need to move it from one site to another. Since it comes in a vertical orientation, you don't need too much space to store it. Most users are impressed with the compact design of this air compressor since it can easily fit in even small workspaces.
Apart from that, you should expect to use this air compressor without any problems. It comes with onboard controls as well as an on and off switch for smooth operation. The working pressure gauges enhance control and convenience during use. Ensure you learn how to use an air compressor beforehand.
What are the key features?
Construction
Most people first notice the solid construction of the Dewalt 30 gallon air compressor. The parts of this air compressor are made using cast iron material. This is a common choice for air compressors since it is known to be long-lasting and durable. When you need an industrial tool that will be used continuously, you have to choose one that offers services for long without any risks of damaged parts.
This air compressor can go for years as long as you are keen on maintaining it properly. It also contains reed valves made from stainless steel. Since the air compressor comes fully assembled, you can start using it as soon as you make your purchase. The inclusion of heavy-duty components in this air compressor shows its ability to last even under highly demanding conditions.
Reliability and efficiency
The air compressor comes with a V-twin iron pump and a one-piece crankcase. The twin-cylinder pump features an aluminum head that enhances fast heat dissipation and more rigidity during prolonged use. Dewalt 30 gallon contains a balanced flywheel, which enhances the maintenance and makes it more convenient. This feature also ensures proper balance during use. Apart from that, Dewalt 30 gallon contains synthetic oil which improves its performance and extends its lifespan.
Dual Voltage motor
Dewalt 30 gallon also makes use of a heavy-duty motor that maximizes its performance. The dual voltage motor can work with the regular 120 V. When you are working on applications that need high air volumes; you can convert it to a 240 V circuit. Since this motor is quite powerful, it eliminates any challenges during operation. Dewalt 30 gallon air compressor also has a maximum pressure of 155 PSI.
Dewalt 30 gallon is also popular for its high CFM rating. This term is used to describe at what pace an air compressor can supply enough air to the tire or tool you are working on. Dewalt 30 gallon air compressor can provide sufficient airflow needed to power different air tools. It has a CFM rating of 5.7 @ 90 PSI and 7 at 40 PSI.
Most users like the fact that it can run more than a single mechanic at once. The high PSI ratings of this air compressor ensure more efficiency every time you are using it. Such numbers make it capable of handling applications such as grinding and spray painting. It also comes with a high flow regulator, which can supply it with extra torque when you are working on projects such as removing stubborn bolts and nuts.
Adequate air capacity
If you need an air compressor for prolonged use, you should choose one that comes with a bigger tank size that can offer sufficient air capacity. Most of the air compressors for professional use feature 30-gallon tanks, and this model is no exception. The tank of this air compressor can hold pressure for up to 24 hours. It can, therefore, operate non-stop without any issues.
Noise factor
One of the considerations that you need to make when choosing an ideal air compressor is how noisy it is. If you need to work in your garage without disrupting your neighbors, you should choose one that operates quietly. Dewalt 30 gallon does not make too much noise during use due to the inclusion of a belt guard that facilitates quiet operation.
Pros
It offers a high PSI capacity
Made from durable materials
Elegant and compact design
It is equipped with pneumatic tires that make it portable
Contains onboard controls for convenience and safe operation
The air compressor can work with 240 V and 120 V
Cons
Some users are not impressed with the wheel placement design
You cannot easily access the oil drain
Final thoughts
Whether you are a professional or serious DIYer looking for an air compressor, you can never go wrong with Dewalt equipment. The company has been making quality air compressors for decades, and its reputation is outstanding. One of the highly ranked models from this manufacturer is Dewalt 30 gallon air compressor. This can hold adequate air required to handle most of the air needed for different workshops.
Customers like the durable construction of this air compressor and its high mobility. The inclusion of features such as a high flow regulator, ball bearings, and V twin-cylinder pump makes it a high performing air compressor that is incredibly valuable. You will also like how easy it is to use since it contains numerous controls and comes fully assembled. The tank is also ASME certified, and this air compressor does not need high maintenance. Feel free to work on different applications quietly.