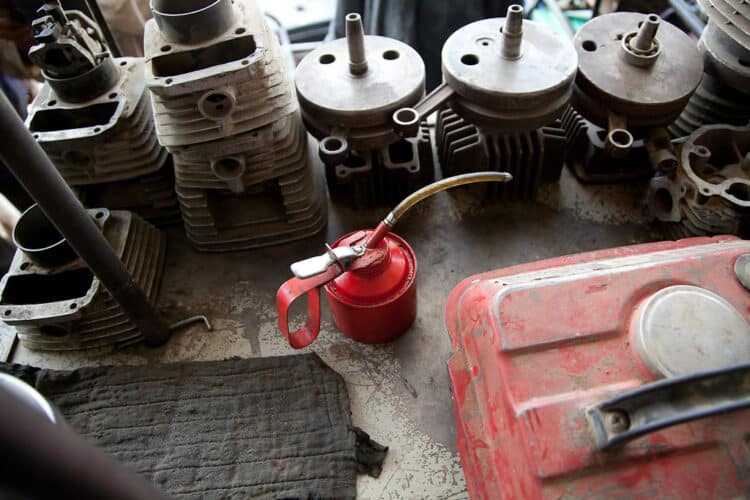 Air compressors serve many functions. Because of their multipurpose nature, you want to ensure that your system is well cared for. Otherwise, they will wear out before they are supposed to. One of the ways you can care for your compressed air unit is by ensuring that it is well lubricated. Since we use them so often and for so many reasons, oil-lubricated air compressors need a constant supply of oil. This is to stop rubbing between the moving parts of your system. So, are asking yourself how much oil does my air compressor need? We have the answer.
But before we go any further, there are a few details that you need to know.
Do All Air Compressors Need Oil?
All air compressors need lubrication. The lube moderates heat within the system and stops friction. It also prevents the wearing down of pumps and other necessary parts of your compressed air system.
But does every air compressor need oil?
The simple answer to this question is no. Not all air compressors are oil-lubricated. Some of your standard at-home compressed air units use a coating of some special material. These are oil-free systems. They have a permanent supply of lubrication. You do not need to add any.
So, before you try lubricating your compressed air unit, you should know what type you own.
If you are unsure if you have an oil or oil-free system, there are a few ways to find out.
Consult The Manual
The manual that came with your air compressor has every detail you need to learn about the system. Read through it to find what type of unit you own.
Search The Internet
Sometimes, manuals disappear. It happens. In that case, you might want to run a search online to find out some details about your air compressor. You may find the manufacturer or seller online. Some of these sites have live chats where a representative can provide this information. Or you can use the contact information to send an email or call a number.
Check The Air Compressor
Oil-filled air compressors have oil pumps, sight glass, or dipsticks. If you have one of those lubed-for-life units, it will not have those features. Do a thorough inspection of your compressed air system to see if these parts are missing.
You've checked, and you now know that you have an oil-lubricated air compressor. What do you do now?
Do Not Overfill
There is a limit to the amount of oil you can pour into your car. The same thing goes for your air compressor. Do not fill the oil drum to the top. Putting in too much lubricant can cause some serious problems.
Overfilling the oil sump of your compressed air unit causes severe internal damage to the system. And that's not all. The excess oil can escape through the air coming out of the hose. It gets into the tools, as well as accessories linked to your system. This creates even more problems. These pieces of equipment will cost you money for maintenance or replacement.
The oily discharge also has the potential of ruining your finished product.
So, to keep your compressed air unit and tools working well never put in too much oil.
Underfilling
You want to avoid underfilling your air compressor as much as you want to avoid overfilling it. Both these practices can be harmful to the health of your system.
If you underfill the oil drum, there will not be enough lubricant to go around. And if you use your air compressor a lot, this becomes an even more worrying problem.
It means that the parts in your compressed air unit that rub together will not be well lubricated. They will grind against each other and wear out faster than they should. The life expectancy of your machine will diminish.
An oil check and refill will cost you a lot less than an air compressor replacement.
How Much Oil Does My Air Compressor Need?
To know the exact quantity of oil your compressed air unit need, you need the manual. And if you do not have that, you should try to contact the manufacturer or seller. Or you can consult a reliable website for help.
But, there are ways that you can gauge how much oil you need to use.
How much oil your compressor needs depends on one key thing, and that is how big the drum is.
These are the more common sizes
1 Liter
2 Liters
5 Liters
20 Liters
Some smaller air compressors have oil drums that use only about 6-8 ounces of oil. Others use quarts. But if your compressed air unit is on the large side, it can take up to a gallon of oil.
What if you can't figure out the oil drum size?
There are two features on your air compressor that you can use to ensure that you do not overfill it.
Sight Glass
Some air compressors have a glass that allows you to see inside the pump. Its name is sight glass. When you look through it, you can see how much lubricant is inside your unit.
The sight glass is visible on the outside of compressed air machines. But depending on the make of the air compressor, this feature may be located in different places.
Rotary Screw Compressor
You find the sight glass of this type of unit on the sump tank.
Reciprocating Compressor
You can find the sight glass of this type of unit below the pump.
Oil Dipstick
Your compressed air unit may not have any sight glass. Instead, it may have come with a dipstick. This stick does the same job as the sight glass. It reads the level of oil inside your unit.
In most cases, the dipstick is a part of the cap of an oil fill tube. The two come attached. The oil fill tube goes inside the sump, and it sits in the oil.
On the dipstick, you will find some markings. These markings let you know how high or low the level of oil in your system is. The process for reading the dipstick is the same as reading the one under the hood of your car.
Remove the cap on the oil fill tube.
Because the dipstick connects with it, it will come out as well.
Wipe the dipstick clean
Put it back into the sump
Pull it out again
Check the markings to read the level of oil
No Sight Glass No Dipstick – What To Do
If you have no sight glass and no oil fill tube or dipstick, chances are you have a lubed-for-life unit. In that case, there is no need to refill it.
If your sight glass or dipstick is faulty, then here's what you need to do. Try draining out the oil. Pour it into a container (a container with measuring units is best). Try to gauge the volume.
This is not an accurate method. But it does bring you close enough that you won't destroy your air compressor.
The next thing you can try is taking pictures of and measurements of your unit's oil sump. Take your findings to a store that sells air compressors. Compare the sizes they have with yours. You can also ask one of the attendants for help.
Frequently Asked Questions
How Often Should I Change The Oil In My Air Compressor Unit?
How often you should change the oil varies depending on a few things. But, experts recommend changing the oil in your compressed air unit once or twice a year.
With rotary screw compressors, you should do an oil change after using it for about 1,000 hours. Less would be better. With reciprocating compressors, you should do an oil change after 180 days of use.
But in between, it is wise to do oil checks.
Oil checks do not take very long. Doing them will ensure you keep the quantity of oil at the right level. You will also ensure that the oil is the quality that it should be.
How Do I Drain My Compressed Air Unit's Oil Drum?
The designs of air compressors vary. But, you should find the drain plug for the oil drum at the bottom of the oil drum.
Do not confuse the oil drum with the tank. The oil drum stores oil, while the tank stores air. The tank will be at the lowest part of the air compressor.
In most models, the drum is somewhere above the tank. And the drain plug for the oil is at the bottom of the oil drum.
Here's what you need to do to drain out the oil.
Unplug the air compressor from the wall.
Remember to put your safety first. Always ensure your system has no power before beginning any maintenance work.
The plug is a nut or screw or bolt, which means you need a tool to get it out.
It may take a second or two for the oil to begin flowing. Ensure that you have a large enough container. Hold it beneath the mouth of the drum and wait for it. The container will collect the oil and prevent a mess.
Depending on the size of the drum, this may take a bit of time. You may also have to tilt the air compressor to get all the oil out.
A trick that you can use to get faster oil flow is turning the air compressor on for a few minutes. That heats the oil up, making it less dense. Once the compressor is warm enough, turn it off and unplug it from the wall.
When the oil stops flowing, the job is finished.
Set aside the container of lubricant. Use an old rag or a paper towel to wipe away the oil around the mouth of the drum. You do this to prevent dripping.
Put the nut/screw/bolt back in place.
Ensure you close the oil drum as tight as possible.
When Is The Right Time To Add Oil To My Oil Drum?
Do regular oil checks on your compressed air unit. You will notice when the oil falls below the recommended level. When that happens, top up the oil drum.
How Do I Refill The Oil Drum?
You can access the oil fill plug on compressed air units located on the crankcase. Depending on the system you have, it may be at the top, on the side, or at the front.
Pull the cap off the oil drum.
Place a funnel in the mouth of the oil drum
Grab your oil and pour it in.
To avoid spills and overfilling take your time to do this part.
Keep an eye on the volume of oil as you pour it in. You do this to ensure you are putting in the correct amount. Stop every once in a while to use your dipstick if you have one to measure your progress. If you have a sight glass, monitor it closely.
When using a dipstick, remember to clean it after every check. That is the only way to get an accurate reading.
If you have not reached the recommended oil level, keep pouring. But once you get there, stop and cover the oil drum.
Do a final check of the oil level to ensure you are not over. If you are, drain out a bit of oil to get it to where it should be.
Getting this process right may take a bit of time. But taking your time is the best way to do it.
Conclusion
You invest money into getting an air compressor, so you want to give it the best care. That way, it will last and perform the way it should. One of the ways you can take care of your compressed air unit is by ensuring it has the correct quantity of oil.
Do this, and you will save on maintenance costs for your air compressor and the tools you use with it.