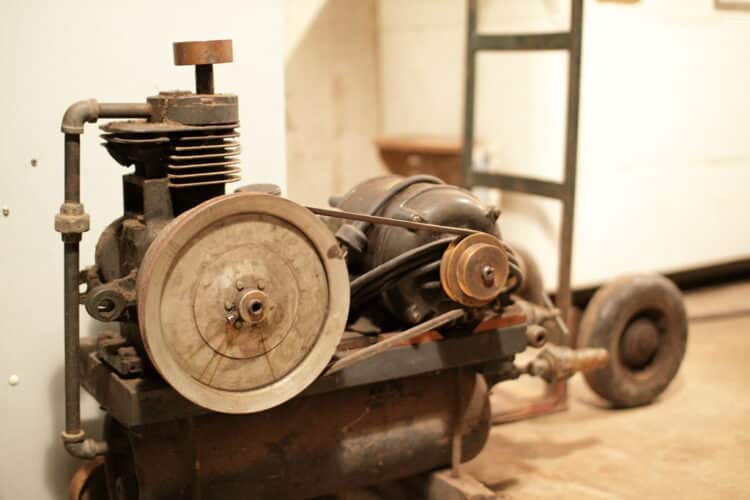 Air compressors serve multiple purposes. For that reason, you may find yourself having to move it around. In some cases, transporting it in an upright position is not always possible. The thought of moving the unit might make you nervous. You may wonder, can I lay my air compressor on its side?
That's what we are here to help you find out.
How Do Air Compressors Work?
Air compressors pull air into the tank then disperses it in a powerful rush through a hose. But it also takes in dust, moisture, and other particles.
The dust and other particles mix with the water and build up gunk in the machine. The oil the air compressor uses also joins the part. That mixture they create ends up hiding in the tank, between body parts of the unit, and your tools as well.
What does that have to do with laying your equipment on its side? Let's find out.
Can I Lay My Air Compressor On Its Side?
Whether you can lay your air compressor on the side or not depends on a few things. So, there is no simple yes or no answer to this question.
Laying A New Air Compressor On Its Side
When you buy a brand new air compressor, loading it on its side is not a problem. That's because the compressed air unit has never been used before.
There is no oil inside it. The tank is free of water condensate as well. So when you lay on its side, there is no gunk moving around and getting into places it shouldn't.
So what happens if the air compressor is not brand new?
Moving Around A Used Air Compressor
Moving around a used compressed air unit is much different from transporting a new one. There are a few things you want to consider first.
When an air compressor pulls air into the tank, it also sucks in water vapor and any particles in the air. These things collect in the tank over time.
You may make use of the drainage system on your compressed air unit often. But even then, you cannot get rid of all the stuff the builds up inside it with every use. Some of it remains.
When you lay a used air compressor on its side, the remaining sludge gets displaced. It moves around and can trickle into places that you do not want it to go.
Tank's Check Valve
One of the places you do not want sludge to make a home is in the check valve of the tank.
There is a line in air compressors that leaves the pump and goes into the tank. That's where you will find the check valve. A few things can happen if sludge gets into it.
Your compressed air unit may spring a leak.
That leak will be continuous, and your air compressor will underperform.
You may have A Back Pressure Buildup.
An increase in backpressure buildup could lead to a few problems.
It could overload the motor.
The motor will overheat.
It may begin to hum.
You may not be able to start up the air compressor.
Drain Tank
Sludge can also shift into the drain tank of the compressed air unit. Once it gets there, it will clog it. If that happens, you won't be able to drain the tank until you unclog it.
Let's break this down a bit more.
Laying A Lubed-For-Life Air compressor On Its Side
Some air compressors use oil as a lubricant, and others do not. The ones that don't are labeled lubed-for-life.
While there is no oil used in these air compressors, they still have tanks that take in air. The air carries dirt particles, water vapor, and other things inside with it. These particles mix and build up over time, creating the same sludge mentioned above.
So if you lay your lubed-for-life air compressor on its side, you will experience these same problems.
Laying An Oil-Lubricated Air Compressor On Its Side
Oil-lubricated air compressors need oil to work well. When you lay it on the side, that oil will move around. It then gets into places you do not want it to go. And as with the water, it can cause your compressed air unit to malfunction.
Will Maintenance Help?
It is a wise idea to give your air compressor a thorough cleaning every year. And you should do proper maintenance checks in between.
If you have no choice but to lay your air compressor on its side, you should be even more vigilant. Clean and service your compressed air unit as often as possible.
Here are some basic steps you can take.
Draining
You may wonder, what if I drain the system of the oil and water? Won't that make laying its side safe?
While this may get rid of the bulk of fluids in your compressed air, unit some will stay behind. Getting all of the remnants, sludge, grit out is impossible.
When you lay the system on its side, whatever is left behind will move around because it is liquid. Some people suggest leaving the tank open. When you do, the water left inside it can dry.
But if you do this, remember to put the cap back on when you use the air compressor again. But it still does not solve the oil issue. Draining alone is not enough.
Here are a few other cleaning options.
Keep The Intake Vent Clean
Keep the hose clean
Keep The Air Filter Clean
Other Maintenance
These parts of your compressed air unit collect dirt as well as oil. By cleaning them every once in a while, you reduce that build-up. So if you do happen to lay your air compressor on the side, there will be less sludge in the machine to move around.
The last thing I will say on this topic is that air compressors are heavy. So to move it around and lay it on its side, you might need a little help. And when you haul it around in your vehicle, ensure that you strap it in place.
Conclusion
Laying your compressed air system on its side is a choice that each owner has to make. While it is a frowned-upon practice, there is no law stating that you cannot do it.
If you need to lay your unit on its side, try to get rid of as much water and oil in it as you can. And to get it in that position, you will need extra help. Otherwise, you may injure yourself and damage your vehicle. Strap it in place to keep it from moving around.