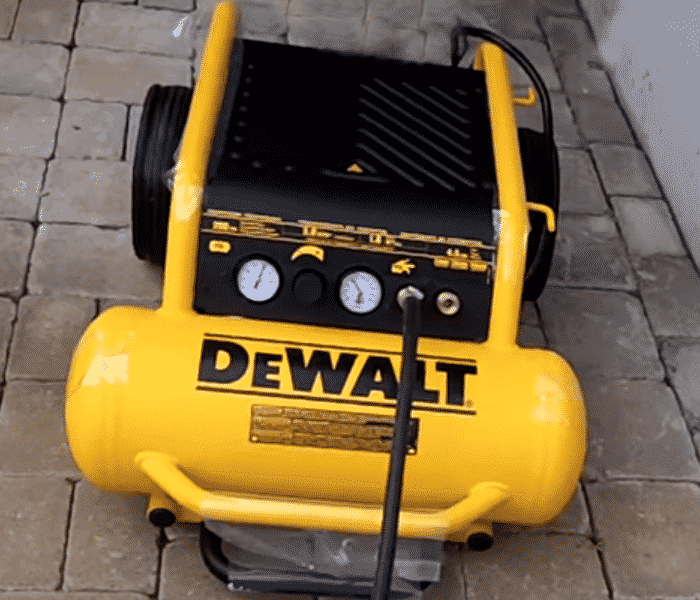 Is it normal for air compressors to get hot? The short answer is yes because it is a piece of machinery that creates thermal energy, which then uses it in pressurized air. "Thermal" is a word closely associated with heat. So when the heat is used to create more heat, you would not be surprised that the compressor will get hot.
If you already have an air compressor in your home, you already know it is an essential device for your numerous mechanical and creative ventures. Yet you may worry that you are overusing it, which often causes it to overheat. You might be concerned that you are doing something wrong. So what will you do?
First, focus on one key question: how hot do air compressors get?
You need to learn more things that are compressor-related because "knowledge is power." Once you know everything there is to do about it, like the causes of compressor overheating and other related things, you would not be worried anymore, and you can use it with ease and confidence.
Compressor Overheating and its Many Causes
The air compressor functions by the transference of power into energy that is kept in the tank as pressurized air. The transformation process by the air molecules being crushed together creates friction, which generates heating in the device. A great way to describe this in simpler terms is when you rub your two hands together, it will get warm.
It is altogether normal for the device to become warm to the touch. However, if you feel it is too hot in an abnormal way, it is probably overheating.
A particular component that gets hot to the touch is the copper tube connecting the pump head to the receiver. The heat travels through the tubing, thus creating friction. It will only get hotter the more the device runs. If it will take a long time for it to get to the cutout point, then a lot more heat is produced.
Another component in the device that emits heat is the motor. If it runs longer than it should, and contrary to the manufacturer's recommendation, it will get very hot, along with the component head. If some part of your body touches the heat, it will cause blisters and pain. It has produced too much heat and is a warning sign of sorts that you need to shut the device down (yet some automatically turn itself off once it reaches its capability to Duty Cycle).
For your own safety's sake, do not touch portions of the device that are known to develop heat because you will get burned. And do not leave behind any stuff like rags that might be flammable on top of the device to avoid any mishaps.
Here are some other causes of compressor overheating:
• No regular maintenance. If your device does not experience maintenance on a fixed basis, many things will happen that may induce it to overheat. To avoid that, you need to replace dirty filters, remove anything obstructing the pipes and inner parts.
• The room is not well-ventilated. The device needs to undergo a cooling down process. So if you do not want the device to overheat, you need to make sure that the room that it is in has proper ventilation.
• How long has it been pressurizing air? Its age and its tendency for over-usage will come it to question if it often overheats for no apparent reason.
• The overall temperature. The summer season will make everything hot, so will the room where it is situated. If the room gets warm, so does the device. The only way to counteract this is not to use it too long and avoid most of the causes shown above.
Some Potential Explanations Why It Overheats
You must know what is normal or abnormal happenings in the device. For example, if your car is making a strange sound you can gauge the problem immediately and form a diagnosis so that you would not have a hard time fixing it. The same thing with the compressor, so when something weird happens with it, you have an inkling of what is wrong with it.
If you are a novice owner, chances are you do not know a lot of things about it. So you have to educate yourself on its prominent attributes as recommended in the manufacturer's manual.
If the device has been with you for a long time and unexpectedly overheats like it has not done before, then there is something off in its functionality. Here are some likely compressor scenarios:
• Is your compressor very hot? You may not be using the correct extension wire or electrical receptacle. If you have just plugged in the device on unfamiliar cabling or socket and too much heat is produced from the device, the extension cabling might be at fault.
The cable might be using the same outlet as other devices with greater amperage. Or perhaps the cord is not too powerful enough to deliver electricity to the device. Both ways would incapacitate the device's operational capability.
However, the device can still function but does not garner the correct amount of power to operate correctly. It will give out more than the necessary quantity of heat because it is overexerting too much with not the right kind of energy.
• Is the air compressor pump getting hot? It may be because the system is lacking lubrication. The pump head acquires most of the heat from the friction made by the compressed air, which is normal. But if it burns your skin when you touch it, there might be something faulty with the pump.
The most likely solution is lubrication. If you did not check on it for a long time, then thoroughly lubricating the whole pumping component is the probable answer.
Over-used oil will lose its ability to lubricate, so an immediate oil change is needed.
• How hot do air compressors get? When the air compressor is overheating, it may be because of overuse. It has a designated duty cycle, which it should never surpass. When operating it, be aware of its duty cycle and never let it go over the limit. Yet when you let it run and it still does not reach the duty cycle but emits too much heat, then it is overused.
Larger industrial type compressors that also have big duty cycles can benefit by resting once in a while.
For your device, do not let it continuously run for more than 15 minutes. Let the motor rest to let the heat die down. It is a great way to let the device increase its shelf life. If it did not go over the cycle, you have to let it rest after utilizing it for 15 minutes, and it still overheats, then it may be for a different reason.
• If an air compressor gets very hot, it may be because of a malfunctioning capacitor. It is a component in the device that enables it to turn on the motor and keep it in an operational capacity.
If the capacitor is not working for some unknown reason, the motor will not do its air pressuring job correctly. The incorrectly operating motor will give off too much heat. When it becomes too hot, it will automatically save itself from destruction by going to "Thermal Cut-Out Mode."
If you try to use it while the capacitor is still damaged, then the motor would be destroyed because of it.
If you think about it, the capacitor is inexpensive to substitute rather than buying a new motor. So, as a caring owner, be aware of the capacitor's overall functioning and always observe it. When you think it will break down, then change it immediately.
Ways of Overheating Prevention so That the Question: 'How Hot Do Air Compressors Get?' Won't Be Asked Anymore
Do not spend too much time thinking of ways to cool your compressor down once it gets too hot. Instead, use your brainpower to focus on preventing it from overheating. There are three preventive measures:
• Check on the ventilation system. Observe the inside and outside vents for any dirt that may be causing an obstruction. It should be properly sized to ensure the correct supply of air. As mentioned before, the room where the device is located also needs to have proper ventilation.
• You must follow a maintenance schedule. It goes the same with all mechanical devices that regular maintenance will prevent anything to go wrong, like an overheated compressor.
• Check on the lubricant and oil consumption. A well-lubed system has a cooling effect on the overall functionality. So you need to observe its oil and lube contents. If you notice that the oil does not look oily anymore but liquid-like, the heat degree is elevated already.
The Bottom Line
Is it normal for air compressors to get hot? Yes, it is very normal, so what you need to do is to be familiar with the device's overall functionality and have a mental picture of it in your head. So when something gets too hot, you can imagine what the cause is and immediately find out what's wrong.