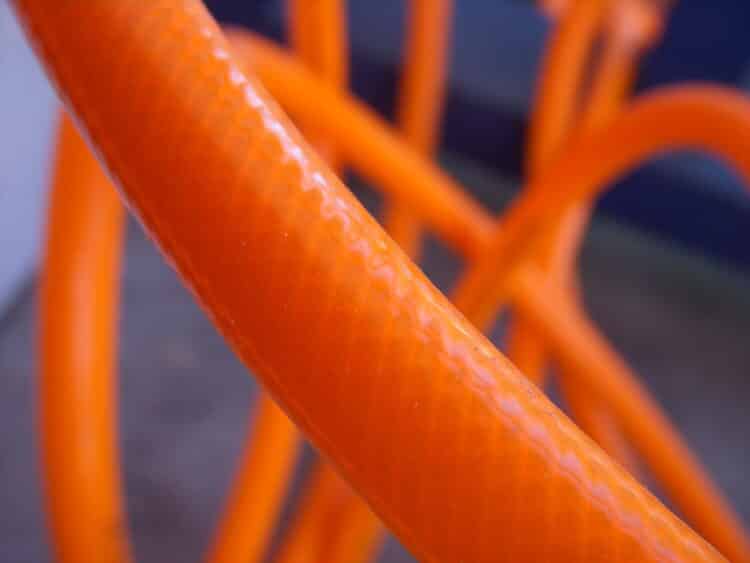 Should you learn how to fix an air compressor hose? Should you replace it instead? Which is better?
There are two schools of thought in dealing with a damaged air hose. Are you more inclined to find out how to fix an air compressor hose or knowing the process of substituting it for a new one? Which would you prefer?
Is one alternative better than the other? It depends on you. The best thing is to know both so that you will know which option would suit you best.
How to fix an air compressor hose
An air compressor is an incredibly useful piece of machinery and can assist you in uncountable ways. You would not find any difficulty using it even though and is very handy for your home and work projects.
Yet even the sturdiest of equipment, there will always come a time when it will be defective, so you have to be prepared. With an air compressor, its likely malfunction is an air hose leak.
You will need a few tools and materials to fix the leaky hose problem:
Electrical tape
Cutting tools (hose cutter, coping of keyhole saw)
Screwdriver
Plastic bag
Air hose repair kit
Cigarette lighter or any flaming tool
Here is a step-by-step guide on how to patch an air hose.
1. Take out the air hose repair kit
When you unpack the kit, you will see three rings, which are steel clamps. There are also two small pipes, which are brass splicers. One has a patch, and the other does not. The former joins directly to the compressor and the latter links up two portions of the hose.
2. Where is the leak?
If you regard yourself as a handyman and would prefer to fix your leaky air compressor line, you would have to know where the tear is one the entire length of the hose. You have to find it because you will begin the process of repair from that affected part.
Yet if you are uncertain of the exact location of the leak, you may have to substitute the whole hose (which you will learn later). Yet in most situations, this usually occurs in the joints.
3. Cut the hose
Once you have located the torn portion, you have to cut it to fix it. Be sure to use a sharp cutting tool to sever the hose completely in half that includes the whole torn portion.
You will be cutting twice on both sides. A hose cutter would be the right tool for the job. If it is too thick, you can use a keyhole saw or a coping saw.
Be sure that the cut you've made is clean and on the torn portion only. You do not want to cut too much. Your goal for this project is to patch it securely and firmly. You want to avoid any leaks happening again in the future.
4. Using the air hose repair kit
You only need two steel rings. The third one is extra, in case one malfunction. Insert both on each end of the hose. It will function like screws. Do not tighten it yet.
Fasten the unpatched brass splicer on both ends of the hose. Use a lighter to heat the joined portions and tighten the hose.
Slide the two rings to the joined portions and tighten them with a screwdriver. Make sure it is secure and not loose.
To get an additional layer of safety, do the next step.
5. Use a plastic bag
At this stage, the air hose repair fittings were utilized to connect both ends of the hose. If you think that it is not enough, take a spare plastic bag and wrap it around the affected part.
After tying it securely, wrap it again with electrical tape. Start from one side to the next, entirely taping the affected portion.
Additional step: practice safety
In doing this task, you are working with dangerous elements like fire and pressurized air. You need to wear hand gloves to protect your hands in doing the entire chore.
Test it out
If you have followed the above steps and used the suggested materials, you have patched up the air compressor hose. Now you have to check if the repair you did works.
Switch on the air compressor and examine if there are leaks in the affected area. If there isn't, then it worked.
Reminders
You have to purchase a top-quality air hose repair kit. It might be more expensive, but if you want to get the best repair possible, you have to acquire it.
However, in your earlier examination of the hose and you've discovered that there is more than one leak, you have to replace the entire hose.
The dangers of repairing your compressor hose
Air that is compressed is at a pressure greater than the atmosphere. It is mainly used as a power source of many industrial and portable machinery. Even though it is incredibly practicable, it can be very dangerous if not controlled properly.
Most perils will happen if any part of the compressor system is damaged. Since the air within is pressurized, whenever it has a chance to escape via any types of leakages, it will be explosive.
Air hose leakages will result in powerful airburst that can cause many serious injuries.
Here are some of the hazards that can happen from air compressor mismanagement:
Noise- The sound emitted from a working air compressor can reach one-twenty decibels. It is the equivalent noise output of a jet engine and regarded as noise pollution.
Air pressure- The kind of air in a high pressurized state can perforate the skin, thus causing embolisms and lesions. It can also harm sensitive bodily tissues like your eardrums and eyes. Low air pressure with a force of twelve PSI can burst open an eyeball.
Particles- Compressed air at a force of forty PSI can cause any small particles to become like bullet shrapnel, resulting in bruises and cuts throughout a human body.
Whiplash- People think this is not a hazardous issue, but it is. It is a phenomenon that originates from a pressurized air hose suddenly bursting. It results in thrashing and becoming a harmful projectile.
There are many of these cases documented by the WHS or Workplace Health and Safety Act (type of legislation requiring workplaces to be safe and healthy for workers).
It was found out that whiplashes caused by sudden bursting air hoses result in grievous injuries and sometimes death.
It usually happens when: the pressure has surpassed the rating of the hose, or the hose is suddenly cut, or the hose violently thrashes until the pressure lowers.
A violently whipping hose is a danger to people in the immediate vicinity and sometimes results in damage to the company machinery.
A solution for this is to install set up an air safety fuse, which eliminates any possibility of violent whiplash and unanticipated maintenance problems.
You can also do preventive maintenance checks on any bent or torn hoses or other defective valve fastenings.
In conclusion, the air compressor is a potentially dangerous piece of machinery and should be handled with utmost care. If one component becomes defective, like a leaky air hose, it is recommended to replace the whole flexible pipe itself and not do patchwork repairs.
Replacing an air compressor hose
If you have opted to replace the air hose instead of patching it up, you have made the right choice. It is always the first one to be damaged anyway, and you would have to eventually substitute it.
Before starting the task at hand, look for the user's manual for the unit. It is a good resource and will provide you helpful installation tips for the replacement hose and instruct which brand is the best one. It will also tell you the most effective method to care for it and the unit in general, to make sure it will last for a long time.
1. Get essential information
Since you will be replacing the defective hose with a new one, you need to write down the essential details of your air compressor, like its brand and model number. It will aid in your quest to look for the right hose for your unit.
You will also include your preferred length of the hose. If you need it for a work environment, a longer one will aid you in reaching across the entire space and prevent accidents caused by a long electrical cord.
However, if you purchase too long of a hose for the unit, it will make lose pressure and render it insufficient. Once you have all the needed details about your compressor, then it is time to purchase one.
You also have to buy new quick connect couplers. You will need it to speedily remove and reattach the hose so that you can install and store the unit more conveniently.
Getting ready
After purchasing the proper hose for your compressor, you must do a few steps beforehand. Firstly, you need to be sure that the unit is completely off and without power. Let out all excess air trapped inside it, including the pressure inside the old hose.
Then look at the pressure gauge to ensure that no leftover air is still in the unit or the hose. Lastly, loosen the attachments and take out the hose from the compressor.
Fasten the new hose
After removing the defective hose, then you have to fasten the newly-bought one. If the old attachments are still functional, securely fasten the new hose to them. If they are rusted out and decrepit, use the new quick connect couplers have bought. A hose adapter will also work well.
If the user manual does not include instructions in the hose attachment, then you have to fasten it the exact way you have removed it, in reverse. You will either need a socket or a wrench for this task.
Proper storage
After you have attached it securely and correctly, you should learn to treat it right. If you have intentionally bought it to be longer, keep it away from people coming and going on foot and rolling car wheels.
If it will get constantly trampled on and steamrolled by people and the like, it will tear apart and become defective again.
Once you are finished using it for the day, unfasten the hose, roll it together like rope, and put it in a safe place for storage. This procedure will make it last longer than usual.
Before removing the hose, make sure that you have shut off the electrical supply, and all remaining pressure has to be expunged from the system.
Which is the right air hose for you?
If you are looking for the best kind of hose for your air compressor, you should know what to look for. There are many types accessible everywhere. The most significant features are the material they are made from.
Here are the different types:
PVC or Polyvinyl Chloride- It is an inexpensive material and lightweight. It tends to kink, but not so much. It is the type that is fastened to most air compressor units. It would not function well in extremely cold conditions.
Rubber- It is a dense material, resulting in being heavy. But rubber does not kink, is quite flexible, also easy to roll up and store. If your incoming purchase is based on the type of material, rubber is the best one.
Polyurethane- It is the lightweight version of rubber. However, it easily bends and is a lot more expensive. It works well with portable units but not advisable for heavy-duty tasks.
Nylon- It is the most lightweight among the different materials mentioned here. It easily kinks but can be rolled up with no problem at all. Also works well for portable uses but not very durable.
You also need to take note of these factors upon purchase:
Weight- If your compressor unit is small and portable, you will need a lightweight hose and east to carry. If it is stationary, you'll want a heavy hose that won't kink.
Length- Air hoses are available in twenty-five, fifty, and one-hundred lengths.
Hose diameter- It is available in two sizes: ¼" or 6.33 mm, which are suitable for lighter tasks. Or /3/8" or 9.5 mm, which gives more power.
Brands- The most prominent air hose brand names are: Hitachi, Amflo, Goodyear, FlexZilla, and TekTon.
Conclusion
So which option would you choose? You can still patch up the hose. And if you do it correctly, there won't be any problem. However, to be on the safe side, do replace it, and it will be a weight off your mind.