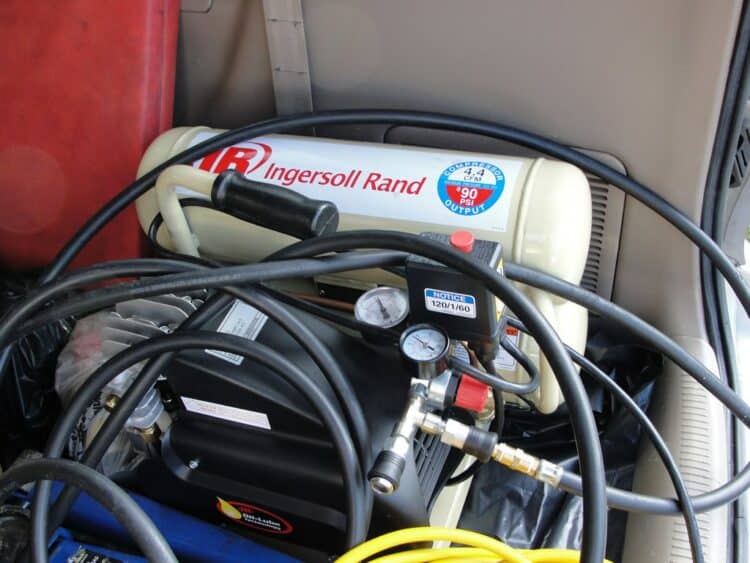 Are you wondering about the difference between a single-stage vs. a two-stage air compressor? The answer is not as simple as you think, and if you want to know it, you have to be aware of some background info about both types of mechanical devices.
In general, most compressor units are available in two kinds, either single or dual-stage compressors.
Whenever people are shopping around for new units, the first question that they would likely ask is: "What are the differences between a single-stage compressor and a double-stage compressor?"
Single-stage vs. two-stage air compressor
The chief difference between the two types is how many times the air becomes pressurized among the nozzle and inlet valve.
The air is compressed by a single-stage compressor only once. And with a two-stage compressor, it is pressurized two times for twice the pressure strength.
The single-stage reciprocating compressor is also called a piston compressor. Generally, the way it functions are as follows:
Air is drawn and trapped into a cylinder
The air is pressurized with a piston with one stroke at about one-hundred-twenty PSI or pounds per square inch
The air, now compressed, goes to a tank and stored there for usage
The pressurized air functions as power for many tools for your DIY projects and is specially designed for that purpose.
The 2-stage air compressor (also called a dual air compressor) is functionally the same as the single one, but with one stark difference: instead of the air sent to the tank for storage, it is directed to the second stroke in a smaller piston. Instead of one-hundred-twenty PSI, it is now about one-hundred seventy-five PSI.
From that position, the twice-compressed air is cooled and sent to the tank to be stored, where it will provide power for more high-powered tools and equipment.
Compressor stages
For ordinary laypersons, the intricate workings of compressors are not crucial information to be aware of and remember. Knowing compressor stages or about air compressors, in general, might not even register a blip in your consciousness.
However, if you are an avid DIYer and hobbyist, you should know about it since it is an essential piece of equipment in your garage that powers many of your tools.
Concerning the number of stages in an air compressor, it can often be confused about the number of cylinders a particular unit has. But to be clear, both single and dual units utilized two cylinders due to the easiness of balancing air.
The number of stages is based on cylinder sizes and the number of air intakes. With a single-stage unit, all of the cylinder sizes are the same. And each has its inlet valves.
Then again, concerning two-stages ones, only one inlet is attached, the first piston is longer than the second, and a cooling tube links both of them. This process, in turn, brings the air temperature down before another round of pressurization occurs.
The way to differentiate both types from afar is from the size. A single-stage air compressor is usually small and compact and can be easily brought from one place to the next.
In contrast, a double-stage air compressor is larger, heavier, and stationary most of the time.
Their uses
A double air compressor emits more air power, which makes them particularly essential for massive manufacturing companies and uninterrupted usage. Yet, it comparatively costs more, which makes them ideal for large-scale factories that for garage DIY purposes.
A single-stage compressor is perfect for DIY hobbyists for their numerous personal projects, all done in the garage. It can power many air-powered tools that do not go over one hundred PSI.
For pressing plants, auto mechanic shops, and other larger establishments that utilize complicated high-powered machinery, a larger air receiver capacity dual-stage units are preferred.
Carpentry
From the many DIY garage projects hobbyists do, woodworking is the kind of hobby that often uses many tools. They use tools to cut, saw, sand, drill, and nail, and each task uses specific instruments.
Furniture making, home fixtures, or canoes are created out of wooden logs with particular tools, and some can be physically strenuous and straining. You need to be healthy and fit to be proficient in this hobby and have good hand-to-eye coordination.
Yet for every carpentry task, there is an equal pneumatic force that can do the chore more effectively and proficiently than mere human action.
These types of air-powered tools can cut and drill tough wood in a few seconds only. For these, you can use air-powered drills and saw.
You would not exert too much action, and you only need to hold them steadily in one position: No distressed wrists, strained muscles, or bruised hands. Each action is accomplished so quickly that there would be no time to make mistakes and wreck a project.
A single-stage unit can provide enough power for many essential carpentry tools that can finish otherwise longer and physically exerting woodworking chores in a matter of minutes, will fewer actions are undertaken.
The many kinds of chores that a single-stage unit is especially proficient in are the following:
Nailing- Hammering nails onto pieces of wood is a task that is both awkward and dangerous, and you can make lots of potential mistakes if you miss the mark.
If you are not careful and do not have much carpentry experience or skills, you cannot hammer nails properly and will become crooked. You can also unintentionally hit with a hammer any part of your body. Like any one of your fingers.
And worse, some nails would not go all the way in, sometimes because of the type of hardwood or if the nail was crooked in the first place.
The best tool that can get the job done with less exertion and adequate proficiency only, is an air-powered nailer. It does the nailing job quickly and directs it through any piece of hardwood without any issue whatsoever.
The best thing about this is that it can be accomplished in a matter of seconds so that you can embark on other carpentry tasks.
Sawing- A saw is an essential woodworking tool in a DIYer's garage. Once a project has been conceptualized, you have to create and trim the shape out of wooden boards.
In the past, cutting wood was regarded as a dangerous chore and left it in the hands of skilled woodsmen and woodcutters. They were the only people who were strong enough to undertake this arduous task.
But now, there is a powerful tool that can get the cutting job done quickly and efficiently: a pneumatic speed saw. Its function is to cut through wood like butter, in a matter of a few minutes, in what took a long time.
These type of air-powered saws be attached with blades of different sizes and lengths for various wood thickness.
Sanding- After the woodworking design has been put together, there are rough surfaces and bumpy corners that have to be smoothened out and polished.
Sanding is what changes a rough and ill-shaped wooden piece into professional-looking sheet material. However, it will need a machine to attain such accomplishment.
In the past, before carpentry-assistive machinery, sandpapers were utilized to smooth out surfaces. But the disadvantage is it leaves directional streaks from where the carpenter's hand goes while sanding.
It will hardly work on any intricately designed woodwork like cabinets, tables, or chairs. To get them suitably smooth, the carpenter must use a lot of elbow grease to achieve the desired effect.
An orbital pneumatic sander is an excellent tool to replace manually applied sandpaper. It can be directed to move in different directions without leaving any noticeable marks on any kind of wood.
Drilling- Boring holes in wood is particularly difficult to undertake because it depends on your hand-to-eye coordination. However, operating an air-powered drill can also be clumsy as pounding a hammer on a nail.
You have to be firm while holding it, and any slip-up might have dire consequences to you or any other person close by. Also, any drilling mistakes might create larger holes that can be too big to fit the nuts and bolts it was intentionally for.
The drill is also powerful and can cause problems if you are off-balance while holding it and make lots of holes in the process. These many risky instances would not occur with a powerful air drill, which can bore holes through wood much faster and more accurately.
Metalwork
If carpentry's full workload is enormously alleviated by air compressor units, working with metal cannot be done without them.
Metal is one of the most impregnable materials in the world, and because of that, cutting, molding, drilling, and joining them together is difficult. While you can use brute strength to accomplish tasks involving woodwork, you cannot do the same while working with metal.
Crafting metal requires and can only be achieved by air-powered or electric devices. Even the strongest man in the world could not do the work that pneumatic tools can do to metal.
Here are some tasks that can be accomplished in seconds with air tools powered by single-stage units:
Grinding- In carpentry, trimming is necessary for wooden boards and sheets, but what about metal pipes, bars, and tubes? You cannot use the same kind of tools. Those would wear out first, then the metal it is trying to trim.
Pneumatic grinders are the particular tool needed for this type of metal-trimming and cutting task. You can utilize it to quickly cut a long piece of aluminum pipe in two or trim the edge of a brass bar.
Both tasks can be done quickly and efficiently by a high-powered grinder. Whenever it is fastened to a single-stage reciprocating compressor, it can be particularly effective in cutting intricately measured pieces of metal.
Shearing- Metal is unlike wood because it can be bent, molded, and shaped into something extraordinary. People do not know it takes a lot of skill to turn it into fantastic and intricate forms by utilizing an air-powered metal-cutting instrument.
A pneumatic shear is used by metalworkers to cut metal sheets in half, like what a rotary cutter does with thick wads of paper.
Riveting- To combine metals, welding is usually done. However, that is not the only option available. Whenever metal cabinets and drawers are fabricated, it is similarly done to their wooden counterparts, but the fasteners are different.
Whenever sheets of metal are melded together to build structures like sheds, the preferred fasters are rivets. Air-powered riveters are utilized to easily link two metal strips by the seams in a matter of seconds.
A pneumatic riveter will do the complicated task of directing fasteners through custom holes for a tight and secure fit.
Ratcheting- After riveting the fasteners in two metal panels, circumstances arise that you need to take them apart again. However, the pieces are melded tightly together that it seems like they were welded together.
Whenever situations like these happen, like a nut being screwed so tight that it could not be unscrewed anymore, a wrench would not be a good enough tool to do the job.
For these types of issues, you will need a pneumatic ratchet that can be unstuck and break apart those stubborn nuts from the bolts. It allows you to take apart those tight components in equally hard-pressed assemblies that can be done in a few seconds.
Every tool mentioned in either metal and woodwork is powered by a single-stage compressor that operates at ninety PSI or pounds per square inch.
Assembling a car
If you are a car fanatic and love to tinker around with it, you need a particular set of tools for it. If you have an above-average garage with an array of top-quality car tools, you can upgrade it with a dual-stage compressor with one hundred PSI that powers many pneumatic tools.
With them, you can assemble a car in no time at all. Here are some of its applications:
Screwing- There are so many car components, big and small that you have to assemble, which will take time if you do it manually. From hubcaps to engine parts and a lot more, which needed to bolted and screwed on.
By utilizing pneumatic ratchets and impact wrenches, you can disassemble and assemble them in no time. This way, you can finish quickly rather than taking a long while.
Lifting- In either disassembling or assembling a car, you are going to have to carry lots of components, and some of them are heavy as the engine, shell, or frame. At the early stage of the assembly process, it needs to be lifted overhead to be able to assemble the components with ease.
Also, once it is pieced together fully, it still needs to be applied with finishing touches, which can be fully realized if it is still lifted overhead.
To enact this heavy lifting, you need a dual-stage compressor or a triple-stage one, which is utilized in lifting cars along with strong suction devices.
Painting- Painting the car is a crucial task that can make or break its viability and attractiveness to the owner's eyes. However, it is a complicated process when vehicle shells are involved.
The shells should be coated and primed in a dirt-free environment, with no moisture or oil present. Two-stage units can supply power to a paint sprayer, which in turn provide no blotches and streaks when finished. It also can give a polished sheen that couldn't be accomplished by rollers or spray cans.
Greasing- A car engine has many components that are perpetually in motion, while it is running. These parts are mostly made of metal that will wear down from friction from grinding together.
Machines like these need grease, and an air-powered greaser can put lubricants on those car components, some of which are too hot to hold and too far to reach with bare hands.
Either two or three-stage compressors are the best units to power these kinds on pneumatic tools. So upgrade your garage to accommodate this equipment so that you can assemble your car in a snap.
Home brewery manufacturing
If you are a homebrewer that makes delicious homemade beer and wants to crank up your distribution system to the next level, you will need a two-stage reciprocating compressor. You can turn out a lot more bottled beers per day with these air-powered procedures:
Molding- You want to make your glass bottles from a high-powered air compressor that serves an important purpose. It can mold bottles from glass, pour liquid glass into bottle molds, and an air dryer makes them solid. The same procedure is done when making tin cans to make canned goods.
Filling- After the bottles are molded to the right drinkable shape, they will be sent via a conveyor belt to a pneumatic machine that will fill out each bottle with a specific preplanned amount of beer.
Sealing- Once you have poured your delicious homemade beer into the individual bottles, you need to seal them tightly with foolproof bottle caps. A pneumatic machine will suck out the remaining air from the empty part of the beer bottle, and another machine puts the cap tightly in place. Your beer bottles should have metal caps to complete the image of what a real brewski looks like./li>
Labeling- After your homemade bottles are molded, poured with beer, and capped, you need to put in its logo. You can heat brand the beer's name on them, or better, an air-powered robotic arm can put a sticker on them.
Packaging- Finally, your home brewskis are ready to be sold to your ardent fans of beer enthusiasts. But you still need to package them in four or six per pack. There an air-powered robotic arm to pack them neatly, quickly, and ready for delivery.
The same procedure occurs in packaging jars and cans. Upgrade your home brewery with a two-stage air compressor along with air-powered attachments to make your alcoholic beverage enterprise more successful.
Preparing and packing homemade pastries
In doing these particular tasks, you can either have a single or multi-stage unit. It will depend on how big your baking enterprise and processes are.
If you are baking your pastries all at home inside your kitchen, you probably need a single-phase air compressor. If you are looking to expand it to a full-fledged baking endeavor, you need a 2 stage compressor. Whatever you may select, pressurized air is used for the following baking processes:
Mixing- Baked goods employ a great deal of mixing many ingredients to make cakes, cookies, pastries, and loaves of bread. Pressurized air-powered tools are utilized for this particular task.
Pneumatic blending and mixing tools are used to mix all those ingredients inside a large bowl. This way, you can produce large batches in the lesser time needed, not by hand anymore.
Powdering- If you are making cookies and doughnuts, you need to add powdered sugar and a better way to do this task in a piece of pneumatic equipment. This device can cover the whole surface of each delicious treat with enough radius and impact of the applied air.
The air-powered equipment will rotate the baked goods through pipes then sprayed with powdered sugar on both ends before packaging.
Frosting- There are pneumatic tools that can apply frosting on cakes and inject sweet fillings like jelly or cream inside doughnuts and other pastries.
Chopping- Particular air-powered tools can slice any food type. A good example is potato chips that are cut thinly and uniformly from raw potatoes.
For your growing bakes goods business, you will need these pneumatic tools to cut your pastries into small pieces and be ready for packing.
Cooling- After baking those delicious baked treats, you need to cool them down for immediate packaging so that the freshness and deliciousness will still be trapped inside.
There are pneumatic cooling tools that can cool them down quickly, which ordinarily will take more than an hour. But with air-powered cooling devices, you can cool and package the goods quickly.
Cleaning- After baking your delicious pastries, you want them to be as clean as possible before packing them. So, there are air-powered blowing devices to blast away those unwanted crumbs, possible dirt, or any impurities from being included in the packaging.
Nitrogen- To make sure your baked goods would not be crushed when placed into boxes and delivered, there are air-powered nitrogen blowers to pump nitrogen into the packages.
Having a home bakery business will enable a single-stage compressor to work to its total capacity. Its pneumatic devices are ideal for the entire setup and many processes to make your enterprise go to the next level and be more successful.
If your enterprise is continually growing, then you can upgrade again to the dual-stage one. To get even more pneumatic power and drive your baked goods to go even to a higher level of success.
Fabricated parts assembly
If you are in a business selling fabricated bicycles or skateboards in your home, there is a way to upgrade it to be more successful. A dual-stage compressor unit is perfect for it and can power pneumatic machines in an assembly line.
You can use it for these in different stages of assembly:
Cutting- You have unique fabrication ideas for different components in a bicycle or skateboard. These are molded first and shaped from raw materials and cut into your preferred portions.
This process is conducted in a conveyor system. The raw products are cut into particular shapes and dimensions. The components are shaped inside molding orifices, then go along the conveyor towards polishing and additional prep work. These kinds of procedures need dual-stage units.
Shaping- Before continuing in the conveyor pathway, your raw and unfinished bicycle or skateboard parts need to be properly inspected and measured. If some of them do not have the correct measurements from your initial design, it has to be accurately shaped with air-powered sawing tools.
Once done, they have to be examined again if they now have the right measurements that properly corresponds to the overall framework of the bike or skateboard.
Assembling- After all the components are inspected and filed down into the correct shape and measurements, they are passed along the conveyor line. That is where air-powered devices and robotic arms will perform the initial stage of attachments, then continues on the path until everything is assembled.
Fastening- This stage is the most important job in the entire process because this ensures the attachments are tightly and securely fastened with bolts and rivets. As it passes through the conveyor pathway, it makes consecutive stops wherein pneumatic tools and robotic arms attach additional components until the whole framework of the bike or skateboard is finished.
Finishing- After your fabricated bicycle or skateboard is assembled entirely, additional steps involve finishing. Pneumatic sanders, paint sprayers, blowers, and dryers are utilized in this process to add finishing touches.
Your unique-looking bikes or skateboards are now completed and good for selling. With a dual pump air compressor, you can produce newer and better models with a good amount of precision and speed, all done efficiently.
Other important info about single-stage reciprocating compressors
As mentioned earlier, single-stage units are ideal usage for small DIY projects in a workshop or garage. They can last for years since they are not used all the time and only sporadically.
However, if you have other people working there who need to use more air-powered tools like grinders, nailers, etc., you might need to upgrade to a dual-stage unit.
However, there are a few things to think about when purchasing a single-stage one. Important aspects like capacity and pressure will play a crucial role in the effectiveness of its abilities.
There are also a lot of untruths out there about these compressor types. So you need to know which is for real or not before getting one for yourself.
Features to consider before buying a single-stage compressor
Maximum pressure- It is the first thing you need to check because that is what it's used for to provide compressed air. It is also beneficial to know this specific detail since you will be able to know how high the necessary pressure cap it offers.
From that highest pressure point, you can lower it to the level that you need via a pressure reducer. If you big pneumatic tools that you want to use, the single-stage unit can still provide enough pressure, but only for a few minutes.
You also need to be aware that giving a higher pressure will cost you more electricity. If you only use it a few times, then it will be alright.
Capacity- Its capacity refers to the air quantity is produced by the single-stage unit. Most will know about the pressure but will be uncertain about the capacity.
Capacity is measured by CFM or Cubic Feet per Minute, and the size of the compressor tank is either in gallons or cubic foot.
Horse power- It refers to the power the engine produces. However, it is not important in compressor units and is merely treated like an aftereffect from its capacity and pressure, which are the more important features.
Tank size- Larger compressor tank sizes that big companies use are about sixty gallons.
You can also have a large tank size for your smaller-sized compressor. It is what most large companies do. Huge tanks mean you can store large amounts of air, which can be utilized to power equipment.
You can do this for your DIY projects. You can have a larger tank separate for the compressor to store compressed air.
Other important info about 2 stage reciprocating compressor
As mentioned earlier, a dual-stage unit is perfect for large-scale industrial usage. However, if you want to expand your DIY enterprise and intend to make it to the big time. Then it is time to upgrade your compressor unit.
They are sturdier than their single-stage counterpart and can deal with more capacity and pressure.
Its two stages
1st stage- The air is pressurized to a medium degree, which is done in a cylinder or piston. At low pressure, a large quantity of air is moved.
At a much lower degree, the air is cooled once again. This procedure enables the unit to be more effective and lessens stress in the highly pressurized stage.
2nd stage- The air is more pressurized and reaches the end pressure in the smaller cylinder of the piston. At higher pressure, a lower quantity of air is moved.
Some compressor models have the two stages clearly shown on their surface. You can distinguish it by the V-shape, which comprises the small and large cylinder and a pump.
Other models show the cylinders that have low and high pressure set in one block. It will look like a single-stage unit, but it isn't.
Features to consider before buying a dual-stage compressor
This compressor-type can reach as high as one-hundred seventy-five PSI. Yet before using it, you need to know how much pressure you require. If you only need a much lower PSI like in the one-hundred and twenty-five range, then a unit with lower maximum pressure and higher capacity would suit you better.
Capacity- Like with pressure, you also need to know how much air you require. Reciprocating compressors with dual stages can reach as high as fifty CFM.
If you need more air capacity, a better alternative is a rotary screw compressor.
Electrical connection- Another way to distinguish the two compressor types apart are their sizes: the two-stage unit is larger than the single-stage one. Also, being bigger makes electrical connectivity more significant.
Before installing the compressor unit, you need to make sure that there is enough electrical supply in the area it will be situated in. It will be advantageous to you to have an electrician install it.
Dual-stage units can either have a single-phase or triple-phase motor. You can also select from either two-hundred, two-hundred-thirty, or four-hundred-sixty volts. Be sure to pick wisely.
Larger compressor types are only available in three-phase motors. Whenever you do buy one, be sure to include wiring because usually, they do not include that upon purchase.
Single stage vs. two-stage compressor: Which is more reliable?
The glaring difference between the two that makes them distinctly separate from each other is the single-stage unit are particularly created for intermittent usage. While the dual-stage ones for continual applications. Thus, the effectiveness will be dependent on your plan of what you are going to do with either one.
If you require pressurized air as a means to power small-scale DIY projects in your garage or baking devices in your kitchen, a single-stage unit can handle it.
If your projects are large in scope and utilize complex pieces of machinery like conveyor belts and robotic arms, a single-stage one will not have enough power and would not be reliable to get those tasks done. Its components tend to amass a good deal of condensation due to their comparatively bigger size.
Furthermore, single-stage units are not created for continual usage in a given day. With multi-stage ones, they have enough CFM (or cubic feet per minute). It is to provide power for a wide array of air-powered equipment. These are also suitable for painting, sanding, and other high-powered uses.
Price difference between single and dual-stage air compressor
If you want to know the price difference between a single-stage and a two-stage compressor, you have to look first at the number of components involved.
The dual staged unit has more moving parts and does twice the work of a single-stage one, therefore, more expensive. Its components are smaller yet do not require much upkeep.
Thus, on the side of maintenance and operation costs, the two-staged unit is less costly in a long-term period.
If your DIY garage projects are approaching close to a factory scale and intending to have many pneumatic instruments to support them. Then you will need a compressor with optimum CFM for each application to operate smoothly at the same time.
You will have to upgrade to a dual-stage unit. It will be more reliable in this situation because it can save you money in the long run. And would provide enough power to your pneumatic devices.
Which is better?
Each type has its positive attributes. The single-stage unit has only one cylinder, thus has one piston stroke per revolution of compressed air. It enables them to be very quiet and not bothersome. It is excellent for DIY projects at home, in a garage or kitchen, where loud noise can be irritating to neighbors.
The most important specification of any compressor unit is the CFM, which refers to the airflow and volume that it can provide. It also refers to its operating capacity.
To illustrate this further, you have recently upgraded your garage to handle multiple air-powered types of equipment that you plan to operate at the same time. To fulfill this undertaking, you need to make sure your compressor will surpass the CFM requirements.
Concerning the horsepower, one HP can move five-hundred-fifty pounds in one foot per minute. So, either two or three HP already provides more power than necessary.
The deciding factor on which unit is more beneficial than the other will depend on the type of operation you have and how big it is. To reiterate what was mentioned earlier, one-stage units work well with modest and personal DIY garage projects. While dual-stage models are more equipped for industrial and large-scale applications.
Conclusion
Now you know everything about single vs. two-stage compressors, from their many abilities and uses, each with positive and negative aspects. But which is better?
The answer is: it depends on what you need. If you are satisfied with your current DIY status of creating smaller projects with few air-powered tools, then your single-stage one is sufficient. But if you intend on making personal projects reach the big time, then upgrade to the dual-stage one now.