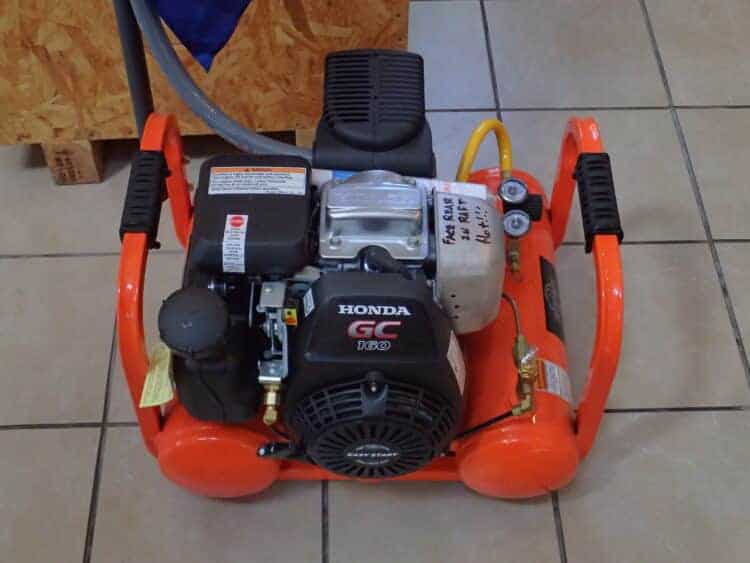 If you often find yourself in the garage, tinkering around your car and pursuing your little DIY side projects, you need a complete set of tools for it. Yet the standard ones are not enough. You want extra-special instruments that are effective and can get the job done, and it all starts with an air compressor.
Yet a question will eventually come up once you are in front of the hardware store counter, intending to purchase one and selecting between oil vs. oil-free compressor: Which is the right one for me?
To get the full breadth of this crucial query, you must go back and learn about everything about oil or oilless compressor, oil-free compressor maintenance, the best air compressor oil you can use, and a lot more.
Air compressor overview
You must start with the compressor. It is a pneumatic instrument that takes in air, converts it into pressurized air, which is then stored in a tank and used as a means for potential energy.
Kinetic energy is held within, which then be utilized for various applications, like supplying air into a nail gun, sander, paint sprayer, etc.
When the tank becomes low on pressure, the unit turns back on and puts compressed air back.
It must be marked as separate form a pump because a compressor unit functions with air or gas, but a pump operates with liquids.
Compressor types based on pressure given
LPAC or low pressure compressors- These can release pressure of one hundred fifty PSI or Pounds per Square Inch (ten bar)
Medium pressure compressors- These can release pressure of one hundred fifty one to 1k PSI (10.4 to 68.9 bar)
HPAC or high-pressure compressor- These can release pressure above 1k PSI (69 bar)
Compressor types based on design and operation
Rotary screw compressor
Centrifugal compressor
Scroll compressor
Rotary vane pump
Single-stage reciprocating compressor
Dual stage reciprocating compressor
Compound compressor
Turbo compressor
Types of displacement
There are many methods of pressurizing air, which is divided into two:
Positive displacement- It works by pushing air towards a chamber, whose quantity is then reduced to pressurize it. After reaching maximum pressure, a valve will open, and the air is directed into a pressurization chamber via an outlet system. The common types are the piston types and rotary screw types.
Dynamic displacement- Axial and centrifugal compressors utilize this method of displacement. This functions when a revolving part lends it kinetic energy that is exchanged to become pressure. Centrifugal force is utilized via a rotating impeller blade, which can speed up and slows down the captured air, thus compressing it for usage.
Oil vs. oil-free compressor
Now you know the basic details about this very handy piece of mechanical device. It has many uses around the house or in your garage. It is an excellent means of support in whatever task you may be doing.
However, selecting the right one that fits your needs can be a confounding matter, and the most confusing part of it is deciding between an oil vs. no oil air compressor.
Compressor units use a piston chamber to suck in air and are pressurized into a tank for storage. To become more effective, the chamber needs enough application of a lubricant, which in this case is oil. These are the regular oiled units.
Yet for the ones that do not need oil, the cylinder chambers have been lubricated prior with Teflon coating, which is permanent. It acts as a shield to protect the pump from any damage.
Oiled units need frequent lubrication, while oil-free ones do not.
Maintenance
When it comes to maintenance, a non-lubricated compressor needs less upkeep compared to its oiled counterpart.
An air compressor using oil needs to have it changed constantly. How many oil changes will depend on its design and the total period it has been utilized. The particular unit's user manual will tell you the procedure and how many times it should be changed.
Also, lubricated units weigh a lot more than oil-free ones of the same type of design. It is because they have fewer components.
Since oil-less ones have lesser parts, the overall compressor cost is cheaper. They also have simpler designs, which makes them ideal for DIY purposes.
Usage
While compressor units without oil are less expensive, lightweight ones do not need frequent maintenance, lubricated ones are sturdier and last longer.
As the oil-free ones are pre-lubricated, maintenance happens infrequently and becomes dry as the Teflon gets exhausted. They are not as durable as lubricated units.
Yet oil-free units are perfect for home use if you do not habitually use them. They are practicable for any tasks in your home.
Lubricated units, on the other hand, are ideal for commercial purposes and continuous usage for long periods.
However, oil-free ones can become too hot to touch because there is no cooling effect of oil in the system.
Its noise
The sound level each compressor type emits is vastly different from the other. The oiled units are not as noisy as their non-lubricated counterparts. It is a significant feature if you will need to use it in a purposefully quiet environment.
Since an oiled unit runs with the aid of lubricating substances, they operate peacefully. You know that there will always be a humming sound coming from any compressor type, but you do not want it to be overpowering that can irritate.
So before purchasing one for your home, always remember the amount of time it needs to be used and its tendency to emit sounds that you might either accept or not. So do some research and find out which you truly like and also need.
Purchasing a compressor unit
After thoroughly researching which compressor type you need, be it an oilless compressor or a lubricated one, you need to choose between the two.
Are you using it for small tasks only in your home? Will you need it to power a paint sprayer for your car? Or only for inflating your tires?
Once you know what you are looking for, the next step is to know the best and reputable brands available in the market. Once you have purchased a unit from a well-known company, you know they are offering a good warranty and also provide a complete array of accouterments and replacement components.
How to maintain your chosen compressor
You have finally purchased one and already brought it to your home. Now, you should know how to take care of it and make it last longer.
Even though the particular unit you have purchase was advertised to be durable and long-lasting, it will still depend on how you use it. So proper maintenance is the key to make it function as long as humanly possible.
Here are a few maintenance tips:
Regular tank drainage- One important component in a compressor is a receiver tank whose main purpose is to accumulate liquid that comes from the pressurized air. If you live in an area with a high humidity level, the tank will fill up quickly with water.
Make it a habit to drain it after every usage, wherever in the world you may be living. Before undertaking the process, be sure the pressure is released from the receiver tank.
Substitute the air filters- Make it a habit to frequently check on the filtering system. Whenever it becomes dirty, the whole unit will be strained and eventually reduces its lifespan. Once you find that it is soiled, blow it out immediately. Be sure to change it once every six months.
Clean the vents- Overworking the compressor to its breaking point and not letting it rest will cause it to lose its effectiveness and malfunction soon after. This careless act will make the intake valves grimy and cause the unit to lose power.
Make it also a regular habit to always clean the vents to extend the life our your compressor device.
Other maintenance types- Be sure to do the abovementioned tips whenever the need arises. Nonetheless, also do these other maintenance checks to keep it in operational excellence:
Always check on the air hoses
Check on the fasters and tighten them if loose
Always clean the fuel tank
Make regular tests on the safety shutdown system
Always clean the heat exchangers
Check on the separator element if it needs changing
Change oftentimes the compressor oil
FAQ or Frequently Asked Questions
Is there a way to reduce the noise coming out of an air compressor unit?
There are a couple of ways to cut down the any loud sounds coming from the unit:
Sound dampers can deflect any noise and stop it from spreading.
Expansion chamber mufflers can lessen the sound emitted from the unit. These kind function like car mufflers that serve as a blockage to low frequency sounds.
Store the unit in a separate room, away from people.
Silence filters can mute the intake of air in the inlet opening. The muffler and silencer you can purchase in any hardware center, and have them install it in your unit.
You can buy a soundproof compressor, but this is an expensive option. However, this functions very quietly, which makes it ideal for home use.
What is its highest rating?
Various compressor types have different levels of rating. A particular unit will have a user's manual that will show its precise power and level of use.
Its usage will ascertain the power it gives out. An air-powered impact wrench requires five HP long with a sixty-gallon tank. It also needs fifteen amps in a two hundred twenty volt circuit. Overall, it will yield a power of fifty HP.
If you want to have more power from your compressor, you will need either one hundred ten or two hundred twenty unit tanks that fulfill any required tasks.
Go through the manual and look at the machine requirements to know the kind of unit you have.
What is the best oil to lubricate an air compressor unit?
Every oil-injected air compressor will utilize a special kind of lubricant that aids in its functionality. These are available in different kinds and is fairly common:
Phosphate-ester based oil
Air-line lubricant
Flurosilicone
Most big manufacturing plants will stipulate the type of lubricant they need for their massive units, which is different from home usage. For your unit that you use at home, check on its user's manual to get information about the oil it requires.
Once you find out, you can purchase it directly and available pre-packaged. As a guide, select any thirty-weight non-detergent motor oil with 30W/ ISO100 or 20W/ISO68 specifications.
How much is the cost to rent an air compressor unit?
There are many kinds of compressors, each with different sizes, costs, and purposes, and getting a good rental rate can be difficult.
Many websites rent out compressor units with varying rates, which you can easily find out. They usually require a credit card deposit to make sure you return it to them after you use it.
You can also go to price quote sites that can provide comparison rates from different companies that rent out units. This way, you can get the cheapest alternative for your needs.
Do I need an air dryer for my compressor unit?
It is a good idea and a great investment to add an air dryer. Your unit can put a large number of liquids into the pressurized air system, and your dryer can remove it.
What is the proper air hose for my compressor?
Various compressor types require different hoses. However, the diameter sizes are ¼" or 3/8".
How often should I have to replace the intake filter?
You should clean it once a week. If you find out that the filter has developed too much dirt and debris, which you can't clean anymore, substitute it immediately.
Conclusion
This wide breadth of knowledge about air compressors will invariably assist you in picking the right one that fits your needs. Either oiled or oil-less wouldn't matter just as long as you properly use and maintain it and last you for a long time.