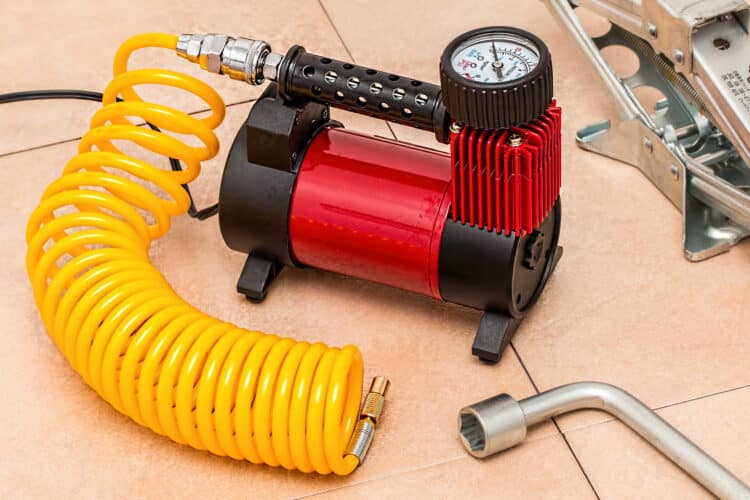 What is an air compressor vacuum pump? It is what you end up with when you modify your air compressor to create a vacuum instead of simply pumping out air.
You already have an air compressor that you mainly use to inflate your vehicular tires, and you want to utilize it to its total capacity. So what can you do? You turn it into an air compressor vacuum pump combination device. That's what you do.
A vacuum pump and an air compressor has similar principles and functions but have reverse air outputs, one for suction and the other for blowing. In most cases, each is separately made so that they can achieve their maximum potential.
However, if one is fabricated to enable you to function like the other, then you can get the best of both worlds.
The good news is: you can. If you have a twelve-volt air compressor car tire inflator, it can be retrofitted to have the suction power of a vacuum pump.
Thus, you can achieve the air compressor and vacuum pump combination, with only minimal hurdles to tackle.
Air compressor vacuum pump differences
Since these are two different devices made for two contrasting purposes, you have to know what sets them apart from each other.
Pump vs. compressor
There are innumerable uses for each device in lots of industries. They are the contributory factors in making their respective companies be successful and grow.
However, in truth, there are only minimal differences. Some household units can be changed to become the other, with only things done to them.
So it is beneficial for you to learn the differences between the two. So whenever something needs to be done in utilizing each device's capabilities, you would know how they work and their exact functions.
Compressor facts
There are many air compressor machine functions.
It is a type of device that acquires energy from the air and transforms it into usable power. It is done by enabling air to be pressurized. The energy collected will be utilized to power many industrial tools and machinery.
Here are some of the things that an air compressor supplies power to:
Gas station pump
Hydraulics
Household power tools like sanders, nail guns, and drills
Train and bus brakes
Compressors have a wide scope of applications in the manufacturing industry and are mostly utilized in moving gases instead of liquids. Here are a few of its types:
Rotary or Screw Compressor- These types are also called revolving screw pumps. They utilize helically strews to direct airflow into the chamber and give out uninterrupted current of compressed air.
It enables them to become very efficient in their task. These are the most popular kinds in manufacturing companies because they tend to be quiet.
Reciprocating or Piston Compressor- They function like a vehicular combustion engine, which utilizes a piston in a cylinder. It enables pumping air towards a chamber until compressed air sufficiently heightens.
Once enough air pressure is made, it will remain in the chamber until someone lets it out for usage. It can be either a single or double-acting, which will depend on one or both piston sides are being used.
Centrifugal Compressors- This compressor type has a rotating blade to create an emission of powerful compressed air. This procedure is known as dynamic displacement. Since it enables a continual current, it has a better capability to perform at a higher level compared to other types.
It also comparatively cleaner than the others because the components that need oil are situated far from the air current.
The many compressor types are made to be easier in providing pressurized air. They enable each manufacturing plant worker to work by themselves instead of needing an energy source that is centralized to power all the equipment and tools.
Vacuum pump facts
What is a vacuum pump for?
You will know its usage from the mention of its name. To further explain it, it a mechanical tool that produces a vacuuming force. It enables this action by removing air and gas to create a safe condition to transport liquids, even though it is also utilized to transport and move gas.
It has many uses inside the household, as well as companies and businesses. It is utilized in:
Vehicles
Washing machines
Flooding and irrigation control
Airplanes
HVAC units
How does a vacuum pump function?
Whenever flooding occurs and water is moved quickly from one location to the next, more than likely a vacuum pump is utilized.
It creates varying pressure points from the highest level to the lowest. Particles naturally flow from a highly pressurized condition to a low level, resulting in a suction force and enables vacuum.
There are many kinds of vacuum pumps that function differently:
Diaphragm pump- Mostly utilized in large industries and has a high accuracy rate. It uses two mechanical diaphragms. It functions by increasing and decreasing air pressure by moving back and forth. A valve halts liquids from coming out.
Entrapment Pump- Its other names are capture pump of trapping pump. It functions by using refrigerants to cool the air with an enclosed area, thus enabling condensation. The liquids produced can then be taken away. There is another kind called an ion pump, which induces condensation by creating electrical fields.
Positive Displacement Pump- It has two specially made cavities: one is bigger than the other. Thus enabling suction that gives out unwavering power.
Momentum Transfer Pump- It is also called a kinetic pump. This type manufactures a low-pressure space by utilizing a rotating tool to transpose gas or air for the inlet towards the outlet. A valve then seals the vacuum.
Difference between compressor and submersible pump
Vacuum pumps are mostly utilized in a flooding situation and are usually submerged. While air compressors can be used to blow out excess water inside the pipework of a lawn sprinkler system. Even though both uses seem different, they also have similarities.
Nevertheless, here are the chief differences between the two:
Rate of flow- The vacuum pump's flow rate is dependent on the pressure at either end. While the compressor is dependent on the volume reduction capacity.
Capacity- One of the compressor's functions is the storage of compressed air, and different types have varying capacities. While vacuum pump's function is to move gas or liquid from one area to another, so there is no need for a storage capacity.
Usage of power- A vacuum needs comparatively less energy to function to its maximum potential than a compressor. It makes people think that the former is more effective than the latter. However, that is not always true because it will still depend on the task it is used for since each is suitable for varying applications.
Vacuum strength- The vacuum pump's overall strength is evaluated from its output pressure. It will be more powerful if the number is much lower. While the compressor's strength is assessed by its capability to bring forth high compression fluid requirements.
Steps to convert compressor to vacuum pump
If you have a twelve-volt air compressor that you have been using to inflate your car tires, then you have the suitable type for conversion.
Do not use the inexpensive mini air compressor. It will only work for a few minutes, then overheat.
1. Open the case
For the first step, you will be opening the case: if you do not know how then get the user's manual and look for this type of information. A compressor is a sensitive piece of machinery, so be sure you are doing it carefully and correctly.
With some types, you may have to take out the rubber feet that are glued over the enclosure where the screws are located.
Once you can open it properly, you will see a tiny motor on an assembly, a few gears, a small piston pump, and an air hose dangling on the side.
2. Look for the air intake
After successfully opening the case, flip over the small motor or the pump and examine the cylinder to look for the air intake. You will know it by seeing the holes that the air gets in the cylinder right before it comes out of the air hose.
If your compressor has a hose barb or any other connector fitted to the muffler, then you are fortunate because you will be using it later.
The holes are usually in an unusual cavity, so you cannot glue the hose on them. The glue should not be allowed to slosh through the holes, so you need to follow the incoming instructions to make them fit.
3. Either look for or create the right hose fitting
You can use a braided PVC flexible pipe that is ¼" in diameter as the hose. It functions well for vacuuming purposes, which you can purchase at a hardware center. You will need about four feet.
To make the hose fit, you also need a hose barb that fits the ¼" diameter of the PVC hose. You can also find one in the same hardware center.
Use a hose barb that is of double-ended nylon. It is utilized to connect two separate hoses and is also called butt splice. Sever the extra barb with a sharp blade.
The remaining barb is now a rimmed base that is appropriate for gluing on.
Due to the unusual shape of the cavity above the cylinder pump, you can shave off the opposing sides of the rimmed base so that it can fit in the recess.
4. Set up the intake for the vacuum fitting
In preparing the upper part of the cylinder pump for the hose barb, remove any dirt by wiping it off with cotton swaps filled with alcohol.
Use epoxy glue to create a little wall around the holes. Shape it so that the hose barb with the rimmed base can fit.
Be sure to use epoxy that is high-temperature and metal-based so that it can conduct heat. After applying it to the crevice, then wait for it to thicken and dry.
5. Fastening the hose fitting
If the wall made of epoxy has dried up and become firm, glue the hose barb with some epoxy. Apply more epoxy over and around the rimmed base, then leave it overnight to set and dry.
6. Fasten the hose
The next day, check if the epoxy is firm and dry, then connect the vacuum hose by slowly sliding into the hose barb and put back the motor in its place.
If your hose is flexible and rubbery, you would not need a steel clamp to secure the barb tightly. But if the hose is rigid and hard, so use it.
A strong vacuum force will be inclined to suck inward the hose to the barb and creates a seal instead of flexing itself outward and induces a leak.
Once the hose is firm and steady in place, you will need to direct it outwards from the case.
For this retrofitted pump you have made, there would not be much room to direct the hose via the case without bending the hose or straining the barb. You can run it straightaway out the uppermost portion.
7. Bore a hole in the case
At the top of the case, create a hole for the hose to run through. You can cut through using a nipper, through the seam right in between the two halves of the case.
Create holes that look like semicircles at both of the mating edges so that once you put them together, it will create a circular hole.
8. Assemble the case
Put back the assembly in place, coupled the two case halves together with a hole all around the hose, and insert the screws back on. Then lightly press the cap back on the end until you hear a clicking sound.
Sever the end of the hose
To avoid any disruption of the airflow from the attachments of the tire inflator on the hose, cut it near the end.
Then roll up the hose and store stash it away in a cool storage area. If you need something to be vacuumed, you now have a tool to use.
If you want to reuse it as a tire inflator, you can reverse engineer it back to the same status by doing a similar double-ended barb done before.
Conclusion
Now you have a tool that can function with dual purposes, which can be handy in a garage setting. If you have an unused tire inflator air compressor, retrofit it now!